It's nice to eat baked potato. You may have used your large, conventional oven to bake a batch of potatoes for dinner but what about if you need to bake a couple or three potatoes only? Would you still heat up your giant oven just to cook?
If you have a
toaster oven
, you can save yourself time and effort of heating up a giant oven and of course heating up your entire kitchen! Here are some steps on
how to bake a potato in a toaster oven
:
Choose medium-sized potatoes. Clean these before you bake them using a soft brush. Remove all the dirt but do not scrub too hard to peel off the skin. After you are done, wipe with a soft clean cloth and then dry in a rack.
What temp to bake potatoes: Heat your toaster oven to 400 degrees Fahrenheit as you dry your potatoes.
Poke holes using a fork on different sides of the potato. When the oven is ready, place the potatoes in.
Check on your potatoes at least every five to ten minutes to see if it is cooked. Use a fork to add more holes to evenly cook the potato. These would be done after an hour.
During the final fifteen minutes, open the toaster oven door and remove an entire section of skin on top of the potato. Spread a heaping amount of butter and a drizzle of ground pepper. Close the oven door and cook some more.
When an hour has passed and the potatoes are cooked, remove from the oven and allow to cool on a plate. Apply more butter and any kind of spice that you wish to add. Serve warm.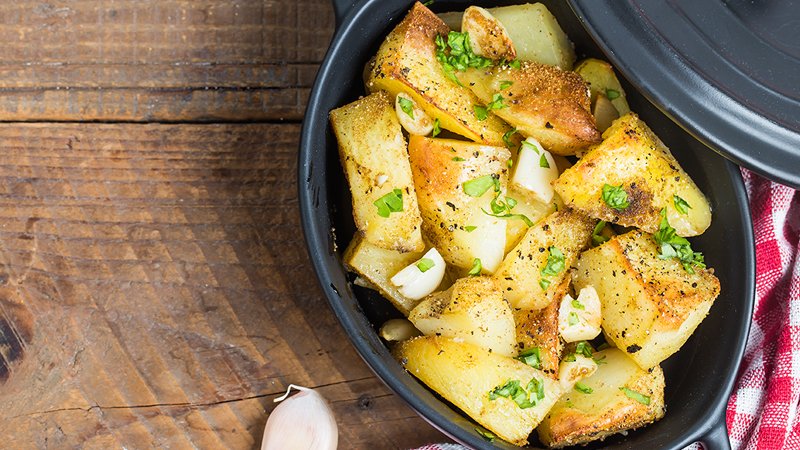 Aside from the mentioned steps, here are a few suggestions on how to bake potatoes on a toaster oven.
Aside from placing the potato directly in the oven, you may try wrapping it with foil so you won't burn the potato and to improve cooking time.

Simply clean the potatoes and then after it is dry, wrap this individually in aluminum foil but open a small portion on top of the package.Add butter and spice during the final stages of cooking. Serve this warm.

Instead of baking a potato whole, why not bake it in halves or quarters? After scrubbing potatoes carefully, cut these into quarters or in halves and then place these in a baking tray lined with olive oil or a thin layer of grease or butter.

Scatter the pieces all over the tray and then sprinkle iodized salt and ground pepper over the potato pieces. Bake these for 400 degrees for 20 to 30 minutes and then turn these when done. Cook for another 30 minutes.

You will have sweet-smelling, delicious and golden brown potatoes when you are done cooking.

But what if you want baked potatoes with the skin intact? Instead of poking small holes, create a large opening on the skin by creating a letter X on the top of the potato. This will open the potato up so that the insides will cook faster.

Cook just like the steps mentioned above but be careful since the skin will peel off easily.

Baked potatoes are delicious but what makes this dish more delicious is topping it off with different condiments. Butter tastes delicious but you may also use other stuff like yogurt, cottage cheese, cheese slices, sour cream and so much more.

If you are only baking one or two potatoes only then you could save time and effort by cooking vegetables along with your potatoes.

Veggies such as asparagus, string beans, carrots, corn, red peppers and beets may be grilled along with your potatoes. And to avoid mixing flavors together, wrap your potatoes in foil and then place your vegetables alongside.

To improve the flavor of your veggies, add a dash of olive oil or butter and a dash of black pepper.

Baked potatoes should be cooked ahead of time and then heated just before serving. Baking these could take time and therefore should be cleaned, prepared and cooked even before the main dish is prepared.

Related Readings:
How to Buy a Toaster Oven – The Ultimate Guide
How to Clean a Toaster Oven
How to Make 5 Irresistible Christmas Cookie's for Santa in Your Toaster Oven
How to Use a Toaster Oven
5 Buys For The Best Bakeware Set Of 2017