Which One is the Best Gotham Steel Pan?
If you simply want to test out the non-stick wonder of Gotham Steel Pan Reviews, check out the GOTHAM STEEL 9.5 inches Non-stick Titanium Frying Pan by Daniel Green. However, if you are looking for the best bang for your buck, the Gotham Steel 10-Piece Kitchen Nonstick Frying Pan and Cookware Set features a variety of pans for a remarkably good price point.
---
Quick Comparison: 5 Best Gotham Steel Pan
Ranking
Product
Rating
Price
1
GOTHAM STEEL 9.5 inches
Non-stick Titanium Frying Pan
View On Amazon
2
Gotham Steel 10-Piece Kitchen Set
with Non-Stick Ti-Cerama Coating
View On Amazon
3
Gotham Steel 10.5" Non-Stick Grill
Pan with Ti-Cerama Copper Surface
View On Amazon
4
GOTHAM STEEL 12.5" inches
Non-stick Titanium Frying Pan
View On Amazon
5
Gotham Steel 1371 Tastic Bundle
7 Piece Cookware Set Titanium Ceramic Pan
View On Amazon
---
Quick Navigation
---
What is the Gotham steel pan made out of?
Teflon non-stick pans are now a thing of the past. Ceramic coated pans are taking the frying pan world by storm.
Gotham Steel Pans say that their pan is made out of titanium for superior even-heating and warp-resistant performance and then the interior is coated with nearly indestructible ceramic.
They show the TV chef using whisks, metal spatulas and even electric blenders on the surface without causing a scratch.
In fact, they advertise it is a non-scratch product.
---
Is the Gotham steel pan safe to use?
Gotham Steel Pans are rated oven safe up to 500F with metal handles, instead of soft silicone or other plastics that will melt.
This makes searing your roast and transferring it to the oven for finishing a breeze.
Glass lids are not rated oven safe, and you'll have to use your good old fashioned aluminum foil to cover the larger pans in the oven.
---
Things to Consider Before Buying a Gotham Steel Pan
The Gotham Steel pan is probably at least a bit different from other pans you have used before, but like every other pan and dish choice, there are things to consider. These considerations revolve solely around your individual and/or family needs.
Do you need a set or a single pan?
The first thing to consider is whether you want or need only one pan or a set. The Gotham Steel pan comes in a few different options. A single 9.5-inch Gotham Steel pan can be purchased if that is all you need. At times, they offer double this giving you two 9.5-inch pans.
Next is a 7 piece set that includes a deep square pan, a steamer tray, a mesh basket, a recipe book, a 12.5-inch pan, and two 9.5-inch pans.
The largest offer is a 10 piece set that comes with an 8.5-inch fry pan, a 9.5-inch fry pan, a 10.25-inch fry pan with lid, a 1.5-quart pot with lid, a 2.5-quart pot with lid, a 5-quart pot with lid, and a stainless steel steamer insert.
All of these sets are nonstick and non-scratch. With these multiple options, the choice comes down to how much you would like to replace in your kitchen.
What size, shape, and depth of cookware do you need?
You should also consider what particular types of cookware you need, meaning what size, shape, and depth do you need to cook your favorite meals.
Do you only pan-fry a couple of things? Do you bake a great deal? Do you steam a lot of your food? How many people do you cook for? How many pots do you usually need and what size are they?
From the sets listed above, you can see that Gotham Steel has a pot or pan for pretty much anything.
Consider what types of food you will be cooking in them, how you will be cooking them, and how much you will be cooking.
The answers to these questions should help you determine the size, shape, and depth of the pots and pans you purchase.
Is the cookware compatible with your stove?
In order to make sure that you do not waste your money or time on useless cookware, you need to make sure that your pots and pans will work with your equipment.
For instance, not all cookware works well on induction stovetops. There seems to be a difference in opinion about the Gotham Steel pan in this area as the company says that it will work on induction stovetops but some reviews state that the opposite is actually true.
With this in mind, if you have an induction stove top and wish to try the Gotham Steel pan, purchase with care and make your own decision in regards to this matter.
As the website offers a 90-day money back guarantee, you have plenty of time to test it on your oven and get a refund if it does not work as claimed.
---
Gotham Steel VS Red Copper VS Copper Chef: What's The Best Copper Pan?
Three of the most popular pans at this time are the Gotham Steel pan, the Red Copper pan, and the Copper Chef pan. With all the talk and the lists of features and benefits, how do you know which one to purchase? Let's look at the differences and similarities between the three options.
First, we will discuss the similarities. All three of these pans have nonstick surfaces that do not include Teflon, so they are free of toxins making them much safer to use.
This also reduces the risk of the surface chipping and peeling off into your food.
The Copper Chef can withstand the highest temperature (850°) while both the Gotham Steel and Red Copper pans can withstand a maximum temperature of 500°.
Additionally, the Copper Chef has deeper sides than its two competitors although the Red Copper pan has a wider cooking surface.
Other differences revolve around what materials each pan is made with. The Copper Chef pan has a layer of copper pressed in between stainless steel and aluminum layers and a ceramic coating.
The Gotham Steel pan is made with stainless steel, high-quality titanium, and ceramic with an aluminum core which, like copper, heats quickly and evenly. The inside is coated with titanium infused ceramic.
The Red Copper pan is made from copper and ceramic with a copper-infused ceramic coating.
All three of these popular pans have great features and benefits. Each offers different size cooking surfaces and are durable.
The titanium of the Gotham Steel pan makes it stand up against wear and tear a little better than the others though they offer larger cooking space. Choosing between them will come down to personal choice and individual needs.
---
5 Best Gotham Steel Pan Reviews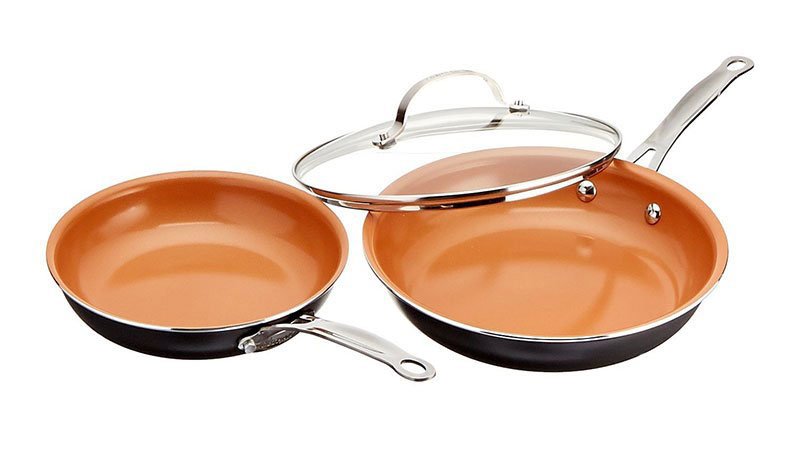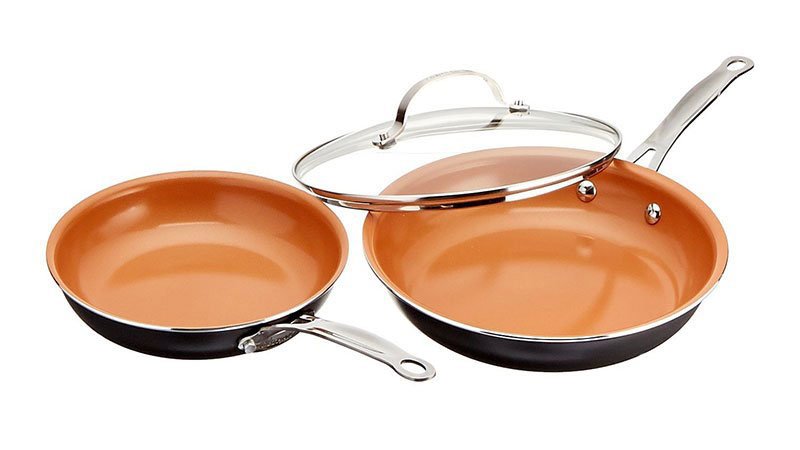 We've written a Gotham Steel Pan Reviews to help you figure out which pan will work best for you. Read on to find out which one you might want to spend your hard earned cash on.
---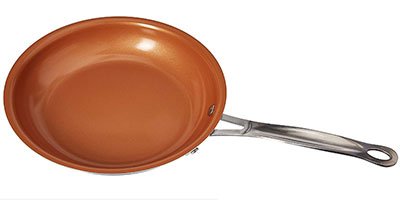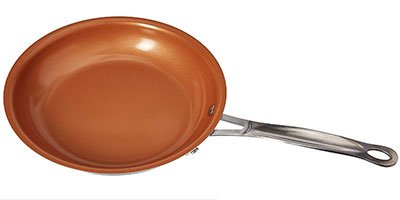 This is the pan that is the star of all the infomercials, thus making it the most popular purchase of all the Gotham Steel pans. The 9.5-inch skillet is sized to make an omelet or other one or two serving meal.
It is light, so easy to maneuver about the stovetop. It has been demonstrated to be non-stick and durable enough to handle metal utensils without scratching.
While it is listed as dishwasher safe, you can literally wipe it down with a paper towel between uses.
There are plenty of detractors out there, so if you want to test out the Gotham Steel claims yourself, this is the one to start with.
Pros
Non-scratch technology
Oven proof up to 500F
Dishwasher safe
Cons
Inconsistent Performance among users
Small Pan
Does Not Work on Induction Cooktops
---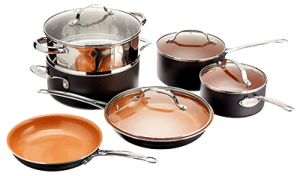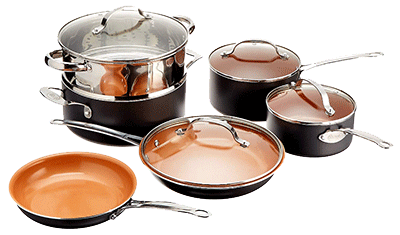 This square grill pan appears to be the favorite among Gotham Steel pan fans. It is a convenient square shape, allowing the cook to position four burgers or chops in it without the crowding that a 10-inch skillet would have.
The bottom is ribbed to create attractive grill marks on your steaks and features the non-stick and non-scratch surface the infomercials love to demonstrate on its standard skillet cousin.
It does not come with a lid, is only rated up to 425F instead of 500F and the purchase link has the wrong product description on it. This is not a griddle, although Gotham Steel does make one of those.
Pros
Large square cooking surface
Works well with burgers and fatty meats
Leaves attractive grill marks on food
Cons
Product description on purchase page is incorrect
Low sides
Only Heat tolerant up to 425F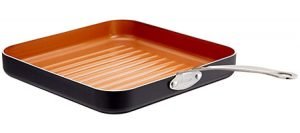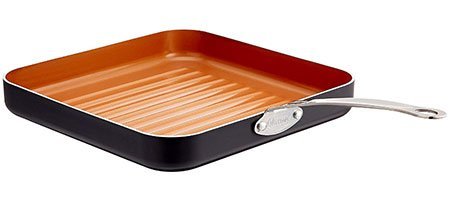 This set is the one you want once you are convinced that Gotham Steel Pans are for you! The set has a very attractive low price for the number of pans that you receive.
It includes the small 8.5-inch skillet, a 10.5-inch skillet with a lid, 1.5-quart pot with lid, 2.5-quart pot with lid, and a 5-quart pot with 5-quart steamer insert and lid.
You'll be loaded up with pans that will help you cook up a single egg or steam up a pot of clams.
For the price, you won't find another non-stick set able to compete with this unless you find a cut-rate brand.
It should be noted that the instructions for seasoning must be followed when you receive the pans and the copperish color is subject to discoloration after repeated heat cycles.
Pros
Large variety of pans for multiple uses
Low price for number of pans
Non-stick cookware
Cons
Must be seasoned and maintained
Lids are not oven safe
Pans can discolor after use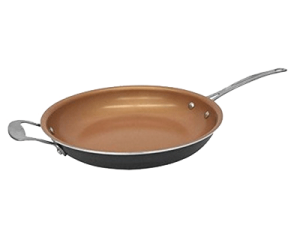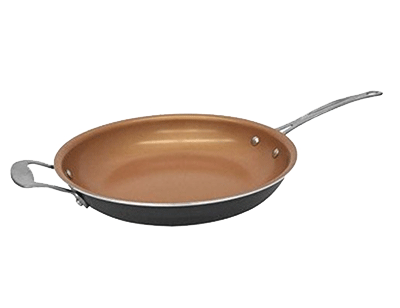 Have you always wanted a pan that can sear a large roast or steak and then transfer into the oven? This is it.
The extra large 12.5-inch skillet has a metal handle and all metal rivets such it can be used as either on the stovetop or the oven to bake.
The small helper handle makes it easier to lift heavy dishes in and out of the oven without putting your thumb in the food. It is priced quite a bit higher than the rest of the line, and you'll spend as much for a professional-grade pan.
Also, if you intend to use it primarily on the cooktop, know that smaller burners will create cool spots on the pan as it has a large bottom surface.
This Gotham Steel pan will work better on your extra large burners. It is not designed for induction cooktops.
Pros
Extra large pan great for preparing large steaks/hams
Small helper handle
Oven proof up to 500F
Cons
High price for questionable performance
Lightweight construction feels cheap
Smaller burners create cold spots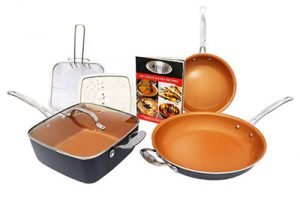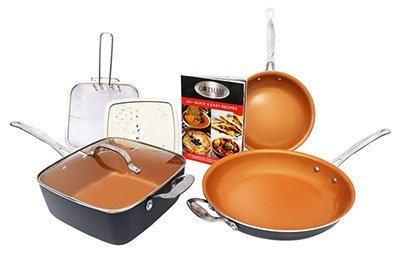 For the frying maniac, there is nothing worse than a deep fryer that ends up with a sticky build up that is nearly impossible to remove. This Gotham Steel pan set is made for you.
The extra deep square pan includes a lid, fry basket and steamer tray. You'll be able to cook french fries, hush puppies, fried chicken and a nice fish fry without effort. You also receive the signature 9.5-inch skillet and the extra large 12.5-inch skillet, making this the set for the super sized family.
The price on this set is alarmingly high and it might be an item that you would want to watch for bargain offers. Sometimes the bundle seems to be missing parts, but customer service will fix any deficiencies. Finally, make sure you season the pans properly before use to avoid disappointment.
Pros
Deep square pan great for deep frying
Extra large skillet cooks up big meals
Small skillet perfect for a couple eggs
Cons
Expensive three pan set
Packaging may be missing parts
Requires seasoning–not maintenance free
---
Are Gotham Steel Pans Requires Seasoning?
If you cruise the internet, you will find demonstrations of eggs sliding across the pan' surface like a skate on ice. The manufacturer says you won't need any kind of added oil or fat to have your food slip out without leaving behind any burnt bits.
The ceramic surface won't scrape off, either, making it a more durable option to the aging Teflon pan industry. There is no indication the pan requires any kind of seasoning or preparation to maintain the non-stick qualities.
---
Are Gotham Steel Pans PTFE/PFOA/PFOS Free?
Best of all, by eliminating all plastics from the cooking surfaces, Gotham Steel Pans have no toxic chemicals that can leach into your carefully prepared meals.
You'll be able to cook for your family knowing that you are not adding potential carcinogens to their food.
No other cookware set ever make any statement like this before in their website. The manufacturer is putting their reputation on the line guaranteeing you are using a safe, clean pan.
---
How to Cook in a Gotham Steel Pan
Cooking with a Gotham Steel pan is simple and offers versatility, but there are some things that users need to know.
First and foremost, always read instructions that may be included and practice kitchen safety. One of the selling points of this pan is that there is no oil or butter needed to coat the pan for cooking.
There are warnings to never spray the pan with cooking spray as this can affect the coating. Additionally, since olive oil has such a low flash point, it is advised to not use olive oil at all in the Gotham Steel pan.
Though the advertisement shows that you can beat eggs in the pan without damaging it, it is probably wise to do any chopping and slicing outside of the pan for the sake of the pan's coating and your safety.
This Gotham Steel pan can be used to cook pretty much anything, whether you are cooking a steak, eggs, omelets, melting cheese or anything else your heart desires.
This cookware can also be used in the oven up to 500°. Never heat the Gotham Steel pan empty. After each use, wipe away any oil, food or debris with a paper towel.
If needed, dish soap and warm water can be used. Although oil or butter is not needed on a regular basis, it is important to maintain the quality of the service in a process known as seasoning your pan. Doing this a couple of times per year will usually be enough.
The Gotham Steel Pan is made with an aluminum core, which heats quickly and evenly.
If you have not used a Gotham Steel pan or are not familiar with cooking with this type of material, it is best to start off by cooking at about half of the temperature that you are used to.
If you normally make your eggs on medium, start with low to feel out your new cookware. You will likely find that you will have to adjust all or most of your cooking temps.
---
We hope you enjoyed reading our Gotham Steel Pans Review and Buying Guide and that it helped you decide which Gotham Steel pan is the right one for you.
Please feel free to share your thoughts and experiences in the comments section below or share the buying guide with your friends on your social media page!
---
Gotham Steel Pan tested by experts:
Related Articles: