So, you finally need to do something about your hard water that is damaging your pipes and clogging up your appliances.
You know that Fleck water softeners are the highest rated systems available, but which one do you need for your family's needs?
We've brought together some of the most popular water softening systems featuring the eco-friendly Fleck digital 5600SXT module and have completed Fleck water softener reviews to help you find the unit designed for your requirements.
Read on and learn what features you might need and which units offer the capacity of healthy, soft water that your growing family demands.
At the conclusion of our product reviews, we'll let you know which one is the best bang for your buck.
Like any system or appliance, you will need to determine which size water softener the hardness of your water and the size of your home needs.
Check with your plumber or local water department to ensure you don't end up with a unit that is just too small for your daily needs.
Many units in our Fleck water softener reviews are available in several sizes, ready to fit your home.
---
Comparison Of 7 Best Fleck Water Softener
1. Fleck 5600SXT Water Softener (Best Overall)

This Fleck 5600sxt water softener features an on-demand meter water softening process. It can treat up to 12 gpm service flow rates and can handle moderate to very hard water.

Read Our Review

2. 7000 SXT Whole House Fleck Water Softener (Best Budget)

The Fleck 7000 SXT promises high water quality for your whole house. It features an 80,000 grain process and comes in an easy to install design. The stellar customer service is also an added benefit.

Read Our Review

3. USA Fleck 5600 SXT Water Softener

The Fleck 5600 SXT features a 48,000-grain capacity and effectively works your whole house. This reliable water softener is highly efficient when it comes to salt and water consumption thanks to its digital on-demand metered water softening process.

Read Our Review

4. ABCwaters Built Fleck Water Softener

True to its name, the IRON MAN series removes any trace of iron while softening your water. This 48,000-grain capacity water softening device comes with an upgraded high capacity fine mesh resin that gets rid of iron and manganese.

Read Our Review

5. Iron Pro 2 Combination Fleck Water Softener

With this highly efficient two in one water softener and iron filter, you never have to worry about providing high-quality water to your entire household. The Fleck digital metered valve ensures efficiency with a 5-year lifespan.

Read Our Review

6. AFWFilters 80k dual Fleck Water Softener

This Fleck water softener features a twin tank that guarantees you have a continuous supply of soft water. The entire system is long lasting with a valve that lasts for 5 years and tanks that last for 10 years.

Read Our Review

7. Pentair WS48-56sxt10 Fleck water softener

Reliable, long-lasting water softening treatments are within arms reach. This Pentair water softening device features a Fleck 5600Sxt digital metered control head that ensures efficiency while providing you with a constant supply of high-quality water.

Read Our Review
---
The Top 5 Recommended Fleck Water Softeners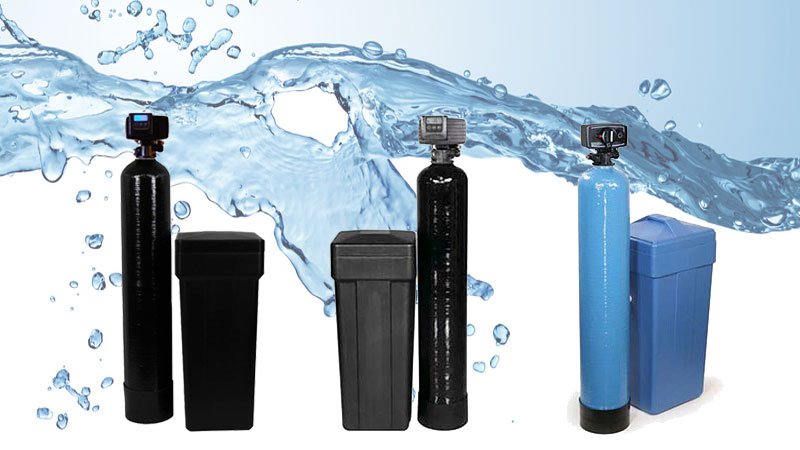 Best Overall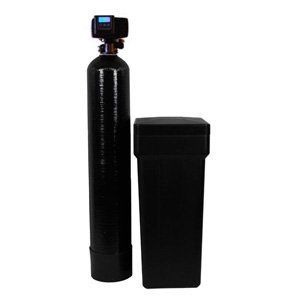 While most units in our Fleck water softener reviews only include the digital meter and valves from Fleck, this one also includes the resin and brine tank from the well-known manufacturer, which is reassuring when opting for this quality brand.
It is also priced below other units with the same size system, so an extra bonus for you!
Fleck took the time to ensure that a step-by-step installation guide was included, helping you save some serious cash without paying a pro to do the job.
Most users find that this system arrives complete, while other suppliers are often missing parts.
It arrives with the standard 5-year warranty on the meter and 10 years for the tanks.
You should be aware that some connections on the bypass valve are constructed out of thin plastic and are subject to fail, but can be replaced without purchasing a new system
Pros:
Entire system manufactured by Fleck
Instructions included
Best available price
Cons:
Plastic connections can fail
Need some plumbing knowledge to DiY
---
Best Budget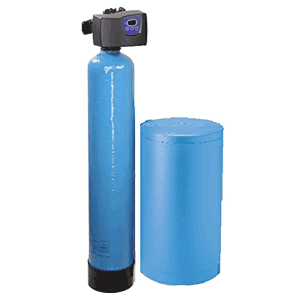 For a larger home or small business, you may need a more robust unit. The best unit found among Fleck water softener reviews is the Fleck 7000 SXT with 2.5 cubic feet of resin and an 80,000-grain capacity.
You may need to opt for this more expensive unit if your water is exceptionally hard or if you have more than six people living in your home.
Once the unit is installed and programmed, it will automatically determine when the resin needs to be recharged and will run a backwash cycle as needed.
There is a manual on-demand button if you want to run a backwash before the unit has one scheduled.
Since the unit is built for the commercial market, it does not come with multiple adapters ready to connect to smaller home systems.
It also does not include installation instructions and the manual for programming the meter is difficult to understand.
If you install it yourself, check out YouTube for easy to follow guidelines.
Pros:
Provides soft water for large homes or small businesses
Manual override for backwash cycle
80,000 grain capacity
Cons:
No included adapters for most home installation requirements
No installation instructions
More expensive than smaller units
---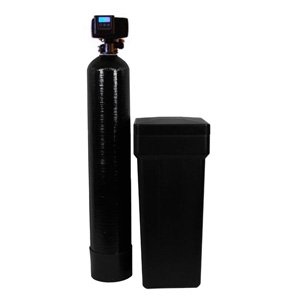 At the top of the list of our Fleck water softener reviews, we have this USA Fleck 5600 SXT that is sized for most average homes that need a water softener installed.
It features the Fleck digital meter which allows automatic backwashing to recharge the filter tank only when it is needed, saving you hundreds of gallons of water each year.
The meter comes with a 5-year warranty and runs on a standard electrical outlet.
Both the brine and filter tank is manufactured by the USA and come with a 10-year warranty, although most water softening systems should last 20 to 30 years before requiring replacement.
The tanks are sized to handle 48,000 grains and come with connectors for a standard 1-inch pipe. The brine tank includes a safety float to prevent floods during the regeneration process.
If you are a DIY'er, be warned that this system does not come with installation instructions, although it is advertised as easy to install.
Local ordinances may require a professional plumber to complete installation, but if you do it yourself you can download the manual from the manufacturer's site.
Pros:
Digital Fleck meter reduces water usage
Brine tank holds an entire bag of salt
Easy to install
Cons:
Missing instruction manual
Meter only has a 5-year warranty
---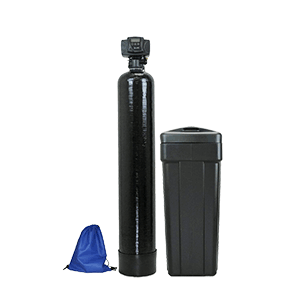 ABC water went out of their way to get some of the best Fleck water softener reviews for their Iron Man Series systems.
While it includes the popular Fleck 5600SXT as the digital meter, they took a little more time pulling together the tanks and parts needed to install the system.
The resin tank comes pre-loaded, saving you time and labor when setting this up.
They include small parts and installation kit with the extra tubes, lines, and connectors commonly required but never included with other systems and offer easy buy links for any special adapters you might need.
However!
For the extra parts, you will pay about a hundred extra over the more competitively priced units that ultimately include the same meter and sized tanks.
If you are confident in your plumbing parts shopping ability, you might save a few bucks by buying the extras separately.
They also offer a responsive customer service department, ready to troubleshoot any problems you might encounter–which is a real boost for any online retailer in this day and age.
Pros:
Small parts and adapters included
Resin tank arrives preloaded
Responsive customer support
Cons:
Pay more for the extra pieces
Some kits arrive incomplete
---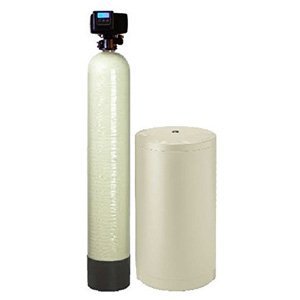 When looking for a slightly larger capacity than most standard home units, you might want to consider the Iron Pro 2 featuring the Fleck 5600SXT control module.
This one holds 64,000 grains, using a larger resin and brine tank for a supersized family.
Of course!
According to Fleck water softener reviews, if you go away on vacation the Fleck digital meter will detect lower water usage and skip a regeneration cycle to save you water and energy.
The filter is specially designed to remove high levels of both ferric and ferrous iron for healthier water that won't damage your appliances or pipes.
This system is built by American Water Solutions who also offer both telephone and online customer support for a smoother installation process.
As with other units, some users report that the included instructions can be difficult to follow and they have better luck following a YouTube video.
It does not include additional connectors or drainage lines, so you may have a few items to pick up to complete your system.
Pros:
Larger capacity for bigger families
Telephone and online customer service
Schedule professional installation when you purchase the system
Cons:
Installation guide is hard to follow
No extra connectors, adapters, or lines included
---
Fleck Water Softeners Features Review
When shopping for a new water softener by Fleck, you will always want to make sure that it has all the features that you need without adding extras that your home simply doesn't need.
Check any Fleck water softener reviews when comparing products and verify that your new unit will include:
Metered Backwash
Only soften the water that your family uses.
Most Fleck water softeners include a digital meter that indicates when your home needs a backwash cycle to maintain water softness, instead of running gallons of water down the drain on a set schedule.
Sized Right For Your Family
Install a system and brine tank that will provide just enough softness for the hardness of your water and the number of people living in the home.
You will waste salt, water, and energy maintaining a too small or too large unit.
Check the manufacturer website to verify the size needed.
Eco-Friendly
By using a metered head, Fleck water softeners reduce the amount of salt that is reintroduced to out water supplies.
If you are concerned about your sodium intake, the amount of sodium used in a standard water softener runs far below levels recommended by the FDA and should not significantly raise your daily intake.
WQA Certified
Each unit has been certified by the Water Quality Association as environmentally friendly and ready to deliver safe water to your home for up to 30 years when properly maintained.
---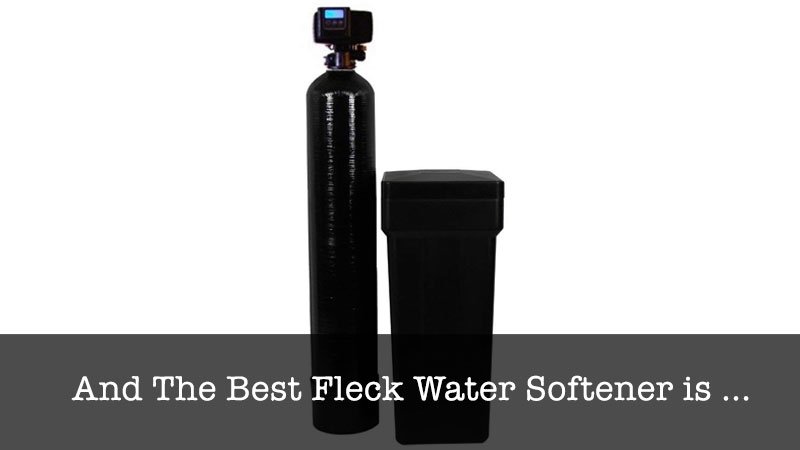 So, Which Is The Best Fleck Water Softener?
After taking all the best features into consideration found in our Fleck water softener reviews we recommend the Fleck 5600SXT Metered Whole House System for the confident do-it-yourselfer.
You will save a few dollars and receive a complete system built by a single manufacturer.
If you would like a little more assistance and are happy to pay for it, the  ABCwaters Built Fleck 5600SXT – IRON MAN SERIES offers the support many customers appreciate and need.
We hope our product reviews and buying guide have helped you find the water softener featuring the Fleck 5600SXT that fits your budget and daily water needs.
Please share your experiences with these products on your social media pages or in the comments section below.
---
Fleck Water Softener Related Products
Aquios AQFS220 Full House Salt Free Water Softener

Poly Salt Free Water Softener Gen5/IC