How to Choose the Best Vegetable Steamer?
When shopping for the best vegetable steamer you want to look for a unit that will give you plenty of steaming capacity. Sure you could look for a gigantic product, but the best ones out there will simply provide another tray on top to steam food in.
This can be a better option when you need to feed more than just one person and especially if you plan to cook multiple items for a meal in the steamer. You also want to look at the other features listed above to ensure that the unit you get will meet your needs.
Think about what you will be using the steamer for so you can go with the steamer that will work best for you.
Why a Vegetable Steamer is Used?
There are a couple reasons why people use a steamer to cook their food.
The biggest reason is for controlling the calories they consume. Steaming does not add any additional fats or oils to the food, just with steam.
Another reason why people choose steaming is because it is the best way to keep all the nutrients in the food. When many vegetables are placed in water and boiled, the nutrients are lost.
Since the food never touches the water in a silicone vegetable steamer it will retain the nutrients inside. Another great reason to use a steamer is because it is efficient.
It can save you on energy compared to baking or even boiling your food. It also does not take as much time. You simply fill the reservoir tank, put in the food and set the timer.
What Makes the Best Vegetable Steamer?
There are several aspects that go into the steamer that make it great. Here are some of the aspects you need to be aware of.
The Steaming Capacity
This refers to the amount of space you will have to put food in the steamer. Typically a vegetable steamer will hold 2.5 quarts of food for every basket. This is why many people go for a unit that has multiple baskets so they can cook more food at once.
Dividers
Another great feature to look for is some sort of divider. This can be a literal divider or simply a basket.
This is perfect because it can separate meats from the other food or simply separate your vegetables to make them easier to get out and into serving dishes. A basket is great for steaming grains such as rice.
The Timer
You want to make sure the timer will go on for a good amount of time.
While
it may only take about 10 minutes to steam baby carrots it will take significantly longer to steam other vegetables or a sea bass.
Auto Shut Off
This is an important feature for any steamer to have.
This is designed so that when the timer goes off or the unit runs out of the water it will shut off. This is important for a couple reasons.
For one,
it ensures your food does not get overcooked. It is also a safety feature that ensures nothing bad happens, such as burning the motor on the unit.
Transparent Cooking Trays
This may seem like it is not important but it can actually be an important aspect of cooking with steam. Transparent cooking trays mean you can keep an eye on the food to make sure it is not getting too done.
For instance, green beans have a very different flavor when they are dark versus light green which is reflective of the amount of time they are cooked for.
By being able to see the color of the green beans you will be able to see if they are at the color for the taste you prefer.
The Most Recommended Vegetable Steamers: 5 Best Vegetable Steamer Reviews
1. Ovente 3-Tier Electric Steamer for Vegetables and Food with Timer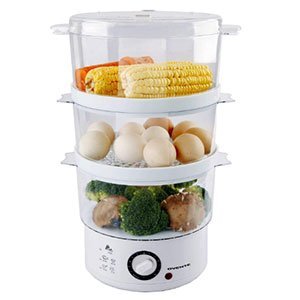 This product has three tiers to give you even more steaming power. You can cook with one, two or all three tiers on the steamer.
It even comes with a vegetable steamer basket that is perfect for rice, quinoa, and other grains you may want to cook along with the vegetables.
This has an auto shut off feature that kicks in when the timer goes off or the steamer runs out of the water.
Pros
Three tiers for tons of steaming capacity
Comes with a rice basket
Dishwasher safe
Auto shut off feature
Cons
Timer is only in 15 minute increments
Can leak
Lots of pieces to put together to make this work as a whole unit
2. Oster Double Tiered Food Steamer
Through the transparent bowls of this two-tier vegetable steamer, you can watch your food cook before your eyes. This can hold up to 5 quarts to store plenty of food.
The parts are dishwasher safe and they come apart easily when the cooking is done. You can cook your entire meal in this steamer and when you are done all the pieces store inside of each other for compact storage.
Pros
Dishwasher safe
Compact and easy to store
Plenty of storage space for food
Easy to use
Cons
It has an outdated design
It can leak
Not all foods cook at the same temperatures
3. BELLA 7.4 Quart 2-Tier Stackable Baskets Healthy Food Steamer with Rice & Grains Tray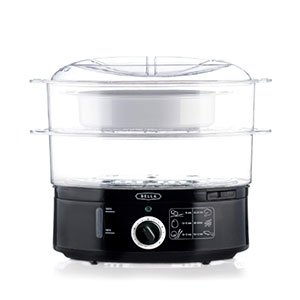 This is another dual basket food steamer. In addition to the two tiers of steaming room this unit comes with a basket that is perfect for cooking rice and grains or even dim sum or other favorites.
It has the smart steaming technology to ensure your food is cooking quickly and efficiently. The reservoir window for the water is also easy to see. The parts are BPA free and dishwasher safe.
Pros
Basket allows you to cook rice and grains
Display on the front helps you to know how long to steam the food for
Has an auto shut off feature when the timer goes off
Easy to clean and free of BPA
Cons
There is no function to keep food warm when the timer goes off
Timer can be hard to read
Finding the right cooking time can be hard
4. Aroma Housewares 5-Quart Food Steamer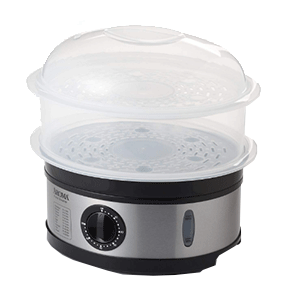 Cook five quarts of food at the same time in this double-decker food steamer. This can cook meat and vegetables at the same time.
While it may not have the capabilities of cooking rice that others have, it does provide a light product that is easy to store and simple to clean.
All the parts come off and are dishwasher safe. It is easy to fill the tank and start the cooking. The rotary dial allows you to choose the time you want to cook the food for.
Pros
Lots of cooking space
Easy to clean
List on the front to show how long vegetables should be cooked for
Trays have handles for easy removal
Cons
Cannot cook rice
There is no divider for meats
The top tray is smaller and domed
Has a tendency to leak
Related: Best Stainless Steel Rice Cooker
5. Hamilton Beach Digital Food Steamer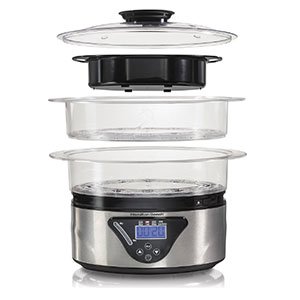 This double-decker vegetable steamer is designed to allow you to cook an entire meal in one appliance. You will have the option to use just one tier or both tiers of this steamer. You can also use the divider to keep foods separate.
This can be a great help if you are steaming raw meats such as seafood or poultry with the vegetables.
It has a digital display that shows the timer and when the timer goes off the unit switches to warm to ensure your vegetables do not get overdone.
Pros
Two tiers mean you can cook more food at once
Cook meats as well as vegetables
Digital display makes cooking easy
Control are easy to use
Cons
Not all foods cook for the same times so cooking can be uneven
There are a lot of parts
Putting together the second tier can be frustrating at first
The timer is hard to hear
---
What Vegetable Steamer We recommend?
Out of all the options listed above the best steamer option is the Ovente FS53W 7.5-Quart 3-Tier Electric Vegetable and Food Steamer.
This unit has plenty of space to put all your favorite foods with the three tiers. You can make dinner for the whole family, including rice or other grains in the included basket.
It is versatile enough to be used with one or all three of the baskets in place. It is also dishwasher safe and free of harmful BPAs in the plastic while also being transparent so you can keep an eye on the cooking.