Are you looking to replace or add a vacuum sealer to your kitchen to help with your sous vide recipes?
We have brought together some of the most popular sealers together to help you find the best vacuum sealers for sous vide while avoiding cheap (or expensive) knock-offs that just won't do the job.
Read along and discover which features should be included on a quality vacuum sealer, and which ones are just a waste of time and money.
At the end,
we'll let you know which one will give you the best bang for your buck while helping you to turn out some truly stellar cuisine.
Comparison Of 10 Best Vacuum Sealers For Sous Vide
| | | |
| --- | --- | --- |
| | Prep and preserve with the unmatched versatility of the Gourmia Stainless Steel Vacuum Sealer. Preserve your food's freshness, color and taste or easily prepare vacuum-sealed bags for sous vide cooking. | Read Our Review |
| | If you're looking for something perfect for virtually any sealing need, invest in the SousVide Supreme Vacuum Sealer. This handy little device can seal items for traveling and features multiple settings for vacuum or basic sealing. | Read Our Review |
| | Save up on precious space with this compact, commercial-grade vacuum sealer. This revolutionary tool features a patented dual-seal Freshkeeper Technology that guarantees your food is perfectly sealed which means you get the perfect Sous Vide every time. | Read Our Review |
| | Style and functionality are rolled into one in this highly compact and reliable tool. This vacuum sealer sports an all-black finish and is designed to be compact and easy to operate. If you're looking for strong and reliable sealing, then this is for you. | Read Our Review |
| | Vacuum seal and prep your food for Sous Vide with one touch. This handy vacuum sealing tool has two modes that allow you to mix and match, guaranteeing that even fluffy food will result in a perfect vacuum. | Read Our Review |
| | You can never go wrong with a product that provides excellent after-sales service. The Myriann vacuum sealer utilizes specially designed bags that remove air completely for effortless and risk-free Sous Vide cooking. | |
| | Save money and time by making meal prep easier. This vacuum sealer features an easy, one-click interface that allows you to seal your food items quickly and efficiently without any fuss. | |
| | This must-have food vacuum saver sealer saves your food from losing its freshness. Keep your food fresh for up to five times longer in the freezer and easily Sous Vide them after. | |
| | Invest in the aesthetic flair and reliability of this KitchenBoss Vacuum Sealer. It features a red finish and innovative upgrades that guarantee effective vacuuming and sealing functions without the noise. | |
| | If you're just starting out on the Sous Vide road, then this Geryon vacuum sealer is the perfect investment. It comes with a starter pack of bags and guarantees a complete seal, which means you can worry less about prep. | |
---
The Top 5 Recommended Vacuum Sealers for Sous Vides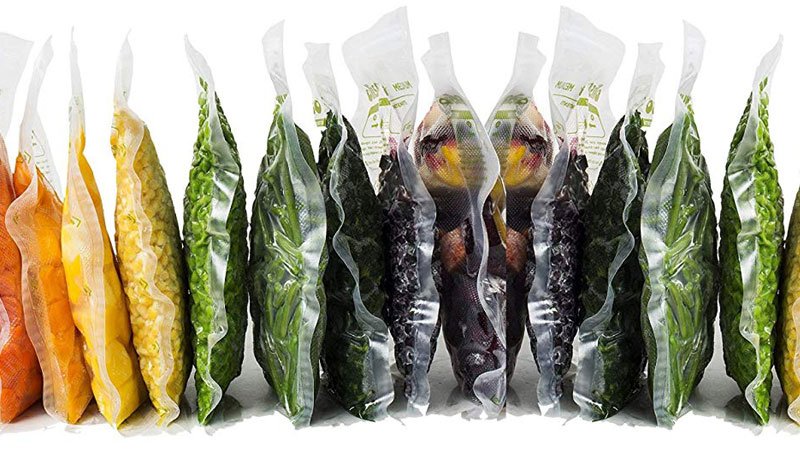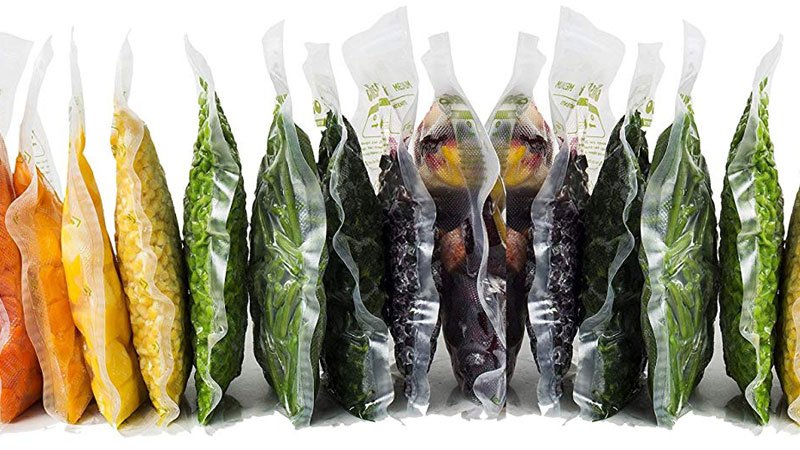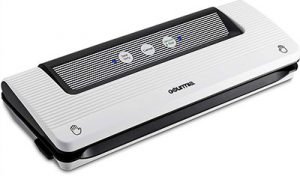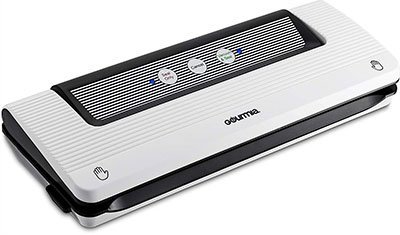 While you can find some vacuum sealers for about half the price, the Gourmia comes jam-packed with the features you need on the best vacuum sealer for sous vide.
It offers 8 different settings to seal a variety of meals without damaging the ingredients including moist, pulse, fruits, meats, and even a canister option. You can vacuum seal your jars of jams or soups using a simple attachment offered separately.
You can seal bags that are up to 11-inches wide. The pressure sensor determines when all the air has been removed from the bag and an LED lights up to show you it is done. There is also a manual setting for strange shaped packages.
It is a little pricier, and while it features an on-board cutter, there is no storage for bags in the unit.
Also, the drip tray is not removable so you will also be wondering if you got it as clean as possible.
Overall, the Gourmia is an excellent investment, but not perfect.
Pros
Uses any brand of vacuum bag up to 11-inches
8 different settings for proper sealing
LED light lights up when it is finished sealing a bag
Cons
More expensive than basic units
Drip tray does not come out
No included storage for bags
---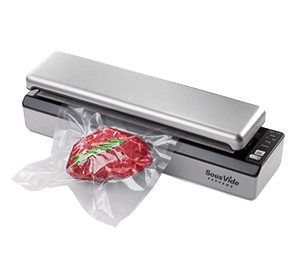 Sometimes you run into products that say they were purpose-built for your use, but if you are looking for the best vacuum sealer for sous vide, you don't want the SousVide Supreme.
It is priced twice over the Gourmia and offers most of the same features, but fails to stand up to any kind of constant use. It will seal bags that are over 12-inches wide if you can get it to seal. It lacks a drip tray and cutter.
It offers a sleek contemporary style, so will look very nice in your modern kitchen, but you need it to seal bags in just a few seconds.
Many users report that their unit either never worked, lasted only a few days, or randomly refuses to completely seal bags.
For the price, you should expect to get a unit that performs that basic function without a problem.
Pros
Nice contemporary design
Multiple vacuum settings
Cons
High price
Low performance
No drip tray
---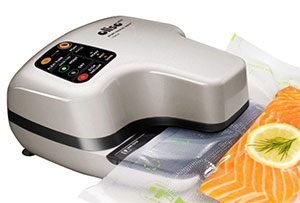 If you are committed to using sous vide to create meals for your family on a regular basis, you might want a unit that offers a bunch of bonuses.
However, if you opt for the Oliso PRO, you will be spending twice the price of other quality units.
However, what makes it the best vacuum sealer for sous vide is its versatility and compact size. It fits perfectly into a cabinet when you don't need it and the control buttons are easy to ready.
You will be using Oliso brand bags that are first zip closed and then sealed. There are all the extra settings you need for delicate, dry, and wet ingredients.
It also offers bags and settings to seal your wine and oil bottles to prevent any air from reacting with the fine food.
Remember!
You not only splurge on the premium vacuum sealer but will also be spending extra on the bags.
Pros
Attractive compact design
Works well with all types of ingredients including bottles
Easy to understand operation
Cons
 Costs twice the price
 Must use Oliso brand bags
Bags are not resueable after cooking
---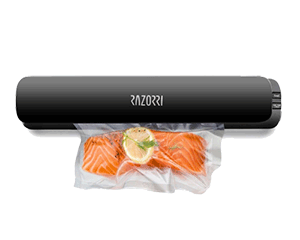 Now, if you are going for simplicity and just want to test our the sous vide lifestyle, the Razorri could be the best vacuum sealer for sous vide made just for you.
It will save you some cash with its budget friendly price and its slim design allows you to stow it in any drawer in your kitchen.
It works with any standard vacuum seal-bags and has two simple settings–vacuum and seal-only. It operates when you press down the top and stops functioning when you release.
So, where would it disappoint?
If you are using wet ingredients, you won't be able to vacuum seal the bag as it will suck out the liquid and leave it on the counter.
There is no adjustment for delicate foods.
It is a little noisier and takes longer to seal than more expensive machines, but you might expect that with its low price.
Pros
Budget friendly price
Easy to use
Works with any vacuum-sealer bags
Cons
No extra food settings
Requires constant pressure to operate
Does not vacuum seal liquids
---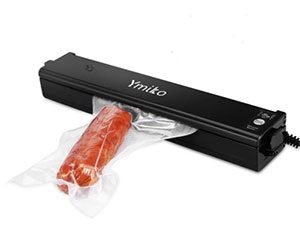 Another entry into the bargain basement category is the Ymiko, priced even under the Razorri. It too offers no extra beel and whistles, but does use vacuum and heat to seal your meal bags making it the best vacuum sealer for sous vide while saving some cash.
You can manually manipulate the vacuum feature to create your own pulsing action to prevent damaging cakes or fruits while sealing.
It is slim enough to slide into a picnic basket and just needs a power outlet to work, making it a great option for caterers who work at remote locations.
All that said, you simply can't expect it to seal a bag full of liquid or even a marinated steak unless you freeze before sealing–which totally ruins the point of sous vide.
Users mention it keeps their chips and cookies fresh, but that's not really fine cuisine. It could be the right one to choose if you simply wanted to test out a sous vide recipe without expecting to use it as a regular features in your kitchen.
Pros
Super low price
Compact design
Uses any vacuum-seal bags
Cons
No premium features
On/Off only
---
How To Choose The Top Vacuum Sealer For Sous Vide Cooking
If you are buying a vacuum sealer for the purpose of improving your sous vide technique, look for these features that will support your culinary activities while lowering your frustration level.
Removable Drip Tray Sealer
When sealing meals that include marinades or juicy vegetables, there will be some moisture sucked out of the bag.
Many units have drip trays, but if you can't remove it, it will never get clean.
Built-In Roll Storage And Cutter
Don't add more clutter to your kitchen with a variety of bags, scissors, and markers.
Look for a vacuum sealer that offers a convenient compartment to store a whole roll of bag material with a mounted cutter so you use only what you need.
Seal-Only Option
If you are working with soups or preparing a marinade for another dish, sometimes you simply want the bag to seal without the vacuum.
Don't disappoint yourself and purchase a unit that is less flexible than you need it to be.
If you are adding sous vide to your meal preparation repertoire, you will need a vacuum sealer with the following abilities:
It should have a marinating or moist mode that uses a less powerful Pulse action when removing air from the bag without drawing out all the liquid at the same time.
Look for multiple food settings as vegetables and pastries can be squashed by the high setting used for vacuum sealing meats.
On the best vacuum sealer for sous vide, you should also find a manual vacuum sealing control to reseal a variety of ingredients when automation can damage small or oversized portions.
What Is The Difference Between Chamber Vacuum Sealer And A Bag-Seal Vacuum Sealer?
A chamber vacuum sealer allows you to vacuum seal soups, marinades, and sauces and you can use less expensive bags for the sealing process.
With the bag-seal version,
you place your ingredients into a special textured bag and the unit clamps down on one end while drawing the air out of the bag–liquids can prevent proper sealing.
Chamber units tend to be more expensive.
---
Which one is the Best Vacuum Sealer for Sous Vide Cooking?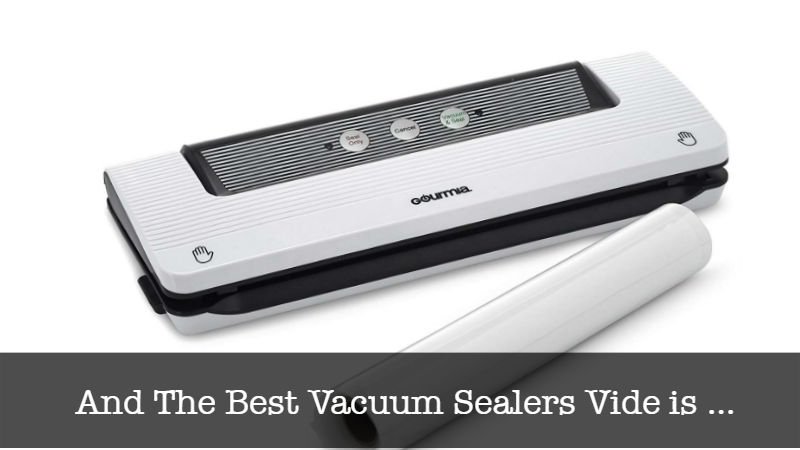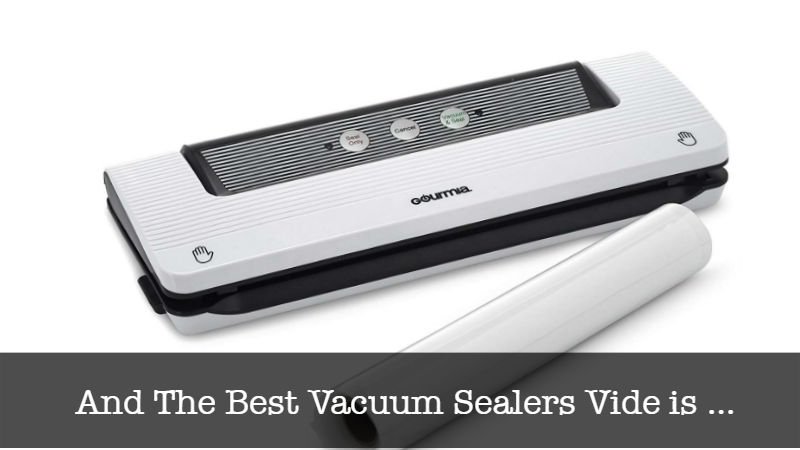 If you are looking for the best vacuum sealer for sous vide without breaking the budget, the Gourmia GVS435 offers all the additional features such as power settings and able to use any vacuum-sealer bags which allows you to get the most out of the unit.
There is even an attachment ready to work with jars and bottles. Should you spend less, you simply won't get the performance you need and spend more, you are just wasting money.
We hope you enjoyed reading our sous vide vacuum sealer reviews and buying tips. Should you have any other comments, please share them with us below or on your social media pages.
---