You know that plastic has a way of deteriorating and exposing you to harmful chemicals, which is why you have chosen to drink from a stainless steel water bottle.
Since you are already choosing the better way to carry water and other coveted drinks around town, why not go for the gusto and select the best vacuum insulated water bottle?
We've done a bit of work in determining what makes an ideal insulated flask.
Here are questions that you should ask before buying your next stainless steel double wall insulated bottle.
Quick Navigation
The Most Recommended Insulated Water Bottles: 5 Best Reviewed
Does the Insulated Bottle Take on the Design of Classic Vacuum Flasks?
The design of the double wall vacuum insulated water bottle comes from the compressed container of the nineteenth century.
Sir James Dewar conceptualized the specialized storage receptacle in 1892 with the notion of combining two flasks.
Such is the reason why one container is smaller than the other and creates the vacuum effect by taking its place inside of the larger bottle.
The gap in between the two containers prevents heat transference by conduction or convection, which means that the contents remain in their original state for longer periods.
Is the Stainless Steel Bottle BPA Free?
Bisphenol A (BPA) is a chemical that is used to harden plastic. Although efficient in that sense, the resource is detrimental to human health.
Widely recognized as an endocrine inhibitor, BPA interferes with the body's ability to produce, secrete, and transport new hormones.
The presence of BPA also prevents hormones already up and running from properly operating because the chemical has a way mimicking their duties.
Such confusion in the body is believed to lead to reproductive problems in women and impotence in men.
Bisphenol A also has links to heart disease and memory loss that could carve the paths for cardiovascular arrest and dementia.
The best vacuum insulated water bottle is free of BPA and alleviates you from the heartache of a medical condition developing as a result of drinking water from your personalized bottle.
Does Insulation Work for Hot and Cold Drinks?
Perhaps you are the athletic type who enjoys a run every morning.
You want the ice in your water to remain while you take your jog around town for the next hour. Stainless steel vacuum bottles have been tested and found valid in keeping beverages cold for hours.
Both experts and amateurs have conducted different experiments over the years, which include leaving cold drinks in the sun for hours or exposing the bottles to extremely low temperatures for half the day.
Most, if not all, stainless steel bottles keep beverages hot or cold even anywhere from 12 to 24 hours.
Related reading: Best Insulated Tumbler
Is Your Vacuum Insulated Water Bottle Choice Durable and Environmentally Friendly?
The best vacuum insulated bottle is strong and ecologically smart. You should be able to throw your container on the ground or drop it from elevated levels without fear of shattering.
The long-lasting strength of double wall vacuum insulated water bottles makes them popular among environmentalists.
Those looking to save the planet know that plastic, even in its purest form, has a way of deteriorating and leaking.
You cannot see the chemicals that become one with your beverage as a result of wear and tear, but your body recognizes such toxins and eventually reacts to them in a negative manner.
In fact, some scientists have suggested molten plastic as the source of certain cancers.
Vacuum insulated water bottle does not deteriorate in a manner that is detrimental to human beings.
Good stainless steel containers do not leak and become one with the beverages that they hold.
Does the Double Wall Vacuum Insulated Water Bottle of Your Choice Deliver Maximum Hydration?
The type of container that you use to store water can mean the difference between getting in a good workout or having a bad day at the gym.
A crumbling water bottle that you found in the car may not deliver the sort of hydration that you need to recuperate and move on to the next exercise.
At the same time, having a cold drink of water may be just the thing that you need to keep going when your body feels like giving up.
A quality container such as the Hydro Flask Vacuum Insulated Stainless Steel water bottle provides the perfect temperature that lets you cool down and gear up for another round of intense exercise.
The best vacuum insulated water bottle will also provide significant help on sick days as its design keeps your favorite chicken noodle soup hot all day.
The Most Recommended Insulated Water Bottles: 5 Best Insulated Water Bottle Reviews
1) The Flow Vacuum Insulated Water Bottle Review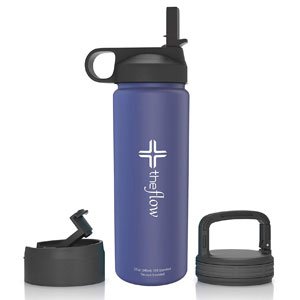 This 32 oz stainless steel insulated water bottle comes with three different lids – a flip-lid, wide mouth, and straw.
It's 100% compatible and combinable with any Hydro Flasks you might have. The stainless steel design is made of the highest quality BPA-free stainless steel.
These 18/8 bottles are vacuum insulated and double walled and will keep your drinks hot up to 12 hours or cold for about 24 hours.
The lids are completely dishwasher safe, but you should wash the bottles by hand to steer clear of damaging the coating.
These insulated water bottles have a coating of premium powder which stops them from sweating, so they're easier to handle and carry around.
They won't absorb any aroma or residual coloring, and they come with a no-questions-asked money-back guarantee.
Pros:
Wide mouth allows for easy fill from freezer dispenser.
A variety of lids including pop-up straw, slip top sipper, and a screw cap with clip.
No condensation build up.
Beautiful design.
Great alternative to the popular Hydro Flask Vacuum Insulated Stainless Steel water bottle.
Cons:
Does not preserve ice like competitors.
The bottle is too large to fit into a standard cup holder.
Lack of rubber washer leads to leakage.
Does not keep beverages cold overnight.
2) Healthy Human Vacuum Insulated Water Bottle Stein Review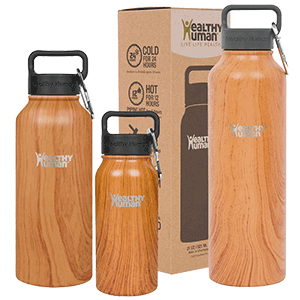 Water, ice, tea?
There is virtually nothing that this flask cannot hold.
The Healthy Human water bottle keeps beverages cold for up to 24 hours and maintains the integrity of hot drinks up to 12 hours.
This insulated water bottle is lightweight, which means that you can carry it while taking a run or bike ride around town.
The unique three-finger design of the top lets you easily pick up the container with three fingers for quick accessibility to water during strenuous activities.
Pros:
The wide mouth makes the container ideal for drinking comfortably after adding ice or lemons to beverages.
Large enough to hold up to 32 ounces of liquid, yet slim enough to fit into the average cup holder.
Easily hangs from your belt or backpack.
Cap is lined with stainless steel to prevent your drink from coming into contact with plastic.
Cons:
May develop a mildewy stagnant smell
Wide mouth makes it difficult to drink while moving
Tends to slowly leak out of the lid
3) Glacier Point Vacuum Insulated Water Bottle Review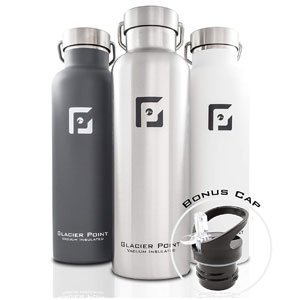 One of the key characteristics associated with the Glacier point vacuum insulated water bottle is its ability to keep beverages cold without sweating.
The wide-mouthed container has a stainless steel cap that secures beverages all day long.
Many hikers enjoy the benefits of the Glacier Point because of its durability and slimness.
This container easily fits into your backpack or purse.
Pros:
Ice cubes fit into the wide mouth.
Holds up to 25 ounces of liquid.
Stainless steel cap.
Comes with the option of a plastic cap and straw.
No leaking.
Cons:
Bonus plastic cap has a sharp edge on the handle that makes carrying difficult.
Neck and top sweats in humid weather.
Straw 's hard to clean. Replacements are hard to obtain.
Threads inside the neck of the bottle rust over time.
Straw does not have a good seal, which makes consuming beverages difficult.
4) Simple Modern Vacuum Insulated Water Bottle Review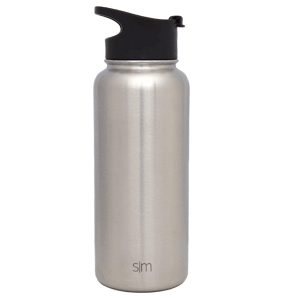 Various color schemes make the Simple Modern bottle appealing.
You can select from bold shades or go with a more modest scheme if that is your desire.
The Simple Modern bottle's stainless steel flip lid is sleek and designed to last many years.
Although beautiful, there is no denying the ruggedness of this bottle with its powdery finish that makes for a rough surface.
Pros:
Holds up to 32 ounces of liquid.
Quality insulation.
Non-slippery finish.
Twist on and flip top lids.
A variety of colors.
Cons:
presents the possibility of rust.
Does not fit into a standard cup holder.
Rounded ends make for easy spills.
The flip lid is not appealing to some.
5) KING DO WAY Double Wall Vacuum Insulated Water Bottle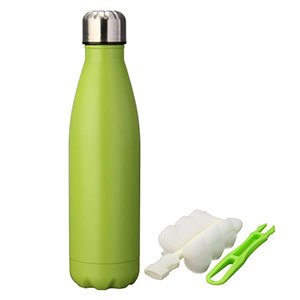 This solid color fashion design is made of top quality food grade 18.304 100% BPA free outside and inside walls.
It's easy to drink from since it has a drip-free wide mouth that's ideal for ice cube insertion and a specially designed cap that helps to prevent spills.
Its lightweight design is perfect for bicycling, backpacking, hiking, and long road trips.
It's also good for carrying in your gym bag and getting you through that long yoga class.
Keeps drinks hot up to 18 hours and cold up to 9 hours. Includes a cleaning brush.
Pros:
Slim enough to fit into gym bags and backpacks.
Bottle brush makes cleaning and maintenance easier.
Great design.
No leaking
Cons:
Silver cap is not as durable as the rest of the bottle.
Sweats in high humidity.
Strange taste even after several washes.
Rubber around the rim is not as durable.
---
So, Which One is The Best Vaccum Insulated Water Bottle?
A thermostat insulated water bottle is a better pick over plastic any day simply because of its durability and environmental friendliness.
The Flow Stainless Steel Vacuum Insulated Stainless Steel Water Bottle, however, is the better choice among the 5 double wall vacuum insulated water reviews above.
The flask has a wide enough mouth for ice cubes and, like the Hydro Flask Vacuum Insulated Stainless Steel Water Bottle, maintains the content's integrity overnight.
The Flow water bottle is durable enough to last for many years without rusting. It is also vacuum packed to prevent sweating and leaking.
This double wall vacuum insulated water bottle is BPA-free and aligns with the unspoken ecological mission of any double wall vacuum insulated water bottle.
The Flow Stainless Steel bottle can be a contender on any Best Vacuum Insulated Water Bottle review list.
Related Articles: