What Is The Best Upholstery Stapler?
If you are shopping for an upholstery stapler, there are some factors worth considering: the cost, how it is powered, its durability, and more. With our list of factors, we chose the Porter-Cable US58 Upholstery Stapler as our top pick based on its ease of operation, durability, and the nose extension for working in tight spaces.
---
Shopping for an upholstery stapler can be an overwhelming progress. There are many brands and models available and it can be hard to figure out the differences when your vision is blurring due to being surrounded by options.
First and foremost, you need to decide if you want an electric powered one that you simply plug into the wall, an air-powered one that requires an air compressor, or a manual staple gun that is powered by you.
All of these choices have benefits of their own, so no choice is necessarily the wrong one.
The options in this review are air-powered. If you do not have an air compressor, this might not be the right type for you. If you need the stapler for just a couple of projects, investing in an air compressor is not necessary.
Just choose a different option. If you will be using the stapler often, it is probably worth investing in an air compressor.
---
Quick Navigation
5 Top Upholstery Staplers: Our Picks & Recommendation
---
5 Best Upholstery Stapler Reviews
To find the top upholstery stapler, we looked closely at ratings and reviews of multiple brands and models.
After careful consideration, we chose the following five upholstery staplers based on the price, durability, and nose size.
---
Best Overall Upholstery Stapler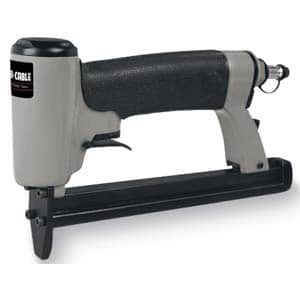 What You Will Love: It is small and lightweight making it easy to operate.
Though it is small and lightweight, it is made with a steel top cap to make it durable. There is a 1 inch extension so that you can still work in hard to reach places.
This upholstery stapler is air-powered so it requires an air compressor. It has a high capacity bottom load magazine that has space for up to 185 staples.
It comes with a one year limited warranty. It seems to perform as well as it claims because, according to buyers, it got through their jobs with ease, no mistakes, and no jams. I believe that this is the best stapler for upholstery work.
The only downsides I can find are the price and the fact that you need an air compressor. At over $100, it is a bit steep and will likely not fit into everyone's budget.
As far as the air compressor goes, not everyone has one available so they will either have to purchase one or find a different upholstery gun.
Pros:
Small and lightweight yet durable
1 inch extension for hard to reach places
Can hold up to 185 staples at a time
Performs very well
Cons:
Expensive
Needs an air compressor to operate
---
Best Budget Upholstery Stapler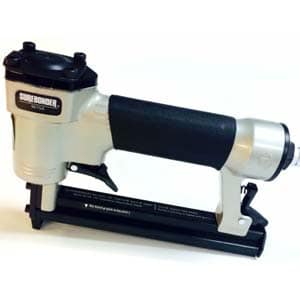 What You Will Love: This upholstery stapler comes with 15,000 staples, a case to keep it in, an allen wrench and oil for the tool.
The Surebonder Pneumatic Upholstery Stapler comes with a comfortable rubber grip and a safety mechanism to prevent accidents. The staple magazine can hold up to 100 staples at a time.
Though this Surebonder upholstery stapler also requires an air compressor, the price of the stapler is much less- it is usually under $40- so the investment is lower. Buyers state that it is easy to use and performs well.
According to reviews, the nose might not be long enough for all upholstery projects.
Pros:
Comfortable rubber grip
Includes accessories such as staples and a storage case
Safety mechanism
Great price
Performs well
Cons:
Requires an air compressor
Nose may be too short for some upholstery projects
---
Best Lightweight Upholstery Stapler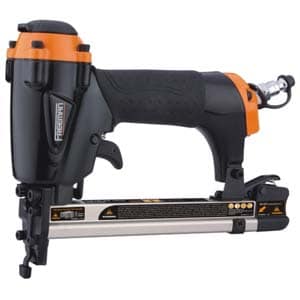 What You Will Love: This is a tough and dependable upholstery stapler that comes at a great price.
The Freeman Professional Fine Wire Stapler is a lightweight professional or home tool that is great for crafts and upholstery projects.
It is crafted with a durable aluminum body and an ergonomically designed secure handle.
The no-mar tip decreases scratches and other unwanted marks while you are working. The stapler magazine and cylinder are made from anodized aluminum and holds up to 100 staples.
There is a 7 year limited warranty attached to this product. Users say that it works very well and it is priced under $30. It is air powered, which is a downside for some, and the nose is too short for some hard to reach places.
Pros:
Lightweight yet tough and dependable
Durable aluminum body
Holds up to 100 staples
7 year limited warranty
Very good price
Cons:
Nose is too short for some upholstery projects
Requires air compressor which may be a problem for some
---
Best Heavy Duty Upholstery Stapler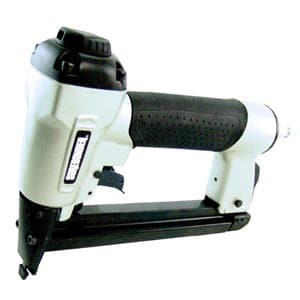 What You Will Love: It has an adjustable air exhaust so that you have more versatility while working on your projects.
The Surebonder 9600B Pneumatic Heavy Duty Stapler is a highly recommended stapler for upholstery and craft projects. It has a well balanced, durable body and rubber grips to comfort.
There is a safety mechanism to help prevent accidents and it is very easy to load with staples. Also, there is a window that allows you to keep an eye on how many staples you have left in the magazine instead of not knowing until you run out.
The reviews about this upholstery are impressive. It is air operated, so like the others, you will need an air compressor.
The price runs around $40, which is more expensive than some options but still a fair price.
Pros:
Adjustable air exhaust for versatility
Fair price
Highly recommended
Durable
Safety mechanism to prevent accidents
Easy to load
Window for easy view of staples
Cons:
Needs an air compressor
Higher price than some options
---
Best Industrial Upholstery Stapler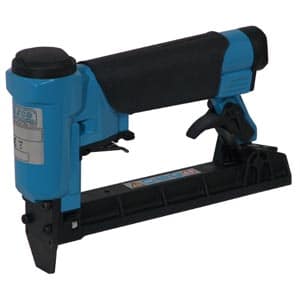 What You Will Love: It has a narrow nose to increase visibility during projects.
The Fasco 50 Series Upholstery Stapler was designed to speed up the staple loading process. It has a bottom load design, and the magazine is easy to open with one finger.
The magazine can store 110 staples at a time so you do not have to refill as often as you do with some other options. It is lightweight and has an aluminum body.
Though there are many positive reviews, there are a few downsides. The first one is the price. As over $100, it is a bit expensive for many budgets.
The second issue is that there is a plastic safety lever that constantly has to be moved out of the way to work.
Lastly, you can only load full rows of staples. If you load smaller ones, this Fasco stapler will misfire.
Pros:
Quick and easy loading, stores 110 staples at a time
Lightweight
Aluminum body
Cons:
Expensive
Plastic safety lever is in the way
Misfires if you load anything less than full rows of staples
---
Upholstery staplers are very good professional or home tools to have with their ability to do not only crafts and upholstery but also some home improvement project.
If you are thinking about purchasing an upholstery stapler, start by reviewing the options listed here.
---
More Tools Related Articles:
---