Quick Summary: Which of the quality water filters under the sink unit is perfect for your home or business? Of the ten we review, the best is the iSpring RCC7. It offers five stages of filtration through a reverse osmosis system. In addition to purification, it also softens the water. It has a max output of 75 gallons per day and a beautiful brushed nickel faucet. It holds an NSF certification making it one of the best water filter units on our list.
Are you looking for something different? Keep reading as we give you our top under sink water filters, along with some of their better features. Water is the essence of life. Filtered or purified water is a very important item that is very hard to find at any place or store.
With an under sink water filter unit, you can continue to have clean water right at home. That is not only convenient; it is also cost-effective. Many top brands of bottled water are merely filtered water with a fancy label.
With your own under sink filter unit, you have access to quality water that undergoes filtration. Many units that we recommend are reverse osmosis (RO). Why RO? The process works to remove as much as 99.9 percent of contaminants in water.
It is a physical process where water line pressure forces through smaller and smaller membranes. The result is that impurities such as salts remain in the filter, and the clean tap water comes exits the faucet.
Some reverse osmosis water filters have a charcoal layer that helps to remove chemicals. If an RO filter sounds right for your home, then check out our top ten filtration systems listed below.
Quick Navigation
---
10 Best Under Sink Water Filters Comparison
| | | |
| --- | --- | --- |
| | This High Capacity Reverse Osmosis water filtration system mounts perfectly under your sink. The water filter and water softener are designed to provide you with safer, healthier drinking water and remove up to 99% of over a thousand contaminants. | Read Our Review |
| | The APEC Top Tier 5-Stage Ultra Safe Reverse Osmosis Drinking Water Filtration System boasts the only purification process that successfully removes arsenic, chlorine, lead, fluoride, heavy metals, bacteria, viruses and over a thousand other contaminants from your tap water. | Read Our Review |
| | The 3M Water Filtration System guarantees that your tap water will come out cleaner and better-tasting every time. The healthy-living filtration process reduces microbial cysts, chlorine taste, odor and other contaminants to bring you fresh water from the tap. | Read Our Review |
| | Is your drinking water just not clean enough? Then the Woder purification system is just what you need. Designed to be used in conjunction with municipally treated drinking water, this water purifier guarantees the job is done right every time. | Read Our Review |
| | Reliability, convenience and clean water are now at the tip of your hands. This under sink water filter is designed to provide you safe and clean water by removing particulates, chlorine taste and a variety of other contaminants. | Read Our Review |
| | This long-lasting filtration system comes with a 1-year satisfaction guarantee. Remove chemicals, taste and odors with the super capacity filters that come with a 100% lead-free chrome finished faucet and FDA certified tubing. | Read Our Review |
| | This CuZn water filter is perfect if you're looking for something that needs little to no maintenance and lasts for several years. The 5-year Pro-Rated Warranty guarantees that your tap water is as pure as it'll ever be. | Read Our Review |
| | If you're impatient like me, you'll love this under sink water filter's high flow rate. This filter powers through a half-gallon of water every minute which means you never have to wait to have clean, refreshing water. | Read Our Review |
| | The AquaLutio 5-Stage Reverse Osmosis Under Sink Water Filter guarantees the highest quality filtration. It will successfully ensure that your tap water is free from contaminants and is safe to drink while improving your water's taste. | Read Our Review |
| | Have the taste of nature-fresh water at home, in your office, kitchen or even your bathroom with this under sink water filter. The carbon block filter ensures a high purifying level that gives you a natural taste, free of chlorine. | Read Our Review |
---
Reviews Of 10 Best Under Sink Water Filter
Best Overall
Having earned the Water Quality Association's Gold Seal Certification, the iSpring 5-stage reverse osmosis drinking water filter system is valued for its durability, quality, and safety.
To produce crisp tasting, quality water, the system makes use of carbon block, polypropylene sediment, reverse osmosis, and granular activated carbon.
iSpring drinking water filter system will fit perfectly in most under-sink cabinets, and it comes with a solid brass body faucet that is lead-free, with a brushed nickel finish.
The iSpring 5-stage reverse osmosis system has output lines that you can connect to your coffee maker, ice maker, among others. You only need to mount it on the counter, after which it becomes your primary source of purified water.
The other aspect that makes it the best under sink water filter system is that it is a DIY for most users who have access to tech, video, and written support assistance, and replacement filters are available in the market as well.
Pros:
Five-stage filtration with 75 gallons per day output and NSF certification.
Easy installation means you don't have to pay to have the unit installed.
Easily removes 99 percent of contaminants.
The filters' best feature is delivering clean drinking water free of chemical tastes and impurities.
Cons:
Filter replacement is recommended at six-month intervals.
---
Best Budget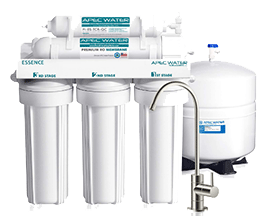 If you need quality water for cooking and making coffee or ice, you can opt for bottled or filtered water. The former is expensive, and thus, it is not the best option.
As you research on APEC under sink water filter reviews, you will discover that the APEC reverse osmosis water filter system produces clean water that is affordable.
The APEC 5-stage water filter system can eliminate contaminants from water exceptionally because it uses high caliber components. It is also long-lasting and has a proven record of success in water filtration.
Its performance is reliable too. Chromium, chlorine, lead, odor, arsenic, and toxic fluoride are some of the contaminants that the system eliminates, guaranteeing you and your family quality drinking water for many days to come.
Pros:
Made in the USA and certified by WQA, means it's been tested to meet or exceed the cleanH2O standards.
It comes with access to video instructions for installation, making this a DIY project.
It removes 99% of contaminants, including chlorine, lead, and VOCs.
The 2-year extended manufacturer warranty is available for free by merely registering the unit.
Perfect for most home use and as a kitchen or bathroom sink water filtration system.
Check latest prices for the greatest deals.
Cons:
Fifty gallons per day flow rate while other units offer more gallons per day.
---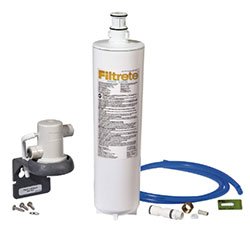 As you analyze the Filtrete under sink water filtration system review, you will discover that it is a professional system that you can adopt, to add filtered water to an existing faucet with ease.
Access to clean, great-tasting water at one's convenience, is the desire of most homeowners and that is what you get with the Filtrete advanced water filter.
You can change the long-lasting filters on Filtrete under-sink water filtration products easily with one twist, and you do not need to call an expert because installation is not a challenge and there is no mess in the process.
It is part of the reasons why this product found its way into our list of under sink water filter reviews. All you need to fix the system, in this case, is an adjustable wrench and a screwdriver.
After completing the installation, you will be able to enjoy clean and safe drinking water without having to invest in costly bottled options.
Pros:
A 3M Product and backed by 3M testing.
One of the best under sink filter units, it is a single filter canister with easy 30-minutes for installation.
An excellent filter that removes chlorine, grit, microbial cysts, and rust from water.
Perfect for homes with okay H2O.
Cons:
6-month filter lifespan, no dedicated faucet, single-cylinder unit.
---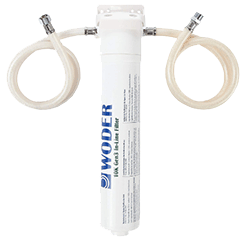 The Woder high capacity water filter comes with an improved head with a built-in valve that turns the water off as you unscrew the filter. As a result, installation is easy, there are no leaks, and that gives you a chance to replace the filter as well.
You will be glad to note that in your Woder under sink water filter reviews, this particular system eliminates various elements from your water, to make it safe for use.
Unlike other options, the Woder water filtration system does not extract essential minerals from water but rather, retains them in your crystal clear, clean, crisp water.
As such, you continue enjoying the taste of mineral-heavy water while reaping the benefits of healthy minerals.
Also, you do not have to replace the filter every six months, which is frustrating and expensive.
Pros:
WQA certified to meet the clean H2O standards.
Made in the USA means you are helping employ Americans.
Efficiently removes chlorine, lead, heavy metals, and more, direct connect means DIY installation is easy.
Removes 99.99 percent of contaminants, 2-gallons per minute flow.
Perfect as kitchen or bathroom sink water filters.
Outstanding as a water filter system for treated H20.
Cons:
Not for use with salted or softeners.
---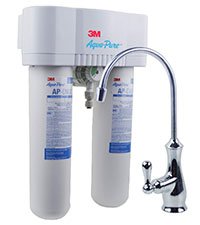 In our 3M aqua-pure water filter system reviews, we found this product an ideal choice for anyone looking to protect their plumbing and fixtures, as they enjoy a supply of tasty, clear water in their homes.
That is possible because this system makes use of dual-stage carbon-block filtration. The progressive porosity process of 3M aqua-pure drinking water filter system reduces microscopic particles because the water passes through increasingly tighter pores.
The other advantage of using the faucet water filter system option is that it has a built-in shut-off meter that goes off automatically, after filtering a particular volume of water.
Besides, you do not need any tools to switch from the old cartridge to a new one.
You do not need to do more than just twist off the old one, and replace it with the new one by turning it into the system.
The help of a technician is necessary when installing other kitchen appliances, and in most cases, it is the only option available. As you engage such an expert, it comes at an additional cost, which in some situations may find you unprepared.
The 3M aqua-pure water filter system saves you such costs in addition to promoting better health by availing quality, clean water for use.
As a result, you will keep your medical bills and those of your family members down, once you get the system installed.
It is wise! to avoid frequent visits to medical facilities and present you with a solution that protects individuals from illnesses and diseases caused by the bacteria in the water.
The 3M aqua-safe water purifier is a viable option for homes, businesses, and food service operations, and you can choose between the water filter system, which is installed at the point where water enters your house, or the under sink water filter system that involves a simple plug-in procedure.
Pros:
The dedicated faucet for easy access to purified H2O without interfering with sink faucet usage.
Excellent all-around filtration removes chemicals, bio cysts, VOCs, lead, grit and turbidity, and MTBE.
The activated carbon filter helps keep chemicals out of drinking water
A two canister under the sink water filter, perfect for smaller installation spaces.
The quick-change filters mean you always have clean H2O.
Easy to install via the cold water input line. Find the latest price for comparisons.
Cons:
It has a recommended filter replacement after filtering 625 gallons.
---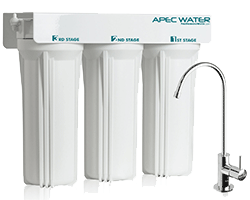 APEC under sink water filter reviews brings an understanding of what to expect from this option. It offers reliable performance over a considerable period, driven by the high caliber components that constitute its assembly.
Also, it comes with three premium quality filters eliminating the need to replace them frequently, so you can continue enjoying quality filtered water directly from your tap, on-demand.
The APEC 3 stage water filter system has a high-capacity polypropylene sediment filter that gets rid of rust, dust, and particles in the initial stage of the filtration process.
The advantage, in this case, is that it promotes longer lifespan of the system, and fewer change-outs compared to resin-bonded or string-wound filters.
Cloudiness and colors, unpleasant chlorine, and odors are eliminated in the second stage through the APEC 10 inch water filter system, which makes use of a premium extruded carbon block.
In the third stage, the water is filtered further to eliminate common chemicals, which are present after second stage filtration.
Pros:
The unit is US-made using high-quality US Parts.
It offers super capacity filters that target chlorine.
It is suitable for tap and well water, and comes with a one year guarantee is a plus
The lead-free chrome faucet makes dispensing clean water easy.
The addition of food-grade tubing certified by the FDA enhances the promise of clean, well-filtered H2O.
The water pressure requirements range from 20*85 psi, making the unit available even for some gravity-fed systems.
Cons:
Does not remove TDS (Total Dissolved Solids.)
---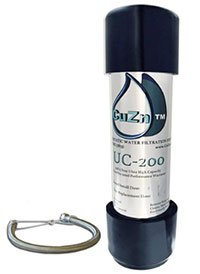 Fitting this system under the sink in your office or home ensures a continuous supply of fresh, clean water, without contaminants for an extended period.
In our CuZn Under Sink Water Filter System, we found that this system withdraws both organic and inorganic contaminants from water, including water-soluble cation heavy metals, bad taste, pesticides, algae, odors, molds, sediments, scale, and much more.
CuZn under sink water filter purifies water selectively, which means that calcium and magnesium minerals that are beneficial to the body are not eliminated.
It can reduce hard scale formation in such heating elements as coffee makers, and bacteria cannot thrive in this system.
No maintenance is required, and once you connect the CuZn 3 stage water filter system on your water supply, every drop supplied will be safe and pure.
Pros:
Five-year filters with 5-year prorated warranty.
Works with existing faucets, no need to install a third faucet.
It features a three-stage microfilter membrane that allows minerals to remain in the water.
It also features a comprehensive bacteriostatic filter keeping mold out of your H2O.
The filter comes with an adapter kit for non-standardized undermount kitchen sinks making it a simple under sink installation.
Cons:
Not designed to work with wells, will not soften water.
Does not remove TDS – Total Dissolved Solids
---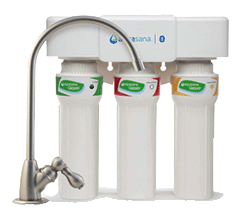 In our Aquasana under sink water filter reviews, we focused on this variety, which comes with a sediment pre-filter that increases its capacity.
Other than availing water to make such great tasting dishes as boiled pasta, steamed vegetables, soups, and rice, as well as beverages with an enhanced taste, your pet will have access to chemical-free water too with this system.
The Aquasana 3 stage water filter system avails a vast quantity of water every minute and retains the great taste you expect to savor in the water while extracting contaminants.
The metal faucets are lead-free and complement the décor in your kitchen. You will also get all parts necessary for installation and the first set of filters during the initial purchase.
Pros:
The 3 filter under sink unit removes up to 99 percent of contaminants.
Keeps healthy minerals in the water.
The high capacity filter produces 1/2 gallons of water per minute.
Around $0.10/cents per gallon with six-month filter life or 800 gallons of filtration per filter.
Designed for easy filter replacement without disconnecting all of the water supply hoses.
Designed for DIY installation.
Check price on Amazon.
Cons:
Does not remove TDS – Total Dissolved Solids
---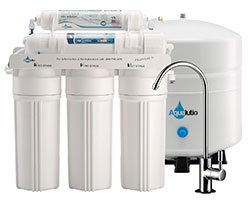 The aspect of affordability is part of the things that drew our attention to consider the AquaLutio water filter system review. Water from the tap or well contains various chemicals, impurities, contaminants, and solid substances that can affect your health.
AquaLutio drinking water filter system is designed to eliminate all these, to ensure that water from any of these sources is pure and safe for household or office use.
When water passes through the system, it goes through 5 stages of purification to get rid of unwanted elements, and the TFC membrane acts as the main component of AquaLutio reverse osmosis water filter system.
During the filtration process, water tasting qualities are stabilized, as a result of the elimination of odors and bad tastes.
Pros:
One of the best filter water units on the list.
This 5-stage RO system is perfect for home use.
It produces up to 75 gallons per day, making it one of the most efficient RO systems on the list.
NSF certified filters remove 99 percent of over 1,000 contamination particles, including chemicals, pathogens, THMs, PFOA, and PFOS.
One of the water filter best features is that it removes PFOAs.
Fits inside a standard cabinet
Holds a WQA high-quality award.
Cons:
Pricier than most units, but few claim to remove polyfluorites PFOAs from treated or untreated H2O.
---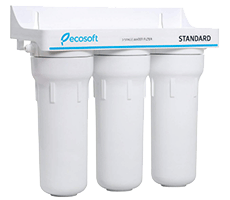 In the course of our Ecosoft under sink water filter reviews, we came across this option that is ideal for those seeking a budget-friendly alternative to bottled water.
The installation of the system takes a short time, and you do not need the help of a technician in this case. The Ecosoft 3 stage water filter system promotes instant access to clean water throughout the day and night for you and your loved ones.
Technical support is offered for those with an Ecosoft under sink water filter purification system, and that means that its lifespan will be extended. As a result, you will realize value for your money, over the period you will enjoy its services.
Pros:
Comes with a kitchen faucet and extra filter cartridge
Small enough to fit everywhere, including the RV, Office, Kitchen, and Bathroom.
The filter addresses chemical and bacteria filtration, as well as some turbidity and salt removal.
The carbon block filter helps improve the taste of the filtered H2O by removing chemicals such as chlorine.
Two-year warranty for peace of mind.
The easy to install design is perfect for the DIY person.
Cons:
1/4 gallon per minute filtration rate.
Read next: Best Countertop Water Filters
---
Final Verdict: Best Under Sink Water Filters
Through this list of under sink water filter reviews, you have sufficient insight on what to expect as you shop for one. Consequently, you will be able to make a better decision on the best under sink water filters system to purchase, depending on your preferences.
It is also encouraging to know that most of the water purification systems available in the market involve a DIY installation process.
The implication, in this case, is that you will save on the cost of hiring a technician to help you with the task. Besides, you will not need to worry about such expenses in the future.
Share with us your recommendations if you own a water purification system in the comments below. We are open to more insight and knowledge drew from your experience with water purification systems, and we value your contribution to this subject.
Related Articles