Quick Summary: Our top pick of all the options listed is the Delta Faucet with its handle that comes with touch technology that allows you to tap the faucet to turn it on and off. It also has a magnetic docking head that makes extending or retracting the sprayer easier than ever.
Are you considering faucets that will add to the beauty of your kitchen?
Do you need faucet options that will help you minimize wastage of water?
Are you struggling to keep both your kitchen countertop stain-free and the faucet clean?
The detailed touch faucet analysis herein will solve all these issues by availing some of the much-sought answers. You will gain insight on the latest faucet technology in the market and the advantages it carries, as you discover how you can maintain a tidy environment around the kitchen, to bring back the joy and pride of a new lifestyle.
Quick Navigation
---
10 Best Touch Kitchen Faucet Comparison
| | | |
| --- | --- | --- |
| | The Delta Faucet Trinsic is a touch-use option that allows you to just tap the faucet to turn it on while also having a pull-down, retractable sprayer. | Read Our Review |
| | The Delta Addison Faucet is a kitchen faucet that has a curved shape for easy handling and a magnetic docking head for easy retracting when finished. | Read Our Review |
| | The Delta Dominic faucet is a hands-free option that has Touch20 technology for a modern flair and is made from stainless steel for the longest durability. | Read Our Review |
| | The Boharers kitchen faucet is a single-handled, stainless steel option that comes with a sprayer and steamer in one that resists stains and water spots. | Read Our Review |
| | The Fapully kitchen sink faucet is a commercial option that can withstand consistent use and has a swivel spout with a high arch for more sink space. | Read Our Review |
| | This Kingston Brass kitchen faucet model is an antique option that will bring added character to modern spaces and has innovative touch technology for easy use. | Read Our Review |
| | This Kingston Brass Metropolitan bathroom or kitchen faucet has a unique design with metal cross handles and a bronze finish for an antiqued look. | Read Our Review |
| | This Kingston Brass Victorian wall-mount kitchen faucet is a 7-inch option that has a bronze exterior and comes with four-cross handles for an older style and look. | Read Our Review |
| | This Kingston Brass Heritage kitchen faucet is a faucet and sprayer unit that comes in bright, polished brass and has two handles and a curved faucet. | Read Our Review |
| | This Kingston Brass Deck Mount kitchen faucet has an arched spout and polished brass look that comes with a detached sprayer and two handles. | Read Our Review |
---
Reviews Of 10 Best Touch Kitchen Faucet
We reviewed some of the most pressing questions that most individuals have regarding faucets, and set out to work on the best touch kitchen faucet list below. We also took into account the star rating of each of the options in the list by the experience of various customers, who have used any of these.
Features were a major consideration as well, as we tried to identify faucets capable of responding to everyday challenges, that homeowners and owners of commercial premises face while striving to improve the image of their kitchen and maintain a clean environment.
Best Overall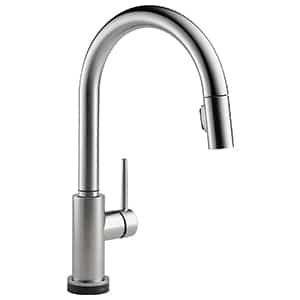 The Delta touch technology faucet introduces you to a Trinsic single handle delta pull down faucet, with a sleek and minimalistic design. It complements modern home with Touch20 Technology.
This Delta Faucet easy to clean and help you maintain hygiene even when your hands are messy.
The Delta faucet tops the list of best touch kitchen faucets, because a touch with the forearm or wrist anywhere on it will activate the flow, and the water temperature is regulated as per the setting of the handle.
The magnet in the spout pulls the wand in place as you raise it up to wand it, and Magna Tite keeps your Delta faucet in perfect condition.
Pros:
Top Touch kitchen faucets have a durable stainless steel construction
Touch anywhere to turn on/off
Lifetime leak-free operation
Magnetic docking faucet snaps handle into place
Fits one-hole or three-hole configuration for easy retrofitting
Sleek, modern design
Four finishes to choose from
Cons:
---
Best Budget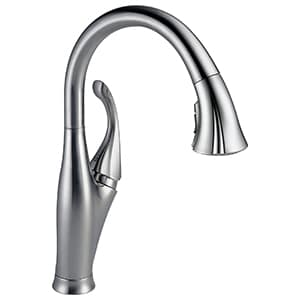 Delta Addison kitchen faucet features one of the most graceful facets, inspired by the intricate scallop of a sea shell. As part of touch faucet, this option has Delta Magna Tie Docking on the pull-down spray wand.
Delta Addison Faucet comes with a gentle tug of flexibility and gravity, providing for retraction and extension without friction.
This Delta kitchen faucet is an excellent choice because it stands out among other delta faucets with magnetic docking.
The multi-flow spray wands allow you to switch from high water flow and water-efficient spray or stream, conveniently.
Pros:
Delta touch kitchen faucets have high arc spout that swivels in any direction
Available in chrome, bronze or Venetian bronze finish
ADA-compliant, elegant design inspired by the sea
Rubber nozzle is easy to clean with the wipe of a cloth or finger
Cons:
If the faucet isn't positioned in the sink, water can flow onto the surrounding countertop.
3. Delta Single Handle Touch Kitchen Faucet
Pros
This Delta faucet has a spot stainless steel finish
Includes soap dispenser for more efficient dishwasher prep
Touchless faucets with a shield technology to reduce odor and bacteria
The soap dispenser requires a separate hole undesirable for granite counters
---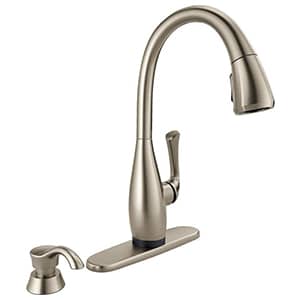 As you go through you will discover that the Dominic Single-Handle Pull-Down Sprayer Kitchen Faucet comes with a soap dispenser and Touch20 Technology.
The delta touch faucet with pull-down spray head allows you to adjust the water temperature above the deck appropriately, using the faucet handle.
Delta single handle faucet's shield technology reduces stain an odor-causing bacteria growth, as an attribute that features this product in the top touch faucet list, among others.
Pros:
Top touch kitchen faucets have spot stainless steel finish
Includes soap dispenser for more efficient dishwasher prep
Touchless faucets with shield technology to reduce odor and bacteria
Cons:
The soap dispenser requires a separate hole undesirable for granite counters
---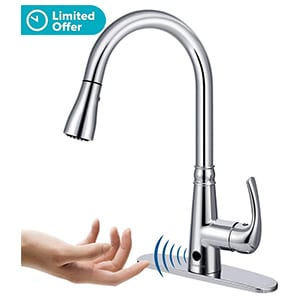 Boharers touch kitchen faucet review reveals that it offers more convenience while eliminating the mess due to its hands-free technology, that allows you to turn it on or off by waving your hand past the touch faucet deck plate.
Provision to swivel the faucet at 360 degrees gives you complete accessibility and great clearance, and you can adjust it to stream or rinse to avoid water wastage.
Besides, maneuverability ensures that the faucet returns to its original position smoothly and securely after use, making it part of touch faucet reviews, that best touch faucets features, added to other attributes that comprise this option.
We won't go as far as saying it deserves a place in the category of high-end kitchen faucets— the company itself gives no such intimation, as reflected in the price tag. However, the Boharers surely offers exquisite performance for its price
Pros:
LED light motion sensor technology for hands-free water delivery
Dual function nozzle toggles between sprayer or stream mode
Comes with a limited lifetime warranty
This touch faucets have high-arc to accommodate tall pans
Cons:
More expensive than traditional faucets.
---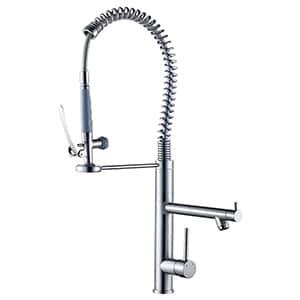 In our Fapully touch kitchen faucet review, it is important to mention that this piece is tailored to perfection.
The Fapully commercial faucet requires only a single hole mount to keep you custom counter-top tidy.
Other than the flair of its handle, the Fapully swivel faucet that is part of our touch faucet reviews, has a curved spout creating a magnificent look for aesthetics.
Pros:
This kitchen faucet have heavy-duty brass construction
Ceramic valve for drip-free operation
Gooseneck spout offers superior clearance for pots
Angled nozzles for powerful water stream to clean dishes
Dual function pull-down sprayer
Cons:
The industrial design doesn't fit every kitchen aesthetic
---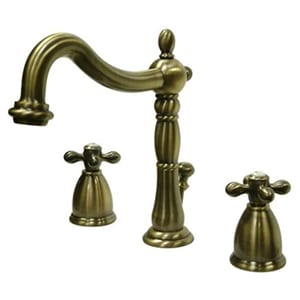 Kingston Brass Heritage Widespread Lavatory Faucet is made out of Vintage Brass bringing in the glory of the Bygone Victorian era majestically.
These adorable pieces reigning on top of the on the Kingston brass faucet reviews comes in Vintage Brass, Polished Brass, Polished Chrome and Polished Nickel varieties.
While the brass construction keeps the rust away, the dura seal drip-free washerless cartridge keeps the flow uninterrupted.
The water flow rate is 1.2 GPM (4.5 LPM) at 60 PSI (4 Bar) water pressure (as per ASME and California Energy Commission standards). There are two sizes available 8-Inch to 16-Inch
The Faucets are stain, scratch and spot resistant. This is also available in electroplated with Brushed Nickel and Chrome versions. Kingston Brass faucets review stands on top because of the style, usage, sturdiness, and durability. These faucets 1/2 inch IPS inlet connection comes in 8-inch spout height, and 6-1/2 inch spout reach.
Pros:
Lovely antique brass fittings in traditional three-hole configuration
Duraseal washerless cartridge
Cross handle design for easy operation
Excellent water pressure and flow rates
Cons:
Unique design does not match minimalist home decor.
Related reading: Best kingston Brass Faucets
---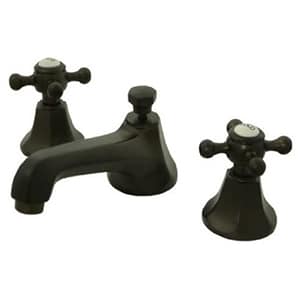 Always on top of the Kingston faucet reviews Kingston Brass KS4465BX Metropolitan Widespread Lavatory Faucet comes with
3″ spout height,
5 1/2″ spout reach,
1 1/2″ spout clearance,
1/2″ IPS Inlet,
1/4 turn ceramic disc cartridge,
8″-16″ widespread easy installation with Metal Cross Handle,
This Oil Rubbed Bronze and other Colours available are Polished Brass, Polished Chrome, Brushed Nickel, etc. Made out of Brass these Kingston brass faucets are with 1/4 Turn ceramic disk cartridge, 8-Inch to 16-Inch size.
The adjustable spread allows Max 1.2 GPM/4.5 LPM water flow rate at 60 PSI (ASME standard and Compliant with California Energy Commission). Having a dimension of 1.9 x 16 x 2.9 inches and 8-Inch Adjustable Centre, KS4465BX weighs 7.7 pounds.
The Matching Finish Drain includes 1/4 Turn Ceramic Disk Cartridge Buckingham Cross Handle comes with three holes and double handles.Invariably this beautiful Lavatory Faucet would make your bathroom more elegant.
Pros:
ADA compliant bronze finish
Matte black finish adds understated, modern ambiance while other finishes are showier
Energy-efficient
Compliant with California Energy Commission regulations
Cons:
Low clearance on faucets for shallow sinks
---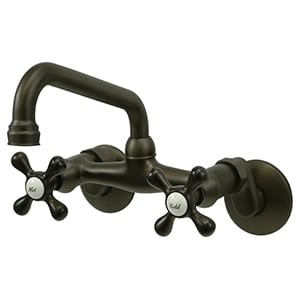 Kingston twin handled wall mounted Kitchen Faucet of 7-Inch size and Oil Rubbed Bronze comes in Brass/Antique Brass, these brass faucet also available in Satin Nickel and Vintage Brass color.
Kingston Wall-Mount faucets come with 7″ Swivel Spout 1/4 Turn Ceramic Disc Cartridge. Also, they are available in 11″ Spout Reach from the Wall; 3-5/8″ – 8-1/2″.
The speed is adjustable allowing Max 1.8 GPM/6.8 LPM Water Flow Rate at 60 PSI (ASME standard). This twin handled Kingston brass faucet is wall mountable are having a dimension of 8.5 x 7 x 4.8 inches and brass/antique color and Oil Rubbed Bronze finish.
These highly feature packed faucets packed with many features like the look, drip-free operation, durability and the adjustable flow rate is highly desirable for discerning users.
Pros:
Unique, eye-catching design
Increased range of motion
Saves counter space, perfect for pedestal sinks
Brass construction is corrosion-resistant
Connects directly to the wall
Cons:
More difficult to install
Requires a professional to repair even minor leaks
---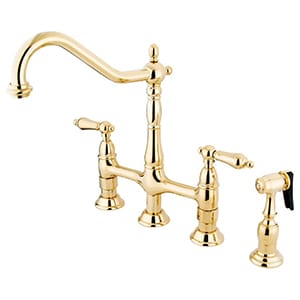 You will invariably find Kingston Brass KS1272ALBS Heritage Kitchen Faucet in all brass faucet reviews. This unique faucet is provided with Brass Sprayer.
The Kingston brass faucet is of 8-3/4-Inch size in polished Brass construction. Having dimensions of 33 x 22.2 x 20.3 cm and weighing 3.8 Kg, the highly recommended faucet under Kingston brass faucet reviews is easy to install with the four aligned holes.
The metal lever handles with 8.5 inches sprout with sufficient spout clearance. Bringing back the bygones Victorian elegance to your kitchen, this solid brass Kingston brass polished kitchen faucet has a 360-degree swivel hook sprout.
The adjustable volume is at 2.2 GPM (8.3 LPM) 60 PSI (4 Bar) max rate. Warranty: 10 years. Made from brass in Taiwan has unique 1/4 Turn Ceramic Disc Cartridge. The faucet having top ranking Kingston brass faucet is highly recommended for discerning customers like you. Now the aesthetic look is in your kitchen at an affordable price.
Pros:
Solid brass construction is rust-resistant
Ceramic disc cartridge for drip-free operation
8-3/4″ spout reach
Includes sprayer
Cons:
Four-hole design takes up more counter space
---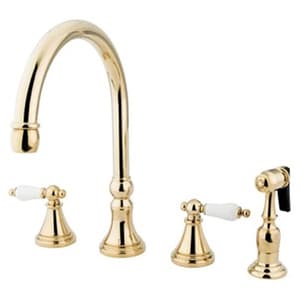 The elegance of your kitchen is enhanced manifolds with this classic Polished Kitchen brass Faucet which is reigning on top of the Kingston brass faucet review.
Kingston Brass faucets KS2792PLBS is an 8-Inch Deck Mounted with Brass Sprayer looking great in its polished Brass attire. Besides it is also available in Oil Rubbed Bronze variety.
Porcelain Lever Handle is an added attraction for kitchen faucets. It has an 8-1/4-Inch Spout Projection and a 6-7/8-Inch spout clearance.
Varying flow is possible with the faucet under Kingston brass faucets. Maximum flow of 1.8 GPM/6.8 LPM at 80 PSI. These are as per ASME standards and are compliant with California Energy Commission Title 20.
The faucet is weighing Item 7.7 pounds, and the dimensions are 11.9 x 8.2 x 2.5 inches2 no's handles, widespread handle lever placement, 8.25-inch spout reach, 11.88 inches Spout Height. Four holes are the other specification of Deck Mount faucet which is going to enhance the efficiency of your kitchen.
Pros:
Elegant traditional look and four finishes to choose from
Gorgeous white porcelain handles
Water sprayer included in the kit
Widespread design accommodates two-sink kitchens
Cons:
Lacks touch turn on/off options which means if your hands are messy, the faucet will be too.
Read next: Best Touchless Kitchen Faucets
---
What To Consider When Choosing Kitchen Faucets?
The Sink
There are different varieties of faucets available in the market but not all are compatible with your sink. As such, you need to check how many faucet mounting holes are available, whether you are planning to do the installation on a new or existing sink.
Related: Best Kitchen Sinks
The Water Lines
Check the size of the shutoff valves and that of the existing water line. Most newer faucets come in a size larger than that of the shut-off valves, and if that is the case for the option you choose, you need to adjust these valves accordingly. According to experts it is advisable to replace the shutoff valves with new ones altogether.
The Finish
Some may view this factor from the aesthetic point of view, but it is an important consideration when replacing plumbing fixtures. Ensuring that the faucet matches with the finish of sink accessories including the sink-hole cover, air gap, and soap dispenser, is critical.
Mode Of Operation
You can either opt for a manually operated faucet or an automatic one that uses motion sensors. The latter offers the convenience of use when your hands are either messy or full without touching the handle, which is hygienic from a sanitation point of view.
Cost
The high-end kitchen faucets come with all the bells and whistles, but at a cost and include modern features for today's modern homes. On the other end of the spectrum, the low-end variety may get the job done just fine, but may not last long enough and are inexpensive.
---
Final Verdict: Best Touch Kitchen Faucets
These are some of the attributes for its inclusion in best touch kitchen faucets list of faucet reviews. The details in this list are meant to give you the best idea of what you should expect as you shop for faucets, and also what to consider.
We selected the Delta Touch Technology Kitchen Faucet as the top of the list. It has a magnetic docking head that makes extending or retracting the sprayer easier than all other faucets. Also you can check out our best touchless kitchen faucets reviews for more options.
If you have already installed faucets in your kitchen, you can add your recommendations in the comments below. We would love to hear from you and your input will be well received.
Related Article