What is the Best Tofu Press?
We have picked the Tofu Presser Super Tofu Press as the top tofu press as it is a long-standing, trusted product. It is created with solid plastic press plates and food grade stainless steel, and it is guaranteed for 50,000 cycles. Also, as it has four adjustable threaded knobs, the pressure is more evenly spread among the entire tofu block.
---
Quick Navigation
Top 7 Best Tofu Press: Our Picks & Recommendations
---
If you are asking, "Tofu? Who wants tofu?", you likely have no idea of the health benefits it offers. Or maybe you are but you cannot stand the tasteless food. Let's see if we can change your mind on any of this.
First, tofu has a lot of healthy benefits such as lowering bad cholesterol in the body, improving kidney function, easing symptoms of menopause, decreasing liver damage, and much more. It is also linked to improving possible brain problems that are associated with aging. It is a great protein and iron enriched food. With all of these benefits and many more, why would you not want to try some?
Oh, yes, possibly because of the bland taste. Have you ever tried flavored soy milk or soy ice cream?
I started drinking vanilla flavored soy milk years ago because it is delicious. I discovered it after switching from regular dairy thanks to lactose intolerance. I had no idea I was starting a family trend. My children love it so much that I have to hide one carton for myself or I will never get any. Why am I talking about soy milk when I am supposed to be talking about tofu?
Well, for those who are not aware, tofu is simply pressed, watered soybean. The soy milk I am referring to proves that soybean can actually be flavored. You can literally use tofu in tons of recipes and add flavor to it.
Before you do that, however, store bought tofu needs to be drained of the water. This is where the tofu press comes in- it drains the water from your tofu so that you can then use it to create wondrous food. This article is intended to give you the 411 on this handy kitchen tool and help you find the best tofu press for you.
---
How to Choose the Best Tofu Press?
When shopping for a tofu press, you will have a few different characteristics to decide between:
Types:
There are two basic types of tofu presses: plate- style and box- style.
Plate–Style Tofu Presses:
Plate- style tofu presses are similar to a vice. The two plates squeeze the tofu in between to get all of the liquid out. Though it may be impossible to get all of the water out, the plates are successful at getting a good deal of it out. These are also generally the lowest cost presses. They are also easy to clean and store. These require pretty consistent adjustments.
Box– Style Tofu Presses:
Box- style tofu presses are great for frequent use. The tofu block is placed in the box- press. From there, it is a pretty automatic process. Unlike plate- style presses, there is no manual adjusting. It is mostly a load it and forget it kitchen appliance- until you need it again, anyway.
Mechanism:
Different presses have different mechanisms. Some include two and four springs, some have tension rods, and then others have weights that automatically press.
Ease of Use:
As mentioned, plate style tofu presses require constant adjustments, so though they are not really difficult to use, they do require work throughout the process. With box style presses, the processes can differ. Some use only the weight or pressure from the top to press and drain the tofu.
Unique Features:
Some tofu presses come with more features and benefits that others, though they are not really necessary. However, you might find that the extra features help simplify another part of your life.
Price:
You will most often find that the plate style tofu presses are cheaper than the box style tofu presses.
---
7 Best Tofu Press Reviews:
To find the best tofu press, we combed the Internet and the ratings and reviews of multiple models. We ultimately chose the following seven tofu presses based on the construction, durability, ease of use and cleaning, and performance.
Best Tofu Press Overall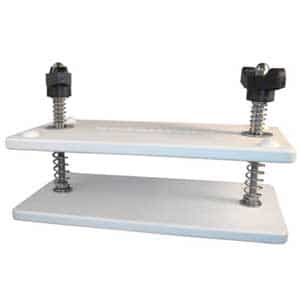 What You Will Love: This tofu press has four separate springs that more evenly presses the tofu and it is guaranteed for up to 50,000 pressing cycles.
The Tofu Presser Super Tofu Press is known as the Original Tofu Press and has been sold over and over again on Amazon since 2011.
It is made from solid plastic press plates that are BPA free and FDA approved. All of the nuts, bolts, washers, and springs are both food grade stainless steel and also FDA approved.
The stainless steel parts are guaranteed for 50,000 cycles. This tofu presser is easy to clean with either warm soapy water or on the top rack of the dishwasher. The biggest downside is that it must be manually tightened.
However, the four pressure spring mechanism assists with even pressing. At about $30, it is definitely not as expensive as it could be but there are cheaper available options.
Pros:
well-known product
FDA approved food-grade stainless steel
guaranteed
easy to clean
dishwasher safe
quick and easy draining
4 spring pressure
Cons:
---
Best Tofu Press on a Budget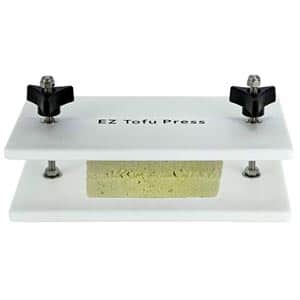 What You Will Love: The center mark on the bottom plates is a great guide for placing your tofu well for optimal pressing and draining.
The EZ Tofu Press offers a lot of bang for your buck. It has the ability and capacity to press both small and large tofu blocks, and the USDA approved plastic plates provide a smoother press.
The bottom plate has a center mark so that you place the tofu in the correct spot. It comes equipped with two tension rods that require manual adjustments. After tightening, you have to wait a couple of minutes, then tighten further.
By continually tightening the tension knobs, your tofu should be ready in about fifteens minutes. This kitchen gadget normally costs a little over or under $20, making it a more affordable option.

Pros:
2 tension knobs
can press both small and large tofu blocks
stainless steel grommets for smoother pressing
top rack dishwasher safe
USDA approved plastic
center mark on bottom
BPA free
drains tofu in 15 minutes or less
Cons:
it requires manual adjustments about every two minutes
---
Best Box- Style Tofu Press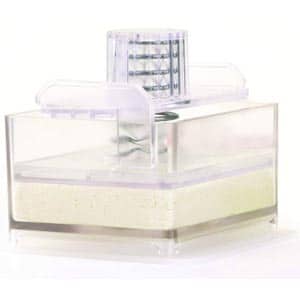 What You Will Love: This tofu press comes with a marinating lid, and the whole product can be used to store tofu in the fridge.
The TofuExpress Gourmet Tofu Press is a double duty kitchen appliance. First, it does its original job well- it drains tofu automatically. However, it comes with a marinating lid so that you can actually marinate your tofu or other desired food.
The press and lid also make this tool able to be put away in the fridge. It is 100% FDA approved, dishwasher safe, and all of the parts easily fit together for compact storage.
It is also able to withstand constant use though it can only press one pound of tofu at a time. At over $40, it is higher than the other tofu presses mentioned so far, but its additional benefits may make up for the additional cost.

Pros:
double as marinating dish
automatic
100% FDA approved
can be used for a variety of foods
optional light tension springs
fits together for compact storage
dishwasher safe
comes with a recipe guide and recipe cards
one year limited warranty
stands up to constant use
Cons:
only fits a one pound tofu block at a time
climbing in price
---
Best Plate- Style Tofu Press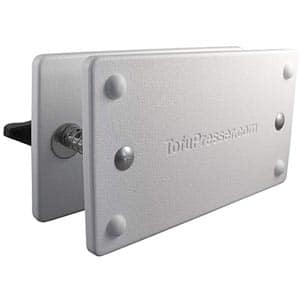 What You Will Love: This tofu presser has foot pads to prevent wobbling and scratching, and it is guaranteed not to break for 50,000 cycles.
The Tofu Presser Simple Tofu Press is known as the highest rated two spring tofu press, though there is also a four spring option. The plates are solid plastic and guaranteed not to break for 50,000 cycles- that is a lot of tofu.
The plates have special foot pads that keep it from wobbling and scratching items. They are also non-absorbent and non-porous. The nuts, bolts, and washers are all made from food grade stainless steel.
It is a manual tofu presser so you will have to manually tighten it every few seconds. Though that is a bit frustrating, with the price falling between $20 and $30, one really has to weigh the benefits against the cost.
Pros:
foot pads
non- porous
non- absorbent
made from solid plastic and food grade stainless steel
guaranteed not to break for 50,000 cycles
Cons:
must manually tighten every few seconds
higher price than some options
---
Best Stainless Steel Tofu Press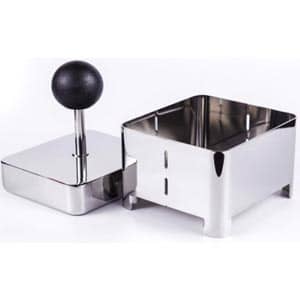 What You Will Love: This tofu press is extremely easy to use as it almost does the work by itself, and it is very effective.
The Raw Rutes Tofu Press (Ninja) is an impressive tool. You put the tofu inside the bottom portion of the tool, then put the 4.5 lb weight on top. The heaviness and pressure of the weight will drain about 35% of the water in the tofu in about 15 minutes without any further work from you.
There are no spring, rubber bands, or tension rods to worry with. After you place the weight onto the tofu, you can walk away and forget about it.
This design's simplicity does not detract from its performance. The downside comes in with the fact that it is a very high priced item. You can usually find it for a little over $100, which definitely makes it the most expensive option on our list.
However, you should consider that without tension rods, rubber bands, springs, or plastic plates, there really is nothing to wear out. It is not as though the weight will drop pounds through usage.
It will remain the same for as long as you have it, which can be for your entire lifetime since it will not break. Because of that, paying around $100 is a really good investment if you can fit it into your budget at all.
Pros:
FDA approved stainless steel
ultra heavy duty pressing weight
no springs or rubber bands
no force needed
drains up to 35% of the water in 15 minutes
very easy to use
will last a long time
Cons:
---
Best Wooden Tofu Press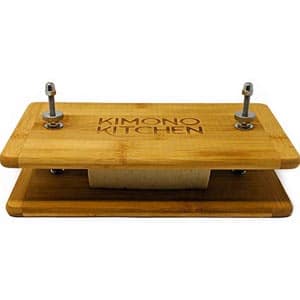 What You Will Love: The wooden design is unique compared to the regular plastic and stainless steel options.
The Kimono Kitchen Bamboo Tofu Press was designed by a vegetarian, so you can trust that the product is actually good for healthy food. This kitchen tool is an interesting contraption made from solid wood press plates and stainless steel hardware that can drain your tofu in 6- 15 minutes.
Thanks to the bamboo construction, it is eco-friendly and non-toxic. It has the strength and capacity to press small, standard and large tofu blocks.
You get an instruction booklet and recipe book with your purchase.
It is a two screw gadget that may not be good for those with weak hands. This is because some users have stated that they had to squeeze the plates together while tightening.
Additionally, because it is wood, one must consider how easily it can absorb unwanted bacteria and mess. At around $40, it is a little high for something that is hard to keep clean.
Pros:
designed by a vegetarian
solid wood press plates
stainless steel hardware
eco-friendly
non-toxic
can press a variety of sizes
Cons:
may need to squeeze plates while tightening
a bit high priced for something so difficult to clean
---
Best Plastic Tofu Press (BPA Free)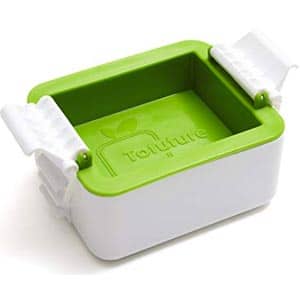 What You Will Love: This kitchen tool 3 different parts that make it a versatile, handy tool.
The ToFuture Tofu Press is a lightweight, compact, and stylish tofu press. It comes with three different parts to it: the bottom box to hold the excess water, a strainer that goes in the middle, and a presser (which is actually a lid) that rounds out the draining process.
The three pieces fit together to effectively drain water from tofu, but that is not all. The pressing lid actually means that this model can be used for storage.
This particular model comes with bands that are used to change the pressure. These bands have been known to break a few times, but the company sends you replacements if that happens.
Thanks to its versatility, abilities, compact storage, lightweight body, ease of cleaning, and the company's customer service, I think this kitchen tool is worth the price- somewhere around $30.
Pros:
stylish
compact
good for storing in fridge
BPA free
dishwasher safe
lightweight
fair price
good customer service
Cons:
---
We hope that through this article, you have learned not only the benefits of tofu but also the benefits of having a tofu press at home. Whether you are brand new to the tofu world, or you are simply looking to expand and improve your tofu experience, you can use the information above to help you find the best tofu press for you.
---
Related Articles:
---