The best thermoelectric coolers keep food and drink nicely chilled without the need for messy ice-cubes and work by simply plugging into your car's 12-volt auxiliary power outlet.
Some units work double time as a warmer, ready to help you deliver hot foods to a party.
Quick Navigation
The Most Recommended Thermoelectric Coolers: 5 Best Reviewed
How to Choose the Best Thermoelectric Cooler?
Size of the Unit
Do you expect to have this cooler ride in the footwell of the back seat,
or
maybe behind the bench seat of the truck?
Check the dimensions to make sure it will fit. Some are square and others are slim rectangles.
Power Source
How do you intend on running your thermoelectric cooler and warmer?
Most of them come with a 12v power cord ready to plug into the auxiliary outlet in your car or RV.
You may have to purchase an adapter to allow you to plug it into a standard outlet in the hotel room or at your office.
Temperature Settings
If you will be storing medication or hot dishes in your cooler, make sure that it is rated to reach the temperatures you need.
Food should be maintained over 120F to avoid bacterial growth and some medications need to be stored below 45F.
Features of the Best Thermoelectric Cooler
While you are comparing products while shopping for the best thermoelectric cooler, you will want to keep these key features in mind, along with what you will need your cooler to do for you.
Cooling Capabilities
Most thermoelectric coolers are not going to keep your popsicles frozen.
Check to see the lowest temperature it can achieve–your cold drinks and lunch needs to remain below 50F, but the closer you get to 35F, the longer your food can be stored in this small fridge.
Warming Capabilities
The best thermoelectric coolers feature a switch that turns it into a warmer–ready to carry a hot dish to a potluck dinner or take to a picnic.
If you want to keep your hot coffee thermos warm, make sure your unit includes this key feature.
Fit In Tight Spaces
Do you want to store your cooler in your truck or SUV while you are at work all day?
Or
perhaps it needs to fit into your camping gear.
The best thermoelectric cooler with includes a compact design the slides right into small spaces without compromising performance.
Related: Find The Best Wheeled Cooler For Your Weekend Adventures
The Most Recommended Thermoelectric Coolers: 5 Best Thermoelectric Cooler Reviews By Sujana Marie
We've pulled together some of the most popular coolers on the market and provided in-depth reviews so you can find the one that fits your busy life.
1) Koolatron Compact Thermoelectric Cooler Review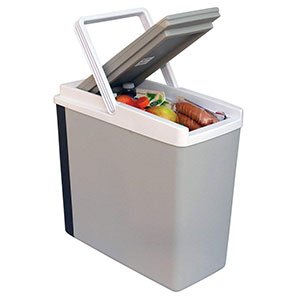 If you have been looking for a cooler to fit behind the seat in your truck, the Koolatron will be the best thermoelectric cooler for you!
It is a little smaller than the other units we have looked at, and it's more expensive, but it is only 9 inches wide with an easy tilt lid.
Leave it in the truck, flip the seat forward and grab your nice cold lunch!
Or flip the switch and your leftovers will be kept warm all morning until break time.
It is extra deep, so if you don't have long arms you may be struggling to pull snacks out of the bottom, but you will never have it tipping over while riding in the passenger side footwell – or causing your guest to struggle to sit comfortably while accommodating an oversized cooler.
Just double check that you have the switch set to the right setting before taking off for the day and avoid being disappointed with a nice hot soda when you wanted a cold drink.
Pros:
Slim and tall design fits behind truck seats
Heats and cools
Easy to use flip up lid
Cons:
Hard to read switch
More expensive
May overheat 12-volt outlet
2) Igloo Thermoelectric Cooler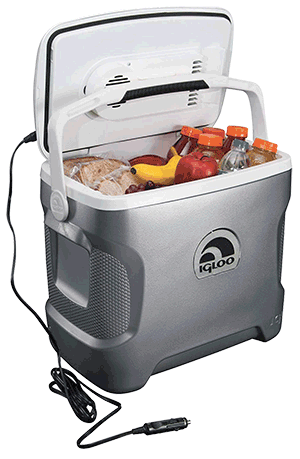 This is a simple unit and sized just right to fit a large picnic for the family, making it the best thermoelectric cooler for daytrippers.
The Igloo is only a cooler and runs on a simple on/off a motor.
It comes with the 12-volt cord and connector to plug into your car.
If you want to plug it in inside the house, you will need to buy a separate adapter.
It is competitively priced and fits nearly 2-cases of soda.
Now, it has a rating of 36F–which according to the manual means that it will cool the contents down to 36 degrees below the outside air.
So, if you are having a picnic on a 90F day, it is only going to chill your drinks down to 54F–which is not particularly cold.
It is hard-sided and is designed to fit in the rear footwell of most vehicles.
Pros:
Simple, easy-to-use design–plug it in and it's on
Holds up to 24 cans
Fits behind the seat of your car
Cons:
Not a heater and cooler
Lacks power adapter
3) Causalyg 20-Can Portable Thermoelectric Cooler Review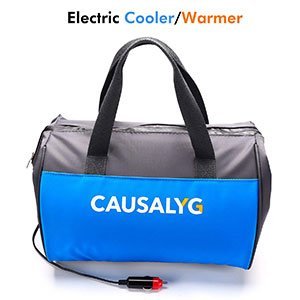 For the family on the run, the Causalyg offers fashionable looks on top of its functionality.
It features a double-insulated zipper that closes up the roomy interior, making it the best thermoelectric cooler for those who wish to carry their unit out to the park for a picnic.
It does double between a cooler and warmer with the flip of a switch, but there are no controls to adjust the temperature settings.
The unit arrives with the standard 12-volt connector ready to plug into your car's auxiliary port, and an adaptor can be purchased separately if you want to be able to bring it inside at night.
It is priced slightly higher than other units, but with its sport-bag appearance, you might expect that.
However, when you add on the highly-priced power adapter, it becomes overpriced.
Users report it works as intended, so a good buy for a family that wants their gear to match their wardrobe.
Pros:
Attractive designer exterior
Zippered closure for easy access anywhere
Both warmer and cooler
Cons:
Missing standard power adapter–and expensive to add
No temperature controls
4) Coleman PowerChill Thermoelectric Cooler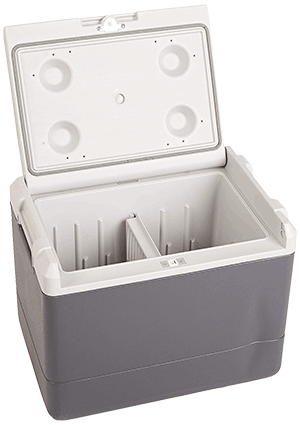 The Coleman PowerChill brings even more versatility to the table with a design that works both as a stand-up fridge and a chest cooler, making it the best thermoelectric cooler for field offices and longterm campsites.
Its 40-quart capacity allows you to load up to 44 cans of soda into it, but it is also large enough to fit entire gallons of milk or enough groceries for a large meal.
It is only a cooler, not a warmer/cooler. Like the others, it runs on 12 volts, but an adapter can be purchased so it can be plugged into standard outlets as well.
Rated to cool up to 40 degrees below the outside temperature, it offers more chilling power than the competition.
Now, its modular design allows you to open the lid from the left or right when it is placed on its side, or use it as a chest cooler while riding in the back of your SUV.
It offers a nice low price for the extra room and versatility when compared to other units on the market.
Pros:
Super-roomy design holds 40-quarts of food
Door can open to the right or left
Use like a fridge or chest cooler
Cons:
Not a warmer/cooler
Too big to fit behind most front seats
5) Wagan Warmer/Cooler Review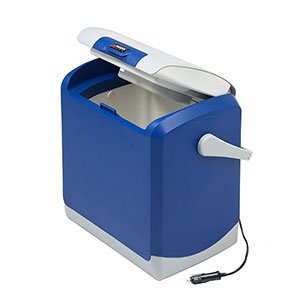 You might not recognize the brand, but Wagan brings a compact warmer/cooler to the game.
While it works much like other units able to both heat and cools your food, it offers a few perks making it the best thermoelectric cooler for convenient design.
The cord with 12-volt connector is stored in a covered compartment at the rear.
Open it up, plug it in, and the hit the toggle switch to cool or warm.
The switch features a lighted indicator, so you know your cooler is doing its job.
A sturdy handle allows you to grab and run while the cord is neatly stored away.
There are no temperature adjustments and you will have to buy the adaptor for standard outlets.
It only fits 24 cans, so is considerably smaller than others. But does include an adjustable shelf to help you arrange food more efficiently.
It is also just a little too big to fit behind most car seats, so it will be sitting upon a seat–which is definitely a drawback.
Pros:
Cord neatly stores inside unit
Lighted indicator switch shows when it is on
Easy to use
Cons:
Little too big for most cars
Only fits 24 cans
---
So, Which One is The Best Thermoelectric Cooler?
If you just need a cooler for your daily lunch and drinks, the Koolatron Compact Cooler offers the compact design to fit into any vehicle while doubling as a warmer when needed, making it the best thermoelectric cooler on the market.
Should you only need a cooler, check out the Igloo and save a few dollars on your investment.
We hope our product reviews of the best thermoelectric coolers have helped you find the one right for your lifestyle and budget.
---
Related Articles: