A sore throat in a layman term is irritation or itchiness of the throat, and it can be annoyingly painful.
We can all agree that a sore throat is an annoying condition, the pain that comes with swallowing food and even drinks makes it more unbearable! Hence the need to soothe the pain quickly.
Tea has been known to help with that, but with the varieties of tea, it can be tricky knowing which tea is the best tea for a sore throat.
How To Choose The Best Tea For Sore Throat?
Drinking a cup of tea can go a long way in relieving the pain that comes with a sore throat. The ingredients of individual tea products make them ideal for treating sore throat.
The best teas for a sore throat are the herbal, spiced, and traditional tea.
Most herbal tea contains mucilage, which has anti-inflammatory properties and boosts the immune system to fight infections.
Herbal teas usually contain herbs like peppermint, slippery elm, and licorice root, which are known for soothing a sore throat.
The spiced teas are those made of spice such as ginger, garlic, turmeric, and cinnamon, which are antifungal, antibacterial and mucus-loosening making them good treatment for sore throats.
Traditional teas are those made from Camellia Sinensis; they include green tea, black tea, and white tea. Some traditional teas are antioxidant, and they support the immune system.
The best tea for sore throat are those that are made up herbal, spiced or traditional tea; a combo is even better!
Teas containing the ingredients found in herbal, spiced and traditional tea are what you should go for if you are buying for a sore throat.
---
The Most Recommended Tea for Sore Throat: 5 Best Tea for Sore Throat Reviews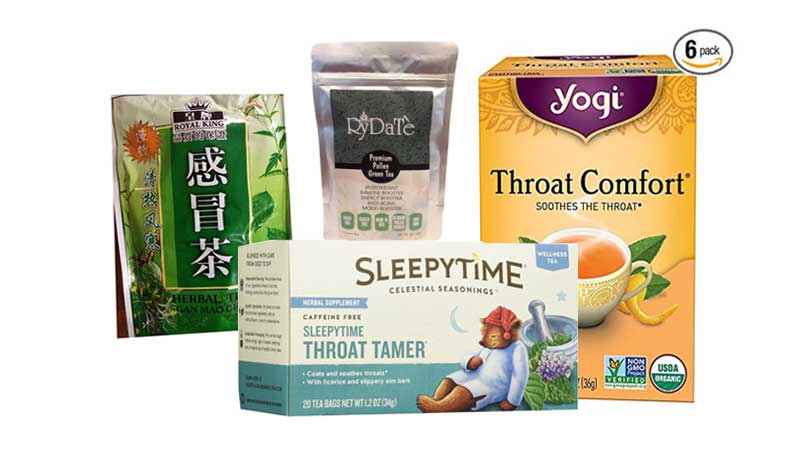 1) Yogi Teas Throat Comfort Tea Review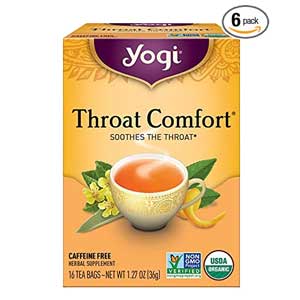 This tea gives your throat the comfort it deserves.
The makers, Yogi Teas, have over 40-year experience making healthy herbal tea exploring several herbs from around the globe.
The Yogi Teas Throat Comfort Tea contains some of the traditional herbs known for soothing sore throats.
Its ingredient includes organic Licorice Root, Cinnamon bark, slippery elm bark, Turmeric, organic ginger root and mullein leaf.
It is an excellent blend of some of the most powerful antifungal, antibacterial, and mucus- loosening herbs and spice, making it a very powerful sore throat treatment.
A cup of this tea soothe minor throat irritation thanks to the slippery elm bark and mullein leaf, and the licorice root gives your throat some comfort and sweet flavor.
The Yogi Teas Throat Comfort Tea is the tastiest of all teas mentioned in this list, for maximum effect, drink 3-6 cups daily.
2) Sleepytime Throat Tamer Tea for Sore Throat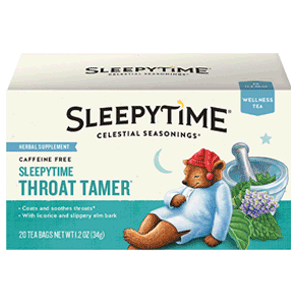 From the name of this tea, you know it is made for those suffering from throat discomfort.
It has a rejuvenating aroma to keep your throat fresh!
This tea contains aromatic spearmint and soothing Egyptian chamomile, they both help to soothe a sore throat.
The Celestial Seasonings Sleepytime Throat Tamer Tea Bags also include a blend of licorice root and slippery elm, and both herbs are known to cure a sore throat while leaving your throat fresh.
It also contains some ginger extract to ensure you sleep comfortably; a luxury denied those with a sore throat.
For a very pocket-friendly price, you get a six-pack 20 tea bags sachet containing herbs and spice known to treat a sore throat.
3) Gan Mao Cha Herbal Tea Sore Throat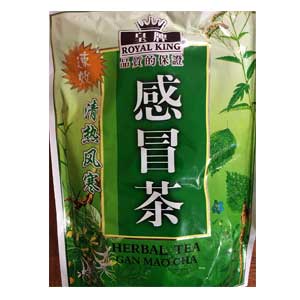 As the name says, this is a herbal tea so you can expect herbs that soothe a sore throat.
Gan Mao is a Chinese phrase for cold and flu; this tea can treat cold, flu at the initial stage and sore throat.
Its ingredients contain herbs such as peppermint leaf which is known to soothe sore throats and leave your throat fresh and the Schizonepeta leaf which has potent antibacterial and anti-inflammatory properties.
Other herbs here used in making this herbal tea include Ledebouriella Root and Pueraria Root.
A pack contains 15 tea bags, and this is one of the cheapest on this list.
4) Ban Lan Gen Chong Ji, Tea for Sore Throat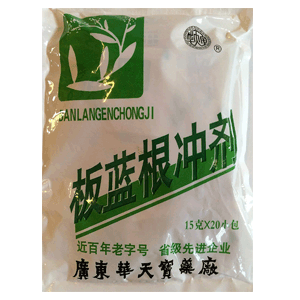 Just like the Gan Mao Cha Herbal Tea, this is another Chinese tea that can cure sore throats, cold and flu at the early stages.
Its main ingredient is the Chinese galangal extract and sugar; galangal is like ginger but less peppery and with many health benefits.
It is highly antibacterial and is known to soothe a sore throat when eaten so you can trust a tea made of it to cure you of those annoying throats irritation.
The tea is to be taken hot to maximum effect on a sore throat, and it is also a cheap but efficient tea.
5) Premium Pollen Green Tea for Sore Throat
This is a traditional tea with many health benefits including slows aging, clears toxins in the body, antioxidants, anti-inflammatory, support body immune system and soothes a sore throat!
It also contains many Bio-compounds such as minerals, vitamins, and amino acid. Its anti-oxidant and anti-inflammatory properties make it an ideal tea for a sore throat.
Main ingredients are Gou Lu Green Tea and Pollen Extract G60; a pack contains 28 tea bags. For maximum effect, take a tea bag three times daily, and you can kiss that sore throat goodbye.
---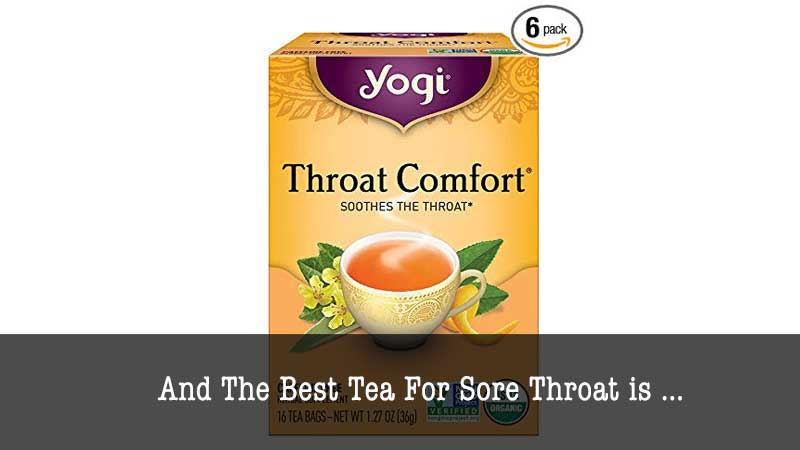 So, Which Is The Best Tea For Sore Throat?
The Yogi Teas Throat Comfort Tea is the one I would recommend on this list; it is an excellent blend of great spices and herbs known to cure sore throats and leave your throat fresh.
Unlike the other tea, it is made by a company with many years of experience making strong tea; it is a product of continuous research and improvement over the years.
The herbs and spice used in making the Yogi Teas Throat Comfort Tea have potent antibacterial, anti-inflammatory, antioxidant and mucus-loosening properties, making it the best tea for sore throat on the list, other teas here do have these properties, but none is as complete as the Yogi tea.
Another lovely thing about the Yogi Throat Comfort tea is how sweet it tastes, none on the list comes close.
Related Articles: