Quick Summary: Merging fashion and function, the KRAUS Standard PRO 30-Inch Sink is one of the most durable yet sophisticated options on the market today. It is large enough for a lot of dishes while giving you several great features at an exceptional price tag.
The sink is one of the most essential everyday use products taken for granted by us as it we find it already installed when we move into a home. However, for people who wish to change their kitchen outlook, replacing the sink can be a starting point.
A stainless-steel sink is ideal for your kitchen. Stainless Steel sinks are durable, they look sleek, and they uplift the look of a kitchen. But before you purchase a stainless-steel sink, there certain factors that are needed to be considered.
The first thing you should know is, there are two types of kitchen sinks; top mount and under-mount. Top-mount sinks look bulgy, whereas under mount appears better aesthetically.
A top-mount sink is more convenient to replace than an under-mount one, which can't be modified easily. Secondly, ensure whether a single bowl or a double bowl sink would suit you much better. People prefer double bowl to single bowl as you can practically dry your dishes in the other bowl.
Thirdly, if you go for a double bowl sink, you should consider selecting a full-divide or a low-divide. A full-divide sink is commonly used.
Now let us enlighten you with the best stainless steel kitchen sinks out there.
Quick Navigation
---
10 Best Stainless Steel Kitchen Sinks Comparison
| | | |
| --- | --- | --- |
| | An oversized, soundproof sink with extreme durability that enables you to fit large bowls. It is also backed up by a limited lifetime warranty. | Read Our Review |
| | The double mounted under-counter sink with a large interior. It is easy to clean with curved edges and prevents the possibility of drain blockages. | Read Our Review |
| | A double undermount stainless steel kitchen sink with a large inner capacity. All the edges are sloped, allowing for an easy flow of water. | Read Our Review |
| | Including four faucet mounting holes, the octave shape of this kitchen sink is durable and will allow water to gravitate to the center from all angles. | Read Our Review |
| | Available with countless accessories, the FRIGIDAIRE Undermount Stainless Steel Kitchen Sink is affordable and keeps all your water needs in check. | Read Our Review |
| | You might need to break down waste in your home and the Zuhne 32-Inch Single Bowl Undermount Stainless Steel Kitchen Sink makes that affordable and possible. | Read Our Review |
| | The ultimate farm-style kitchen sink, but with all the modern connections and accessories added. | Read Our Review |
| | With a 40/60 split, the Decor Star P-008-B2 32 Inch Undermount Kitchen Sink adds a faucet in the middle and gives you ample space for disposing and cleaning. | Read Our Review |
| | Nothing works better for smaller spaces than a small kitchen sink. The twin base ZUHNE Drop-In Kitchen Sink works for indoor and outdoor use. | Read Our Review |
| | Much like the best kitchen sinks on the market today, the Kraus Standart PRO 33-inch Double Bowl Stainless Steel Kitchen Sink has all the same features, but split into two sections. | Read Our Review |
---
Reviews of 10 Best Stainless Steel Kitchen Sinks
Best Overall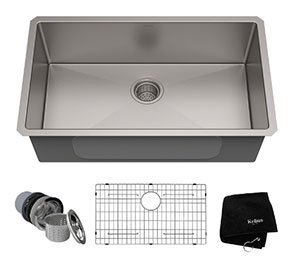 Kraus sinks are best known for their stupendous reliability and durability. Combining technology and premium materials, the Kraus 30 inch stainless steel sink is no different.
The manufacturer has merged fashion with function to create a modern look in your kitchen. Handcrafted from commercial grade 16-gauge T-304 stainless steel, expect exceptional durability and stunning dent resistance from it.
For those who have always had a hard time cleaning awkward shape cutlery like baking sheets, stock pots, and skillets, you will be glad to learn that an extra deep basin that can accommodate even your largest load.
What probably separates Kraus single bowl stainless steel sink from the rest of the competitors is the proprietary NioseFend sound technology that absorbs the noise vibration allowing a quiet cleaning operation.
The extra-thick rubber dampeners at the base of the sinks can capture more than 80% of the sound vibration. For the convenience of cleaning, the sink comes with a commercial-grade satin finish and has rounded corners that make cleaning as simple as wiping the entire kitchen surface with a damp cloth.
What's more? The kitchen has been engineered for optimal drainage; boasting of a channeled groove, the sink prevents water from pooling in the bottom of the sinks. Experience Kraus Quality and bring your kitchen ideas to life.
Pros:
NoiseDefending Soundproof Technology for a quieter sink while washing dishes.
Included accessories such as a stainless steel dish grid, three-piece basket strainer set, and more.
Ample size for washing large pots and other kitchen essentials.
Cons:
Only one bowl for washing dishes, which can be cumbersome.
Undermount design doesn't work with all kitchen countertops or cabinet styles.
---
Best Budget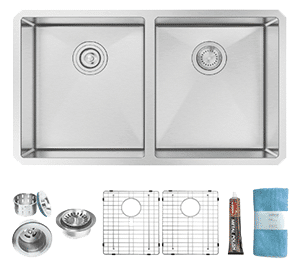 Experience luxury with a Zuhne precision handmade 16G 18/10 stainless steel single bowl, laundry and utility sinks that are preferred by architects and other heavy users.
The breathtaking craftsmanship and good quality material that has been incorporated in the 32-inch sinks is simply amazing.
Unlike most of the standard sinks, the Zuhne double basin sink has been designed using industrial strength T304 18/10 steel from Posco. One of the major selling points of the sinks lies on its durability and robustness.
While most of the sinks in the best stainless sinks are constructed by stretching the steel sheet over the mold resulting to an even gauge, Zuhne 32 uses dexterous artistry to deliver a uniform 16 gauge thickness steel from top to bottom.
Compared to other products, the sink has 25% more steel than others; therefore, do not expect the sinks to blow, dent or scratch-even with heavy use.
The durability of the Zuhne under mount stainless-steel sink does not compromise on performance; the scratch proof finishes compliments and décor and provides an easy clean. So don't worry about how to remove scratches from your beautiful kitchen sink.
Also, the precision-tailored curves on the sinks provide an optimal working space and make your cleaning process a breeze.
And just like the previous model our top stainless-steel kitchen sink, the Zuhne 16 gauge stainless sink also prides itself with a noise and thermal insulation technology that facilitates a quiet cleaning process.
Pros:
Double bowl makes it easy to work while washing and rinsing dishes.
Scratch-proof coating makes this one of the best sinks on the market.
Includes drying rack and scratch protector grid for ease of use and care.
Cons:
No holes in the sink for faucet mounting.
Double side size might not accommodate all garbage disposal outlets.
---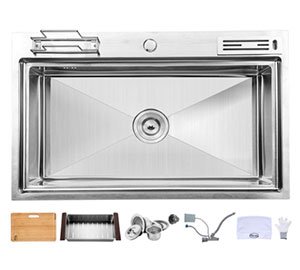 Harrah's are best known for their pragmatism and flair. The Harrahs 32 inch commercial Undermount stainless steel sink is no different.
Like most of the sinks in our top list, the Harrahs 32 in sports a heavy-duty and thick stainless steel.
However! unlike the competitor products, the sink is heavier and offers more durability; the extras-thick materials on the Harrahs commercial under-mount sink shield it against any damage that may arise during the daily cleaning process.
If you always experience inconvenience when cleaning large and oddly shaped cutlery such as the stockpot, and different bakewares, you be glad to learn that the Harrahs 32 inch sink contains an extra deep and spacious basin that contains water splashing and is large enough to accommodate even your largest dishes.
Aside from the basin, the 18 gauge sink provides a rear-set drain opening that offers a more usable surface area in the basin, and an extra storage space in the cabinet underneath the sink.
One of the features that we factored in our review was the noise cancellation properties, which the Harrahs performed exceptionally well. Sporting Harrah's proprietary Noise Fend sound dampening technology, the sinks can inhibit the clattering dishes during a cleanup.
Purchase of the Harrahs 32 inch sinks tags along with some brilliant accessories such as a soap dispenser, a stainless steel vegetable basket, and stainless steel bottom grid, making the worthwhile sink investment.
Pros:
Beautiful brushed nickel surface easily complements your kitchen decor.
Large basin size is ideal for cleaning large pans and more.
Commercial design is ideal for heavy use.
Matching stainless steel vegetable basket is included.
Cons:
Single basin design is not ideal for those with garbage disposals.
Large commercial size might not fit in all kitchen spaces.
---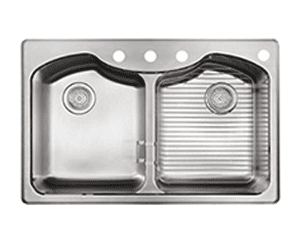 The KOHLER may not be the most elegant and alluring sink in our best stainless steel sinks review.
Nonetheless, it still harbors some aesthetics cues like it's unique curved basins which are deep enough to accommodate a large enough load of cutlery sufficiently.
Sporting 4 faucet holes, the Kohler top mount kitchen sink boasts of an extensive cleaning surface that can accommodate a load of dishes, pots, cups, and pans.
Like the rest of the stainless steel sinks in our review, the sink features a sound absorption technology that reduces the cleaning noise significantly and keeps the kitchen as serene as possible. Lack of elegance is overshadowed by the robustness of the sink.
Featuring an 18 gauge stainless steel, the Kohler kitchen sink is exceptionally durable. Other mouthwatering features on the sink include a sponge caddy, reversible basin rack, and two bowls that work in harmony to execute different tasks when needed.
Pros:
Four holes for faucets, sprayers, or a soap dispenser.
SilentShield technology to absorb vibrations when running water or operating the garbage disposal for a quieter kitchen.
Cons:
Requires a 36-inch minimum cabinet depth, which will not fit in some kitchen spaces.
Top mount design isn't always ideal for pairing with some types of stone countertops.
---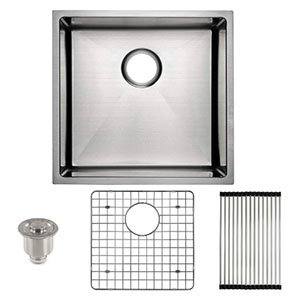 The Frigidaire professional stainless kitchen sinks series are synonymous with functionality, durability, and elegance.
It has been crafted from a robust 16 gauge commercial grade304 stainless steel.
With such a robust construction, the Frigidaire provides users with a long-lasting service experience.
Also, the sink is easy to maintain it's aesthetic allure and can withstand grueling experiences without getting considerable dents or scratches.
What we liked most about this premium Frigidaire 16 gauge stainless steel sink is the patented V-Therm Shield technology that facilitates heat retention in the water while dampening the noise from the sink vibrations.
The technology, combined with the 16 gauge stainless steel sinks allows you to enjoy the cleaning process while enjoying conversation and entertainment.
Functionality aside, the sink has been fine-tuned with brushed steel finish that can suit the needs of any kitchen décor. The sleek and riveting 10mm corner radius design of the sink facilitates an easy clean.
If you're looking for a sink that exudes lavishness, and opulence, the Frigidaire Undermount sink is the ultimate package.
Pros:
Extra deep basic allows plenty of space for washing dishes, filling with water, and many other necessary chores.
Top-notch stainless steel construction for added durability.
Included accessory pack features a roll-up dish rack for ease of use.
Cons:
Single basin stainless steel sinks can be difficult to use for some households.
Minimum cabinet size of 33-inches might be too large for smaller kitchens.
Related: Top Undermount Kitchen Sinks
---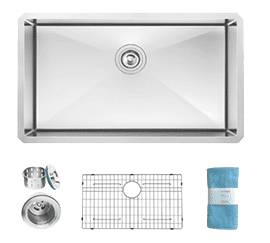 The Zuhne single bowl undermount kitchen sink is one of the best undermount kitchen sinks, with the most advanced facilities.
It is scratch resistant, and it is the best undermount sink because, in addition to its functionality and durability characteristics, the corners curve at an optimal angle to maximize the work area and ease the cleaning process.
These are some of the attributes that make the Zuhne 16 gauge stainless steel sink an excellent choice.
Pros:
Same brushed steel design as most luxury appliances for a visually cohesive space.
Made from rust-proof and damage resistant materials to accommodate heavy and hot cookware.
Cons:
Much more pricey than some of the best stainless steel sinks on the market.
Large size might not fit in some smaller kitchens.
No holes for faucet or sprayer installation.
---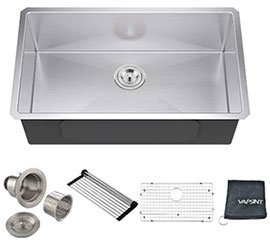 Vapsint 30 inch undermount kitchen sink comes with a stainless steel dish grid that protects the surface from stains and scratches.
That is not all there is about the Vapsint sinks undermount variety. A drying rack is provided as well on which you can place your pans, dishes, glassware, or pots, to dry after cleaning.
The 18 gauge stainless steel sink features a stainless steel drain assembly with a removable strainer, to prevent debris from clogging the drain pipe.
A Vapsint professional cleaning towel will also be supplied with every purchase, adding to the reasons why this option is among the best undermount kitchen sinks.
Pros:
Trendy farmhouse sink design that many people love.
Satin finish offers beauty and repels scratches for long-lasting elegance.
Premium grade extra-thick stainless steel construction for added durability.
Cons:
Single drain doesn't accommodate a garbage disposal and an independent drain.
Large size might not fit with some cabinets that aren't prepared for a farmhouse style sink.
---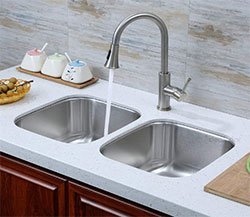 In our Decor star double bowl undermount sink review, we took note of the equal capacity design of this sink, which makes it perfect for your countertop.
The premium satin finish makes it scratch proof and dampening pads on the Decor star 18 gauge stainless steel sink, makke sures that the noise is minimal.
If you decide to settle for this one, you will cash in on the attributes of the best undermount kitchen sinks available around, including its stain and corrosion resistant characteristics.
Pros:
Offset design provides one large single sink and a smaller prep sink for added convenience.
Contemporary undermount style that looks great in a variety of different kitchen themes.
Cons:
Undermount style requires two countertop cuts, which can be difficult with certain types of granite or stone.
No space for a faucet or sprayer mount, which would also have to be cut into the countertop.
---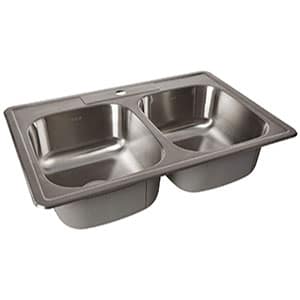 The sink is very efficient for the inside or outside of your home. The simple installation means that no professional plumbers are needed. Additionally, it will slope to ensure all water flows into the drain.
A smaller kitchen sink is often the best way to go with smaller apartments. Fortunately, the ZUHNE Drop-In Sink Stainless Steel still has a huge capacity, but the stainless steel basin has been split into two separate sections.
Both of them work the same, with a sloped angle that will direct all the water in one direction. As mentioned, the stainless steel construction also means that the unit is durable. If you do manage to scratch the sink, scratches can be polished out with just a quick wipe.
The faucet is located in the middle, and you only have the option to add a single faucet. The upside is that kitchens with a single faucet tend to look more modern and stylish.
Since the unit is a bit smaller than the others, the price is also well-adjusted to make it a good value for money. It is very rare that you find people replacing a kitchen sink, but the ZUHNE Drop-In Sink Stainless Steel is one of the best long-term solutions for your next kitchen sink.
Pros:
Small, but split for greater usability
Affordable price tag
Does not need multiple faucet connections
Cons:
It can take a bit longer to dry out
---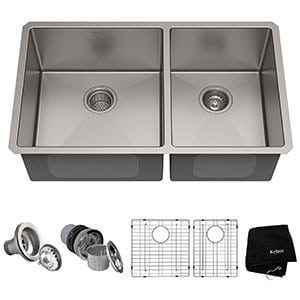 The sink is like an upgrade of the KRAUS Standart PRO 30-Inch Kitchen Sink. It has all the same properties and comes with a variety of accessories. The twin design might make life easier.
When we mention the words "16-gauge steel," many people think this refers to the thickness. In fact, the Kraus Standart PRO 33-inch Stainless Steel Sink is constructed from aluminum with the same properties.
You might have noticed that it has the same design as the top pick, but it is split into two.
On the down side, this means you have a smaller sink to start with, but for many people, it is much easier to multitask when the sink is split up in this manner.
One of the best upsides is the numerous accessories that you get with this sink. All of them serve a purpose to make life easier, from helping you dry dishes to breaking down excess food for the food processor.
Kraus is one of the more expensive brands, and this is exactly what you will find when looking at the Kraus Standart PRO 33-inch Double Basin Stainless Steel Kitchen Sink. Keep in mind that the limited lifetime warranty will also give you some peace of mind.
Pros:
Kraus is a reliable brand
The sink is durable even when split
Numerous accessories are included in the package
The slope makes it effective
Cons:
Not everyone can afford it.
---
How to choose the Best Stainless Steel Kitchen Sink
Sink Depth
Most of the kitchen sink vary in depth ranging from 6 to 12 inches. Deeper sinks can contain water splashes.
However, depending on the users, certain depths might feel uncomfortable to use. When choosing a sink, choose a depth that you are comfortable with
Noise Cancellation
If the clattering of dishes and vibration of the sink is unpleasant to you, consider investing in a sink with noise cancellation technology. The technology inhibits and dampens the spread of sound.
If it doesn't have modern noise cancellation technology you can manually soundproof your kitchen sink, but it takes some hard work and plumbing knowledge.
Size
In most cases, the size of the sink goes hand in hand with the size of your kitchen.For individuals with small kitchens, you might consider investing in a small to medium design kitchen size that does not consume all the kitchen space.
Steel Gauge
The steel gauge of the sinks determines the sturdiness and durability of the sink. The smaller the gauge, the more steel a sink has.If you are a heavy user, consider investing in a sink with a lower steel gauge; 18 should be the minimum.
Number of Bowls
The number of bowls in a sink will depend on your cooking and washing needs. A single-bowled kitchen sink is convenient since it offers a large space to stack all your dishes and takes minimal space.
On the other hand, multi-bowled sinks are ideal for an organized cleaning .i.e. you can use one bowl to prep the veggies, and the other one for washing utensils.
---
Final Verdict: Best Stainless Steel Kitchen Sink
Kitchens are just more than a cooking space; the contemporary kitchens are the soul of the home. As the kitchen becomes the centerpiece of the house, the kitchen sinks become vital features too.
We are confident that after reading our stainless steel kitchen sink reviews, you are in a better position to make the right decision when choosing a sink for your household.
Related Articles: