What Is The Best Stainless Steel Cookware?
Stainless steel cookware provides versatile cooking for everyone from amateurs to professional chefs. With thick, multi-layer metal cooking surfaces, stainless steel sets are able to provide even heat distribution and retention. Our pick for the most versatile set (with the most value) is the Cuisinart Multiclad 12-Piece Stainless Steel Cookware set. But there are a lot of other great options, too, depending on need and budget.
There are few things as attractive in a kitchen as bright, gleaming stainless steel cookware sets. Stainless steel cookware is durable and ubiquitous—and if you want to quickly stock a kitchen, it's a good idea to get a complete set.
---
When looking for stainless steel cookware sets, you want:
A versatile set that includes many different pieces, such as an assortment of fry pans and saute pans.
A solid metal core within the base of pots and pans, for better heat retention.
Additional features such as internal measurement markings and pour spouts.
A price that delivers value for the dollar.
We've compiled a list of the best stainless steel cookware sets, depending on the type of kitchen you have and the type of cooking you often do. The cookware sets you need is going to depend drastically on what types of food you most enjoy cooking, as well as your budget and the amount of time you want to spend on maintenance.
---
Quick Navigation
---
Top Stainless Steel Cookware Comparisons
| | | |
| --- | --- | --- |
| | This polished set will not discolor, and features strong, cool grip handles ensuring durability. This 12-piece set can be used on induction cooktops. | Read Our Review |
| | This set has tempered glass lids, making it easy to monitor what you are cooking without lifting the lid and losing heat. Can be used on most cooking surfaces – gas, electric, induction, ceramic, etc. | Read Our Review |
| | The sturdy handles make it easy to carry these pots between surfaces. Dishwasher-safe for easy cleaning. Tempered glass lids to help you monitor your cooking without losing any heat. | Read Our Review |
| | Ergonomic handles help you carry these pots easily without needing pot holders. The aluminum core helps heat disperse evenly, and can be used on most types of stove, including induction cooktops. | Read Our Review |
| | Oven-safe up to 500°F, this set can be used on any stove, including induction. The mirror-polished stainless steel will look sleek in any kitchen, from a dorm room to a chef's kitchen. | Read Our Review |
| | This quality set is made in the USA, and features five alternating layers of stainless steel and aluminum for optimum heat distribution. The entire set is dishwasher-safe and can be cleaned easily. | Read Our Review |
| | The aluminum core means this set heats up fast. Safe to use on an induction stove, you can be cooking within seconds with this stainless steel set. | Read Our Review |
| | This set is actually crafted with copper, which makes it one of the best at controlling heat. Safe to use with induction cook tops, this is also safe in an oven up to 500°F. | Read Our Review |
| | The riveted stainless steel handles are designed to go right from the stove into the oven. You can cook on top of the stove and finish off your dish in an oven up to 550°F. Clean up by putting these in the dishwasher. | Read Our Review |
| | Designed specifically for RVs and boats that have induction stoves, this is a great set to travel with. Can be stored easily with bungee cords, and tucked away out of sight while you are traveling. | Read Our Review |
---
10 Top Stainless Steel Cookware Sets: Our Picks & Recommendation
Best Overall: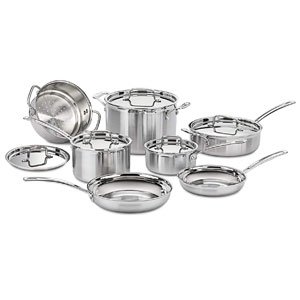 When it comes to finding the best-of-the-best, there are a lot of factors to consider: cost, durability, functionality, and versatility. It just so happens that the Cuisinart Multiclad 12-Piece Stainless Steel Cookware Set its all the right buttons.
With a brilliantly polished cooking surface, attractive exterior mirror finish, and triple-ply construction, the Cuisinart Multiclad set will have you cooking in style in your kitchen for a long time to come.
Not only is the Cuisinart Multiclad set an affordable way to stock your entire kitchen, but it comes with a full 12 pieces of pots, pans, and lids.
With the Cuisinart Multiclad, you get three covered sauce pans, one 8-quart covered pot, two open skillets, and a steamer insert for the stock pot. These are all the things most kitchens are going to need to start cooking.
Despite being available at a very affordable price point, the Cuisinart is made out of durable, high quality materials. Its triple-ply construction includes a long-lasting aluminum core, as well as a classic, brushed exterior.
Each lid comes with specially designed handles that are meant to keep themselves cooler while cooking, and each pan and pot has a special lip that prevents dripping and seals covers. A professional-grade set, Cuisinart Multiclad pots and pans are safe in ovens up to 500 degrees and are naturally non-stick due to their polished surfaces.
Further, a limited warranty is available for protection against defects. It's an extremely versatile overall set, which will last a long time and add a distinctive look to any kitchen. Due to its high quality materials, the Cuisinart Multiclad set will last for years without any discoloration.
Its heavy-bottomed pots and pans can be used on any type of cooking surface, including induction surfaces, and its solid core design ensures even heating throughout the pan—even if the heating surface may be uneven.
Altogether, the Cuisinart Multiclad is just the right combination of high-quality and cost. It's also a great starter set for those who are looking to invest in their first set of stainless steel.
---
Best Budget: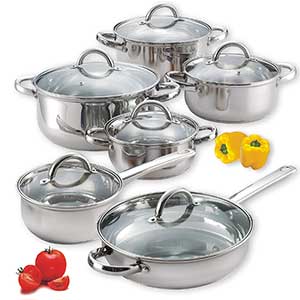 For a budget set, you just can't get any better with the Cook N Home 12-Piece Stainless Steel Cookware Set. This cookware set is extremely affordable, yet it doesn't sacrifice quality—you get everything you need to stock your kitchen at an incredible price.
The Cook N Home is available with both metal and silicone handles, in an attractive, polished mirror stainless finish that can be seasoned to non-stick. The only downside is that it's not likely to last as long as the more expensive sets.
You don't have to sacrifice quality to purchase things on a budget—not with the Cook N Home set. The Cook N Home 12-piece set includes one saucepan, three sauce pot casseroles, a stock pot, and a 10-inch pan.
What keeps the Cook N Home a little less expensive is the size: the Cook N Home comes with a 5.5 quart stock pot, compared to the Cuisinart's 8 quart stock pot. Still, this is the perfect set for daily cooking in your home kitchen.
Induction-compatible, the Cook N Home cookware set can be used on everything from glass top stoves to gas stoves, and has a special aluminum base to evenly distribute heat across its cooking surface.
The cookware set has steam-vented, tempered glass lids, which allows steam to escape while still keeping the food cooking evenly moist. The stainless steel pots and pans are safe in the oven up to 500 degrees, while the lids are safe up to 350 degrees.
When stored, the Cook N Home can be stacked easily—perfect for kitchens that have a limited shelf space. The exterior polish creates an easy-to-use, non-stick surface right out of the box, while the attractive exterior resists staining and discoloration. All of this means that you'll have a gorgeous set of cookware that will last you a long time.
The only real downside to the Cook N Home is that it's made out of slightly lighter materials than other cookware sets, which means heat may not be as even or persistent as on other brands.
Further, the Cook N Home set (as mentioned) is a little smaller than the other sets, with the largest pan being 10″ in size. With primarily pots rather than pans, it also lends itself better to those who cook more sauces, soups, and stews, than those who frequently fry, stir-fry, or saute.
Choose the Cook N Home if you want a budget brand and aren't afraid to replace your pots and pans in a couple of years. If you find yourself frequently purchasing new sets in order to revitalize the look of your kitchen, then it may be a good idea to invest in this set. On the other hand, if you really want the best cook surface, it may not be the right choice.
---
Best Tri-Ply Stainless Steel Cookware: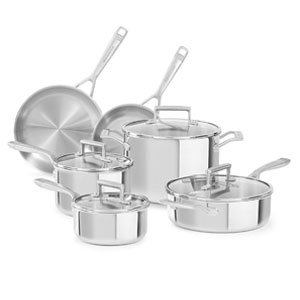 You can't go wrong with KitchenAid, one of the most trusted brands in kitchens across the world. The KitchenAid 10-Piece Tri-Ply Cookware Set is a large, durable, and versatile set, but it's a little more expensive than some of the other options available.
Of course, you pay for quality: with the Tri-Ply set, most kitchens won't need to purchase anything else. An 8-inch skillet, 10-inch skillet, 1.5 quart saucepan, 3.0 quart saucepan, 3.5 quart saute pan, and 8 quart stock pot (with lids for the saucepans, saute pan, and stock pot) gives you everything you need to stock your kitchen.
Tri-ply cookware is designed with three total layers, in this case stainless steel, aluminum, and stainless steel. The stainless steel core of the cookware makes it so that everything cooks evenly. A bright, silver exterior is modern and attractive, with high, straight walls and a polished finish. This cookware set is heavy and strong, and like most KitchenAid products is likely to last forever.
Induction, electric, and gas cooktops can all be used with this cookware set, which is also dishwasher safe and oven safe up to 500 degrees. Compared to other sets in its class, the KitchenAid cookware gets far better reviews.
The welded handles stay cool as you use them in your kitchen, and the pans are made out of true stainless steel—which is polished into a non-stick finish that doesn't require oils. If you want some luxury inside of your kitchen, the KitchenAid set gives you everything you need at a still reasonable price.
Of course, the welded handles are also a downside, because welded handles are generally less durable than handles that are bolted on. KitchenAid, in general, is a superb brand with excellent customer service, though, and if you do have any issues with the handles you can always call the company.
---
1st Runner Up (Tri-Ply) :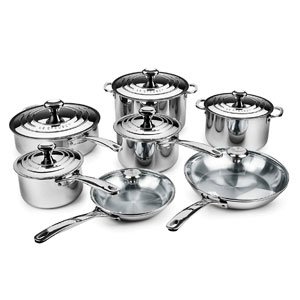 The Le Creuset 14-Piece Stainless Steel Cookware Set is an excellent option for those interested in tri-ply construction, but it's held back a little by its price.
If you want a fully-featured, gorgeous cookware set, with tri-ply construction and all-metal lids, you can get absolutely everything you need with the Le Creuset. While it is an investment, it also comes with a lifetime warranty to protect it.
If you have the budget for it, it's hard to beat Le Creuset. A 14-piece stainless steel set, Le Creuset comes with: three sauce pans (with metal lids), two stock pots (with metal lids), and two saute pans (with glass lids).
This is an extremely attractive set, with beveled metal lids in classic designers, and elegant, swooping handles. Make no mistake: Le Creuset is a luxury brand that will elevate the appearance of your kitchen. Its tri-ply construction has an aluminum core, as well as a magnetic exterior.
Inside of the Le Creuset pans and pots are markings, made perfect for measuring. The metal lids can be moved easily from stove to the oven, for dishes that transition. Meanwhile, the glass lids for the saute pans make it possible to watch as you cook.
The Le Creuset cookware set has had titanium added to its surface, to prevent staining and discoloration. As a professional grade, lifetime warranty product, this is the cookware set that you should purchase if want something that's going to last forever.
While it may demand a slightly higher budget, it will also last longer than many other sets. Choose Le Creuset if you want a cookware set that will enhance the look of your kitchen—and if you're the type of person who likes to buy a product once, forever. This is going to be the last set of stainless steel pans and pots you purchase.
---
2nd Runner Up (Tri-Ply) :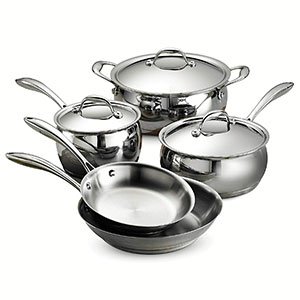 Get high-quality cookware at a moderate price with the Tramontina 12-Piece Gourmet Stainless Steel Cookware Set. A mid-priced option, the Tramontina Gourmet comes with an attractive, modern design that fits well into contemporary kitchens, along with metal lids that can move safely from cooktop to oven.
With a lifetime warranty, Tramontina is one of the best cookware sets for those who don't want to exceed their budget but still want something that will last. With five pots, two saute pans, and a total of five metal lids, the Tramontina Gourmet is an ideal solution for a cook who wants to upgrade their current kitchen set.
The Tramontina line goes up to an 8 quart stock pot with metal lid, and it has a very distinctive and modern appearance that is unmistakable. High walls lead out to flared edges, on which rest flat, heavy lids.
Unlike some of the other options in this price point, the Tramontina Gourmet does have bolted on handles rather than welded handles—these handles are long-lasting and will also prevent heat from transferring to the handles, making them easier to use. Further, the handles are also ergonomically shaped to make them more comfortable to hold.
With metal lids, the Tramontina Gourmet can withstand temperatures up to 500 degrees inside of the oven. It's compatible with induction cooktops as well as other cooktops, and—as mentioned—it has a lifetime warranty. For a fairly affordable set, having a lifetime warranty is quite rare. Tramontina Gourmet is assembled and packaged in the United States, and manufactured in Brazil.
The Tramontina Gourmet set is attractive because it is made out of a high-quality, durable material, with heavy bottoms and minimalist lids. This is the perfect solution for a modern or contemporary kitchen.
---
Best Stainless Steel Cookware for Induction: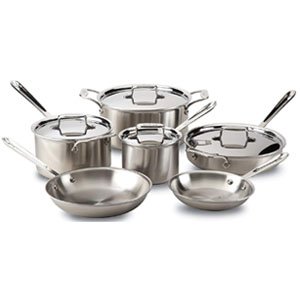 All-Clad provides a 10-piece brushed stainless steel cookware set, which can be used on any cooktop including induction. The All-Clad Brushed Stainless Steel Cookware Set is 5-ply rather than tri-ply, making it even thicker, more durable, and more stable than other options on this list.
Of course, you also pay a premium for this construction—but the multiple layers of material contribute to making this a longer lasting solution.
A 10-piece set containing two frying pans, three sauce pans (with lids), one saute pan (with lid), and an 8 quart stock pan (with lid), this is an ideal all-in-one solution for those looking for a high quality product.
The All-Clad set has multiple layers of stainless steel and aluminum, designed to make the product more durable and conductive. The All-Clad won't warp over time and will make sure that food is heated evenly through.
Tall walls and an elegant, brushed steel, satin finish, the All-Clad Cookware set is an accent piece in any kitchen. Flat, contemporary lids can be moved into the oven at temperatures up to 500 degrees, and a lengthy, attractive handle keeps itself cool while you cook—and makes it possible for you to manipulate pans and pots easily.
A special polished surface that also has a starburst finish, the All-Clad Cookware set has a non-stick surface that can be used to improve the health of foods as well as ease of cooking. Each of the pots and pans has a bolted on handle, and there are flared rims available that will prevent any drips. Further, the cookware set has capacities etched onto each base.
This is the ideal pan set for those who want durable and attractive pans with some advanced features—and those who have fairly open budgets. There are few downsides to this cookware set, beyond the price.
---
1st Runner Up (Induction) :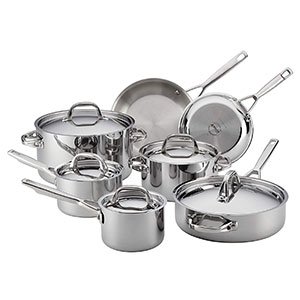 An affordable set, the Anolon Tri-Ply Clad Stainless Cookware Set comes with a total of 12 pieces ranging from small saucepans to an 8-quart stock pot. With comfortable, dual riveted handles, deep-seated lids, and a highly polished surface, the Anolon cookware set provides elegance, sophistication, and comfort for those who want an all-in-one product for their kitchen.
A tri-ply stainless cookware set, the Anolon set has a thick, heavy aluminum base for distributing even heat—as well as metal lids that can withstand up to 500 degrees of heat within the oven.
The deep-seated lids on the Anolon set prevent the lids from slipping or dripping, keeping moisture inside of the pot and making it easier to move. With bolted on handles, the Anolon Cookware set is easy to manipulate. The handles are designed to remain cool even when the pans are hot, making it easier to cook and maneuver.
Further, an attractive chrome finish on the exterior of the pots and pans makes them easy to clean, as well as distinctive and attractive within your kitchen. Compared to others on the list, the Anolon provides greater versatility than the 10-piece systems, while also being significantly cheaper than many of the other designs.
It's a good option for those who are interested in purchasing their first stainless steel cookware set, and those who may be interested in learning more about how stainless steel cooks in their kitchen.
---
Best Copper Core Stainless Steel Cookware: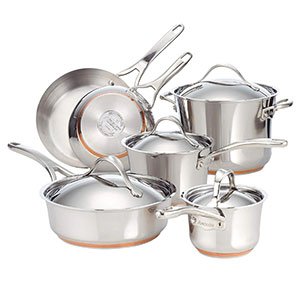 If you'd rather have copper core cookware instead of an aluminum core, the Analon Nouvelle Stainless 10-Piece Cookware set is perfect for you. With layers of aluminum, copper, and stainless, the Analon Nouvelle is able to provide even heat distribution while also maintaining a gorgeous chrome exterior.
An attractive layer of copper remains visible at the bottom, improving the appearance of each pot and pan—while the elegant, domed covers give it a classic and elegant appearance.
Two saucepans, one 6.5 quart stock pot, two French skillets, and a covered saute pan-each with a distinctive copper bottom-make the Analon Nouvelle a unique addition to any home or kitchen. This full layer of copper provides for better heat retention and heat distribution, making it easier to cook on any type of range.
With five full layers at the bottom of every pot and pan, as well as a high polish exterior, this hefty set is extraordinary to use and easy to clean. Further, it features an elegant, tulip-shaped design, which both improves upon the longevity of the pots while also reducing dripping.
Brushed-finish interiors will hide any scratches and scrapes, and overall the Analon Nouvelle should last in even the busiest kitchen for years. The handles of the Analon Nouvelle are bolted on, with wide spacing that ensures that the handles remain cool even when the pots and pans are heated.
The Analon Nouvelle is the perfect cookware set for those interested in a long-term investment at a decent price, with the only downside being that the exterior of the pans are fairly easy to scratch and scrape.
Read more here: Best Copper Cookware Reviews
---
1st Runner Up (Copper Core) :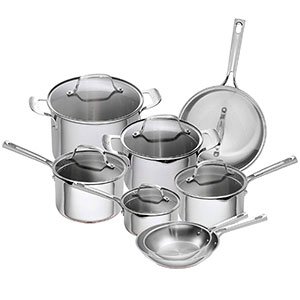 A 14-piece set with a copper core, the Emeril Lagasse Stainless Steel Cookware set has a lot to love: integrated pour spouts, oven safe pans, and a lifetime warranty.
The Emeril Lagasse set is both attractive and durable, but there are a few minor issues that are holding it back from being truly great. Notably, they aren't as resistant to staining and pitting as many other similar brands.
The Emeril Lagasse set comes with two fry pans, three sauce pans, one saute pan, a casserole pan, and a stock pot—in addition to respective lids. With wide-spaced, metal riveted handles, the Emeril Lagasse set can be easily used without excessive heat.
But likely the best possible feature of this set is the integrated pour spouts, measurement markings, and straining lids, all of which make it easier to use in the kitchen.
The copper core of the cookware set is located between layers of aluminum, providing heat distribution. The elegant layer of copper can be seen on the polished exterior of the pots. It can be used on any type of cooktop and is dishwasher safe.
Further, the lifetime warranty is also a huge bonus, as it ensures that anything wrong with the set will be repaired as needed. There are some downsides that reduce the effectiveness of this set. For one, most of the items in the set are pretty small, with a 6 qt stock pot rather than an 8 qt stock pot.
Further, the Emeril Lagasse features glass lids, which aren't desirable in some applications: they are only oven safe up to 350 degrees. On the other hand, the pans themselves are safe up to 550 degrees.
---
Best Stainless Steel Camping Cookware: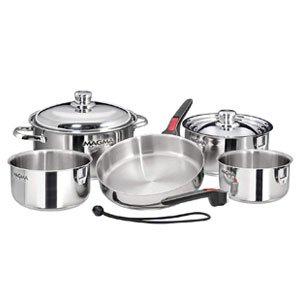 If you want to take your cookware on the go, you need the Magma Products Stainless Steel Induction Cookware set. An incredible 10-piece system, the Magma Products set nests inside of itself, making it easy to take anywhere.
In addition to its compatible nature, it's also excellent cookware set in its own right: and it's available at an affordable price.
Likely the most unique aspect of this product is that all the pots and pans stack inside of each other. The Magma set features detachable handles, which come off so that you can put everything in a single, compact format.
This system is intentionally designed for people how have limited space, such as those who are cooking at a camp, or those who use an RV. Other than this, the Magma set has everything that you could expect of a high quality stainless steel cookware set. The Magma set has triple clad bottoms, for better heat retention and cooking, while also having a beautiful, polished chrome exterior.
Additionally, the set is both oven and dishwasher safe, and it's easy to clean while on the go. It's also been cleverly designed so that the lids can fit multiple items: you only need one lid for pans and one lid for pots.
With metal pans, you don't need to worry about glass that could break over an open fire. The metal lid handles, on the other hand, are likely to get hot when being removed, as they are small knob-style handles.
A special "bungee" storage cord ensures that all the pots and pans remain secure, even when you're traveling far distances. Wherever you want to go, this set can go with you. The Magma set isn't just perfect for travel: it's also just a really good all-around set for any kitchen.
The only thing that really holds it back is the limited amount of lids, and the fact that the lids are constructed a little cheaply. Further, the pan handles need to be removed for the pans to be used in an oven, but the quick thumb release makes it easier to remove it fast.
Check out more camping cookware reviews here: Best Camping Cookware
---
How to Choose the Perfect Stainless Steel Cookware
What should you look for when purchasing stainless steel cookware? With cookware that spans the gamut between a few hundred dollars to over a thousand dollars, there's a pretty significant range. Stainless steel cookware sets are going to be impacted by the quality of the stainless steel as well as the build of the product. Here are a few of the features that are most important.
Set:
First, the most obvious: stainless steel cookware sets usually range from 10 to 14 pieces. If you're stocking a full kitchen, you'll want a diverse set of pots and pans, along with the necessary lids.
Size:
Pay close attention to the sizes of the pans and pots, as cheaper sets may be smaller in size as well as quantity. Most standard sets are going to have at least a 12″ fry pan and an 8 quart stock pan. Smaller sets may only go up to 10″ and 6 quarts.
Metal:
When it comes to the cookware itself, aluminum and copper cores are desirable because they distribute and retain heat throughout the bottom of the pots and pans.
The broader the bottom of the pan is, the more likely it will be able to be used for induction stoves. Induction stoves rely upon heating surface. Copper bottom pans may be more expensive, but may also provide better heat distribution—on the other hand, they're heavier than aluminum.
Handle:
Riveted handles are generally indicators of higher quality cookware and welded handles are more likely to fall apart. The type of handle may also matter. Higher quality pots and pans generally have pure metal handles.
Some have silicone handles or wood handles: these can't be used as effectively in the oven, but can be easier to use.
Lids:
For lids, you usually want metal lids rather than glass lids. While glass lids do let you check on your food without taking them off, metal lids are more durable and can move from the stovetop to the oven.
Some sets come with metal lids for stock pots and sauce pans, and glass lids for saute pans, offering the best of both worlds.
Style:
Of course, some of it will also come down to style. Depending on the cookware, it may come in a matte finish or a gloss finish.
The profile of the cookware also matters:
some have rounded exteriors while others are flared. That may not impact cooking much, but it will impact its aesthetics. You may need to look at multiple options to determine which fits best into your home.
Warranty:
Finally, many of the more expensive sets come with a limited warranty or a lifetime warranty. A lifetime warranty is a true necessity for more expensive sets, as it protects your investment.
It's generally pretty hard to go wrong with modern stainless steel cookware sets, as the vast majority of them are easy to use, easy to clean, and durable. Today, it's rare to find a stainless steel cookware set that isn't dishwasher safe and oven ready.
Related Reading: Stainless Steel Vs Non Stick Cookware and Stainless Steel vs Ceramic Cookware
---
Final Verdict: Best Stainless Steel Cookware
After reading our reviews of the 10 best stainless steel cookware options on the market, you should now be able to confidently purchase the right cookware to meet your needs. Most of the items on this list can be used on induction cook tops, but always make sure to check that the product you're buying is designed for the type of stove that you intend to use.
We considered a variety of factors when doing our rankings, including how to clean the cookware, how much heat the cookware can withstand, and how the pots and pans hold up over time. We have done the hard work for you, so now you can go forward and confidently make your purchase!
---
Read more cookware related articles:
---