What is the Best Splatter Screen?
We have picked the BergKoch Grease Splatter Screen as the top splatter screen as it is a universal size, and the ultra-fine mesh prevents a lot of mess and pain. It can be used as a strainer, steamer and cooling rack. The flat design makes it easy to store, the price is great, and it comes with a lifetime guarantee.
---
Frying foods, such as bacon, sausage, or chicken, and making sauces are common occurrences in many households, and so is the mess they leave behind.
Standing in the kitchen to cook just so you can scrub your stove afterward is not a pleasant thought. Fortunately, find the best for your foods and cookware can prevent much of this mess.

---
Quick Navigation
Top 9 Best Splatter Screens: Our Picks & Recommendations
---
Why You Should Get a Splatter Screen?
If you have ever cooked spaghetti sauce or fried anything, you know what your stovetop looks like after you are done.
You probably also know what it feels like to get popped with a piping hot splash of grease or sauce. It is definitely not a fun experience, and neither is cleaning up the mess when dinner is over.
And do not forget the chance of a grease fire flaming up from the grease that is splashing around.

A splatter screen can prevent at least most of these issues. Splatter screens are designed to sit on top of your pot or pan to prevent food and grease from popping out.
While some bits may still escape, a splatter can decrease the mess and overall risk to your safety. Additionally, it can help protect little ones who like to be in the kitchen while you are cooking.

There are different splatter screens and their construction materials provide different results. For instance, mesh screens are the most common but some grease and sauce bits may escape through the small holes.
Silicone and pierced metal splatter screens are other options. You will also find different sizes, handle types, and more.
When you are ready to purchase, use the information below to help you find the perfect splatter for you.
---
9 Best Splatter Screen Reviews
To find the best product, we looked at the features and ratings of multiple models. We ultimately decided on the following nine splatter screens based on price, effectiveness, and ease of cleaning.
---
Best Overall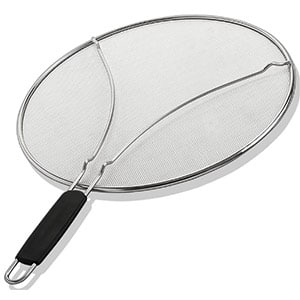 What You Will Love: It is a universal size and a multipurpose kitchen tool.
The BergKoch Grease Splatter Screen is a great product for less than $15. The 13-inch size is large enough to fit over pretty much any cookware.
This cooking splatter can also be used as a strainer, steamer, and cooling rack. It takes up little storage space, minimizes splatters tremendously, and has a lifetime guarantee.
Pros:
Universal size
Multipurpose
Easily stored
Stainless steel
Extra fine mesh
Lifetime guarantee
Good price
Cons:
The plastic handle may melt or burn hands
---
Best Budget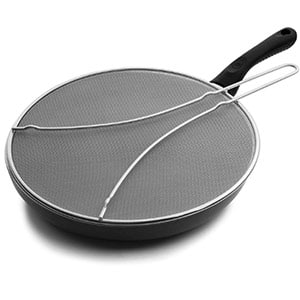 What You Will Love: The fine mesh lets steam out while keeping most splatters in.
The Bellemain 13 Inch Splatter is made with fine, stainless steel mesh. Splatters stay in, steam escapes, and it is rust resistant.
It can be easily cleaned by wiping it down, occasionally rinsing it. At a little over $10, it is a great price and has a lifetime warranty. However, the uncovered metal handle is potentially dangerous.
Pros:
Lifetime warranty
Great price
Universal size
Easily cleaned
Fine mesh
Cons:
The metal handle could burn your hand
---
Best Silicone Splatter Screen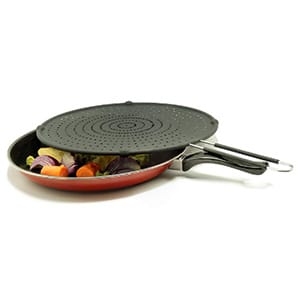 What You Will Love: The rubber-covered handle means that you will not burn your hand easily.
The Beckon Ware Silicone 4-in-1 Splash Guard is a silicone splatter, which serves multiple purposes. It can be placed across standard size sinks to use as a strainer.
It is also a good cooling board and draining board. It is easy to clean by either wiping with a damp cloth or hand washing with soap and water. At less than $20, it is a great choice.
Pros:
Easy to clean
Multipurpose
Rubber covered handle
13 inches
Cons:
---
Runner-Up (Silicone Splatter)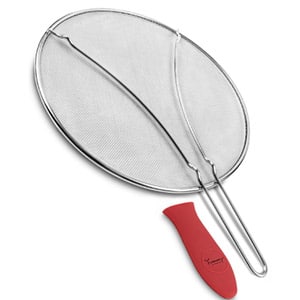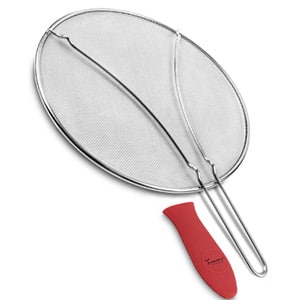 What You Will Love: It can withstand extreme heat and can be used in the oven without the silicone handle.
The Yummy Kitchenware 13" Grease Splatter is made from ultra fine mesh, which prevents most splatter from escaping.
The silicone handle makes it safe and easy to use. The universal size fits most cookware. The slight downside is that it is one of the more expensive options on the list.
Pros:
Ultra fine mesh
Silicone handle
Universal size
Minimizes splatter
Cons:
---
Best Stainless Steel Splatter Screen With Folding Handle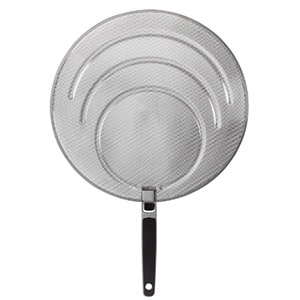 What You Will Love: With a folding handle, this splatter screen takes up even less storage space.
The OXO Good Grips has a few features to brag on. Though the overall size is 13", the concentric rings mean that the screen will fit securely on smaller sizes, as well.
It is dishwasher safe, and, as it is perforated, it keeps in more splatter and clogs less than mesh screens. At around $20, it is a more expensive option but a very good one.
Pros:
Handles fold flat for compact storage
Perforated
Concentric rings for universal use
Cons:
---
Runner-Up (Stainless Steel Splatter)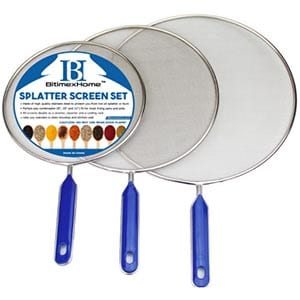 What You Will Love: This splatter screen comes in a set of three.
The Bitimex Home Grease Screen is an excellent value. For less than $30, you get three splatter screens: 8", 10", and 11".
The super fine mesh keeps the mess in but may get clogged easily. The set also comes with a money back guarantee.
Beware of the plastic handle, though, as it might get too hot or melt if too close to a heat source.
Pros:
Great value
Money back guarantee
Fine mesh
Cons:
The plastic handle might melt
---
Best Mesh Splatter Screen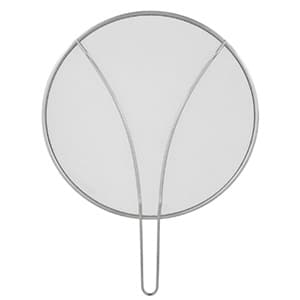 What You Will Love: It comes with three resting feet to use the screen as a cooling rack while they help keep the mess of your counters.
The U.S. Kitchen Supply 13" fits most any cookware, and it is ultra fine to keep most of the mess in. It can be used as a drainer, a strainer, and a cooling race. At less than $9, the price is hard to beat.
Pros:
Comes with resting feet
Great price
Multipurpose
Cons:
---
Best Rectangular Splatter Screen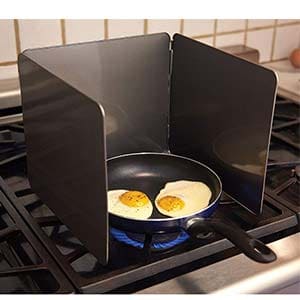 What You Will Love: It is designed to surround your cookware while cooking to keep mess to a minimal space.
The Fox Run Non-Stick Splatter Shield is a non-stick shield made to keep mess to one cooking space. As it is non-stick, it is easy to clean.
And it is less than $8. However, as it does not sit on the cookware, it does not protect the cook from painful splatters.
Pros:
Three panels to surround pans
Made of tin
Easy clean up
Great price
Cons:
---
Best Extra Large Splatter Screen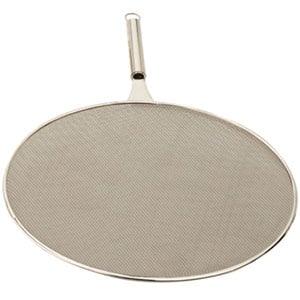 What You Will Love: Its 15-inch size is great for large pans, including wok and cast iron skillets.
The RSVP International Endurance opens up more possibilities due to its large size. It is made from thick stainless steel and double fine mesh.
While that keeps a lot of splatters in, it might also clog quickly. Also, the large size may be difficult to store. It runs around $20, so there are cheaper options available.
Pros:
Extra large
Double fine mesh
Made from thick stainless steel
Cons:
Might clog easily
May be difficult to store
---
Choosing a splatter screen can be a very simple process. The main considerations should be the size, the versatility, the construction, and the price.
When you are ready to purchase, use this article as a guide to choose the best splatter screen for you.
---
Related Articles:
---