What Is The Best Smoker Box for Gas Grill?
When selecting the best smoker box for gas grills, there are some things you need to pay attention to such as the cost, how well it works, the materials it is made out of, and more. With those things in mind, we chose the Grillaholics Smoker Box based on it capacity for wood chips, the price, and the tough stamped stainless steel it is made from.
---
If spending the day out in your yard with your outdoor grill is your kind of fun, and you enjoy the taste of smoked food, a smoker box is a good choice for you.
They act similarly to an actual smoker and with some good wood chips, you can have some of the most flavorful food you have ever cooked on your grill.
If this sounds like something you are interested in, keep reading to learn about our top rated smoker boxes for gas grills.
---
Quick Navigation
5 Top Smoker Boxes For Gas Grills: Our Picks & Recommendations
---
5 Best Smoker Boxes for Gas Grills
To find the best smoker boxes, we looked carefully at ratings and reviews of dozens of boxes.
Overall, we decided that the following five smoker boxes are the best based on their durability, ability to retain heat, their performance, and price.
---
Best Overall Smoker Box for Gas Grill: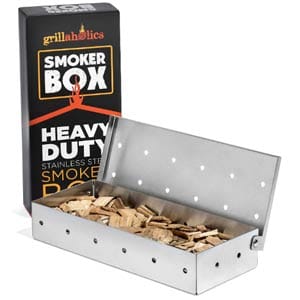 What You Will Love: This smoker can hold up to 3 cups of your favorite wood chips.
The Grillaholics Smoker Box is constructed from stamped stainless steel, which does not warp as easily as those with lower grade stainless steel. It has a hinged lid for easier refilling.
Since it can hold 3 cups of wood chips, you spend less time refilling the box. With this box, you will be smoking on a gas grill instead of having to buy a separate smoker.
All of these great features plus the great price make this our best smoker box for gas grills. In all of the reviews, the only complaint I could see is that it is not an actual smoker with which you can control the temperature.
Besides that, it has great reviews and is recommended for those who love outdoor cooking.
Pros:
Tough stamped stainless steel
Fits 3 cups of wood chips
Hinged lid
Great price
Cons:
Cannot control the temp as you can on an actual smoker
---
Best Budget Smoker Box for Gas Grill: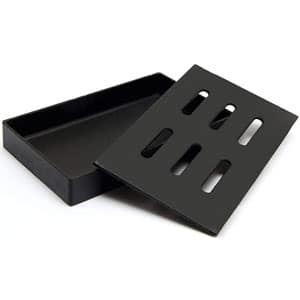 What You Will Love: It is made of durable cast iron so it will last for a very long time, if you season it appropriately.
With the GrillPro 00150 Smoker Box you get a great product for under $20. Just add your wood chips for a smoky, flavorful meal.
Though the chips take some time to start smoking, they do a great job once they get started. It is very easy to use, very well constructed, and great at retaining heat without your chips burning to easily or quickly.
As the GrillPro box is made from cast iron, you have to season it appropriately or it will rust. Cast iron can also break easily if it is dropped, so be careful when using it.
Pros:
Durable and long lasting if taken care of properly
Very good price
Well constructed
Easy to use
Retains heat well
Cons:
Will rust if not cared for
May break if dropped
---
Best for Universal Stainless Steel: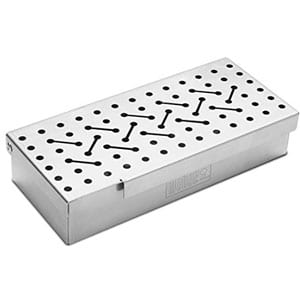 What You Will Love: The hinged lid makes it safe and simple to refill wood chips while the smoker box is in use.
The Weber 7576 Universal Smoker Box is made with durable stainless steel and fits most grills.
With a hinged lid, you can easily and safely use some tongs to add smoke chips while the box is in use.
It gets hot very quickly and easily and begins to release smoke into food in a fair amount of time.
The two main complaints are that it takes some trial and error to find the sweet spot for smoking your food just right, and that it is kind of expensive compared to other options.
Pros:
Durable stainless steel
Fits most grills
Hinged lid,
Easily refill chips,
Gets hot and smoky quickly
Cons:
May take some time to get the temp right
More expensive than other options
---
Best for Thicker Stainless Steel: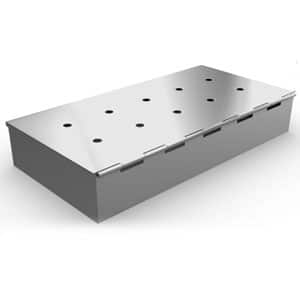 What You Will Love: This smoker box comes with a barbecue recipe book.
The Cave Tools Smoker Box is made from stainless steel that is 25% thicker than the average stainless steel used in kitchen or grill items.
The hinged lid lets you easily and safely add more chips as you go. It holds approximately 2 cups of your favorite wood chips and fits well between the grill's flavorizer bar and the grill grate.
This Cave Tools box comes at a fair price and with a lifetime satisfaction guarantee. This smoker box is highly recommended by users, but they do state that you may still need to soak your chips before use.
Pros:
Thick stainless steel
Hinged lid for easy access
2 cup capacity
Fair price
Lifetime satisfaction guarantee
Cons:
Still best to soak chips first
---
Best for V-Shape Smoker: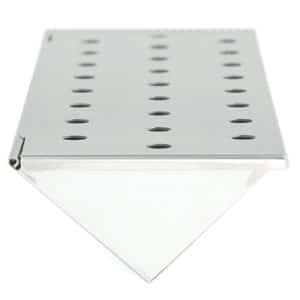 What You Will Love: It is a long, v- shaped smoker box that comes at a very good price.
The Charcoal Companion V- Shape Smoker Box is constructed from sturdy stainless steel and a hinged lid for easy chip access.
The v- shape allows it to sit between the bars of the grill and give you a more intense flavor than some other smoker boxes.
There are no holes in the body, so ashes do not fall out. This helps keep your grill clean. It measures as 13 ¾ inches long for extra chip capacity.
It is usually priced under $15 making it a great deal. As it is stainless steel, it can rust- especially if not cared for.
Pros:
Great price
V- shaped
Sturdy stainless steel,
Long
Large chip capacity,
Keeps ashes inside the box
Hinged lid
Cons:
Stainless steel rusts over time
---
If you love to cook on your gas grill but want the smoky flavor a smoker provides, you should check out smoker boxes for your grill.
The options we have listed as the best smoker box for gas grills are some really good choices that can provide you with a lot of flavorful food.
---
More Grill and Smoker Related Articles:
---