What is the Best Small Air Compressor?
We have picked the Bostitch 6 Gallon Oil Free Compressor as the top small air compressor as it requires no regular maintenance, can reach up to 150 PSI in three minutes, and produces less than 80 db of noise. Additionally, it is recommended by a former quality assurance specialist.
---
Small air compressors have been present in homes for many years as they have always and will always be useful for many projects, including inflating tires and some sports equipment.
Over the years, small air compressors have been continually improved and are now so widespread that it can be difficult to choose. With all the different sizes, styles, noise and power levels, tank capacities, and more, how does one pick?
Though there is no one size fits all approach to deciding, there are some basic guidelines to use and factors to consider. The tips in this review and buying guide can help you choose the top small air compressor for you.
---
Quick Navigation
Top 9 Best Small Air Compressors: Our Picks & Recommendations
---
How to Choose the Right Small Air Compressor
When you are looking for the best small air compressor, there are a few things you should consider:
Start-Stop vs Constant Run
With a start-stop unit, there is a switch with which you can turn it on and off. A constant run will have to be unplugged to stop it.
Oil vs Oil-free Tanks
Some air compressor small units require oil for lubrication to keep the compressor running smoothly, but others do not. Oil-free tanks require much less maintenance. They are also becoming the most popular and more readily available type on the market.
Power, Motor, and Tank Capacity
Try not to purchase any unit that offers less than 110 to 120 volts, as they will likely be too weak for most needs. Anything less than a one-gallon gas tank is going to have you refilling too often.
Electric powered unit tends to be much more useful when you have a power source because you can use them inside your shed, garage, or workshop without breathing in fumes.
Performance
The PSI (pounds per square inch) and CFM (cubic feet per minute) will determine how fast and how much the small air compressor will put out.
However, performance goes beyond how well it does during use. It also depends on how long it lasts, how long it takes to recharge, and how much time you have to wait in between uses.
Size and Weight
Size and weight are especially important if the air compressor will not be staying in one open spot- like in a mechanics shop.
Consider not only your available space but also how much weight you can carry around without discomfort or injury.
The Noise Factor
If you have ever been around an air compressor, you know just how loud they can get. Fortunately, there are also quiet options that are still very powerful. Obviously, this is up to you.
How much noise are you willing to deal with? It would also be kind to consider those who live in the same home, work in the same space, and neighbors.
The less noise your machine makes, the less likely it will bother others. Unless you live in the middle of nowhere all alone, go for a small, quiet air compressor.
Air Tool Requirements
It is especially important to check the requirements of the air tools you are getting the air compressor for. If it does not meet those requirements, it is a waste of time and money. Check those requirements and make a list before you even begin shopping.
Space and Portability
Both a small electric air compressor and a small gas powered air compressor are varying sizes and require varying amounts of space.
Consider how much space you have to dedicate to your air compressor as well as how much you will need to be moving it around. If you need something that is mobile, look specifically for a small portable air compressor.
Style
You will notice two common styles of small air compressors: the hot dog and the pancake. Hot dogs compressors are more expensive but quieter.
Pancake compressors provide low maintenance, lightweight, and small size. The pancake compressor is great for small projects such as inflating tires, but they may not power all of your heavy-duty air tools.
Horsepower, PSI, CFM
If you need it for personal use, horsepower is really up to you. If it is for professional use, you probably want higher horsepower. The PSI is how much air your small air compressor can give you.
The PSI of small air compressors can match or come very close to the PSI of larger units- the smaller ones just have to refill more often. The CFM (cubic feet per minute) refers to how quickly it can give you that air. To choose the correct CFM, check what your pneumatic tools require.
Power Source
There are both electric and gas-powered small air compressors. The two biggest differences being portability and maintenance costs. For home use only, an electric one should be fine because you can plug it up.
If you will be moving away from power sources, a gas-powered one is probably a better option for you. Also, keep in mind that gas-powered tools and compressors should only be used outside.
Expenses
Prices can range tremendously, but it does not necessarily tell you much about the unit itself. Do not just go for the most expensive one thinking that it is the best- that may not be true. In some cases, a $60 may be just as powerful as a $200.
---
9 Best Small Air Compressors Review
Here's a list of the best small air Compressors we found on the market:
---
Best Overall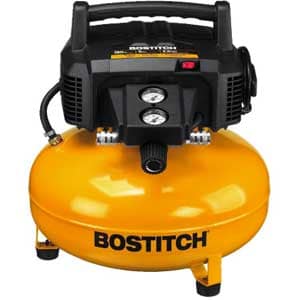 What You Will Love: It is very well made, and it takes less than 3 minutes to reach 150 PSI
The Bostitch air compressor fills up very fast, and it is very quiet at under 80 dB. The oil-free design means no maintenance in that regard.
It is built durable enough for a retired government quality assurance specialist recommends it. There have been no complaints of leaking that I could find.
The high-efficiency motor and high flow air regulator both improve the performance and functionality of the tool.
However, a couple of buyers have stated that the air regulator might affect the precision of the instrument, so if it is a project requiring extreme accuracy, this is probably not a good option. At a little over $100, it is lower than some options but not the lowest available.
What We Liked:
6-gallon tank
Up to 150 PSI in under 3 minutes
High-efficiency motor
Quiet- under 80 dB
High flow air regulator
Oil-free for less maintenance
Durable construction
What We Did Not:
Mid-range pricing
Regulator may cause precision issues
---
Best Budget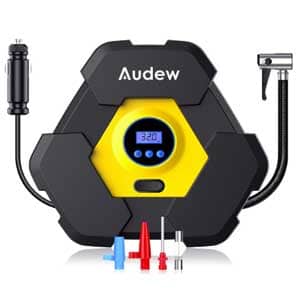 What You Will Love: This is a very lightweight and compact option at a great price.
The AUDEW Portable Air Compressor Pump just might be the most portable on this list. In fact, it is compact enough that it can fit into one hand.
It comes with a bright LED light that provides great visibility at night time and helps oncoming motorists see you. The LCD display means very easy readings, and the 10 ft power cord lets you go a good distance.
The auto shut off feature prevents you from over-inflating items, and the 3 nozzle adaptors make it easy to pump multiple types of things. You get very clear instructions about how to use it.
Also, it is very affordable as it costs around $31. The downside is that it will probably not last as long as other air compressors.
However, at such a great price, you should expect to sacrifice something, and it is cheap enough to replace a couple of times a year if need be.
What We Liked:
Affordable
Auto shut off
Digital LED display for easy readings
LED lights
10 ft cord
3 nozzle adaptors for versatility
Lightweight and very compact
Clear instructions
What We Did Not:
Might not last as long as other options
---
Best Small 12V Air Compressor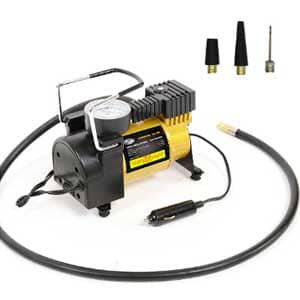 What You Will Love: It is a good option for cars, SUVs, toys, balls and more for a very low price.
The Auto Virazh Tornado Portable Tire Inflator is a very compact air compressor, so it takes up little space. It is said to provide 35L per minute, which is pretty good for such a compact compressor.
As the hose is only three feet long, it is wise to get the extension. It plugs into your cigarette lighter or DC outlet and provides a clear and easy to read PSI display.
This small compressor can inflate tires on cars and SUVs, though it may take a little longer than you would like. It also comes with nozzles for inflating toys, bike tires, and other things.
It is a lightweight compressor making it easily portable, and the carrying case simplifies it transport even more. At about $20, it is one of the lowest-priced models we have looked at, yet it is reported to perform very well.
As it is also stated to be very user-friendly, it seems like the kind of air compressor I would want if I was stranded with a flat tire.
What We Liked:
Great price
3 nozzle adapters for cars, bikes, and other inflatables
35L per minute
Small to midsize vehicle
Carry case
Lightweight
Easy to read pressure meter
What We Did Not:
Fills tires slowly
May need an extension for the 3 ft hose
---
Best Oil-free Small Air Compressor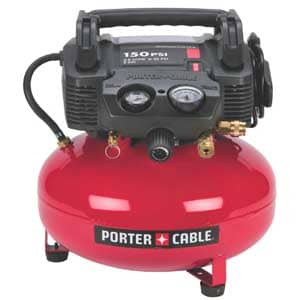 What You Will Love: It can reach up to 150 PSI in just a few minutes.
The Porter-Cable C2002-WK Oil-Free UMC 6 gallon Pancake air Compressor which requires less frequent refills. It has a handle for easier transportation and an ergonomic non-slip grip.
It provides up to 150 PSI and a high flow regulator for maximum efficiency and performance. This power comes at a price though because the unit is noisy, heavy, and creates a lot of vibration.
The factory sends the unit with the air coupler and plugs already installed to minimize the chance of leaks. It draws minimal amps and comes with an oil free pump.
For a little over $160, you can order the air compressor and a 13 piece accessory kit, so it is a pretty affordable option.
It also comes equipped with a water drain valve and rubber feet to sit on. The instructions might be a bit difficult to understand, though.
What We Liked:
6-gallon capacity
Non-slip ergonomic grip
Up to 150 PSI for longer run time
Air coupler and plug come installed
Low amp usage
Oil free pump
Handle for easier portability
High flow regulator
What We Did Not:
instructions may not be easy to understand
heavy
produces a lot of vibration
---
Best Oiled Small Air Compressor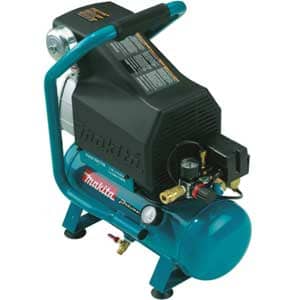 What You Will Love: It has an easy to see oil sight so you know when to add more, and it is durable.
This Makita MAC700 Big Bore air compressor is quiet, powerful, and durable. It has a large air filter for better airflow and efficiency. The 4 pole motor puts out enough power for your jobs while staying under 80 dB.
The air compressor has a very low amp draw, so you will be faced with minimal breaker tripping. The roll bar handle makes it easier to carry where you need to go.
Some buyers have reported that it does not hold air pressure very well, though there is a one year manufacturer's warranty in case that happens.
Though it is portable, it seems to be a bit awkward and heavy. You may need a buddy to help you carry it. At over $200, it is a bit of an expensive choice.
What We Liked:
Quiet- 80 dB
Durable motor
1,720 RPM pump, 3.4 CFM and 90 PSI
Low amp draw
Oiled for cooler running pump and minimal wear
Great performance
One year warranty
Rollbar handle for easy portability
What We Did Not:
High price
Some units do not hold pressure well
Heavy
---
Best Electric Small Air Compressor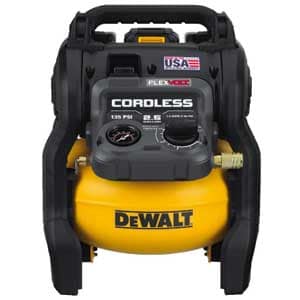 What You Will Love: This air compressor gives you long work periods- it can power 1,220 nails per charge, meaning you have to charge less often.
The DEWALT DCC2560T1 is loved by many roofing, construction, and carpentry pros. It is compact, portable, and very lightweight making it easy to get to and from different job sites.
With the 2.5 gallon capacity, it requires less recharge time and frequency than many other options- though the length of pressure will vary according to your personal use.
Additionally, it is cordless for even greater portability. It also provides a one turn regulator which allows fast and accurate pressure adjustments.
It is fairly quiet, and it is great for everything from trim and finish work to inflating tires. At over $250, it is a pretty expensive option, so it may be a bit expensive for home and personal use.
However, as many professionals love and recommend this air compressor, this may be the one for them.
What We Liked:
2.5 gallon
Cordless
79 dB noise level
Fast and accurate pressure adjustments
A lot of work before recharge
O)il free
Compact, portable, lightweight
Great for trim and finish work
Loved by pros
What We Did Not:
---
Best Gas-Powered Small Air Compressor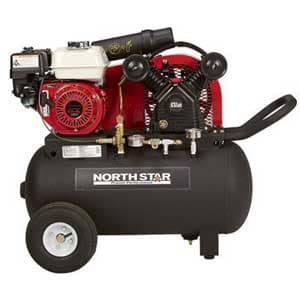 What You Will Love: This model is large enough to do your job but small enough to transport,
The NorthStar Portable Air Compressor is made with a cast iron pump and a durable engine. The floating steel valves and V-style cylinder promote long engine life.
The overheat prevention turns it off if it is getting to hot, and the low oil shutdown means you do not have to worry about running it with low oil. It is built to maintain the health of the engine. However, at over $1,000, it is very expensive.
What We Liked:
Large capacity
Cast iron pump
Durable engine
Overheat prevention
V-style cylinder
Floating valves
Low oil shutdown
What We Did Not:
Very expensive
Sensitive engine choke
---
Best Portable Small Air Compressor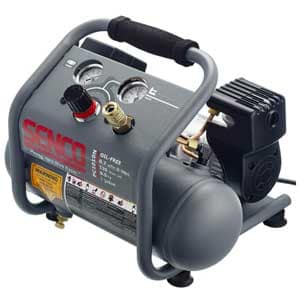 What You Will Love: This hot dog air compressor is very quiet, enough that it can be used indoors.
This Senco PC1010N is a good choice for smaller projects, such finish and trim, and quiet enough for indoor use. It is oil free so it requires less maintenance, and it requires less than 30 seconds of recovery time between uses.
There is a one-gallon capacity and it is very compact for easy storage. Another great factor is that if there is a large amp draw, it will trip the breaker to prevent any other problems.
There are, however, a couple of issues. First, some buyers have found the regulator knob to leak air, even after they have had it repaired. I only found a couple of reports like this, though, so those may be the exception.
Second, the price is a bit high. At around $160, there are definitely much cheaper options that perform just as well. This is a good option, though, for those who need to travel with their compressor.
What We Liked:
Oil free for less maintenance
Quiet enough for indoor use
Compact- 14 x 13 x 10
Less than 30 seconds of recovery time
What We Did Not:
Higher price
Regulator knob may leak air
---
Best for Tires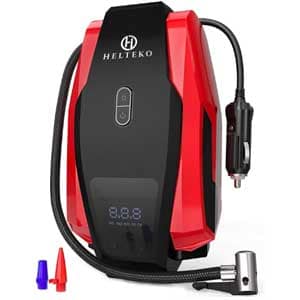 What You Will Love: It has an LCD digital display that shows you the current PSI and more.
This Helteko Portable air compressor pump is excellent for inflating tires, basketballs, bicycles, and more small projects in minutes. You can easily plug it into your 12V cigarette lighter, or attach it to a 110V adapter to use with a regular power supply.
It is made from tough materials, is compact enough to easily fit into your vehicle, and lightweight for easy portability.
The auto shut off capability keeps you from overinflating by shutting off when the desired pressure is reached. It has LED lighting which makes you visible to approaching motorists if you are on the side of the road at nighttime.
The only real downside is that it cannot handle larger projects. At around $50 and with an 18-month warranty, the Helteko is a great option for small projects.
What We Liked:
Good price
Great for small projects
Durable construction
Auto-shutoff
LCD display
Compact
Lightweight
Connects to 12 V cigarette lighter
What We Did Not:
not good for heavy-duty use
---
Frequently Asked Questions (FAQs)
Why do I need an air compressor?
There are a number of reasons for air compressors. They are great for powerful tools you need for carpentry and crafts. They can make spray painting much easier.
They can help you inflate items, such as tires and do other auto repairs. Basically, they put the power and strength behind tools that are used for different things.
What size of air compressor do we need?
This is a personal decision, really, as it relies on how much space you have to store it, and how often you feel like recharging it between uses, and how often you want it to start and stop during use.
Small ones are usually great for very small projects, but anything more than inflating a tire will probably need something larger.
Which voltage should we look for?
You want at least 110V- that is pretty much standard for most electrical items. However, you can choose them with as much voltage as you feel you need for your most heavy-duty project.
What hose should we look for?
As far as diameter is concerned, you will typically see hoses from ¼" to 3/8". Check your compressor manual to ensure the correct diameter.The length, on the other hand, depends on how far you need it to stretch.
It would be best to measure the length you need. For instance, if you will use it to inflate your tires, measure the distance between where the compressor will be sitting and the tire that is the farthest from the compressor. This should give you a good idea of length.
What kind of small air compressor do carpenters use?
Different carpenters use different types. However, most that I have seen do prefer electric over gas-powered and closer to 135 volts when they find them that power.
---
Conclusion:
When deciding between small air compressors, it is especially important to consider the projects you will complete, space you have to store it, and space you have in your budget for the purchase. Through the information here, you can learn what the best small air compressor is for you.
---
Related Articles:
---