Standard blenders can be useful in the kitchen, but they can also be heavy and just too big for the job at hand. Single serve blenders have become popular for making individual servings of smoothies, power drinks, and milkshakes.
They're lightweight, convenient, and they don't take up much space. We've done the research and found that our favorite single serve smoothie maker is the Cuisinart CPB-300 Portable Blender.
It balances cost with ease of use. Here's a look at some of the best blenders that can make a meal in a minute and meet a busy schedule with a boost of healthy (or not so healthy!) ingredients.
---
1. Best Single Serve Blender – Cuisinart CPB-300 Review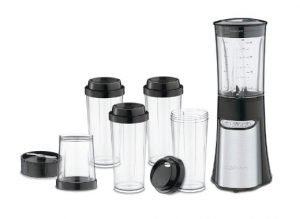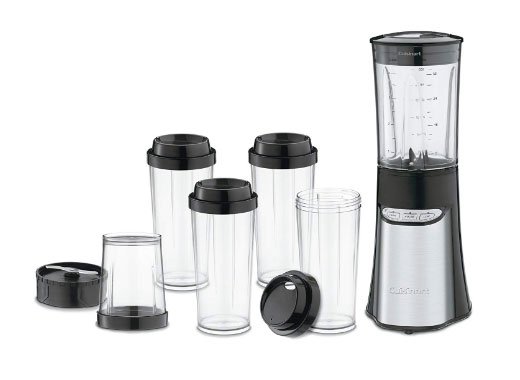 Our research led us to this single serve blender by Cuisinart. For several reasons it is our choice for the best single serve blender.
First, the blender itself: The Cuisinart CPB-300 single serve blender is 350 watts with an accessible touchpad and LED lights to show which level of blending is in use. It comes in black, white, or a creamy pink color.
The stainless steel blades will last a long time and the touchpad settings provide three settings for chopping and blending.
The accessories: This single serve blender comes with a lot of useful amenities. There are a 32-ounce blender cup, an 8-ounce chopping cup, and a set of four 16-ounce cups that let you take your smoothie out on the road.
All of these come with lids for storage or travel. The travel cups not only seal with a lid when in transit, but they can be used on the blender body to make smaller portions of your favorite smoothie before you head out the door.
Use the chopping cup to chop seeds, vegetables, or fruits. Any of these cups can be used to store ingredients in the refrigerator for the next day.
This Cuisinart CPB-300 single serve blender has a control pad that is designed to be higher up on the motor assembly itself. This alone is a huge improvement over blenders that make a person lean over to read their displays.
There are three choices for blending: high, pulse, and low. Smoothies and protein shakes usually need a certain amount of power to blend their ingredients well.
Not only can the Cuisinart chop flax or chia seed and other health items, but it can crush ice perfectly and blend protein powders and other ingredients so that your smoothie is not unevenly mixed.
---
2. Magic Bullet NutriBullet Single Serve Blender Reviews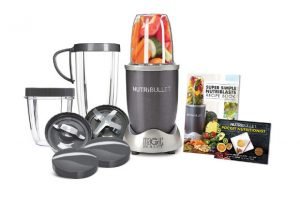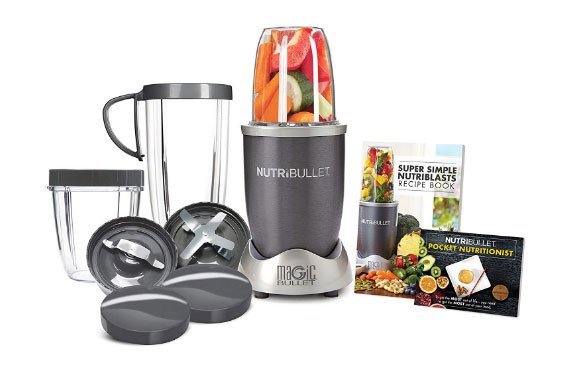 In reviewing the best single serve blenders on the market, we couldn't help but notice the Magic Bullet NutriBullet High-Speed Blender/Mixer System.
This one comes with multiple accessories that let you cater to your every smoothie whim. There are two shorter cups and one taller cup that come with sealing lids.
The blender comes with two different kinds of blade systems to perform different kinds of chopping or blending. It has a 600 watt motor for serious chopping, blending, juicing, and pulverizing.
The NutriBullett has some fine accessories, but for us it seemed a little over the top. Smoothies are great, but do we really need that kind of power? It depends on what you plan on putting in your smoothies.
With the NutriBullett, you know you can make just about anything.
---
3. Hamilton Beach 51103 Single Serve Blender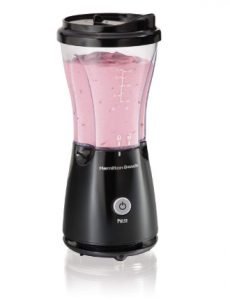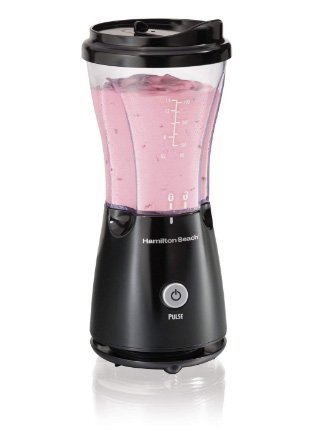 Among the best single serve blenders is this student-budget variety. It comes with one set of blades, one blender, one travel cup, one setting to blend with (pulse) and is definitely single serve for the individual on the go.
Its appeal is that it makes a great gift for the student going off to the dorms, the friend moving into their first apartment, or the high schooler who is into exercise and power drinks.
This smoothie maker comes with a jar that converts to a travel cup and is designed to fit most car cup holders. It also has a useful storage detail in that the cord can be wound compactly around the motor body for neater storage on a shelf.
It takes up very little space in the cupboard, as a result. In reviews of the product, it became clear that the Hamilton Beach Single Serve Blender is easy to keep track of, easy to clean, and easy to afford; this is a practical gift that is still personalized.
---
4. Hamilton Beach 51101B Personal Single Serve Blender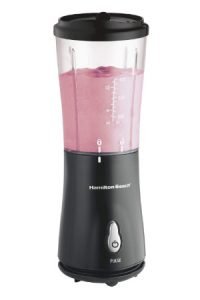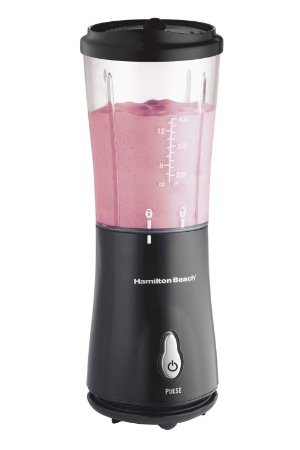 The Hamilton Beach 51101B single serve blender is the smallest that we researched and liked. This personal blender does basic smoothie or power drink blending.
The motor is only 175 watts, but that may be all you need if you make individual fruit smoothies and shakes. It has only one setting- pulse- to mix your basic ingredients.
It's a device worth buying if you're new to smoothies and just want to experiment, or you only want to make a few favorite recipes. It makes single servings well, but lacks the versatility of larger or more powerful blenders.
This smoothie maker takes up very little space, costs very little for a kitchen appliance, and would serve as a good beginner blender.
Once a person is familiar with smoothie making they may just graduate up to a more powerful or more versatile appliance.
---
Conclusion
That brings us back to the Conair Cuisinart CPB-300 portable blender, the best value on the market. Of all the single serve blenders that we reviewed, this one impressed us with its versatility.
This was the best blender for durability, looks, ease of use, and ability to work for an individual or a family. The person living on their own would find this a dependable blender that made enough smoothie just for them, or enough for visitors.
A family of four could easily make smoothies quickly and to individual tastes. The Cuisinart single serve blender came with just the right variety of accessories and it doesn't take up much space, either.
It's not heavy and clunky like a standard blender, and the travel cups are useful for portable meals. This was the best single serve blender we found.
All the single serve smoothie blenders we researched come with recipe booklets and nutrition guides. They are dishwasher safe (except for the motor assembly) and clean up quickly.
With various safety features built in, they're easy enough to operate that kids can use them.
They store well, too, taking up only a little space in the kitchen. Reviews show that these will be around for a long time.
---
Related Articles