What Is the Best Siding Nailer?
When it came to choosing the best siding nailer, we decided on the Bostitch Coil Siding Nailer (N66C). With its sturdy design, high-capacity magazine, and other helpful features, it was an easy choice. Not only that, but the device is made by a trusted brand and has a reputation for performing reliably.
---
Not all siding nailers do the same jobs the same way. There are also variations in terms of quality, features, and price. To select the top siding nailer, we looked at scores of customer reviews.
We also checked out hundreds of models to better familiarize ourselves with what these devices can do. We looked at the many features of each product, as well as its pros and cons.
We considered other factors too, like durability and the materials used in manufacturing nail guns. Finally, we narrowed down our choices and arrived at a decision.
---
Quick Navigation
Top 6 Best Siding Nailers: Our Picks & Recommendations
---
How to Choose the Right Siding Nailer
There are many things to consider when choosing the right siding nailer. In addition to the types of projects you want to accomplish, there are several features to think about.
Collation
You can choose between plastic or wire-collated nails. The plastic-collated type tend to be relatively water-resistant, while the wire collation adds extra durability.
Versatility
Ideally, you want a tool that you can use on a variety of surfaces, such as vinyl and wood. Some models also serve other purposes besides installing siding.
Performance and Speed
When it comes to performance, you want a siding nailer that can deliver just enough pressure to get the job done. Precision is important too, and you need to be able to easily adjust nail-drive depth and transition between sequential and contact mode. Single-fire mode may also be especially helpful, depending on the project.
Control
Precision is important when using a nail gun. Being able to switch to sequential mode should be seamless. Setting the depth of nail-drive should be, too.
Ergonomics
A heavy tool will wear you out in no time. Yet sometimes a larger tool is needed to power through the materials you're working with. To strike a balance here, you'll need a tool that you're comfortable with that works with a variety of surfaces.
Safety Features
Look for a device with a trigger lock and debris shield that prevents dry firing and keeps fragments away from your face. Wear eye protection and avoid working when tired to prevent injuries.
Durability
You want a unit that is built to last, especially if you're going to be working in extreme weather elements.
Nail Capacity
For large projects, you need a lot of nails, so it makes sense to use a tool with high capacity– on the one hand at least. Sometimes, being able to hold so many nails adds extra weight to the device, hindering its performance. Having a device that can accommodate plastic and wire coils may be your best bet.
Foot Bumper
Consider whether a particular unit is equipped with a foot bumper to protect work surfaces.
---
6 Best Siding Nailers Review
Here's a list of the best siding nailers we found on the market:
Best Overall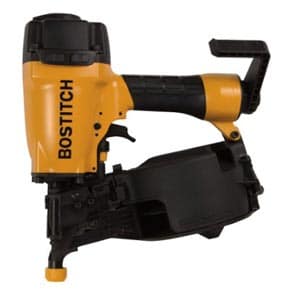 What You Will Love: Just about everything; this tool is lightweight, heavy-duty, has a high-capacity magazine, and can be used on a variety of materials, from soft woods to cement to light-gauge steel.
If you're looking for the top siding nailer overall, be sure to check out the Bostitch Coil Siding Nailer– 1-1/4–2-1/2″ (N66C). One thing we liked about this tool is its high-capacity magazine that holds 300 wire weld and plastic inserted coil nails.
Another plus: You can quickly set nails to the desired depth without having to deal with significant workflow disruption. With tool-free adjustable exhaust allows you to direct exhaust away from you while you work.
Equipped with a soft rubber foot, you can use this unit on softer woods without damaging them. Yet, this unit is powerful enough to be compatible with a variety of tougher materials: clapboard, cement, even light-gauge steel.
With its sturdy aluminum design, it's lightweight tool, tipping the scales at just a little under five pounds, making it ideal for extended use. Capable of operating between 70 and 120 psi– and up to 515 in/lbs it gives you plenty of power for all your siding jobs.
It's compatible with 1-1/4 to 2-1/2-inch nails. Even better, you can use this heavy-duty tool with any air compressor.
Pros:
Holds plenty of nails so you don't have to constantly reload
Can stand up to a variety of materials
It's lightweight to optimize ease-of-use
Cons:
A few complaints about ease of depth adjustment and jamming.
---
Best Budget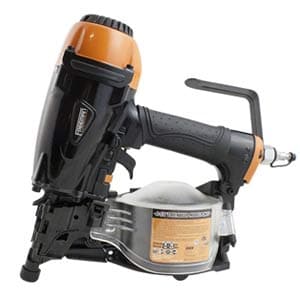 What You Will Love: Magazine holds plenty of nails and helps you track nail supply, you can tackle a variety of jobs using different materials, and different nail sizes.
If you want the right siding nailer on a budget, the Freeman PCN65 15-Degree 2-1/2″ Coil Siding Nailer performs well and won't break the bank. It's designed to be sturdy, yet lightweight and ergonomic.
With its transparent side-load magazine, you can easily see when your nail supply is running low, rather than unexpected running out of fasteners in the middle of a project.
Another thing you might want to know about the magazine is that it holds 400 wire or plastic coated siding nails, so you can get a lot of work done before you run out.
The magazine even has an adjustable tray to accommodate different nail sizes (1-3/4– 2-1/2. With its no-mar tip, it's designed to protect siding materials from damage when they're being nailed down.
If you're looking for a highly-versatile siding nailer, this one isn't likely to disappoint– you can use it on cement, fiber concrete siding, plywood, and more. Easy depth-adjustment means you can customize firing depth without much effort.
Pros:
Lightweight but durable
High-capacity transparent magazine
Depth-adjustment, versatile
Cons:
Maybe prone to jamming or not driving nails completely
---
Best coil siding nailer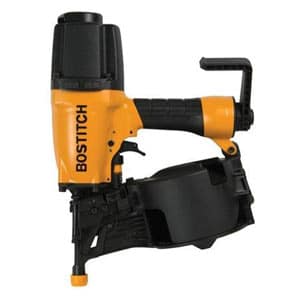 What You Will Love: Durable but portable, magazine holds plenty of nails, powerful enough for a variety of jobs
Because it's great for high-volume nailing of wall and roof sheathing, we chose the Bostitch N75C-1 Sheathing/Siding Nailer as the best coil siding nailer.
You can drive 15-degree wire weld collated and plastic inserted nails, provided their shank diameters measure between 0.90 and 0.131 inches. Also, you can easily adjust the nail-driving depth. The unit's magazine holds between 225 and 300 nails.
With operating power ranging from 70–120 psi (up to 630 in/lbs), it's great for a variety of projects and nail sizes. In fact, it's compatible with 1-1/2 to 3″ nails. It comes with a sequential and contact trigger for maximum ease-of-use.
With its aluminum design, it's lightweight for easy maneuvering, yet durable enough to stand up to tough jobs. Since it's so portable, you can easily use it for long periods without fatigue.
Pros:
Durable
Holds plenty of nails so you don't have to reload often
Works with more than one nail size.
Cons:
Most customers were satisfied, but a few reported frequent problems with nails jamming or not firing accurately.
At least one customer reported that the latter issue is common– not just to this brand of siding nailer– and can be fixed by whittling down the teeth on the nail-feeding mechanism.
You can have the unit serviced if you don't feel comfortable doing this yourself.
---
Best Pneumatic Siding Nailer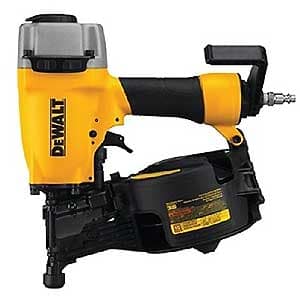 What You Will Love: It's lightweight, allows you to adjust firing depth for optimal accuracy, and holds a high of volume of nails, making it ideal for jobs of all sizes.
If you're looking for the best pneumatic siding ruler, we highly recommend the Dewalt DW66C-1 Pneumatic Coil Siding Nailer because it's durable, lightweight, and designed to give you optimal results.
Many satisfied customers reported that it's well-balanced, too, giving it a good "feel" when operating it. Tool-free adjustable exhaust allows you to direct spent air away from you while you work.
You can also adjust firing depth without tools, so you can set the device for maximum accuracy. With its smooth rubber foot, the unit is capable of protecting your siding surfaces during installation.
With a magazine that can hold up to 300 wire weld or plastic inserted coil nails. Since it operates between 70 and 120 psi, it's capable of tackling a variety of projects and materials.
Pros:
Performs well
Allows you to adjust depth and exhaust-release
Easy to handle
Designed to protect siding from damage during installation.
Cons:
There weren't many complaints, although a few users reported that the unit didn't perform as promised
Leading to jams and nails not being driven properly.
---
Best Supersider Siding Nailer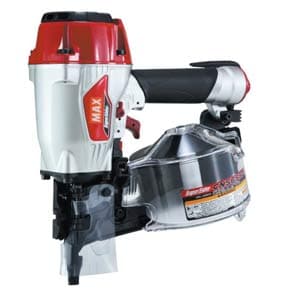 What You Will Love: Lightweight, easy to use, does the job well, works for a variety of projects
When it came to deciding on the best supersider siding nailer, that award went to the Max CN565S3 Supersider Siding Coil Nailer. You can use this professional-grade nailer for siding, strapping, fencing, and more.
What we liked about it is that it comes with a slim guide contact arm to make your job easier. And its no-mar tip protects your materials from damage during nailing.
The anti-double-fire mechanism reduces jams by ensuring that only one nail releases at a time. That means you can enjoy maximum productivity. With an end-cap filter, this unit is relatively low-maintenance.
It comes with a rafter hook, too, so that when it's not in use, you can store it where it won't get in the way, yet it's within easy reach when you need it. Weighing in at 5 pounds, this unit is lightweight enough that most users can tote it around for long periods without fatigue.
Pros:
Low-maintenance, designed to prevent jamming and damage to siding materials, lightweight.
Cons:
We really couldn't find any, as the siding nailer customer reviews we found were especially positive.
---
Best corded-electric Siding Nailer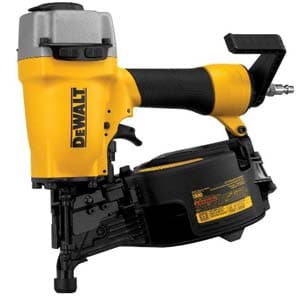 What You Will Love: Allows for precise nailing, is compatible with wire and plastic nails, and is built to last.
If you have yet to find the best corded-electric siding Nailer, we discovered that the Dewalt DW66C-1R 15-Degree 2-1/2 Inches Coil Siding Nailer (Renewed) easily fits that description.
You can adjust drive depth without tools, allowing you to nail as precisely as you want. With the adjustable exhaust port, you can direct spent air away from yourself and your workpiece.
For extra versatility, this unit lets you drive wire and plastic coil nails. Drivers, bumpers, and springs are designed for maximum longevity, so it's constructed to stand up to wear and tear.
At the same time, it's light enough that you can use it for hours at a time without running the risk that the unit will give you a backache.
It's helpful for customers who buy refurbished tools of this type to know that the devices have been carefully restored and inspected to make sure they're operating at full capacity.
Pros:
Durable
Versatile
Lightweight enough not to wear you out if you have to use it for hours on end.
Cons:
While most customers who submitted reviews were highly satisfied with this device, there were a few complaints that the nail gun is prone to jamming, or that nails sometimes come out crooked.
---
Frequently Asked Questions
What's the Difference Between a Siding and Roofing Nailer?
Siding and roofing nailers use different nails. Generally, you use a roofing nailer to install shingles directly. As its name implies, siding nailers are for putting siding securely in place.
What Is the Best Siding Nailer Brand?
Our top pick for siding nailers is manufactured under the brand name Bolstitch. This is a trusted name in nail guns and other tools. These products have a reputation for performing well and having a long lifespan.
How much do we spend to get a siding nailer?
Siding nailers can range anywhere from under $100 to several hundred dollars. How much you spend will likely depend on your budget, how much you're going to use the tool, and whether it's for professional or home use.
What kind of nailer should we use for cement siding?
For cement siding, a nailer with easily-adjustable depth settings is likely the way to go. Many of the top siding nailers work well with cement siding.
What kind of nailer should we use for wood siding?
A nail gun with an adjustable-height magazine may be the way to go when it comes to wood siding. Many leading brands offer nail guns suitable for this purpose.
---
Conclusion
When it comes to the best siding nailer, you want one that works well with the materials you're using and is comfortable to carry, especially for long stints or in hard-to-reach areas.
You also want to choose one with a price tag that fits your budget, especially if you're only using it occasionally, and not on the job.
---
Related Articles:
---