What is the Best Shelf Liner?
Since shelf liners come in so many styles, patterns, and colors, it can be difficult to determine which is really the best one. Ideally, a shelf liner should be able to protect shelves from staining and damage, while also improving upon the appearance of your shelves. After looking at a lot of different types of shelf liner, we decided the Duck Select Grip Easy Non-Adhesive Shelf Liner is really the best.
A rubberized shelf liner, the Duck Brand shelf liner is non-adhesive. It's easy to cut and easy to install, and it can be washed and rewashed whenever it gets dirty.
If you ever move, you can reuse your Duck brand shelf liners: even though they're more expensive than some options, they're also longer lasting.
And while they don't come in a lot of patterns, they do come in a number of colors to suit your decor.
---
Quick Navigation
10 Top Shelf Liners: Our Picks & Recommendations
---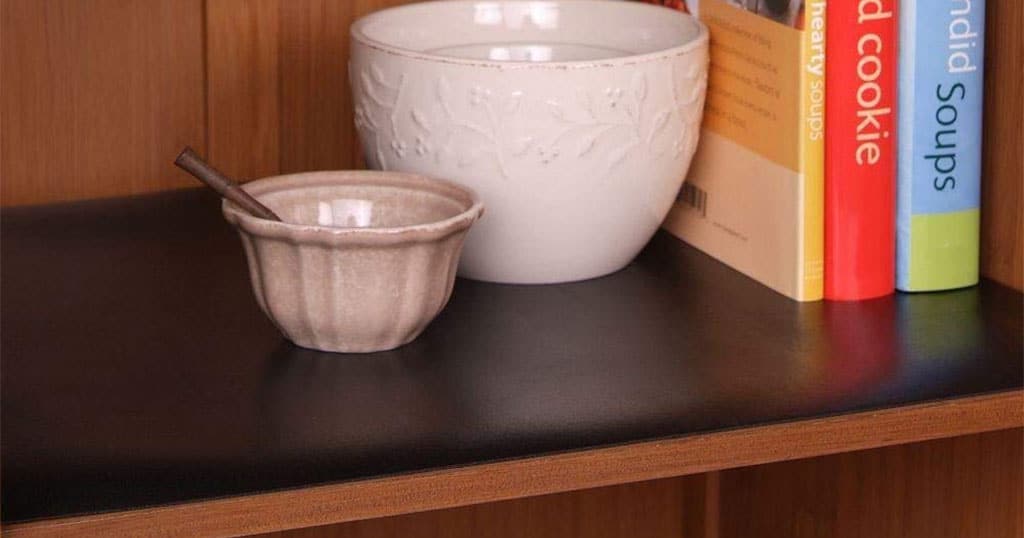 How to Choose the Best Shelf Liner?
Since there are a number of different types of shelf liner, it can be a little confusing to figure out which one is truly "best" It depends on a number of different factors, in addition to what you're intending on using the shelf liner for.
Material
Shelf liners come in plastic, rubber, vinyl, and even paper. The material of the shelf liner will determine how durable it is. Rubber is a flexible material for shelf-lining that's naturally waterproofed.
Plastic is usually harder and used for wire shelves, while vinyl provides a cleanable surface that's not as durable as rubber. Paper is the most affordable yet shortest lasting option.
Pattern
If you're mostly lining your shelves to change the look of your shelving, then the pattern or the color may become the most important aspect for you.
Shelf lining is usually done either to protect shelves or to change the appearance of them, so this depends on your priorities. Some liners come in a lot of different patterns and colors, others don't.
Cleaning
How easy is the liner to clean? A simple paper liner isn't going to be very easy: you'll need to replace it. Thicker rubber and plastic liners can usually be either machine washed or washed with a rag.
Adhesives
Non-adhesive liners can be removed and repositioned, which makes them easier to install. It's also possible to take them with you when you move.
Adhesive liners are more permanent: they're going to stay exactly where you put them, but even if you can remove them from the shelf you aren't going to be able to reuse them later on.
Ease of use
How easy is the liner to cut? Plastic liners tend to be a little more difficult to use, because they're harder to cut, and they usually don't come with guides.
Adhesive-backed liners often come with a simple grid that you can use to cut them, which can make the process of getting an exact cut much easier.
Ultimately, you want a liner that's going to be as durable as you need, with the appearance that you need, at a price that you can afford. To that end, we've uncovered the best-of-the-best in terms of liners.
---
What are the Types of Shelf Liners?
For kitchen and bathroom shelves, there are vinyl and paper shelf liners that adhere directly to the interior of the shelf and change their appearance.
There are also rubber shelf liners that don't adhere (they're non-adhesive), but are cut to size and stay there because of their grip.
For wire shelves, there are plastic liners, which tend to be made out of a hard transparent plastic, and prevent things from falling through the wire shelves.
These plastic liners are a little more difficult to install but can help add value and utility to wire shelving.
---
Should You Buy Adhesive Or Non-Adhesive Shelf Liners?
Whether you should buy adhesive or non-adhesive shelf liners depends on two things: purpose and budget.
In terms of purpose, if you expect that you'll eventually be moving, you may want non-adhesive liners because you can take them with you when you move. These become an investment, as they are a little more expensive.
That brings us to budget. Since adhesive shelf liners tend to be less expensive than non-adhesive shelf liners, many people choose adhesive liners.
While adhesive liners can't be removed (and are therefore permanent), they do require less in terms of upfront cost, especially if you have a significant amount of shelves to line.
---
Shelf Liner vs Contact Paper-Which One is Better?
In nearly every aspect, shelf liner will be better than contact paper. Contact paper is solely designed to alter the appearance of a flat surface, and consequently, it isn't very durable.
Shelf liner is intended to withstand the rigors of use, in drawers and cabinets, and therefore it's going to be more durable and won't need to be replaced as quickly.
At the same time, it's also true that contact paper comes in var more colors and patterns, and is also cheaper: because it's primarily intended for aesthetic purposes.
Which one is best on your shelves depends on your long-term goals for the space. If they're infrequently used shelves that are mostly for decor, contact paper may be fine.
If they're frequently used shelves and utility comes first, you need a shelf liner.
---
10 Best Shelf Liners Reviews:
To narrow down the many a available shelf liners to the best-of-the-best, we explored reviews and looked for the options that were most versatile, durable, and attractive. We found ourselves settling on a number of different options, depending on the material and its use.
---
Best Overall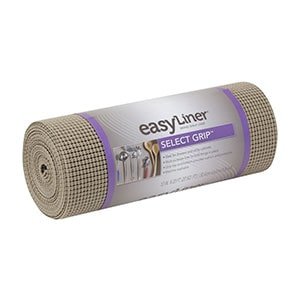 What We Love: We love how easy this is to cut and install: you just follow the grid structure of the liner with a pair of scissors. You can use this shelf liner anywhere, washing it when it gets dirty, and cutting it to fit new shelving.
With a padded rubber texture, the Duck Grip non-adhesive shelf liner can protect your shelves and your goods.
Easy to cut and easier to install, the Duck Select Grip non-adhesive shelf liner has an attractive, gridded pattern that's available in many colors.
With a soft, rubber texture, Duck Grip liner can be placed on any shelf: it won't move or shift. Even better, since it's slightly padded, it can also protect your items.
As a padded liner, it'll reduce the chances that your items can crack or shift. It's perfect for use in campers and RVs, where you may find your items moving.
In addition to this, the padding of the shelf liner protects the shelves themselves: a good idea to for those who are renting or otherwise want to make sure they protect their cabinets.
Due to the gridded design of the Duck Grip liner, it's very easy to cut with precision.
If you move, you can take these liners with you because they aren't adhesive, which means you can shift them into place and install them in your next home.
The only downside to the Duck Grip liner is that it is fairly expensive compared to other liners: it's best used if you really want to invest in the security and safety of your items.
If the liner gets dirty, you can throw it in the washing machine: it's not going to melt or fade, as long as you wash it in cold water and avoid the dryer.
This is one of the easiest to use options for a shelf liner, and consequently it has to come highly recommended.
You can easily reposition it and remove it, and it can be used to line any type of drawer. It's so easy to install and will last such a long time that it's truly an investment.
---
Best Budget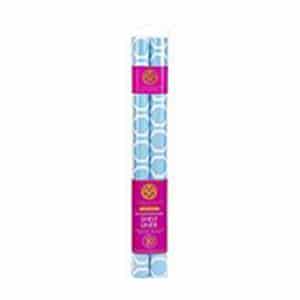 What We Love: We love how affordable this self-adhesive shelf liner is, coming in a pack of two at a low price. An affordable shelf liner can be used in more areas, including both the kitchens and the baths of your home.
Protect your cabinets and improve your cabinet designs with this self-adhesive shelf liner. Just pull this shelf liner right off its backing and place it directly on the shelf to protect it.
If you want an affordable self-adhesive shelf liner to protect your apartment or home's shelves, this is the answer.
This self-adhesive liner can be used on wire shelves to keep smaller items from getting displaced, or it can be used on regular cabinet shelves to protect them.
Its surface is easily rinsed off to protect the surfaces underneath from potential staining, and the shelf liner itself comes in a multitude of styles.
Styles are probably the most exciting part of this self-adhesive shelf liner, because different styles make it possible to update a kitchen or a bathroom with ease.
This shelf liner comes in a two pack, making it easy to cover a number of different cabinets with a single investment. As a budget investment, it's also possible to cover larger volumes of kitchen and bathroom cabinets.
In general, the cost of covering cabinets with adhesive liners is going to depend on the square footage, so the ability to purchase a large volume of this shelf liner affordably makes it a viable option even for those who are ding a budget renovation.
Since this is durable enough to be repeatedly cleaned with warm water and soap, it's a great way to protect your cabinets long-term.
---
Best Adhesive Shelf Liner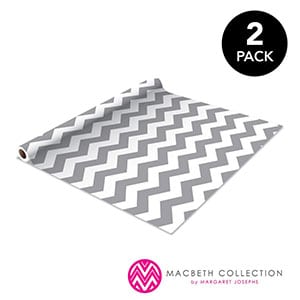 What We Love:If you want to quickly update your kitchen or bathroom look, consider the wonderful patterns of the Macbeth Collection. We love that this affordable self-adhesive shelf liner comes in cheap packs of two, making it easier to design and redesign your kitchen. You can find the perfect solution for your design and decor with the Macbeth Collection.
This self-adhesive Macbeth collection shelf liner is available in an extraordinary number of different designs, colors, and patterns, which can be used to renovate bathrooms, kitchens, and other shelf spaces.
The Macbeth Collection can be used to elevate kitchen cabinets, somewhat like wallpaper to protect the interior of cabinets, and to add unique designs.
Easy to clean, the Macbeth Collection self-adhesive is also even easier to install. It pulls off of self-adhesive backing to install directly onto the surface, with the best results being after the surface has been cleaned and dried.
From there, it will protect the surface from staining, scratching, and other damage, also preventing smaller items from falling into wire shelving.
This shelf liner can be used on wire shelving, plastic shelving, metal shelving, and wood shelving, making it an extremely versatile option.
The only downside with the Macbeth Collection is that it can only be used once: once it adheres to the shelf, it isn't going to adhere to another shelf again. Of course, it makes up for this by being a very affordable and durable option.
---
Best Non-Adhesive Shelf Liner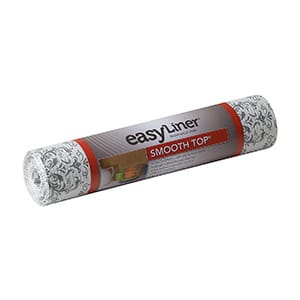 What We Love: Lightly textured with a smooth surface, the Duck Brand smooth top easy liner has a number of tremendous benefits. We love its heavy weight and how easy it is to install, in addition to the large number of colors and patterns it comes in.
The Duck Brand easy liner can be used in virtually any room of your home, and it can be reused time and time again.
A thick, plastic shelf liner, Duck Brand is non-adhesive and heavy weight. Once it's cut to size, it can be placed in any shelf and will remain where it's placed due to its weight and its texture.
As a padded product, it will protect the shelf from the items on it (and protect the items on it from the shelf). It can be easily moved and removed as needed, and it can be reused as well, due to its non-adhesive nature.
The Duck Brand smooth top easy liner is waterproofed and easily cleaned, with a rubber-like finish that comes in a number of different patterns and colors.
You can find a Duck Brand smooth top liner for any kitchen design, including complex patterns. The grip bottom ensures that the liner doesn't move even when you're using it.
And because it's non-adhesive, you can use it in a rental and take it with you after your lease ends.
If you need to clean these liners, you can put it directly into the washer: you just need to make sure you wash it in cold water so it doesn't melt. It's particularly good at keeping a shelf clean.
---
Best Plastic Shelf Liners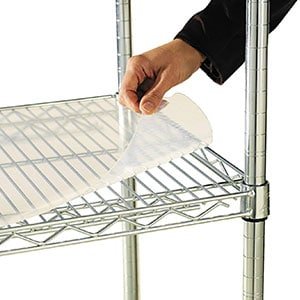 What We Love: Do you have wire shelving that you struggle with? These clear, plastic shelf liners will protect your smaller items from your wire shelves, making your wire shelves more useful. We love how easy it is to install this shelf liner, as well as how easy it is to clean: you can completely improve the utility of your wire shelves with a single action.
Make sure that your wire shelves are easier to use with these plastic shelf liners. Wire shelves are convenient and easy to use, but they can be a chore with smaller items.
Smaller items can either fall in through the shelving or they can tilt and roll off the shelving: you need shelf liners if you're going to fix this problem.
Unlike the adhesive shelf liners on this list, the Alera shelf liners are made out of a hard, transparent plastic which can be cut to size.
This shelf liner is placed directly on the shelves to make sure that items don't fall directly through.
They're a little harder to work with and cut to size than other shelf liners, but they're an attractive way to make sure that wire shelves are useful even for smaller items.
As a hard plastic shelf liner, the Alera shelf liners can be easily cleaned and wiped off with warm water and soap.
They can quickly increase the utility of any wire shelving, but they aren't ideal for use in other types of shelves.
They're specifically designed to help with wire shelves or plastic, gridded shelves that have gaps inside of the material.
---
Best Rubber Shelf Liner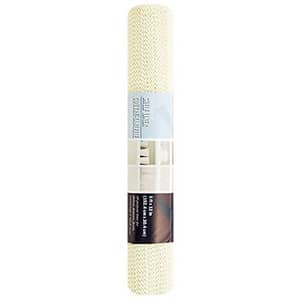 What We Love: Quickly protect the bathroom and kitchen shelves in your home with the Non-Skid Grip Shelf Liner, a versatile rubber solution that is easy to clean. We love how durable this rubber shelf liner is: you can throw it in the washing machine when it gets dirty and you can wipe it down with soap and water as needed. You can even take it with you if you change homes.
Rubber shelf liners are great for a few reasons. A rubber shelf liner is durable and long-lasting: you can cut it to size your cabinets in your current home and take them with you to reuse in your next home.
Rubber shelf liners don't need any adhesive because they're able to keep themselves in place through weight and through friction.
Further, rubber is easy to cut down to size, and it provides a padded layer that will protect the shelf itself from damage.
This rubber shelf liner has a special grip top which means that it's easy to position and reposition as needed.
It's also stain resistant and can be cleaned off easily, whether through warm water and soap or through a washing machine.
Since it's naturally waterproofed, it can be rinsed off if it gets dirty, and it can protect shelves from dirt and staining.
Further, this rubber shelf liner can be cut down to size with a pair of scissors. While rubber shelf liners are a little more expensive than other options, such as contact paper, they benefit through ease of use and reuse.
It can be used for drawers, cabinets, and shelves, and it comes in a number of different colors and patterns.
---
Best Vinyl Shelf Liner

What We Love: An easy-to-use vinyl shelf liner with adhesive backing, Con-Tact brand shelf liner makes it easy to renovate your kitchen, bathroom, and storage areas. We love how large these rolls of shelf liner are, at 18″ wide and 9′ long. Most shelf liners are only 12″ wide because that's the standard size of a shelf, but that makes it more difficult to use for larger storage areas.
Con-Tact brand adhesive shelf liner has an adhesive backing, so it can be cut to size and then quickly installed in virtually any shelf.
In large, over-sized rolls, the Con-Tact brand adhesive shelf liner can be used anywhere, and because it's waterproofed it will protect shelves from staining and additional wear.
It's extremely easy to install and will last a long time. Of course, that's not the biggest benefit of this shelf liner: the biggest benefit is undoubtedly the fact that it comes in so many colors and patterns, which let you renovate your room very quickly.
You can find colors that match with your existing decor or even add patterns to jazz up your area. You can use these on shelves, tables, furniture, and more: the Con-Tact paper adheres to any flat surface.
To clean, you can use warm water and soap, and the Con-Tact paper can be easily removed once you're done with it.
Of course, it can't be reused once it's been removed for the first time, which is the only major downside for this protect.
This isn't a reusable product and it may potentially scratch and tear a little more easily than vinyl and rubber options. Con-Tact also offers a guarantee that they can answer questions about their product.
---
Best Marble Shelf Liner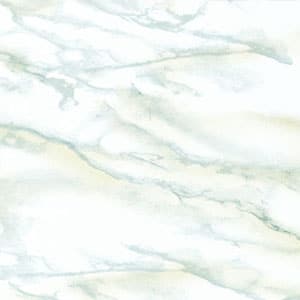 What We Love: For a fast, elegant, and sophisticated look, consider Con-Tact brand marble self-adhesive. We love the variety of colors this marble-look shelf liner comes in: though it's all the same general pattern, it can be used for a wide variety of decor. This Con-Tact paper also comes in over-sized rolls, which are 18″ in width and 9′ in length.
With all of the other benefits of the Con-Tact brand shelf liner, this shelf liner in particular has the core benefit of an attractive marble appearance.
White, black, and gray marble options are all available depending on the color and pattern that you want, and the shelf-liner itself has the other benefits of Con-Tact brand.
A self-adhesive liner, it installs by being cut to size, having the backing removed, and just being placed directly on the shelf.
The marble look of this paper has surprising depth, making it perfect for redoing a room. It can even be used directly on counters and other surfaces, though it may show wear over time.
The downside of this is that it can't be reused or removed, and that if it gets scratched or otherwise damaged it has to be replaced entirely to maintain its appearance. Otherwise it's perfect for cabinets, counters, doors, and even walls.
As an over-sized roll, it can be used easily on larger spaces, and the pattern can be matched up to appear virtually seamless. This is the contact paper of choice for those who want a more sophisticated and classic appearance.
---
Best Wire Shelf Liner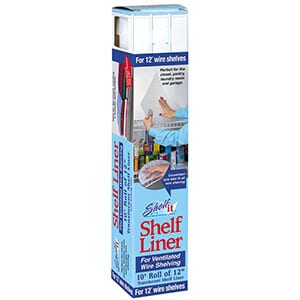 What We Love: A special shelf liner for wire shelves, the Shelf-It liner is able to keep smaller items from potentially falling between wire shelving. We love the locking tabs that keep this liner in place, making it an attractive and easy to use option that really increases the value and utility of wire shelving. If you have a 12″ deep wire shelf, you need this shelf liner upgrade.
A translucent, plastic shelf liner, the Shelf-It is placed directly over wire shelving to prevent small items from falling directly through the wire.
The locking tabs on this make sure that the shelf liner won't move, thereby making it easier to use. With a depth of 12″ it'll fit most wire shelves.
Wire shelves are an affordable and versatile option, but they can't always be used for everything if items can fall through.
Made of a thick, durable plastic, this shelf liner can be a little harder to cut to size and install than some other options, but it also lasts a very long time.
It can be easily cleaned with a warm, wet soapy rag, and it will resist most damage. It can be trimmed with regular scissors, though it doesn't have a grid to make it easier to cut to size.
This is the perfect way to upgrade a wire shelf unit, especially if you want to make it so that items on the shelf unit don't tilt or fall off.
You can add an additional shelf liner, such as a rubber grip, if you want to make sure that things stay safe and unbroken on your shelf.
---
Best Non-Slip Shelf Liner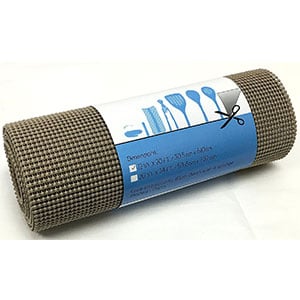 What We Love: A versatile shelf liner, this non-adhesive, non-slip shelf liner features cushioning and surface protection. With a large array of colors available, the Rainforest shelf liner gives you absolutely everything you need to update and refresh your shelves. Use your shelf liner on bathrooms, garages, kitchens, and more.
Want to protect your shelves? The Rainforest non-adhesive non-slip shelf liner can make sure that items on your shelves stay there, without moving or potentially damaging the shelves themselves.
Easy to wipe clean and cut to size, the Rainforest non-adhesive can dramatically improve the appearance of virtually any room. You can even take them with you once you move, cutting them to size again.
The Rainforest non-adhesive liner can be cleaned with soap and water, lasting a long time and resisting damage. With a gridded design, it makes it easier to cut, as you can simply cut along the line.
However, it doesn't protect the shelf entirely: because it is a rubber mesh, it does allow spills to go through it. It's primarily designed to reduce scratching and denting, with its rubber.
Since it's non-adhesive, it can be easily placed and repositioned as needed, and while it's a little more expensive than paper options, it's also substantially more durable.
---
Now you're ready to line your shelves with the best adhesive and non-adhesive shelf liners out there! Follow Best Pickist for more information about everything cooking and kitchen related.
---
Related Articles:
---