Do you have a scale built up in your dishwasher or clogging your shower head?
You might be shopping for a salt-free water softener to protect your pipes and appliances.
In order to help you out, we've brought together some quick tips to help you find the best salt-free water softener for your home without blowing the budget. You know you need it to reduce scale in your appliances, should have a low maintenance cost, and be easy to install. But what else do you need to know?
Read on to learn everything you should know before buying one and at the end of the product reviews, we will let you know which unit will work best for your family.
---
Comparison Of 10 Best Salt Free Water Softeners
1. Triple Action Poly Salt-free Water Softener (Best Overall)

Look no further than this ready to install a salt-free water softener. You don't have to worry about reliability because it boasts a BPA -free structure and is NSF certified to bring you safe and softer water.

Read Our Review

2. Aquios Salt-free Water Softener and Filtration System (Best Budget)

Lime-scale accumulation is a thing of the past with this salt-free water-softening device. Its corrosion inhibition feature prevents corrosion on metal surfaces that is usually brought on by acidity, alkalinity, and various mineral salts.

Read Our Review

3. Eddy Water Descaler's Electronic Water Softener

This handy little device features a 12-month money-back guarantee. This means that you don't have to worry about not liking the product. This water softener device effectively descales your entire water system and easily installs onto metal and plastic pipes.

Read Our Review

4. Aquios Aqfs220c Salt Free Water Softener

If you're looking for a double-use water softener, then the Aquios AQFS220C is for you! This device features a clean design and boasts a water softener and water filter in one.

Read Our Review

5. Aquasana Salt-free Water Softener

Meet your home's newest water filtration addition: the Aquasana Whole House Water Filter System. This water system filters your whole house's water system and features a salt-free conditioner and filters your water reliably.

Read Our Review

6. Fleck 5600sxt 48,000 Grain Water Softener

This heavy-duty home softening system filters moderately to very hard water. It features a 48,000 grain or 1.5 cubic feet high capacity 8% cross-linked resin that is best for homes that house up to six people.

7. Iron Pro 2 Combination Water Softener

This two in one water softener and iron filter gives you a high flow rate for the whole house. This softener and filter is perfect if your household has a high iron level in your water system.

8. Nuvo H2o Dphb-a Home Water Softener System

The revolutionary tech behind the NuvoH2O Home Softener System ensures that your water's PH levels are as low as possible. This little device is FDA and NSF approved for a household of two.




9. Pentair Ws48-56sxt10 Fleck Water Softener

This easy to install Fleck water softener features an AFW install kit. You don't have to worry about purchasing additional parts separately because this is shipped as a complete system.




10. On The Go OTG3NTP3M Portable Water Softener

Always have softened water wherever you go with this on the go portable water softening machine. It effectively removes dirt, paint, rust, and scale while maintaining an easy to carry exterior.
---
Top 5 Recommended Salt-Free Water Softeners
Best Overall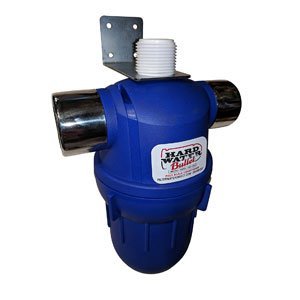 Many salt-free water softeners don't actually remove the hard minerals from your water, which leaves behind a sticky film after you use soap or detergents.
The Hard Water Bullet system uses a stainless steel filter to actually remove calcium from your water, making this the best salt-free water softener that actually softens your water!
It also uses polyphosphates to alter the shape of other harmful minerals so that you don't have scale build up on your dishwasher, faucets, or shower.
Like other filter based systems, you will need to recharge the polyphosphate about every 8 to 10 months, but the cost is lower than most other filtering systems.
It is fairly easy to install and is priced competitively with other single-filter systems. In the long run, you will enjoy more of the benefits of a salt-based system without all the ongoing utility and refill costs.
If you wish to also filter out chlorine and other sediments, you will need to add an additional filter to your water system.
Pros:
Actually removes calcium from your water supply
Lower maintenance costs compared to filtered systems
Easy installation
Cons:
Does not filter chemicals or other sediments
Polyphospate requires refills
---
Best Budget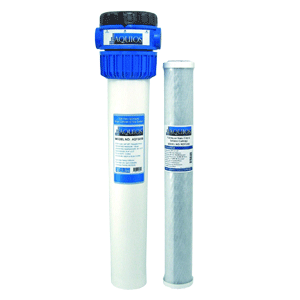 Now, if you are looking for all the functionality of the overpriced Aquasana without spending all that much cash, the Aquios is the finest salt-free water softener for you.
It still comes with one whole home filter cartridge, but most DiY'ers can manage the simple plumbing installation themselves.
The filter has a six-month lifespan, so you will be spending cash to change it out on a regular basis.
The filter serves to both deliver the polyphosphate softening agent to your water while it catches chemicals and other undesirable sediments. So, with this unit you will have maintenance costs, but not any use of electricity.
While the original unit costs only a third of the Aquasana system, the filters are priced at $50, so you will end up spending lots of extra cash over the life of the unit.
But if you compare that to buying filtered water or using tap-filters in addition to a stand-alone salt-free conditioner, it just about breaks even.
Pros:
Install it yourself
Much lower initial cost
Single filter, instead of four
Cons:
Both a water softener and a filter
Filter is expensive and must be replaced every six months
---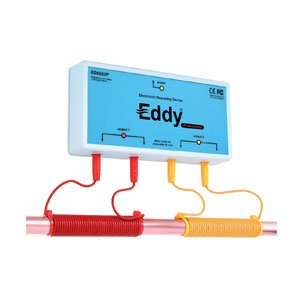 Perhaps you would like to avoid the bother of switching out filters. The Eddy system is one of the top salt-free water softeners that operates without introducing any additional chemicals to your water.
It requires no plumber or electrician. You simply wrap a set of wires around your water supply pipes where they enter the house and plug the unit it.
It creates a magnetic field that alters the shape of magnesium, calcium, and manganese into crystals that will not create a scale on your pipes and water fixtures.
At the same time, your body is able to reap the benefits of drinking water containing these minerals and supporting a healthy lifestyle. The unit costs half of the lowest filtration system and never requires maintenance.
Now, the effectiveness of this system depends largely on the hardness of your water as the system only has a split second to grab onto massing minerals and alter them into a crystalline structure.
Before you choose this less expensive option, you may wish to have your water tested and see if this system will do the job.
Pros:
Low cost
No filters
Easy to install
Cons:
Ineffective on very hard water
Not weatherproof–must be installed inside before the first split in pipes
---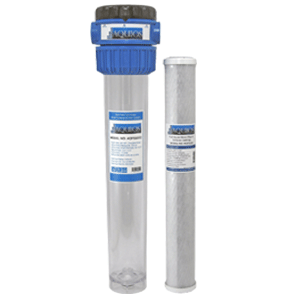 It's the oddest thing. Sometimes you run across an item that looks almost like another product and you will spend some time figuring out what the difference might be. In this case, it's entirely the price!
Just like the Aquios FS220, this one is a whole-home water filter and salt-free water softening system.
It uses the same replaceable filter that works for six months before you have to swap it out.
What makes this one the best salt-free water softener? Well, if you like to be able to see the sediment collected on your filter, this one has a clear shell. And it costs twice the price. Twice.
So, this is a no-brainer. If you really want to spend four hundred dollars for the privilege of watching water pass through a filter, go right ahead.
Otherwise, this one is not worth your time or money. Just don't do it.
Pros
Clear shell allows for easy verification that the system is working
Same easy install
Single filter unit
Cons:
Twice the price for the same function
Pricey filters require replacement every 6 months
---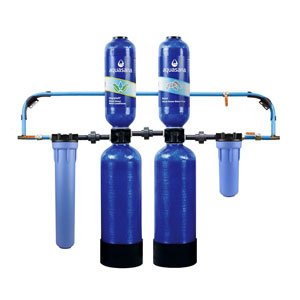 While this system comes with a high price tag, it is the ultimate water conditioning system and arrives with both a salt-free water softener and a 1 million gallon whole-house filter able to remove chlorine along with harmful scale deposits.
With four filters, it really demands a professional installation and is suitable for any home or small business.
There is a standard white filter that requires monthly replacement but is not part of the salt-free softener unit.
Water enters the house and passes through the 10-year filter that alters the hard minerals that cause scale into harmless crystals that won't adhere to your pipes and appliances.
If you are looking for a total solution for your water-quality issues, this is the best salt-free water softener with additional filtration available on the market.
The company has a solid reputation and offers excellent customer support. However, if you only need a descaler, you are probably paying too much.
Pros:
Excellent customer support
Complete whole home water filtration and conditioning system
Reputable manufacturer
Cons:
Exorbitant price for just a descaler
Does more than you need it to
Requires professional installation
---
What Is The Difference Between A Salt-Based & Salt-Free Water Softener?
The more traditional water softeners work by exchanging the "hard" minerals in your water with salt, which can be a serious concern for those with high blood pressure and other medical conditions.
The best salt-free water softeners do not add any chemicals to your water, making it a healthier alternative. It also does not flush gallons of water down the drain during regeneration cycles, runs without electricity, and requires no or little maintenance for the life of the unit.
However!
The salt-free water softener may not provide the "clean" feeling that a salt-based system will after you have showered and there may still be soap residue left on your dishes.
How To Choose A Good Salt-Free Water Softener
When shopping for your best salt-free water softener, there are two major decisions to be made before selecting the final unit.
Filter Or No Filter?
Now is the time to determine if you would like to add a whole-home water filtration system as well, otherwise, you will be paying the plumber twice for basically the same job.
Plumbed Or Wired?
If you don't want an extra filter, you can opt for an exterior installation that wraps wires around your pipes and skip the cost of the plumber, or go for the more expensive unit that requires some basic plumbing to install.
Both work the same way, but the plumbed units tend to be more reliable.
Features Of The Best Salt-Free Water Softener
When you have decided to install the best salt-free water softener in your home, you will want to look for a few key features on the unit you select.
Reliability
Your salt-free water softener should be low or maintenance-free and come with a 10 to 20-year warranty. This is one appliance that you should be able to install and forget!
Easy Installation
While some salt-free water softeners are paired with whole-home filtration systems, a basic system does not require a plumber to cut and connect any pipes. It does not require any power, either.
So once you have it in place, it will keep doing its job for many years to come.
Add-On Filters
If you are also concerned about other chemicals in your drinking water, you can also add a whole-home filtration system at the same time as the water softener to save costs on installation.
Besides getting rid of scale, you can eliminate chlorine, fluoride, lead, and other harmful substances.
---
So, Which Is The Best Salt-Free Water Softener?
If you are only looking for a unit to soften your water without introducing salt into your system, the best salt-free water softener is the Triple Action Poly Salt Free Water Softener which eliminates calcium from your pipes while allowing harmful minerals to pass through your appliances without harming them.
If you have only mildly hard water, the Eddy Water Descaler Electronic Water Softener costs less to purchase and has no maintenance costs associated with it.
We hope our reviews and buying guide for salt-free water softeners have helped you find the one right for your family and home.
---