What Is the Best Roofing Nailer?
Our top pick for the best roofing nailer is the Bostitch Coil Roofing Nailer (RN46) because it's durable and easy to use. It's made to prevent dry firing and allows for easy magazine-loading. It's also designed for convenient and accurate shingle-placement. Adjusting drive depth is a snap, and the unit's construction minimizes the impact of wear and tear.
---
Think all roofing nailers are one and the same? Think again. The top roofing nailer is easy to use and built to last. To find the best roofing coil nailer, we weighed the pros and cons, considering the many features of nearly every tool we could find.
We also considered customer reviews written by professional roofers and amateur DIYers alike. We thought about which models allowed buyers to get maximum value at a reasonable price. Finally, we narrowed it down to a manageable list, and from there, we selected the top performer.
---
Quick Navigation
Top 8 Best Roofing Nailers: Our Picks & Recommendations
---
How to Choose the Right Roofing Nailer
When selecting the right roofing nailer, here are some things to keep in mind.
Durability
A unit that is built to last will give you optimal returns on your investment.
Versatility
Being able to accommodate different nail sizes allows for a greater variety of tasks to be done and materials to be used.
Ease of Loading
You should be able to easily open the magazine for reloading to minimize interruptions to your work.
Safety
Look for a device that locks the trigger to prevent potentially-dangerous dry firing.
Nailing Speed
It's a good idea to look for a device that fires at least one nail per second, and you should be able to easily transition between sequential and contact modes.
Nail Size
The best roofer nail gun is compatible with a range of nail sizes (usually from 3/4″ to 1-3/4″).
Depth of Drive
The nailing depth you need depends on the material you're using. You should be able to set depth as easily as possible without tools.
Magazine Design
The best magazines consist of a single-piece coil cover for easy reloading and jam-clearing.
Trigger
You should be able to freely and smoothly press the trigger. An easily-triggered trigger can be dangerous, firing at the slightest touch.
Nose Dive Shape
Look for a nose dive that is large, flat, and flush to the ground for optimal nailing control.
Weight and Comfort
Chances are, if you're using a roofing nailer, you're involved in an hours-long project. You need a tool that is lightweight enough not to strain your arms and back.
You want comfortable handles for a firm grip, and for the device to feel balanced to give you maximum control over installing your fasteners.
---
8 Best Roofing Nailer Reviews
Here's a list of the best roofing nailers we found on the market:
Best Overall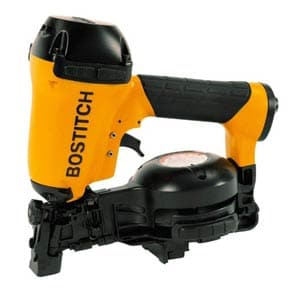 What You Will Love: Lockout feature prevents dry firing, you can adjust drive depth and shingle spacing without needing extra tools, and you can use the unit for a variety of tasks.
When you're looking for the top roofing nailer overall, the Bostitch Coil Roofing Nailer (RN46) offers high quality across the board. With this handy tool, you can drive 1/4″ to 1-3/4″ coil roofing nails.
Its lockout mechanism keeps it from firing when there are no nails loaded inside. Not only does this cut out the possibility of dry firing, it also conveniently lets you know when to reload.
Made of durable aluminum and carbide tips, this unit can last a long time. One thing customers cite as especially convenient about this device is that it comes with a side-loading canister so you can load the gun in one fast, simple step.
Beginning with an empty magazine, you can load up to 120 coil nails (with shank diameter of 0.120 and a length of 3/4″ to 1-3/4″. You can adjust nail drive depth and shingle spacing– all without additional tools.
In fact, the depth drive dial comes with five settings, allowing shallow driving, flush-mount driving, and countersinking. And it has an adjustable shingle guide for easy shingle-spacing.
Another thing we loved is that not only does it work well for roofing, but it's great for drywall, fiber cement, and insulation board applications too. Packed with power, the unit delivers 410 in./lbs. at 100 psi.
Pros:
Easy to use
Tool-free depth adjustment and shingle spacing
Plenty of power
Prevents firing when empty
Cons:
A few complaints about quality but no consistent issues found.
---
Best Budget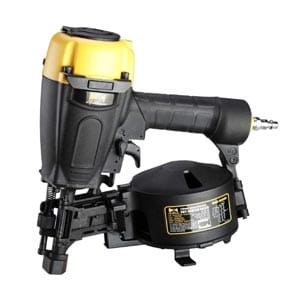 What You Will Love: Affordable, allows for accurate nailing and switching between sequential and contact mode. You can control depth drive without additional tools.
If you're looking to buy the best cordless roofing nailer and don't want to break the bank, consider the HBT HBCN45P 3/4–1-3/4 Coil Roofing Nailer with Magnesium Housing.
With this high-performance tool, you can drive 11-guage, 15-degree full head wire-collated coil nails ranging from 7/8″ to 1-3/4″. If you want to effortlessly go from sequential to contact mode, all you have to do is flip a switch.
You can load the magazine with up to 120 nails. For maximum nail-setting accuracy, this unit comes with tool-free adjustable depth control. Similarly, the adjustable shingle-guide allows you to quickly space shingles where you want them.
Steel contact safety and dual carbide inserts minimize wear and tear. Operating at 70–120 psi, this professional-grade unit is ideal for construction work and roofing. It fires quickly, so you can get the job done as efficiently as possible.
Since it's lightweight, you can tote it around for extended time without straining your back. At the same time, it's durable enough to tackle large roofing jobs.
While some roofing nailers need to be oiled before use, one customer advised consumers not to lubricate this unit, as doing so could cause nails to jam.
Pros:
High-performing
Portable
Inexpensive
Made to last
Adjustable depth control
Nails are easy to load
Cons:
A very small number of customers reported that the gun didn't always fire properly, but most buyers were highly satisfied
---
Best coil roofing nailer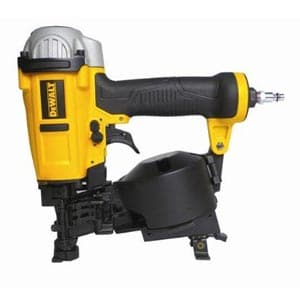 What You Will Love: Durability, ease of use, allows for accurate shingle placement
If you're tired of using a roofing hammer, consider what a coil roofing nailer can do for you. Our top pick for best coil roofing nailer is the DeWalt DWFP12658 Roofing Nailer because of its compact design and other convenient features.
You can easily adjust spacing between shingles without using additional tools. Skid-resistant pads and wear guards protect the unit from the full impact of the damage it may sustain in the course of everyday use.
It's compatible with 3/4″ and 1-3/4″ nails, and you can load up to 120 nails at a time. Satisfied customers noted that loading and adjusting the device is a snap. With the selective trigger, you can quickly switch between sequential and contact mode.
To prevent shingle-damage during installation, this unit comes with quick-set depth-drive. With its overmolded grip, the device is easy to maneuver and control.
All these features allow for added safety and take much of the hassle out of roofing, allowing for maximum productivity. Weighing a little more than 6 pounds and well-balanced, this roofing nailer is easy to hold and carry.
Most customers– experienced builders and amateurs alike– reported that this device performed well, as promised
Pros:
Designed with safety and longevity in mind, easy to handle
Tool-free drive-depth set
And quick switching between sequential and contact modes
Cons:
This unit is generally only designed for roofing, and not fencing or other tasks
The depth gauge may move around too easily, making it difficult to adjust
There were some complaints about jamming and slow trigger reaction, too.
---
Best Pneumatic Roofing Nailer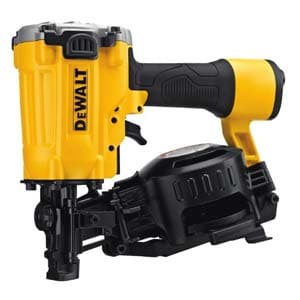 What You Will Love: This device is made of sturdy materials, allows for easy loading and drive depth adjustment, and is exceptionally fast.
When it comes to the top roofing nailer of the pneumatic variety, the DeWalt DW45RN gets first place. Equipped with high-speed valve technology, this high-performing tool can drive as many as 10 nails per second.
To drive nails to the desired depth, you can use the depth adjust wheel that comes with numbered elements for maximum accuracy. Its high lifetime engine seals and feed system make this unit extra durable, so you should be able to use it for a long time.
Another feature you will especially like is its ergonomic design. Weighing only 4.5 lbs., it cuts down on fatigue when you're working on big projects. Plus, its over mold grip handle gives you added comfort. Most other nail guns of this type tend to be heavier.
To protect sliding and reduce wear and tear, this device features skid plates with rubber inserts. It has a fixed exhaust system, too, to keep spent air out of your face while you're working. Like similar models, this one operates between 70 and 120 psi.
The majority of users gave it high ratings on roofing nail gun customer reviews. This appliance is known for being easy to load and adjust for driving depth.
Pros:
Lightweight and easy to use, durable and operates at an exceptionally high speed to maximize productivity
A plus if you're trying to get your roofing done ahead of bad weather or within a certain time frame.
Cons:
This nail gun is only intended for roofing, so it's not recommended for use in fencing and other projects.
Some people also complained that the trigger valve was faulty, resulting in jams and multiple nails being released at one time.
---
Best electric roofing nailer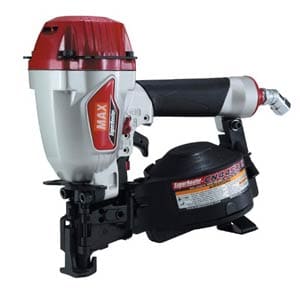 What You Will Love: With this unit, probably just about everything. It's durable, dependable, low-maintenance, and comes with easy-to-adjust depth control for driving nails accurately.
One of our tops picks for the best electric roofing nailer is the Max CN445R3 Superroofer ROOFING Coil Nailer because of its all-around ease-of-use. Its equipped with an oil cap and filter that makes this unit low-maintenance.
Plus, it comes with a one-of-a-kind tangle-free swivel joint. With its adjustable depth-control dial, you can drive nails with precision, but without having to use additional tools.
Weighing in at just a little over five pounds, it's highly-portable, so carrying it around and holding it while working won't tire out your arms and back. Customers recommend using this unit with 15-degree coil nails measuring 1-3/4 inches in length.
They also note that the device is compatible with a variety of purposes: fastening asphalt and fiberglass shingles, securing lath wire to plywood, and siding installation.
A large majority of customers gave this tool stellar ratings for its performance and user-friendliness. And it works reliably enough to be used on the job site. This best roofing nail drives fasteners straight and with little recoil.
Pros:
It's lightweight and you can use it with a variety of materials and for a few different purposes
It's capable of yielding professional results, and adjusting nail drive depth is a snap
It's not likely to jam or release too many nails at a time
Cons:
According to roofing nailer customer reviews, the worst thing that they said about this unit is that it doesn't come with a belt clip, which isn't much of a shortcoming.
---
Runner-Up (electric roofing nailer)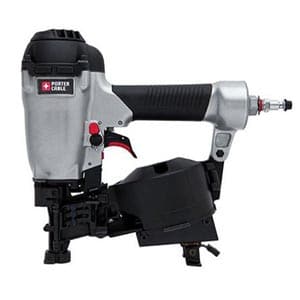 What You Will Love: Sturdy and lightweight, with a round body and easy-to-grip handle, adjustable drive-depth control and lockable shingle guide, capacity for selective and contact settings.
Our second pick in the best electric roofing nailer category is the PORTER-CABLE RN175B Roofing Nailer. One thing you're likely to appreciate about this device is its compact design; its 5% than most other electric roofing nailers, so it gives you ultimate balance and control to make your job easier.
The typical workday can be tiring enough. With this unit, you don't have to add toting a heavy tool to everything else you have to do. You can use the shingle guide to accurately set shingle placement.
Another plus: the shingle guide locks down for consistent results. And quick-set depth drive reduces shingle damage during the nailing process. This nail gun readily accepts 15-degree 3/4″ to 1-3/4″ wire coil roofing nails, and you can use it for a variety of roofing and siding projects.
The magazine holds up to 120 nails, and you can use the selectable trigger to choose from 2 firing settings, sequential and contact. If you're looking for a tool that can optimize your productivity, you'll be pleased to know that this one is easy to load and jam-resistant.
You can easily adjust the exhaust diffuser without the assistance of other tools. With its steel safety contact and dual carbide inserts, the nail gun is designed to withstand considerable wear and tear. Because of its durability and ease-of-use, most customers gave it high marks
Pros:
Porter cable roofing nailer is durable, versatile, easy to handle
Good for different roofing and siding projects.
Also, it's generally not prone to jamming but when jams do happen, they're easy to fix.
Many customers reported that they were pleased with the price, too.
Cons:
Customer reviews didn't reveal any consistent problems.
---
Best air powered roofing nailer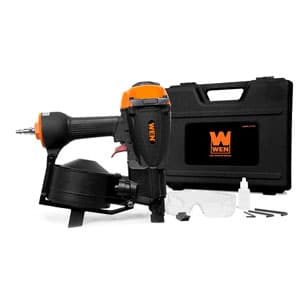 What You Will Love: The WEN 61783 3/4″ to 1-3/4″ Pneumatic Roof Coiling Nailer is easy to handle and operate, can be used with a variety of materials, and allows you to customize shingle-placement and precisely set drive-depth.
Capable of firing 11-guage (0.12-inch nails) ranging from 3/4″ to 1-3/4″, this device holds up to 120 nails at a time, and the magazine releases quickly in case of jams.
Like other roofing nailers, this best air powered roofing nailer comes with comes with an adjustable shingle guide for precise shingle-placement. Likewise, you can conveniently adjust nail-drive depth without resorting to additional tools.
One thing customers liked about this unit is that it comes with hex wrenches, oil, and a blow mold carrying case. This powerful tool allows you to nail a variety of roofing materials: tar paper, insulation boards, shingles, siding, vinyl, cement fiber roofing, and more.
This machine delivers 430-inch pounds at a 100 psi, making your siding more likely to stay in place than it would with less force. You can adjust the pressure between 70 and 120 psi, depending on what materials you're using.
With the turnable exhaust valve at the top, you can deflect air output away from your face. Lightweight with an ergonomic handle, this device is easy to carry, even on long projects. Most customers gave this device four or five stars.
Pros:
It's generally not prone to jamming
Allows you to direct outgoing air away from yourself
Operates with enough pressure to perform reliably
And can be used with a variety of roofing materials
It delivers high quality at a reasonable cost
Cons:
If you hold the gun down and then pull the trigger, it may fire two nails at once.
---
Best Professional Roofing Nailer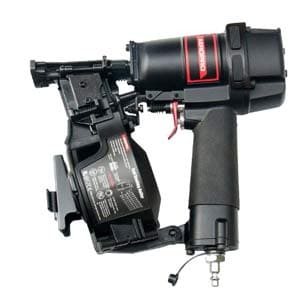 What You Will Love: Professional-grade, can stand up to tough weather elements, low recoil, and operates with enough force to secure roofing materials. It allows for fast and easy operation and doesn't require extra tools to set drive-depth.
In our search for the best professional roofing nailer, we came up with the AeroPro CN45N Professional Roofing Nailer as our top pick. Its moving cylinder engine allows for low recoil. With its selective actuation switch, you can easily go back and forth between sequential and contact mode.
To make application extra heavy-duty, the unit comes with heat-treated aluminum hosing. Known for its longevity, it usually performs reliably, even after many uses. You can easily adjust nail-dive depth without extra tools.
With single-action side-loading, you can quickly fill the magazine with up to 120 nails. Another thing you'll like: the device can shoot up to 3 nails per second, which is comparatively faster than similar models.
Lightweight but durable, you can use this professional-grade tool even in extreme weather elements. Also, it's compatible with 3/4″ to 1-3/4″ wire-collated coil nails with 0.12-inch diameters.
With an air inlet of 5/8″ NPT, the unit can operate at 70–120 psi. A large number of customers gave it top ratings, citing its overall quality and affordable price.
Many also noted that the device performed better than other leading brands. At just 5 and a half pounds, it's easy to carry around the job site, even when you're working long hours.
Pros:
Can be used in all kinds of weather
Drives nails quickly (to the tune of 3 nails per second) and is easy to load
You can customize depth settings for maximum accuracy, too.
Cons:
We really couldn't find any.
---
Frequently Asked Questions (FAQs)
What is a roofing nailer?
A roofing nailer is pneumatic (air-powered) nail gun used to install roofing materials. They're usually compatible with 15-degree coiled nails that are stored in a quick-release magazine for easy loading and firing.
What's the difference between a siding nailer and a roofing nailer?
A roofer nailer is used for roofing materials, especially for direct installation of shingles. The siding nailer is designed to hold siding securely in place with the appropriate fasteners.
What's a roofing nailer use
A roofing nailer is used to secure roofing materials in place and to accurately place and install shingles.
How much will it cost to get a roofing nailer?
The best roofing nail gun may sell for between $150 and $200, and more if you're looking for the most high-performing models.
---
Conclusion
When finding the best roofing nailer, you have to make a decision that's best for you. Consider the price of the item and all that it has to offer. Also, think about the projects you need it for, and the materials you plan to work with. Doing a little research up-front helps you know what your options are.
---
Related Articles:
---