What is the Best Quiet Air Compressor?
We have picked the California Air Tools 2010A Ultra Quiet Air Compressor as the top quiet air compressor as it only produces 60 db, has a 2.0-gallon aluminum tank and has quick fill and recovery time. It is also lightweight, easily portable, and comes with overheating protection.
---
Air compressors are great tools to have for a variety of reasons, but sometimes, regular air compressors are just too loud. Sometimes, the user lives in an apartment building in which he has to respect the fact that the walls are thin.
Maybe he lives with someone who is disturbed by loud noise. Or maybe the user just does not want to worry about hearing damage. In any of these cases, a quiet air compressor is best.
Fortunately, air compressors come in all shapes, sizes, and decibel levels. Unfortunately, all of the available options often leads to confusion. If you are looking for the right quiet air compressor for you, the information below should help. It includes factors to look for and 9 great options for you to consider.
---
Quick Navigation
Top 9 Best Quiet Air Compressors: Our Picks & Recommendations
---
How to Choose the Right Quiet Air Compressor
The type of quiet air compressor you choose will depend on a few things:
Purpose
What is your purpose for the air compressor? If you use it at home for a hobby, your needs will differ from someone who needs it for professional use.
Noise level
How quiet exactly do you need it to be? If you are working indoors with it, you likely want it to be very quiet. If you are outdoors, you might not have to worry about it being extra quiet. Either way, if you need a quiet air compressor, you can find them as low as 55 to 72 decibels.
Tank Size & Pressure
Tank size simply refers to how long it can put out air at one time. The larger the tank, the longer the run time. Also, larger tanks normally put out more pressure, so they are best for running most power tools.
On the other hand, if you need something portable or do not have much available space, you should probably stick with a smaller one.
Air Volume
Different tools need different air volumes, which is measure in Cfm (Cubic Feet Per Minute). Be sure to check the requirements of your tools prior to shopping.
About dBA Measurement and Decibel Rating
Most regular air compressors run around 80 to 90 decibels, so you want something quieter than that. Finding one between 55 and 72 decibels is the best for small spaces or just somewhere that you need it to be quiet.
PSI And SCFM
PSI refers to pounds per square inch and SCFM refers to square cubic feet per minute. The SCFM deals with the amount of air a tool needs to operate, so it is important to check the tools you plan to use with the air compressor.
PSI tells you how well a device's motor can compress air. It is important that you match your tools with the correct PSI and SCFM from the compressor.
Power Source
There are both electric powered and gas powered air compressors. The nature of a gas motor is that, like a car, they require combustion to run. That typically makes them louder than electric powered ones and much less safe to use indoors.
9 Best Quiet Air Compressor
Here's a list of the best quiet air compressors we found on the market:
Best Overall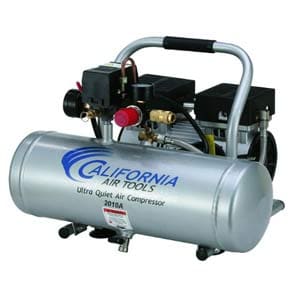 What You Will Love: It only puts out 60 db of noise, which is barely louder than a regular conversation.
This California Air Tools Ultra Quiet Compressor has a max PSI of 120 and p to 3.10 cfm. The 2.0 gallon tank is lightweight and easily portable, and the handle makes carrying it even easier.
It is oil free so there is much less maintenance than oiled options, it is electric, it refills in less that 50 seconds, and requires only about 14 seconds of recovery time. At over $200, the price is a little steep, especially considering a few buyers complain that it does not put out enough power.
What We Liked:
Only 60 db
Oil free means less maintenance
2.0 gallon aluminum tank
Over heating protection
Lightweight
Handle makes it easy to carry
Quick fill time and recovery time
What We Did Not:
---
Best Budget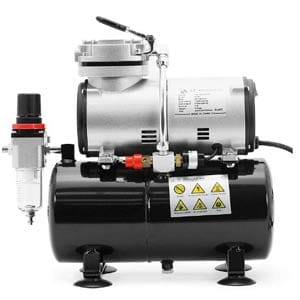 What You Will Love: It only produces 55 db of sound, and it comes with 7 bonus airbrush guides.
The Point Zero 1/5 HP Airbrush Compressor provides a 3 liter air tank that is easily portable, and only produces 55 db of sound. It has a sensitive pressure regulator that allows for precision adjustments with no pressure pulsations.
It is an oil less compressor, so there is much less maintenance. It provides constant pressure and, at less than $100, it is a good price. The biggest issue is that it is not going to hold up well for larger projects as it will need to refill pretty often.
What We Liked:
Easily portable
Ultra quiet
Oil less
Only 55 db
Sensitive pressure regulator
Water trap
Precision adjustment
Zero pulsation
Power saving mode
3 liter air storage
Comes with bonus airbrush guides
Great price
What We Did Not:
Not great for much besides airbrushing
---
Best Oil Free Quiet Air Compressor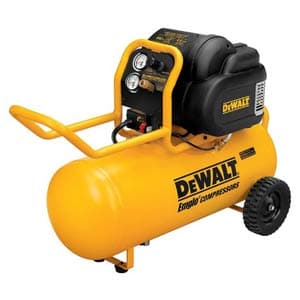 What You Will Love: It provides a long run time for most pneumatic tools, and the wheels make it stable and portable.
The Dewalt D55167 Air Compressor provides a lot of power- up to 5.0 CFM and up to 225 PSI. It has a 15 gallon air tank, so it provides a long run time for most pneumatic tools. It is oil free, has a maintenance free pump, and quick recovery time.
It produces 78 db, which is above our recommended noise level. However, there are much noisier ones and 78 db is not terrible for a fairly quiet work environment. At more than $300, it is pretty expensive.
What We Liked:
Easily portable
15 gallon tank
225 psi
Oil free
High pressure
Up to 5.0 cfm
Quick recovery time
What We Did Not:
---
Best Quiet Portable Air Compressor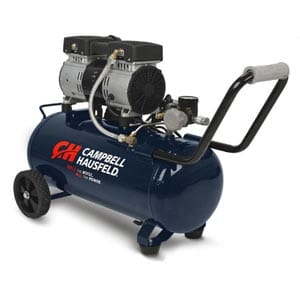 What You Will Love: It has large rubber wheels and a steel handle with a rubber grip for stability and easy transport.
The Campbell Hausfeld DC080500 Air Compressor is an 8 gallon compressor which can be used for most projects. It has an oil free and maintenance free dual piston pump that makes the compressor more durable than many other options.
Its large wheels and rubber grip handle make it very easily transportable and much more stable. It produces about 68 db, which is on the higher end of the recommended noise level, but it is still considered quiet.
You can purchase it alone or with a bundle. However, the price of the compressor alone is over $200, so it is a bit pricey.
What We Liked:
Versatile
Durable
Portable
8 gallon
68 db
What We Did Not:
---
Best Ultra Quiet Air Compressor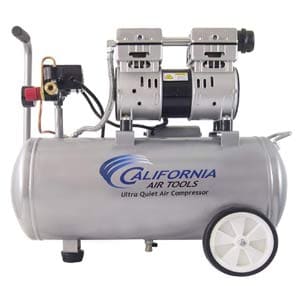 What You Will Love: It provides 8 gallons of air storage space but is still lightweight and easily portable with the handle and wheels.
This California Air Tools 8010 Air Compressor is made with a durable steel construction, has a very low amp draw, and is very lightweight. The wheels and handle make it even easier to transport, and the oil free pump means less maintenance work for you.
The 8 gallon air tank refills in less than 3 minutes, and it only produces 60 db. It is great for small and medium jobs but does not seem to do so well with large ones. At over $200, it seems to be about average price compared to most others, but that still may be too high for many budgets.
What We Liked:
Oil free
60 db
Steel construction
Low amp draw
Refills in less than 3 minutes
Peak 2.0 hp
8 gallons
Lightweight
What We Did Not:
Not great for big jobs
Pricey
---
Best Quiet Airbrush Compressor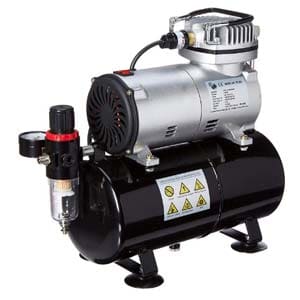 What You Will Love: It is a quiet machine that puts out 46 liters per minute, making it a great option for airbrushing.
The Master Airbrush Model TC-828 Air Compressor is designed with airbrushing and small projects in mind. It has 1/6 HP, which is powerful enough for tools requiring low cfm, and it puts out 46 liters per minute.
It is designed with a high performance twin cylinder, and there is zero pulsation to worry about. It only produces 59 db, which is on the low end of the recommended amount, and it is less than $200. The downside is that the piston chamber may be leaky.
What We Liked:
More budget friendly than others
Comes with 6 inch hose
High performance
Twin cylinder
46 liters per minute
Zero pulsation
Only 59 db
What We Did Not:
Might be leaky in the piston chamber
---
Best Small Quiet Air Compressor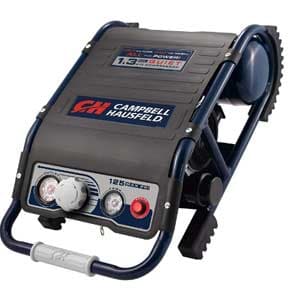 What You Will Love: It is designed very slim so that it does not take up much space in your home, garage, or vehicle.
The Campbell Hausfeld DC010500 is a lightweight, easily stored, and easily transported unit. It is great for small and medium projects but not so much for larger ones. The dual piston pump provides high performance and more durability than other options.
It is less that $150, which makes it much more budget friendly than other options. On the downside, it produces 68 db, which is still within our recommendations, but that is close to the max. There are quieter options on this list.
What We Liked:
Budget friendly compared to others
1 gallon
Lightweight
Dual piston system
Slim design for easy storage and transport
What We Did Not:
---
Best 30 Gallon Air Compressor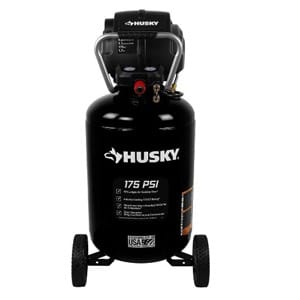 What You Will Love: The vertical design make it much easier to store, so you are not as limited in where you can take it.
The Husky 30 gallon portable air compressor is a powerful and long lasting compressor. The tank size keeps it performing for up to 40% longer than smaller options, and the high flow regulator and high performance pump put out up to 175 PSI.
The 9 inch wheels makes it easy to transport, and the dual quick connects means that the user can switch easily between jobs. With the power and performance, though, you sacrifice some of the quiet.
It produces around 78 db, which goes above our recommended level but not by too much. Also, it costs nearly $500, which is high for most budgets.
What We Liked:
30 gallon
Dual quick connects to easily switch between jobs
High flow regulator
High performance pump
Vertical makes easier storage
9 inch wheels for easy portability
175 psi
What We Did Not:
---
Best 60 Gallon Air Compressor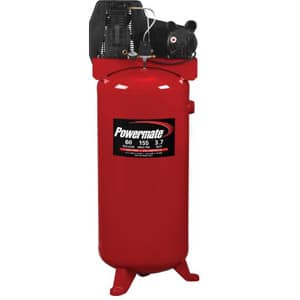 What You Will Love: The 60 gallon capacity is excellent for just about any job you need to do.
The PowerMate Vx PLA3706056 Air Compressor is made from a cast iron and aluminum construction. It has a 240 heavy duty motor and a cast iron twin cylinder pump that puts out up to 155 PSI.
It is equipped with an oil pressure gauge and an on/off switch. It is oil lubricated, meaning that it will have a longer engine life than the oil free options. It is not easily portable, however, as it has legs instead of wheels. Also, at over $700, it definitely qualifies as expensive.
What We Liked:
Cast iron twin cylinder pump
240 v heavy duty motor
Up to 155 psi
Cast iron and aluminum construction
Pressure gauge
On/off switch
Oil lubricated
What We Did Not:
Very expensive
Not portable
---
Frequently Asked Questions (FAQs)
Why should we choose quiet air compressor?
Often air compressor need to be used indoors, either in a home, a garage, or a work building. It is important to keep noises lower in closed in areas. Additionally, you do not want the neighbors complaining on you for being too loud.
Is Oil Free Air Compressor Better or Oil Lubricated?
Both have their benefits. With oil free air compressors, there is no constant maintenance. However, the oil lubricated air compressors tend to have engines that last longer. It comes down, really, to personal choice.
What is a good quiet air compressor for laser cutters?
At this point, our research tells us that the California Air Tools 8010 is a great option for laser cutting tools, and it seems to be in pretty high demand.
How Are Silent Air Compressors Different From Other Air Compressors?
The difference is simply in the noise level they make. Silent or quiet ones are usually no louder than a regular conversation. Other ones can be loud enough to drown out all the sound around you- and possibly hurt your hearing.
Who makes the quietest air compressor?
At this point, the quietest we have found is Point Zero 1/5 HP Airbrush Compressor, which produces about 55 db. The next is the Master Airbrush Model which produces 59 db.
---
Conclusion
Choosing the best quiet air compressor can be a challenge if you do not know what characteristics to look for or which brands are the best. Here we have taken a look at foundational information on quiet air compressors and looked at nine great options to help you decide.
---
Related Articles:
---