What is the Best PVC Pipe Cutter?
When shopping for a PVC pipe cutter, there are certain characteristics that the buyer should search for such as performance, cost, safety, durability, and more. With these factors in mind, we chose the Ridgid RC-1625 Ratcheting Pipe and Tube Cutter as the best PVC pipe cutter. It has an ergonomic handle, durable materials, and an easy to change blade.
---
Whether you are a professional plumber or just have a few projects around the house, you will likely find yourself in need of pipe cutters at some point.
Though they tend to look alike, different brands provide different features and performance. Some are made only to cut small pipes while others can cut through pipes up to 2″ . Some options require frequent blade changes while others do not require them as often.
Some of the options also provide cleaner and straighter cuts than others. Before purchasing a pipe cutter, it is important to do your research to find the best one for your needs.
---
Quick Navigation
5 Top PVC Pipe Cutter: Our Picks & Recommendations
---
5 Best PVC Pipe Cutter Reviews
To find the best PVC pipe cutters, we searched through lots of ratings and reviews of different available options.
Though we started with a long list, we have been able to get that list down to the five following PVC pipe cutters due to their performance, cost, and versatility.
---
Best Overall PVC Pipe Cutter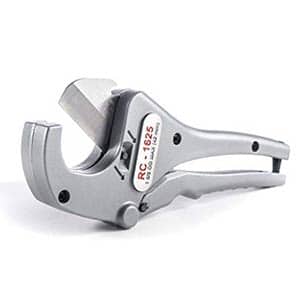 What You Will Love: This tool has versatile cutting options and an easily replaceable blade.
The Ridgid RC-1625 Ratcheting Pipe and Tube cutting tool's is made from aluminum for durability.
It has an ergonomic handle to prevent fatigue and damage to the wrist, and it is designed to offer a square cut through PVC, CPVC, PP, PEX, PE, rubber hose, and more.
You can easily exchange the XCEL blade when it is necessary. It offers superior quality for the price. It is a great plumbing tool but it is also handy as a landscaping tool, and more.
The only complaint I could find is that while it is claimed to cut up to 1 5/8 inch diameter, it actually only cuts up to 1 ¼ inches.
Pros:
Versatile cutting capabilities
Made from durable aluminum
Ergonomic handle
Easily replaceable blade
Great quality for the price
Square cut
Cons:
Only cuts up to 1 ¼ inches
---
Best Budget PVC Pipe Cutter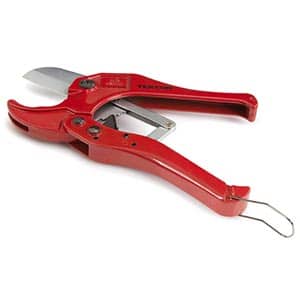 What You Will Love: It is both lightweight and very low cost.
The Tekton 6466 PVC Pipe Cutter comes equipped with a tough steel blade that provides square cuts with no burrs.
It has the strength to cut through PVC, CPVC, PEX, rubber hose, polyethylene, polybutylene, and other non-metallic tubing.
The blade is easily replaceable when it dulls, and it is a very good price.
Additionally, all Tekton products come with a guarantee, so if you have any issues, you can reach out to the company with the expectation of getting a solution.
Users seem to have trouble cutting larger pipes. It states that it can cut up to a 1 5/8 inch pipe. However, users found that to do this, you have to put a lot of pressure and force into it.
Also, you may have to heat the pipe up by leaving it in the sun for a bit or rotate the pipe as you go. They do state that once you can get it through, it cuts very smoothly.
They conclude by saying that you can cut a 1 ¼ inch pipe with force, it works much better on smaller ones.
Pros:
Equipped with tough steel blade
Excellent cost
Easy to replace blade
Guaranteed product
Can cut through
A variety of pipes
Cons:
Larger pipes require a great deal of force and possibly rotation of the pipe to cut through
---
Best 2" PVC Pipe Cutter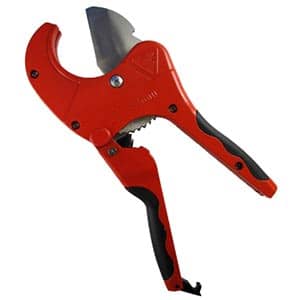 What You Will Love: This PVC pipe hand cutter has a ratcheting grip for improved leverage and is set at a good price.
The Superior Tool Pipe Cutter has a stainless steel blade that can be easily replaced by taking off one screw.
There is a locking handle pin and good leveraged handles as safety features and has a lifetime warranty.
The tool is made from cast aluminum, gives clean burr-less cuts, and is budget friendly.
Opinions are pretty mixed about this option. Many say that it is a good tool for home projects or for people who only need pipe cutters for a couple of projects, but not really good for professional or constant use.
The tool claims to have the ability to cut from 1/8″ all the way to 2 ½" pipes. Though some have successfully been able to slice a 2" pipe, most users have better success with pipes no larger than 1 ½".
Those who have tried to use the tool on a consistent basis have reported that the blade will chip after a few cuts and that it may begin to slant, causing cuts not to be straight.
Pros:
Easy to replace stainless steel blade
Ratcheting grip
Good price
Locking handle pin
Cast aluminum
Burr-less cuts
Cons:
May not stand up against professional or constant use
---
Best Ratcheting PVC Pipe Cutter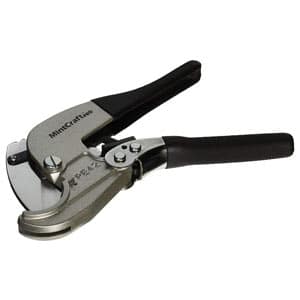 What You Will Love: The blades of this pipe cutter do not have to be changed as often as many other pipe cutters in the same price range.
The Mint Craft Pro pipe cutter is a great cutting tool that provides straight, clean cuts on pipes up to 1 5/8″ .
The blades tend to stand up against consistent usage without the need to replace them too often.
The ratcheting grip provides a better leverage on the pipe you are trying to cut. The price is pretty reasonable for all that it provides, but you can usually expect to pay over $30 for it. The only downside is that some people have trouble cutting through larger pipes.
Pros:
Blades are strong and do not have to be changed often
Ratcheting and leveraged grip
Fair price for its abilities
Cuts straight and clean on pipes up to 1 5/8″
Cons:
May be difficult to cut through pipes close to 1 5/8″
---
Best Heavy Duty PVC Pipe Cutter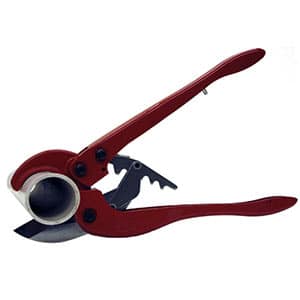 What You Will Love: This heavy duty pipe cutter can cut through pipes as large as 2 inches.
The Superior Tool Company 37115 PVC Pipe hand cutter has an extra large capacity that can cut up to 2: PVC and polyethylene pipes.
It has a wide hooked jaw and ratchet that both help this cutter provide safe and clean cuts.
It cuts through pipes very effectively and efficiently. There are two complaints stating that: 1) it is a large and heavy tool, and 2) the directions were not easy to understand.
Other than those problems, buyers seem to love this pipe cutter. It generally costs less than $30, so it is a good tool for the money.
Pros:
Straight, safe and clean cuts on up to 2″ pipes
Heavy duty
Large capacity
Wide hooked jaw
Good leverage
Great price
Cons:
Large and heavy
Hard to understand instructions
---
If you are in need of a good PVC pipe hand cutter, all of the options here on our best PVC pipe cutter list are worth considering. Check these pipe cutters out for yourself today.
---
Related Articles:
---