We reviewed the choices available. We focused on features like size, cleaning, and convenience.
We also have tips to get the best performance from your appliance.
A Quick Overview of the Best Blenders for Traveling
First of all, what do we mean when we say 'portable blenders for traveling'?
Not this.
We're looking at a small, lightweight, electrical blenders that mix fruits and vegetables into yummy smoothies.
This is what we're talking about.
They make single servings for quick meals. It's a popular idea and manufacturers have discovered that many people enjoy fresh smoothies made in small blenders.
We had several models to choose from for review.
What we really like about Hamilton Beach is that their personal smoothie makers are so sleek they'll fit inside a small travel  bag.
The Hamilton Beach 51101BA Personal Blender and the Hamilton Beach 51131 Single-Serve Blender would both travel well. They clean up quickly and make a single serving with nothing left over to waste.
The Oster BLSTPB-WOR My Blend Blender was a little more powerful and so it could handle larger amounts and more chopping of foods.
The accessories work well with the Nutri Ninja Pro. It supplies larger sized cups to accommodate personal tastes while on the road.
The Magic Bullet Blender has even more accessories to meet the needs of one or two travelers and might be worth making a little more room for in a luggage bag.
How To Choose a Portable Blender?
The best blender for traveling will depend on your personal tastes. The serving sizes they make can vary, so choose a smaller one if you are a light eater.
Choose one that makes larger servings if you eat more or like to share.
They need to clean quickly and easily. They can't take up much room in a bag. Will you want accessories? Which ones? Our reviews below can inform you about these issues.
One Small Controversy…
We couldn't help but notice a small issue surrounding portable blenders. This has to do with the travel lids.
Some close tightly and seal against leaks. Some do not.
This is a matter entirely up to you and your preferences.
If you are the type to carry your travel cup upright in your hand as many people do, then having a small air hole designed in the lid will not be an issue for you.
It will sit upright in a cup holder and not leak.
On the other hand, you might be the type to need a travel cup that will stay sealed if it rolls under the car seat.
It might have to travel in a side pocket of a bag and not leak if the bag tips over.
We tried to include details like this in our reviews, but this is an unpredictable issue that is based on personal behavior.
We just want you to be aware of it.
How Can I Get the Best Use Out of My Blender?
The most important tips we can offer on making a portable blender last involve proper usage. To begin with, add the liquids to the cup first, and then the fruits and vegetables.
Second, use it in pulses that last about ten seconds. Don't run it as if it were a large kitchen blender.
Third, clean it right after use. Just add some water and a bit of dish soap and pulse for a few seconds to clean out the blender.
Rinse it and let it air dry while you're gone. The manual that comes with your blender will have more specific recommendations.
Be aware that different kinds of smoothies may take more than a few seconds to pulse to a smooth consistency.
You might find it helpful to pause while pulsing, shake the ingredients in the cup, then continue pulsing.
If your blender is having trouble blending all the ingredients you put in it, add only a few ingredients at a time.
Following these tips will help keep your personal blender working for a long time.
What Do I Need to Do Before I Go on a Trip?
Some of these portable blenders come with several accessories. Decide which accessories you will need to take with you on your trip.
Do you want back up blades?
A travel cup with sealable sports lid?
Also, make sure you either know your recipes or have them accessible. Each of these blenders comes with a manual.
Be familiar with that so you know how to make your smoothies in an unfamiliar situation.
The Most Recommended Portable Blenders: 5 Best Portable Blender Reviews By Sujana Marie
Here are the five best portable blenders we found on the market. They travel well and are easy to operate. They come in appealing colors and they're fun to use!
1) Hamilton Beach 51101BA Personal Blender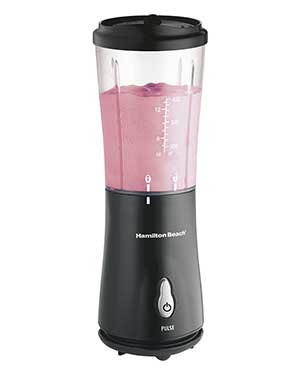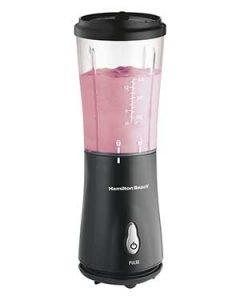 The Hamilton Beach 51101BA Personal Blender makes a smoothie up to 14 ounces with a 175-watt motor. It is shaped to slide inside a bag.
The cord easily stores out of the way by coiling it around the base. The blending cup detaches to serve as a travel and drinking cup.
Pros:
convenient size & shap
inexpensive
cord wraps around body
Cons:
lid doesn't always hold liquid in
motor wears out
makes small amounts
2) Oster BLSTPB-WOR My Blend Blender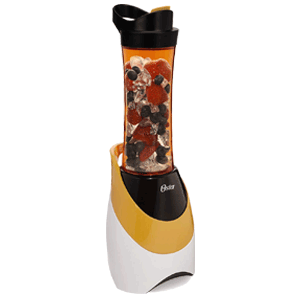 The Oster BLSTPB-WOR My Blend is a 250-watt blender that makes a 20 oz. drink.
There is even a built-in fuse to protect the motor from overheating the appliance. The cup serves as a travel cup with lid.
It also looks like a sports bottle. It works well for carrying water so you can stay hydrated after you've finished your smoothie.
Pros:
sleek design
press and pulse blending
blending cup turns into travel cup with lid
Cons:
hard to seal the cup to the base
plastic cogs wear out quickly
tall, thin cup might require a bottle brush to clean
3) Nutri Ninja Pro Personal Blender
You can make 18 or 24 -oz servings with the accessories of the Nutri Ninja Pro. With 900 watts of power, it will allow you to add greater variety to your smoothie menu while on a trip.
The press-and-blend style makes blending smoothies easier than ever.
Pros:
one 24-oz cup and one 18-oz cup with lids
900 Watt
extra blade ensures smooth blending
Cons:
louder than other personal blenders
seals might leak
cups are large for small hands and some cup holders
4) Hamilton Beach Portable Blender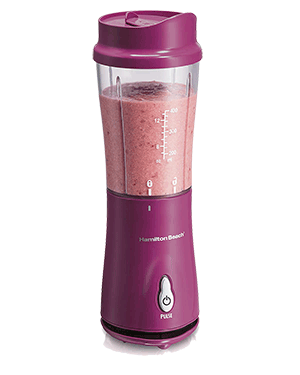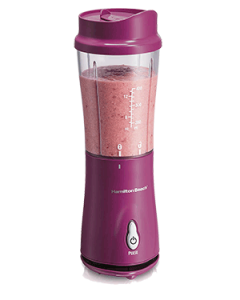 This is so similar to the Hamilton Beach 51101BA that we weren't certain what the differences might be.
This Hamilton Beach 51131 Single-Serve Blender is plastic, which makes for lighter travel.
It also has a different design to the drink lid. That matters as a personal preference which we can't really predict.
For some users, this style will be more comfortable.
For others, we might recommend they try the Hamilton Beach 51101BA Personal Blender.
Pros:
very inexpensive
energy saving
simple and easy
Cons:
doesn't blend vegetable skins well
needs to be held while it pulses
lid sometimes leaks
5) Magic Bullet Portable Blender For Travel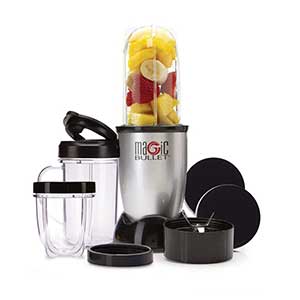 This is a press-and pulse style appliance with no buttons to worry about. Add liquid, sliced fruits, etc., and press down.
The trick to know is that this blender makes a smoothie in about ten seconds.
Don't hold it down and run it for minutes at a time. It's faster than you think!
Pros:
great space saving shape and size
tall cup and 2 party sized cups
blends to a smooth texture
Cons:
struggles to blend frozen fruits or large chunks
sometimes can't handle ice
plastic on the inside scratches easily
---
So, Which Is The Best Portable Blender?
We believe the best blender for traveling is the Hamilton Beach 51101BA Personal Blender. It has the lightweight style that fits well into a bag, but it seems more durable than comparable models.
It makes single servings conveniently which allows for quick use and easy clean up.
It is affordable for budget travelers. It allows a traveler to make smoothies that match their tastes. It will provide nutrition and freshness they might not have available otherwise.
We loved the color choices! Follow our tips above to help your personal portable blender last a long time. That way the Hamilton Beach 51101BA Personal Blender can be your best portable blender.
---
Related Articles