What Is The Best Pool Basketball Hoop?
We have picked the Lifetime 1306 Pool Side Basketball System as the top pool basketball hoop as it is made with a shatterproof backboard and a very large and stable base. It comes with an impressive five year warranty, meaning that you can get a lot of games from it. Additionally, it is adjustable so people of all heights and ages can enjoy it.
Jumping in the water is always fun on hot summer days. Water sports can amplify that fun tremendously. This is why we decided to take a look at pool basketball hoop sets. They can provide hours of fun for the whole family, and keep your kids active during the summer instead of laying around on the couch.
Additionally, if you are looking for a way to keep your kids at home more, a pool basketball hoop can be the answer. We are going to share our thoughts on seven of the perfect pool basketball hoop sets, and the factors that you should consider when purchasing one for your family.
Top 7 Best Pool Basketball Hoops: Our Picks & Recommendations
How To Choose The Best Pool Basketball Hoop?
When picking out a pool basketball hoop, consider the following:
What Are The Different Types?
You have a couple of different pool basketball hoops to choose from.
Floating pool hoops do not attach to anything but instead float around in the pool. These are enjoyable as the game can be played from all sides of the hoop, allowing for a little more movement. They are typically either inflatable or made from lightweight plastic. 
Affixed or Poolside Hoops
Affixed or poolside hoops are designed to attach to the side of the pool. These are enjoyable for people who want a more traditional basketball game as you can set the goal on one side of the pool, or get one for each side.
Adjustable hoops are actually another type of poolside basketball hoop. The only difference is that you can adjust their height, typically from 24 to 44 inches tall. 
Flexibility And Portability
If you own your own pool and will only be playing there, you do not need so much portability. If you will be taking them to a friend's pool or even a public pool, you want it to be highly portable. In this case, a floating hoop would be the better option. 
Floating hoops, or inflatable ones, need to be stored away as rain and wind can easily damage them. Affixed or poolside options are usually much more sturdy and can stand up to tough weather. 
Consider the fact that the less durable ones- the inflatable ones- cost much less than the affixed ones. However, the affixed ones are much more durable.
The hoop you choose to get will revolve around how often you are willing to replace the hoop, and whether or not you are willing to take it in and out of the pool after every use. 
You can find pool hoops made very cheap- cheap enough that you could actually just buy a new one every week or so.
However, there are those made from such great quality that they can last quite possible until your kids bring their own kids over to play. How much are you willing to invest?
7 Best Pool Basketball Hoop Reviews
Here's a list of the best basketball hoop we found on the market: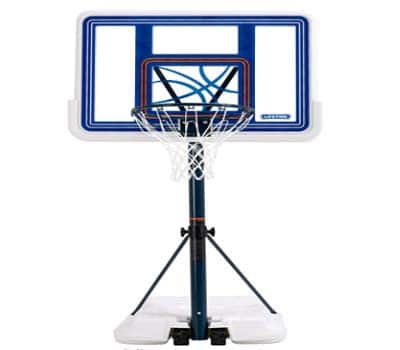 What You Will Love: This poolside basketball hoop is made with very durable materials and comes with a 5 year warranty. 
The Lifetime 1306 Pool Side Portable Basketball Hoop is made with a shatterproof fusion backboard which is constructed from  polyethylene.
This means that the backboard is incredibly durable and can take a lot of hits. The large base requires about 27 gallons of water, but this helps improve the stability.
The rim is adjustable, but it also rusts when left out in the elements without proper maintenance. The rest of the pool side hoop, however, stands up well to year round weather.
Perhaps covering the rim during bad weather and long periods of no use can prevent the rim from rusting. 
When you want to move the basketball hoop, you can easily do so after releasing the water from the base. It regularly runs close to $200, so it is a little expensive.
However, it comes with a five year warranty, so you can plan on keeping it for a long time.
Due to this, it is much more worth the price since the price divided over five years would be much less than $40 a year, and there is a good chance that it will last you much longer.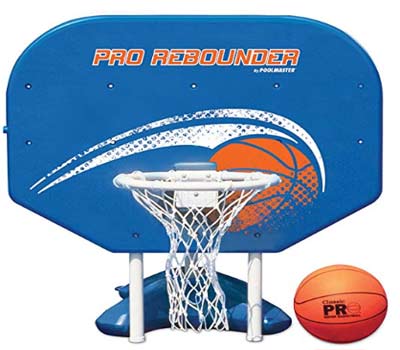 What You Will Love: This set is really the best deal that we could find for the price, and the set is pretty good.
The Poolmaster Pro Rebounder Basketball Game set is one of the most budget friendly options available. The hoop backboard is created with durable all weather polyform plastic, and the net is coated with a mold resistant polyester coating.
The set can be assembled in five minutes or less- once you have all of the parts. Unfortunately, you will probably find that you need some additional nuts and bolts, and especially washers. 
While you are at the store, you might as well purchase enough for the whole set because the included ones rust pretty easily. Instead, save yourself some time and frustration now by purchasing some stainless nuts and bolts. Additionally, though it comes with a basketball, it is not really good quality, so you will likely want to purchase another one.
Even purchasing those extra supplies, this is a great deal and will likely cost you less than $100 altogether.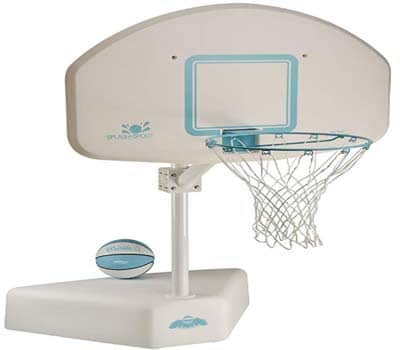 What You Will Love: This pool basketball hoop is made with a polyurethane backboard and a very tough polyethylene base. 
This Dunrite Splash and Shoot Swimming Pool Basketball Hoop is a very sturdy pool side basketball hoop.
Both the base and the backboard are constructed with durable materials, and the vinyl coated steel rim will stand up to heavy use.
The weather net means that you do not have to worry so much about mold and mildew. The tough polyurethane base tends to prevent leaking, which is good since you need to fill the base with about 25 gallons of water.
If the base leaked, it would waste a lot of water and money. The adjustable pole is coated with aluminum powder, helping it to prevent rust.
Even better is the fact that it looks good. It can cost around $300, which is pretty high, but you also get a one year warranty with it.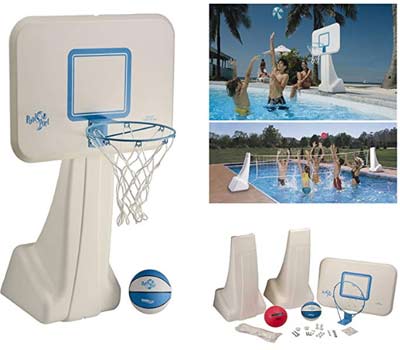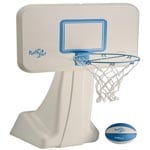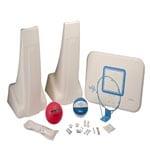 What You Will Love: The name says it all. You can go from playing pool basketball to pool volleyball with the same set in just minutes.
The Dunrite Products Pool Sport 2 in 1 Basketball and Volleyball Combo Set provides hours of fun.
It is made with a durable poly backboard for great durability and a stainless steel basketball rim.
The unit may rust, but you can prevent this by spraying the whole thing with a clear coat of rustoleum and letting it dry overnight. It might be a good idea to do this once a year for extra protection from the water and weather.
You may or may not find that you are missing bolts from your unit, but the company seems to be very good about fixing this if you call.
The biggest irritation is that there are only two bases so you cannot play both games at the same time. This leads to more work to switch between games.
However, at around $200, it is pretty affordable, even compared to some stand alone basketball hoops. Therefore, it really is hard to complain about a little extra work.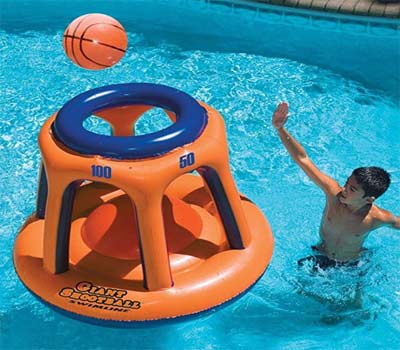 What You Will Love: It is an incredibly fun toy for both kids and grown ups, so it gives the family something to do together and the kids a reason to be active. 
This Swimline Giant Shootball Swimming Pool Game Toy is a lot of fun for anyone who chooses to purchase it.
In fact, you might find that your kids do not want to leave the pool and that your home is suddenly the neighborhood hangout- we'll let you decide if this is a good thing or a bad thing.
It is a very durable inflatable, so you should have it for a while. However, it is still an inflatable item, so it would be prudent to keep some patches and a pump nearby- otherwise, you might cause a riot for stopping the fun.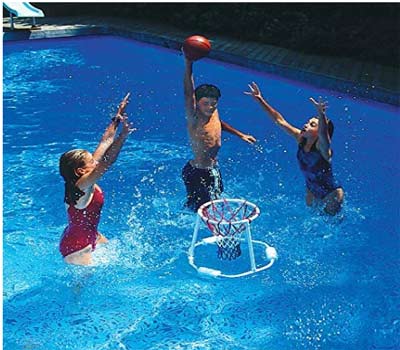 What You Will Love: It is durable, lightweight, and incredibly affordable. 
Admittedly, this floating hoop is not a fun looking as the inflatable one, but it is a more affordable option.
If you are looking for something really cheap to get you through just a few weeks of play at the end of the summer, this Swimline Super Hoops Floating Basketball Game might be for you.
If you are looking for something exciting and durable, this is probably not it. It is not very tall, so there is not a lot of space to "shoot" the ball, but it may be exciting enough for shorter children. 
It also lacks the feel of "real" basketball since both the net and the ball are very small, and there is no backboard.
On the other hand, it is very light and portable, so you can take it with you to a friend's house, the community pool, or even a trip to the ocean. You can also look forward to the fact that it is very easy to assemble.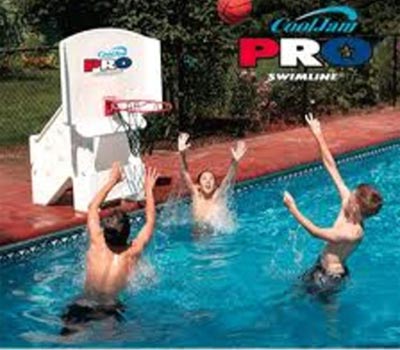 What You Will Love: This is a great choice to go with if you are looking for something close to the real basketball experience.
The Swimline Cool Jam Pro Poolside Basketball Super-Wide set is the best poolside set for active basketball players who are looking for some extra practice while having fun.
It is also great for people who, in general, simply like an experience closer to the real game. The wide backboard means less chasing after run away basketballs.
The height is adjustable, so whether its for little guys or big guys, it can be put at a good height. 
On the downside, it does have a propensity to rust. Spraying the body down with a clear coat of Rustoleum should probably help, but the net tears up pretty quickly, too.
It takes less than half an hour to assemble. It costs close to $200, so it is a bit pricey. However, there are enough positive aspects, and a manufacturer's warranty, that the price may not seem so bad. It is, in fact, cheaper than many other poolside options.
Frequently Asked Questions (FAQs)
Q: What Type Of Basketball Hoop Is Best For A Saltwater Pool?
A: If you have a salt water pool, you may want to consider the S.R. Smith Swim N' Dunk Salt Friendly Challenge Basketball Game. It has a steel vinyl coated frame that the salt water will not affect. 
Q: Where Can I Buy A Pool Basketball Hoop?
A: They are available almost anywhere that sells pool toys, including places like WalMart. However, you will find the biggest variety available online. 
Q: Which Brand Makes The Best Basketball Hoop For A Pool?
A: Both Swimline and Dunrite are great brand options when it comes to water sports, especially basketball hoops. If you are looking for a floating one, Swimline has better option. If you want a pool side hoop, look for Dunrite.
Q: How Much Does It Cost To Get A Pool Basketball Hoop?
A: That depends on the type of hoop. You can find them for less than $100, and all the way into the thousands for specialty ones- such as salt water friendly ones. 
A pool basketball hoop set can give you, your family, and your friends hour of water fun. When you are ready to purchase, you can use the information presented in this buying guide to choose the best pool basketball hoop for your pool.