What is the Best Pole Saw?
We have picked the Black and Decker LPP120B Pole Saw to be the top pole saw as the 20 V battery provides up to 100 cuts per charge, the batteries are interchangeable with other Black and Decker tools, and the blade can cut through a pretty large diameter. It is also lightweight and set at a very nice price.
---
Yard tools can be extremely helpful for anyone who has a yard. A great yard tool to have around is a pole saw.
These are saws that sit at the end of extension bars allowing you to cut what you need while keeping your feet on the ground.
These eliminate the need to climb up a ladder with a chain saw- which does not follow any safety rule.
These are saws that sit at the end of extension bars allowing you to cut what you need while keeping your feet on the ground. These eliminate the need to climb up a ladder with a chain saw- which does not follow any safety rule.
There are many options and characteristics to choose from such as a manual pole saw, a gas-powered pole saw, battery-powered pole saws and corded ones. Each type provides its own benefits and challenges.
That is why we put together this buying guide for you- to help you differentiate between the types so that you can choose the right pole saw for you.
---
Quick Navigation
Top 10 Best Pole Saws: Our Picks & Recommendations
---
How to Choose the Right Pole Saw?
Pole saws are great for maintaining your yard or others if that is your income source, but you have to choose the right pole saw for your needs. To do so, consider the following factors:
Power
There are a few power options with pole saws. There are gas powered pole saws and electric pole saws. Additionally, you can choose between corded electric pole saws and battery powered pole saws.
Lastly, there is a manual option, which is normally the cheapest option but not great for big jobs.
Reach
So as to get an accurate reach, do not look at just the reach. Pay more attention to the maximum level of extension, and add that to the length of your arm. That will tell you the actual reach.
Upkeep
When it comes to maintaining your pole saw, the gas-powered options will consistently require the most.
If you are not good at keeping up with maintenance needs, go instead for an electric-powered option. These require little, if any, maintenance and upkeep.
Combo
You will also see an available combination of a pole saw with a chain saw at the end. The chainsaw can be detached from the chain saw. This can be a great tool yet it will be a more expensive option.
Remember Safety
A pole saw has great potential for danger for many reason, the least of which is not that you are holding something heavy above your head.
The best thing you can do is be sure that you are minding regular safety rules, being extremely careful, keeping little ones away from the work area, and wearing protective gear including a helmet.
Working Height
The working height is not the length of the pole. Instead, it is referring to the length of the pole plus the average arm length.
In other words, the working height is the full potential length of the bar when you stretch your arm out. So a 10 foot pole length means that when your arm is stretched out, you should, in theory, be able to reach a full 10 feet.
Cutting Bar Length
The standard cutting bar length is anywhere from 6 to 12 inches. Generally speaking, you want a cutting bar that is two inches longer than the diameter you are attempting to cut.
If the diameter of the branch is four inches, you need at least a six inch long cutting bar.
Weight
When considering the weight, you have to take into account that you will be holding this pole over your head. Any weight will get heavy over time, but choosing the lightest option you can find will minimize the discomfort.
Expenses
As with everything, consider your budget. We already discussed that manual pole saws will be the cheapest.
It is safe to assume that the combination pole saw and chainsaw will be more expensive since it is two tools in one. Consider your needs, your projects, and your budget to make a good choice.
---
10 Best Pole Saw Reviews
Here's a list of the best pole saws we found on the market:
---
Best Overall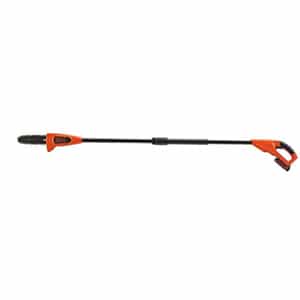 What You Will Love: You can purchase with or without the battery since the lithium ION 20 V battery is interchangeable between other Black and Decker power tools and yard tools.
This Black and Decker Pole Pruning Saw is a great value for the money. The battery provides up to 100 cuts per charge, so you get some decent work from it before having to recharge the battery.
It is a lightweight option, which is important as discussed above. You can cut up to a 6-inch diameter, and it runs around $80 for the pole saw with no battery.
Since it accepts any Black and Decker batteries, you only need to purchase the set here if you have no other Black and Decker tools. It easily breaks down for easy storage, as well.
The biggest downside is that it has to be manually oiled and primed. It would be much better if that process was automatic.
What We Liked:
Powerful 20 v
Provides up to 100 cuts per charge
Battery can be swapped with other lawn and power tools
8-inch cutting bar- maximum cutting diameter of 6 inches
air price
Can choose with or without battery
Lightweight
What We Did Not:
---
Best Budget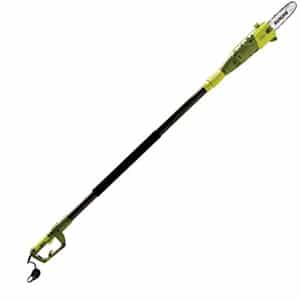 What You Will Love: There is a 2 fl oz oil tank reservoir for automatic lubrication of the chain, making less work for you.
This Sun Joe Corded Electric pole saw extends to 8.7 feet, so most people will get a total working reach of anywhere from 10.7 ft to 12.7 ft (if you have pretty long arms).
It is an affordable option at about $72, but you sacrifice the cordless capability for the price.
With good extension cords, this should not be a problem, but it really depends on how mobile you need it to be.
The 8-inch cutting blade can cut through 7.5 inches, though the length would be better suited for a 6-inch diameter. The ergonomic handle makes it easy to grip.
The eight-pound weight is actually heavy for a tool that needs to be held above your head, so you would be better off finding a lighter option. However, for the price, it is a good value
What We Liked:
Automatic chain lubrication
8 inch cutting blade
Extends to 8.7 ft
6.5 amp motor
Cuts diameters up to 7.5 inches
Affordable
Ergonomic handle
What We Did Not:
Corded electric pole saw
A little heavy
---
Best Electric Pole Saw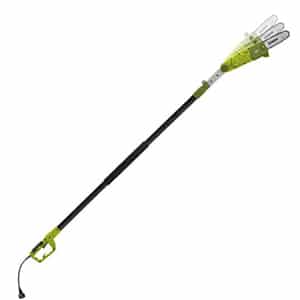 What You Will Love: It is affordable and durable, and it comes with a full two- year warranty.
The Sun Joe SWJ802E Electric pole chain saw is a handy and affordable option. The adjustable head allows for multiple cutting angles while keeping your feet firmly and safely planted on the ground.
It has an automatic lubrication system that works with a 2 fl oz oil tank. However, the oil cap might be leaky, so you should keep a close eye on that.
Unfortunately, it is a corded electric option, so your movement may be limited.The 10-inch cutting blade can easily cut through 7.5-inch branches, and the pole itself extends to 9.4 ft.
It's regular price is close to $100, but it can be found at prices that are in line with similar options.
What We Liked:
Comparable price to others
Extends 9.4 ft
Adjustable head- 0, 15, and 30-degree angles
Automatic lubrication from 2 fl oz oil tank capacity
8-inch blade
10-inch cutting bar for branches up to 7.5 inches
What We Did Not:
---
Best Convertible Electric Pole Saw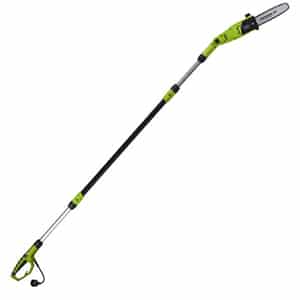 What You Will Love: You get both a pole saw and a handheld chainsaw in one tool, and it easily converts from one to the other.
This Earthwise Convertible 2 in 1 pole saw gives you two great tools in one for a little over $80.
The pole saw's head has five setting options that range from -20 to 60 degree, which provides a ton of versatile control from the ground.
Unfortunately, it is corded so your movements are limited to the length of your extension cord. Also, it weighs 9 lbs, which can get heavy overhead pretty quickly.
The pole extends to 8 ft, and it has a 10 inch cutting bar that will cut through branches with up to 8 inch diameters with ease.
For the price and the two great tools, this is an incredible deal to consider.
What We Liked:
Pole extends to 8 ft giving you at least a 10 ft reach
Adjustable head with 5 settings (-20 to 60 degrees)
Converts from pole saw to handheld chainsaw easily
10-inch cutting bar
Automatic bar and chain lubrication
Great price
What We Did Not:
---
Best Manual Pole Saw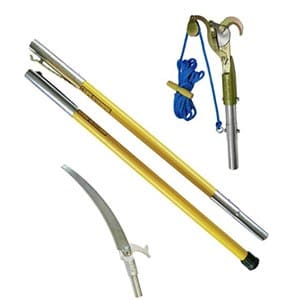 What You Will Love: This set can give you a total of 12 ft pole, so you get a lot of reach.
Other than the fact that this tool is manual, which requires more work from the user, there is not many bad things to say about it.
User state that it is very high quality, and that it is heavy duty enough for personal or professional use.
The blade is said to be stiff and tough, so you should not have to worry about it being too flimsy for your work.
It comes with not only two fiberglass poles that provide an additional 12 ft of reach, but also a pole adapter, a blade, a pruner, rope and more- should be everything you need to start.
Prices start at around $165. And while the initial investment is pretty high, especially for a manual tool, users state that the minimal need for maintenance and high performance makes this tool worth the price.
What We Liked:
Comes with two 6 ft fiberglass poles
13 inch tri- cut saw blades provide quick cuts/ less wear
Pulley bypass pruner gives 1 ¼ inch side cut
6 ft base pole and 6 ft extension pole
Also includes pruner, saw head, pole adapter, blade, and 20 ft rope
Tough blade
What We Did Not:
---
Best Battery Powdered Pole Saw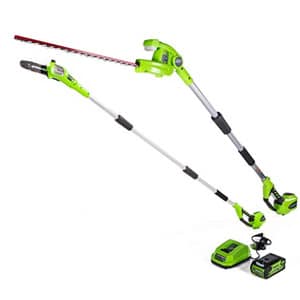 What You Will Love: This is a set of yard work tools that prevent having to purchase others.
This Greenworks Cordless Pole Saw comes equipped with a 40 V battery, giving you a lot of power.
The 20 inch blade is designed as a dual action blade, which provides optimal performance and durability.
The length of the pole- 8 inch- makes it easy to trim your branches. However, at over 8 lbs without the battery, it will likely get heavy pretty quickly.
The automatic oiling system applies the oil to the chain and bar for extra durability and optimal use.
At over $200, it is a high initial investment. However, you not only get the battery and battery charger with the kit but also additional tools, such as a hedge trimmer attachment.
Even better is the fact that it is easy to change out the tools and attachments.
What We Liked:
40 v
4 year warranty
Multiple tools come in the set
Automatic oiler
Battery and charger included
What We Did Not:
---
Best Gas Powered Pole Saw for Large Diameters
What You Will Love: Its 2 stroke engine is lightweight, yet it is powerful enough to easily cut through branches with up to a 10 inch diameter.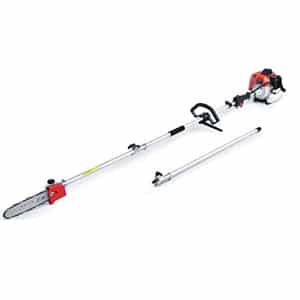 This Maxtra Gas Pole Saw is another great kit to consider. It comes with the extender, a carry case, a chain saw, pruning tool and more for right around $200.
If you are concerned about the effects that it might have on the environment, you can breathe a sigh of relief.
It has been tested and passes the EPA certification. The blade can easily cut through 7 – 9 inch branches.
The quick start technology means less pulling for you to get the saw started. As it is a gas pole saw, you are not encumbered with cords or heavy batteries.
The shoulder strap is a great feature. If you use it during your projects, it will ease some of the burden of weight on your arms, which is helpful in preventing fatigue induced accidents.
It also helps to reduce vibration, creating even less fatigue in your arms and hands.
The initial investment is a bit high, but it seems to be well worth the cost.
What We Liked:
Powerful engine
Quick start technology
Up to a 14 foot reach
Easily connect and release the poles
Shoulder strap to reduce vibration
What We Did Not:
---
Best Gas Powered Pole Saw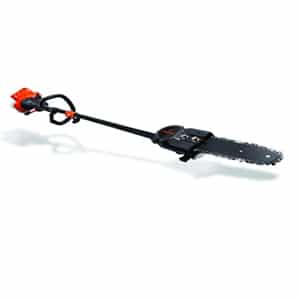 What You Will Love: It is easily interchangeable with many other attachments.
The Remington Maverick has a pole that extends up to seven feet, giving a fairly average reach.
The 25 cc gas motor is not as powerful as the previous model, but it is also equipped with the quick start technology.
It has an auto oiler for the chain, which means you do not have to stop during use and oil it. It also comes with a 2 year limited warranty.
It regularly runs around $180, which is pretty high when you consider many users do not recommend it for more than a few small jobs.
It seems to be more of a starter tool than something used consistently. If you choose this option, keep your warranty information handy- do not forget to register for it- just in case you need to return or exchange it.
What We Liked:
Accepts most additional attachments
Pole extends to 7 feet
Auto oiler
2 year limited warranty
Quick start technology
What We Did Not:
High price
Quite a few users have stated high dislike of this product
---
Best Cordless Pole Saw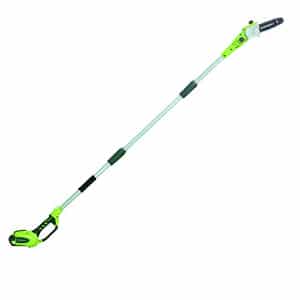 What You Will Love: This reasonably priced option has an auto oiler and can provide up to 65 cuts per charge, which is great for a couple of minor projects.
This Greenworks Pole Saw comes with a powerful 40 V battery that is included with the pole saw.
While it provides a good number of cuts for small projects, the battery will not last through continual all day use.
If you have a long work day ahead of you, it would be a good idea to have a fully charged back up battery available.
It runs a little under $130, which makes it a pretty reasonable price. However, with the lower price, you can expect to sacrifice some quality.
This model is reported to work well but to wear out much quicker than the more expensive options.
If you have a lot of work ahead, this is probably not a good choice for you.
What We Liked:
40 v
Battery included
Reasonable price
Automatic oiler for bar and chain with clear window to see the level of oil
Easy chain tension adjustment
What We Did Not:
Wears down quicker than other options
Not good for all day continual use
---
Best Corded Electric Pole Saw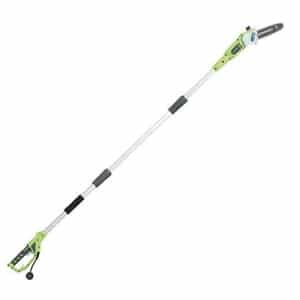 What You Will Love: It provides the good factors of the Greenworks Corded Pole Saw mentioned above with longer running time, thanks to the cord.
This Greenworks Corded Pole Saw is a more affordable option than many other ones on this list.
The 3 part aluminum extension can be removed, giving you more versatility. The automatic oiler takes care of oiling the chain for you, though it is said to use a lot of oil.
Because it is corded, you are not limited to only short work times. However, you are limited to the range of your extension cord.
If you have a small yard, this will probably not affect you. It does get a bit heavy when you are holding it overhead for long periods.
For around $83, it is a more affordable option than most others on this list, but the cheaper price limits your physical range.
What We Liked:
Very affordable
Automatic oiler
3 piece aluminum shaft that extends to 8 ft
Easily adjust the tension of the chain
Unlimited cuts
Less noise
Removable extension
What We Did Not:
limited range
a little heavy
runs through oil quickly
---
Pole saws are handy tools for anyone with trees in or branches hanging over your yard.
They can make quick work of your yard projects if you pick a good one. With all of the information here, we hope that you are now able to confidently shop for the best pole saw for your needs.
---
Related Articles:
---