What Is the Best Pin Nailer?
When it comes to the top pin nailer, we decided on the Grex P635 23-Gauge 1-3/8-Inch-Length Pin Nailer because it has everything you'd hope to find– and then some– in a quality pin nailer, and at a good price, too. It's durable, versatile, easy-to-use, and comes with a safety feature.
---
Finding the right pin nailer can be difficult, especially with so many options on the market. If you're new to handcrafting and woodworking, the decision can seem downright overwhelming. The good news is: we've done the research so you don't have to.
We pored over seemingly countless pin nailer customer reviews and carefully considered the key features, pros, and cons of each tool. We also considered the cost of the devices.
Finally, we narrowed it down to the 8 top pin nailers, and from there, we nailed down which is the very good pin nailer. We present them to you now.
---
Quick Navigation
Top 8 Best Pin Nailers: Our Picks & Recommendations
---
How to Choose the Right Pin Nailer
Fastener Length
The pin-length that's compatible with a particular tool is important. Ideally, acceptable pin sizes should, at a minimum, be 1/2″ or 1″. For good measure, shoot for a device that receives pins ranging from 3/8″ to 2″.
Magazine Capacity
Reloading can be a pain, so you want a high-capacity magazine. Look for a quick-loading magazine that holds at least 100 pins.
Rear Exhaust
Rear exhaust directs air output through the back of the unit so it's not blowing in your face. Some nail guns come with an adjustable portal to direct spent air away from the user.
Depth Control
You need to be able to adjust pin-driving depth when working with different materials of varying thicknesses. If this function isn't available, you'll have to adjust the psi instead.
Durability and Warranty
Buying a pin nail gun from a brand you trust means you're more likely to get something that is well-constructed. Plus, reputable brands usually offer at least a one-year warranty, or better.
Pin Length
A tool that accepts a variety of pin lengths gives you more versatility, since you can work with a wider range of material thicknesses. Often, pins are used with adhesive, so the primary purpose of the pin is to hold the material together while the glue dries.
Precision
It's important to be able to place pins accurately, because you shouldn't be able to see them once they've been driven. Pin nailers are especially compact and lack the retractable nose that other nailers have so that you can pin with precision.
Safety
Safety is important, especially when working with pneumatic nailers. Most of the top pin nailers have a locking mechanism so the trigger doesn't fire when it's not in use. Safety features are a must if you have young children or pets.
Magazine
All pin nailers occasionally– or not so occasionally– become jammed, so you need a magazine that allows you to clear "nail clogs" quickly.
---
8 Best Pin Nailers Review
Here's a list of the best pin nailers we found on the market:
Best Overall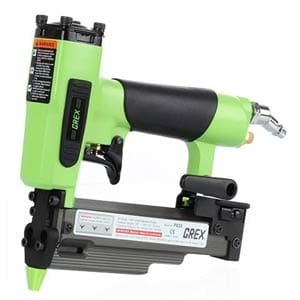 What You Will Love:
High-capacity self-adjusting magazine
No-mar tip
Fits in corners and tight spaces
Lightweight
If you're looking for a tool that's compatible with delicate woods, then the Grex P635 23-Gauge 1-3/8-Inch Length Headless Pinner may be just what you need to get the job done. It comes with everything the top pin nailer should have.
This tool accepts pins up to 1-3/8″ long– for a total of nine different sizes– and the magazine self-adjusts to accommodate different pin sizes. Even better, you can load one strip of thin 23-gauge pins– about 100– into the unit at one time, keeping interruptions to reload at a minimum.
With double-trigger safety, you won't have to worry about the gun firing when it's not supposed to. What really stands out about this device is its high-powered motor that makes it possible to get through hardwoods, such as beech and oak.
Yet you can also use it with soft, delicate woods without splitting. Not all pinners can do this effectively. If comfort is important to you, you'll be happy to know that this tool weighs just a bit over 2 pounds.
With its short length and narrow nose, it fits easily into tight spaces and corners, allowing for greater nail-placement accuracy.
Pros:
Versatile
Lightweight
High-capacity magazine that self-adjusts for different nail lengths
Double-trigger for safety
No-mar tip
Rear exhaust
Cons:
May be better for the occasional woodworking project than for daily or professional use.
---
Best Budget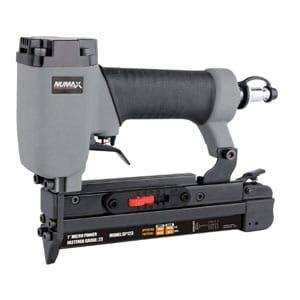 What You Will Love:
Versatile
Contact-actuation trigger designed with safety in mind
Durable, ergonomic design
In terms of the right pin nailer on a budget, you can't get much better than the NuMax SP123 Pneumatic 23-Gauge 1″ Micro Pin Nailer. If you're working with decorative trim, cabinetry trim, small picture frames, glazing strips, jewelry case assembly, and other crafts, this just might be your device of choice.
You can use this pin nailer with micro pins ranging from 15/32″ to 1″. The magazine loads from the bottom, and it's easy to replenish your nail supply when you run low.
This device features a trigger specifically designed for contact actuation, so not only can you place pins with precision, you can also avoid having the gun fire when it's not supposed to.
Constructed of die-cast aluminum, this small tool is highly durable. It's ergonomically-engineered too, so you can use it comfortably over long periods of time.
In fact, you won't believe how lightweight this handy tool is. It only weighs 0.16 ounces. And the easy-to-grip handle gives you maximum control.
Whether you're a home DIYer or a professional contractor, you can achieve professional results with this go-to-gadget. The device comes with lubricating oil to help with maintenance, and adjustment tools to make your woodworking projects easier.
Pros:
Extremely lightweight
Ergonomic
Easy to load
Designed to prevent misfiring
Cons:
Some complaints about the driver tip. Keep the toggle slider at the trigger closed, or nails will shoot in all directions.
---
Best Cordless Pin Nailers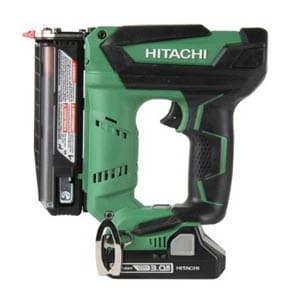 What You Will Love:
Long battery life
LED light
Ease-of-use
Counterweight reduces recoil
If you're looking for the best cordless pin nailer, you need look no further than the Hitachi NP180DSAL. What we really like about this tool is that it doesn't require any compressors or hoses, making it easier to move freely around the house or a jobsite.
To enhance its durability and longevity, this device comes with a brushless motor. Powered by a 3.0Ah Lithium ion battery, it can drive as many as 3,000 headless pins before it needs a recharge.
The on-tool low-battery indicator lets you know when you're running out of juice. With its built-in counterweight, it has almost no recoil, and you don't need as much force to activate the tool. To provide a clean, professional finish, the device has a no-push work contact safety tip.
Tool-free drive-depth adjustment makes it easy to place nails accurately, For added safety, there's a lockout feature that prevents the trigger from firing accidentally. Like some other top-of-the -line pin nailers, this one comes with an LED light that you can switch on or off as needed.
Also, the pinner comes with an ergonomic handle for maximum comfort. You can effectively use this tool for paneling, cabinets, small trim and molding, glazed bead, picture frame assembly, and other craft work. Pin sizes compatible with the unit are:
Pros:
Ergonomic
Easy to use
Led light
Nail lockout mechanism
Cons:
Prone to jamming; using stainless steel pins may help.
---
Best Air-powered Pin Nailer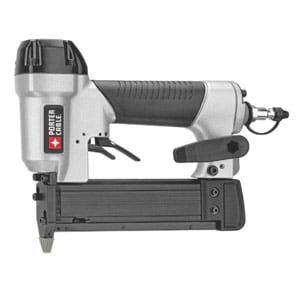 What You Will Love:
Easy to use
Versatile
Lightweight
High-capacity magazine
Eliminates dry firing
In our search for the best air-powered pin nailer, we came up with the PORTER-CABLE PIN138 23-Gauge Pin Nailer. Although it only weighs just over two pounds, this impressive tool is remarkably durable.
With its built-in belt clip, you can easily keep it within reach. If you're making and installing cabinets, or constructing furniture and mantles, this pinner can help you achieve professional results.
In fact, the device has a variety of fastening and clamping applications, including:
Cabinet crown molding
Small trim and decorative molding
Rope and bead molding
Raised panel doors
Wood joining
And while we're on the topic of joining, this tool fastens materials that would normally split under the weight and impact of other nailers. With its improved motor design, the unit doesn't require oil, so you don't have to worry about maintaining it or dealing with grease stains.
Rear exhaust keeps contaminants away from you. Another thing that makes this tool so easy to use is its high-capacity magazine that holds up to 130 pins and automatically adjusts for different pin lengths.
A low-nail indicator alerts you when it's time for a refill. Other features, such as a no-mar tip and rubberized side logo, prevent damage to wood when it comes in contact with the tool.
To prevent dry firing, the device has a trigger-lock feature that kicks in when the magazine is empty.
Pros:
Safety feature
Prevents surface damage
High-capacity magazine
Cons:
A few isolated complaints; no consistent issues
---
Best 23 Gauge Pin Nailer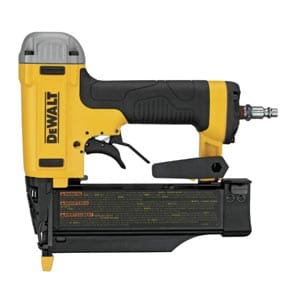 What You Will Love:
Tool-free drive-depth and magazine access
Trigger lockout
Low-maintenance
Hands down, the best 23 gauge pin nailer is the DeWalt DWFP2350K. You can use it to set 5/8″ to 2″ pins recessed into oak. For finishing and trim jobs, it allows you to achieve professional results.
You can conveniently set drive-depth without tools. With low-nail lockout, you don't have to worry about the trigger firing when the magazine is empty, and the reload indicator lets you know when it's time to replenish your stock of pins.
And you can go for quite a while without doing that, because the magazine holds 135 nails. Even better, clearing jams is easy and doesn't require any tools.
If you want a low-maintenance tool, you'll be happy to know that this one requires no oil, helping you avoid the possibility of staining your clothes and work surfaces. The device weighs two-and-a-half pounds, so it won't give you a workout.
Pros:
High-capacity easy-to-access magazine
Lightweight
Tool-free depth-adjustment and jam-clearing
Cons:
This tool earned stellar reviews, no complaints reported.
---
Best Micro Pin Nailer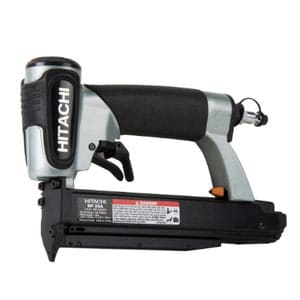 What You Will Love:
High-capacity magazine
Tool-free depth adjustment
2 no-mar tips
What we really like about this tool is how it reduces downtime, with its 100-nail magazine capacity that minimizes the number of reloads you have to do.
Plus, there is a visual indicator to let you know when to refill. The Hitachi NP35A accepts the following pin lengths:
The magazine adjusts to accommodate these different sizes, too. Another thing you'll likely appreciate about this device: It has a dual-trigger system that allows for safe and accurate pin-placement.
Likewise, tool-free depth adjustment ensures that pins are fastened flush with the material's surface so they're not readily visible. Rear exhaust directs oil and contaminants away from the user.
With its large housing shield, this pinner is designed to protect itself– and your work area– from damage. Light and compact, you can use it for a lot of applications, such as paneling and trim work.
Pros:
Easy to use
Allows you to achieve professional results
Accepts different nail sizes
Cons:
A few complaints about nails not driving deeply enough.
---
Best Headless Pin Nailer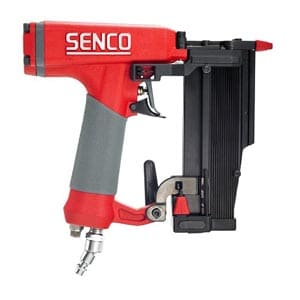 What You Will Love:
Ultra-narrow nose fits in tight spaces
Adjusts for different nail lengths
Ergonomic design
The best headless pin nailer, Senco FINISHPRO23LXP 2″ Micro Pinner 23-Gauge (8L0001N), adjusts for different 23-gauge fastener lengths. It drives straight-strip pins ranging from 1/2″ to 2″.
As the best tool in its class, it's a go-to for carpenters and craftspeople working on finishing and trim. It allows you to achieve professional results– no need for touch-ups and no worries about wood splitting during nailing.
With its ultra-narrow nose, it fits well in tight corners. If you're looking for something lightweight, you'll be happy to know that this corded-electric tool weighs only 3 pounds.
Pros:
Lightweight
Adjusts for different nail sizes
Fits well in tight corners
Cons:
A few complaints about jamming
---
Best Lightweight Pin Nailer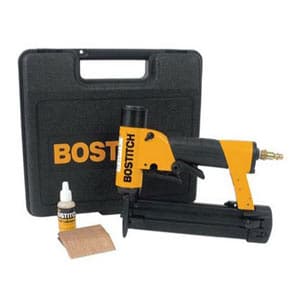 What You Will Love:
Accepts a range of nail lengths
Lightweight
Tapered nosepiece
While there are many lightweight headless pinners that do a great job, the best lightweight pin nailer is the Bostitch HP118K. It accepts 1/2″ to 1-3/16″ 23-gauge pin nails.
You can adjust the power switch from high to low for depth-control. (This feature also contributes to the tool's longevity). Its aluminum housing gives it durability, yet it's still lightweight ( 2.5 pounds).
To keep reloads to a minimum, the magazine holds up to 200 nails. Well-suited for thin, delicate materials, the unit operates between 70 and 120 psi.
For a variety of woodworking projects, the Bostitch 118k effectively fastens glued sets that would otherwise be impossible to clamp.
The tapered, low-profile nosepiece allows for a better line of sight, and the device's overall design prevents damage to work surfaces.
Pros:
Ergonomic design
Drive-depth control
High-capacity magazine
Receives different nail sizes
Cons:
A few concerns about safety and difficulty countersinking.
---
Frequently Asked Questions (FAQs)
What is a pin nailer used for?
Pins are extremely thin and lightweight, so they're meant for small-scale projects, such as trimwork, using soft, thin woods. Practical applications for a pin nailer include trimwork and cabinetry.
Which brand makes the best pin nailer?
Several leading brands, such as Hitachi, Bostitch, Porter-Cable, and Freeman, make some variation of the top pin nailer. Going with a trusted name increases the likelihood you'll end up with something reliable.
How much does it cost to get a pin nailer?
The price tag on a pin nailer depends on how it's constructed and what features it has. High-end pin nailers are usually made of superior materials and come with a few extras, while a budget tool will just give you the basics.
What is the difference between a pin nailer and a brad nailer?
A pin nailer is for driving pins, which are headless and therefore not visible once they've been driven into a surface. A brad nailer accepts brads, 18-gauge thin nails that have heads. Brad nailers are designed to accommodate the small heads on brads.
---
Conclusion
Choosing the pin nailer that's right for you is much easier when you know what to look for. The best pin nailer is one that's easy to use and comfortable to hold. Finding the tool that's best for you can turn the occasional woodworking task into a full-fledged hobby.
---
Related Articles:
---