What Is the Best Palm Nailer?
After much consideration, the award for top palm nailer goes to the Bostitch PN100K Impact Nailer kit because of its strength, durability, and ergonomic design. It works well for nailing metal connectors, joist hangars, or common bulk nails.
---
Quick Navigation
7 Best Palm Nailers: Our Picks & Recommendations
---
Because palm nailers aren't all the same, it's important to explore your options before purchasing. But it can be difficult to find the time to do all that research. We've done it so you don't have to.
To nail down which is the top palm nailer, we looked at scores of products and hundreds of customer reviews. We weighed the pros and cons of each tool. We also considered the price and how well the devices performed.
Finally, we narrowed it down to the top palm nailer and six runners-up. We present them to you now.
---
How to Choose the Right Palm Nailer
There are several factors to consider in your search for the right palm nailer.
Size and Weight
Most palm nailers are around the same size, but check to make sure the tool you want fits well in your hands. A heavy nailer will be tough to handle, but if it's too light it will be difficult to control, so it's a matter of striking the right balance.
Comfort
Look for a nailer with an ergonomic grip. Nailers are usually made for use by left and right-handed people, so lefties won't find themselves "left out" when trying to use the tool.
Cover Strap
If your palm nailer comes with a leather case and strap, it will be a lot more comfortable to tote around. The cover protects your hands from the tool's vibrations.
Storage Case
A storage case not only protects your tool when it's not in use, it provides a convenient place to keep accessories organized.
Ergonomics
Ergonomic design minimizes fatigue and discomfort, especially when working in hard-to-reach areas.
Depth of Drive Adjustment
You should be able to adjust depth drive without tools for optimal convenience and productivity.
Interchangeable Heads
Different tasks require different nails, so interchangeable heads will definitely make your life easier. Interchangeable heads match the driver surface to the nail you want to drive.
There are a variety of interchangeable heads available, and they allow you to work more quickly and efficiently. Otherwise, you would have to keep swapping out tools.
Depth of Driving
More expensive palm nailers come with features that make it easier to drive nails far enough into the surface. The cheaper ones usually don't.
Power
You can choose from pneumatic (air-powered), cordless (battery-powered), or electrical palm nailers.
---
7 Best Palm Nailers Review
Here's a list of the best palm nailers we found on the market:
---
Best Overall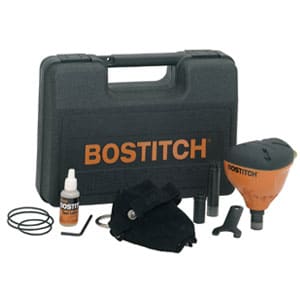 What You Will Love:
Durable and ready for heavy-duty work
Magnetic Nose holds Nails Securely
Comes with accessories to help you with your projects
Versatile
When it came to finding the top palm nailer overall, we selected the Bostitch PN100K Impact Nailer Kit because of its all-around quality and ease-of-use. It's ergonomically-designed for maximum comfort. With the magnetic nose, you can easily drive common bulk nails in confined areas. You can use the tool to secure metal connectors and joist hangers.
What makes the magnetic nose work so well is its recessed nail slot that holds nails securely. It's made of hardened steel for extra durability. Whether you want to put up metal connectors or build a deck, this kit comes with everything you need to get the job done.
Besides the nailer, you get a standard nose, finish nail nose, nose wrench, leather comfort glove, hex wrench, extra O-rings, and tool lubricant. Although it weighs less than three pounds, the top palm nailer is capable of driving nails up to 5 inches in length.
Pros:
Durable
versatile
comes with additional tools
Cons:
There were a few disgruntled customers, but no major issues reported.
---
Best Budget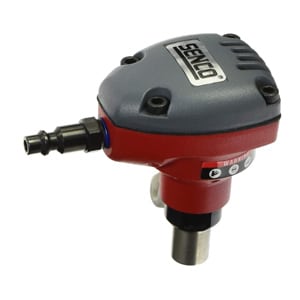 What You Will Love:
Incredibly lightweight
Versatile
Accessories included
Magnetic Nose for Secure Nailing
If you're looking for the right palm nailer on a budget, we may have just what you need. Consider the Senco PC1195 Mini Palm Nailer. If you want a tool that's designed for maximum comfort, you'll be pleased to know that it weighs only one pound, making it 50% lighter than similar models.
You can easily place nail points in a recess in the magnetic nose to allow for safe, efficient fastening. You can put this tool to work for a variety of tasks: driving bulk nails into joist hangers, fencing, decking, or hurricane straps. It drives 2″ to 3-1/2″ 6d to 16d bulk nails.
Pros:
Lightweight and compact for easy storage and use in tight spaces,
durable,
versatile
Cons:
Some customers were disappointed by the tool's short lifespan.
It may not work as well as a full-sized palm nailer.
Best Cordless Palm Nailer
---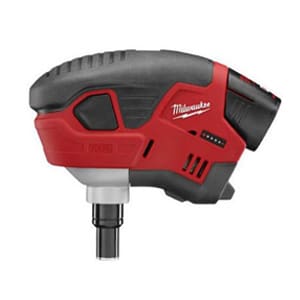 What You Will Love:
Portable
Delivers professional quality
No air compressor Needed
Hand strap and LED light
In our quest for the best cordless palm nailer, we came up with the Milwaukee M12 Cordless Palm Nailer Kit, 2458-21. What customers really like about this model is that it's portable, gives professional results, and doesn't require an air compressor.
It has an onboard fuel gauge instead. A traditional nail gun can't typically go where this tool can, because of the Milwaukee's compact design. The unit's impacting mechanism can tackle the toughest tasks.
For optimal productivity and safety, the device comes with an LED work light and a hand strap. You can use a variety of nails with this gun, too, so it allows for considerable versatility.
Pros:
Versatile,
No air compressor needed,
Compact,
The impacting mechanism allows you to accomplish heavy-duty tasks
Cons:
Some customers received the unit with a battery that wouldn't charge.
There were also some reports that the tool drives nails in crooked.
Best Electric Palm Nailer
---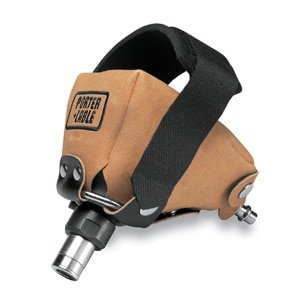 What You Will Love:
Powerful
Versatile
Comes with 4 different tips
Multi-blow firing mode
The top palm nailer we could find is the PORTER-CABLE PN650 Palm Nailer Kit. Incredibly easy to use, this best electric palm nailer works with 1-1/4″ to 6-1/2″ (3d to 70d) nails. And it comes with 4 different nose tips:
No-mar finish tip for finish nails up to 3d
Magnetic tip for 3d to 16d common nails
The standard tip for nails up to 70d
Steel hammer tip for automotive bodywork, moldings, and dowels
With drive-depth control, you don't have to worry about driving nails too far, or not deeply enough. For added versatility, the unit is capable of running between 50 and 120 psi.
Plus, the multi-blow firing mode operates at 2300 BPM at 100 psi. Weighing in at just under four and a half pounds, this pneumatic nail gun is relatively lightweight.
Pros:
Accommodates different nail sizes
Comes with 4 different tips
Can be used for auto bodywork
Runs at a range of pressure levels
Cons:
Some people reported problems with changing the driver's heads.
---
Best Pneumatic Palm Nailer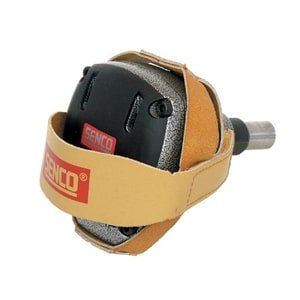 What You Will Love:
Easy to grasp
Pressure range is 50–125 psi
Magnetic nail guide
When looking for the best pneumatic palm nailer, we discovered the Senco PC0781. One thing customers find especially convenient is this nail gun's modest weight– 2.5 pounds. It's well-balanced for convenient maneuvering, and the soft leather grip and rubber palm pad make it easy to hang onto for maximum control. This power-packed tool drives bulk nails from 5d to 70d.
A magnetic nail guide makes nail-driving faster and easier. Since this device fits in the palm of your hand, it can be your go-to gadget for metal straps, joist hangers, and even set up a pole barn. Running at 50–125 psi, a little power goes a long way.
If you're into home DIY projects, you'll probably be ready to trade in your hammer once you use this nail gun, because it avoids the dimpling that usually happens when you're driving nails by hand.
Pros:
Versatile
Lightweight
Has a magnetic nail guide
Cons:
Doesn't fit 60d spiral nails
Gaskets may be prone to blow-outs
---
Best Mini-Palm Nailer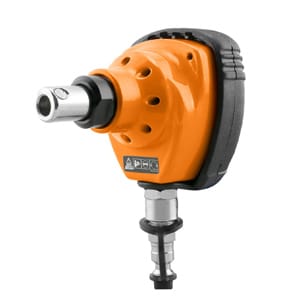 What You Will Love:
Takes different nail types
Magnetic tip
Lightweight
There are lots of mini palm nailers out there, but the best we could find is the Freeman Pneumatic Mini Palm Nailer. With this tool, which accepts nails from 6d to 16d (from 2″ to 3-1/2″), you can get into all those hard-to-reach areas.
Its professional design makes it high-performance and user-friendly– with a magnetic tip to secure and properly drive the nails. Ergonomically-made, it weighs under two pounds. Included with the unit are adjustment tools. Lubricating oil is provided too, to help you keep up with maintenance.
Constructed from durable materials, this device is appropriate for professionals, as well as do-it-yourselfers. This "air hammer" has an internal air filter and anti-dust cap to keep debris out, extending the tool's longevity.
Pros:
Powerful,
Ergonomic,
Capable of reaching areas that a hammer can't,
Has a filter to keep debris out, optimizing longevity and performance.
Cons:
Not compatible with certain nail heads or nails less than 2″ long.
---
Best electric Palm Nailer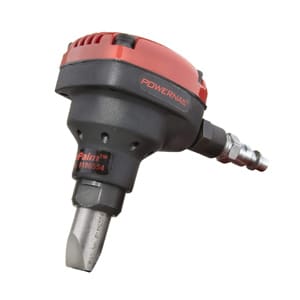 What You Will Love:
Virtually eliminates top-nailing to avoid flooring blemishes
Works with a variety of tongue and groove flooring surfaces
If you're looking to nail your next flooring job, the best flooring palm nail gun we could find is the Powernail Power Nail gun. Whether you're a professional or are into DIY projects, you'll likely find this tool easy to use.
You can use the pneumatic nailer for driving 16-gauge and 18-gauge L-cleats and T-cleats. It's compatible with a variety of tongue and groove flooring materials.
It pretty much eliminates the need for top-nailing final rows, so you can maintain the integrity and aesthetic qualities of your flooring. Weighing in at just over a pound, it's lightweight enough to use comfortably for extended periods.
Plus, it's small enough to fit into tight spaces, a bonus when you need to get close to the wall.
Pros:
Fits well in tight spots
Lightweight
Virtually eliminates the need for top-nailing
Cons:
If you don't pre-drill holes
The nails may be prone to bending as they're being driven
---
Frequently Asked Questions (FAQs)
How much do we spend to get a palm nailer?
How much you spend depends on the type of nailer you get. Your average rank-and-file palm nail gun can be had at a modest price. You'll pay more for extra features or for tools that are made of top-of-the-line materials.
What is a palm nailer used for?
You can use a palm nail gun for a variety of tasks: flooring, decking, pole barns, and securing joist hangers, to name a few. You can use a nail gun like this for tasks that would typically require a hammer.
What brand makes the best palm nailer?
Several leading brands, such as Porter-Cable, Bostitch, and Freeman, make quality palm nailers. Buying from a trusted name increases the likelihood you're investing in a good product.
---
Conclusion
With so many tools on the market, it can be difficult to know which is the best palm nailer. It's important to consider the jobs you're doing, and what type of nails they require so you can buy a unit that's compatible with them. Finding the one that's right for you can enable you to retire your hammer for good.
---
Related Articles: