Are you looking for a convenient and easy way of measuring your ingredients as you cook?
Do you want measuring cups that will allow you to read measurements easily, offer you value for money and are safe for use in the kitchen?
We have carried out extensive research and put together a complete buying guide to make it easy for you when choosing the best-measuring cups set.
We have also added 5 top measuring cups reviews to assist you in making an informed decision.
By the time you finish reading our reading guide, you will have made up your mind on the measuring cups set that will best meet your needs.
Quick Navigation
The Most Recommended Measuring Cups: 5 Best Reviewed
What Makes the Best Measuring Cups?
Even with proper knowledge, getting the best measuring cups for use in your kitchen can be difficult. To ensure that you end up choosing and buying measuring cups that will best serve you, there are a number of considerations that you should be aware of.
Types
There are two main types of measuring cups. Since wet and dry ingredients pose different volume measurements, there are cups graduated to measure ingredients and others designed for measuring dry ingredients. When using recipes that emphasize precision, it is important that you have the right measuring cups.
Most measuring cups for dry ingredients are usually made of either plastic or metal and have a handle. Moreover, the cups are available in sets that comprise 1/8, ¼, 1/3, ½ and 1 cup. For accurate measurement, you can fill the cup since the measurement ends at the top.
On the other hand,
liquid measuring cups are available in one-cup, two-cup and four-cup capacities, although there are some with as large capacities as eight cups or even more.
These cups have a spout to make it easy for you to pour the liquid and are made of clear glass or plastic so you can see the level of the contents when measuring.
Materials
Measuring cups come in different materials, with each material having its advantages.
Stainless steel – stainless steel measuring cups are normally used for dry ingredients. The cups are sturdy and resist scratches and staining, two factors that make them last longer and keep looking like they are new. Also, the containers do not absorb odors. The containers are also easy to read and should be hand washed to keep them in great shape.
Plastic – plastic measuring cups are made for both liquids and dry ingredients. However, those designed for liquids are usually transparent. Since plastic is porous, the cups start absorbing odors and stains after some time.Although plastic is not heat-resistant, it has the advantage that it is dishwasher safe.
Glass – glass measuring cups are made of wet ingredients. Glass can comfortably hold hot liquids and is not porous.As such,

it does not absorb odors and does not stain.

These cups are easy to read and dishwasher and oven safe.
Storage Capabilities
Steel and plastic measuring cups are easily stackable, a feature that helps you to save space whenever you store them. If you have limited space for storage, we advise that you consider buying sets of collapsible measuring cups.
If you choose glass measuring cups, there are models that allow you to mix up whole recipes and then cover the contents for easier storage. The best measuring cups should help you in saving space as well as in keeping your kitchen clean and orderly.
Related: Best Measuring Spoons Reviews And Top Picks
Time-saving Features
Today, modern innovations have made it possible for you to save time when using measuring cups. For instance, angled measuring cups for liquid ingredients allows you to take readings by looking straight into the cup rather than bending to read the level on the side.
Similarly, adjustable measuring cups allow you to measure sticky liquids such as honey without much struggle, all you need to do is to set the cup at the desired level, fill it up with the ingredient and then turn a knob that will see the excess ingredient flowing out, leaving you with the volume you desire.
Accuracy
The main purpose of having measuring cups is to measure the volumes of ingredients.
For this reason,
it is very important that you buy measuring cups that will provide you with accurate measurements of various contents.
Microwave Friendly Cups for Liquids
Some recipes will instruct you to use hot liquids when preparing your food. In such cases, you will require a microwave-friendly measuring cup to help you heat the ingredients fast.
Since you are likely to use recipes that require both liquid and dry ingredients, we recommend that you buy both types of measuring cups or look for the new models that measure both.
The Most Recommended Measuring Cups: 5 Best Measuring Cup Reviews
1) BrightSpring Measuring Cup Set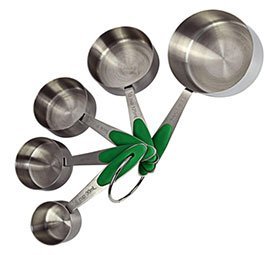 These stainless steel measuring cups have standard and metric measurements to eliminate the stress of unit conversions as well as make them convenient when using any recipe. More to this, the measurements will not rub even after using them for long.
The rubber handles are soft enough to give you comfort while the strong steel is sturdy to prevent bending or breaking when scooping ingredients. The five-piece set features 1/8 cup, ¼ cup, 1/3 cup, ½ cup, and 1 cup.
Pros
Sturdy stainless steel
Both standard and metric measurements
Good quality and comfortable handles
Engraved sizes do not wear off
Cons
Cup and handle fall apart after some time
Wrongly engraved sizes on cups
Dishwasher causes them to wear out faster
Some cups are unmarked
2) Bellemain Stainless Steel Measuring Cup Set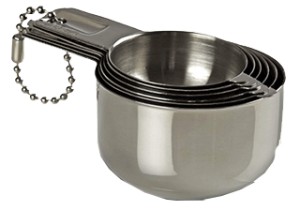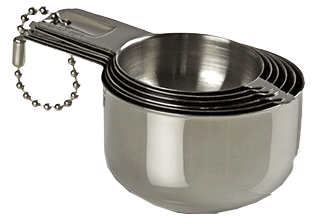 The six-piece set has its components made of stainless steel to make them durable and safe for cooking. Apart from the smooth exterior, the bottoms are flat to avoid tipping.
The set includes cups of different sizes to provide convenience, with each cup having its size stamped on the handle. Moreover, the measuring cups are easy to use owing to the wide handles that allow for a tight grip.
Also,
the edges have been deburred to ensure that you don't get scratched or cut when hand washing them.
Pros
Cups have accurate measurements
Well de-burred edges
Size is stamped into stainless steel, will not wash away
Nesting system helps in saving space
Cons
Not stainless steel, magnets do not stick
Cups begin to rust after some time
Domed bottom reduces stability
Handles are too short
3) Prepworks Measuring Cup and Spoon Set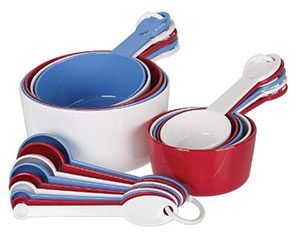 This comprehensive 19-piece set is made up of measuring cups and spoons with a standard as well as metric measurement. The cup measurements are 2, 1-3/4, 1-1/2, 1, ¾, 2/3, ½, 1/3, ¼ and 1/8 cups.
For the spoon measurements, you have 1 Tbls, ½ Tbls, 2 tsp,1 tsp, ½ tsp, ¼ tsp, 1/8 tsp, 1/16 tsp, and 1/32 tsp. Each of the individual components has large handles to give you a secure grip when using the utensils. Moreover, all the pieces in this set are dishwasher safe.
Pros
19 pieces include larger cup sizes
Affordable measuring cups
Easy to store
Dishwasher safe
Cons
Handles break easily
Coating peels off, making them unsafe
Measurement on handles are not easy to read
Absorbs previous ingredients and stains
4) OXO Good Grips Plastic Measuring Cups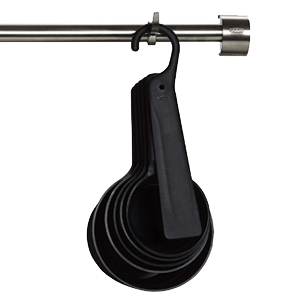 These plastic measuring cups have a distinct snapping feature that helps you to keep the cups together during storage. Besides, the set includes a scraper which you can use to both level ingredients as well as hang the cups on a hook.
Every single one of the plastic measurement cups has a half-measurement line and has permanent measurement markings on its handle.
The bottom line:
The measuring cups have color-coded measurement markings on the sides, a feature that makes it even easier for you to find the size you want quickly.
Pros
Great leveling tool
Easy to use
Variety of sizes
Great stackability for easy storage
Cons
The set does not have a ¾ cup
Inside coating easily comes off after washing
After some time, label wears off
Not ideal for microwave use
5) Ceramic Cat Measuring Cups/ Baking Bowls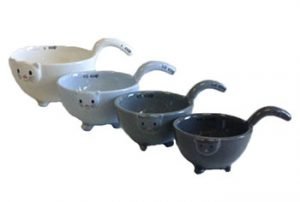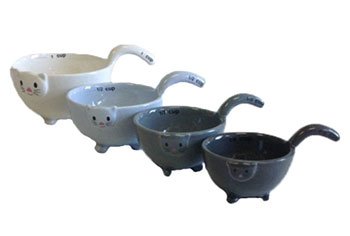 This set of ceramic cups features four baking bowls. The set offers you 1 cup, ½ cup, 1/3 cup, and ¼ cup. The measuring cups come in four colors: black, dark gray, light gray and cream. All the individual components of the set are functional and fun to use.
Pros
Cups look great
They work easily
Great for baking
Good for measuring liquids
Cons
For liquid measure only
Not sturdy
Should not be stacked
Handle breaks easily
Not marked
---
So, Which One is the Best Measuring Cups?
From the 5 reviews, we found the Measuring Cups – Metal Set with Engraved Standard and Metric Measurements to be the set that is likely to meet most of your needs. The components of the set are made of stainless steel, making them durable, easy to clean, safe to use as well as rust and corrosion resistant.
Moreover, the handles of the measuring cups are made of rubber so as to give you a comfortable and secure grip as you use the utensils.
Lastly, the cups have measurement marks that do not rub even after the cups have been in use for a long time.
We hope that our comprehensive buying guide to choose the best measuring cups, as well as our compiled 5 best measuring cups reviews, will be of use to you as you choose and buy the most suitable measuring cups set.
Related reading: