Comparison Of 10 Best Marine Cooler
1. Coleman 120 Quart Coastal Xtreme Marine Cooler (Best Overall)

This Coleman Coastal Xtreme Series Marine Portable Cooler is a mammoth-sized portable ice chest made from high-grade commercial plastic which is good for cooling your beverages for a long time.

Read Our Review

2. Igloo Marine Ultra Cooler (Best Budget)

This Igloo Marine Ultra Cooler is made from high-grade commercial plastic with indestructible rust-resistant stainless-steel screws, lid strap and hinged latch. Built to withstand the harsh, wet environments of your life.



Read Our Review

3. Coleman 200-Quart XP H2O Marine Cooler

This Coleman 200-Quart Xtreme 7-Day Offshore Pro Series Marine Cooler is ideal for your extended fishing and boating expeditions, offering plenty of room for food and beverages as well as the day's catch.

Read Our Review

4. Igloo Ultra Square Marine Coolers

This Igloo Marine Ultra Square Coolers is made from marine-grade puncture-resistant plastic with UV protection, built to withstand harsh, wet conditions and keeps your drinks and snacks cold and fresh.

Read Our Review

5. Igloo Marine Breeze Roller Cooler

This Igloo Marine Breeze Roller Cooler features a push button and locking telescoping handle for easy transport, non-marking translucent soft-side sport rally wheels and Cool Riser Technology design that improves cooling performance.

Read Our Review

6. Igloo Marine Contour Cooler, 25 Quart 23 L

This Igloo Marine Contour Cooler is a 25-quart marine cooler that carries everything you need for a day out on the water, featuring boat-ready features like UV protection and rust-proof stainless steel screws that withstand harsh marine environments.

This Igloo Marine Cooler offers an elevated design to promote airflow underneath for improved cooling performance and UV resistant exterior and odor resistant interior to withstand the harsh, wet environments of life.

8. Coleman Xtreme 5 Marine Cooler, 150 Quart

This Coleman Xtreme 5 Marine Cooler uses an insulated lid and extra insulation in the walls to keep your items cold for up to 5 days. It also features swing handles for easy carrying.

9. ENGEL ENG25 High Performance Cooler

This ENGEL ENG25 High Performance Cooler is roto-molded for toughness & durability. It's filled with a full 2-inches of insulation in the lid, sides and bottom, helping to retain its cool and your ice for up to 10 days.

10. Coleman 28-Quart Cooler With Bail Handle

This Coleman 28-Quart Cooler holds 36 twelve-ounce cans, and is tall enough to store 2-liter bottles upright. It features a convenient hinged lid and large bail handle for comfortable carrying.
---
The Most Recommended Marine Coolers Reviews
Not all coolers are built to the same rigid standards that the best marine coolers are constructed. Read on and find the one that will keep your catch cold all week long.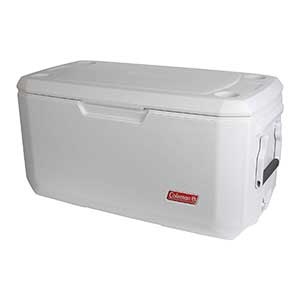 Now,
Coleman has put a huge cooler out there that actually stands up to the test of time.
It is rated to keep your food or fish cold for six days even when it is 90F outside, which is simply outstanding.
If you own a small boat, you might need an extra place to sit and this cooler can support up to 250 lbs. with an optional seat cushion available.
There is an easy-drain channel inside with a drain plug, so no tipping over to empty the melted ice.
User reports this as the best marine cooler & hands down for long weekend expeditions or for camping trips with the entire family.
It does not include a fish measuring mark on the lid, but if that is the only drawback, that is a small sacrifice and your portable scale probably has one anyway.
The one thing that fans wish for is that this oversized cooler came with wheels, as when fully loaded it can be a challenge to lift.
Good price. Excellent perks. Great buy.
Pros:
Extra insulation keeps drinks cold for 6 days
Works as an extra seat
Anti-microbial application resists fish smells
Cons:
No fish-keeper markings
Users wish for wheels
---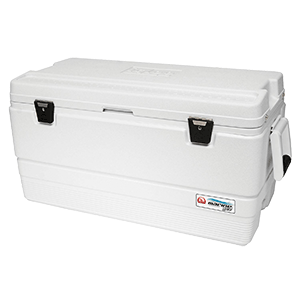 At first glance, the Igloo Marine Ultra seems to come with all the features you are looking for in the best marine coolers, but sometimes the devil is in the details.
The largest sizes, 72-quarts and up, do have an insulated lid which helps extend its ability to maintain cold temperatures for long periods of time.
However!
The smaller coolers lack this crucial feature and are priced accordingly, so be careful when buying based on the name.
Otherwise, you will find it is UV protected, has stainless steel hinges, an easy-grip handle, and a non-slip base.
Users either sing its praises or voice their frustration when they get a size that lacks all the best features.
It does have a fish-measuring tool stamped into the lid to help you determine whether to keep the catch or throw it back.
Pros:
UV protection
Stainless steel hinges
Cons:
Smaller sizes lack an insulated lid
Misleading product descriptions
Many frustrated users
---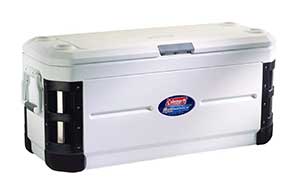 For your supersized fishing adventure, you might want to check out this 200-quart unit from Coleman.
When you are taking along a full crew it is the best marine cooler for packing up plenty of food and keeping it cold for up to 6 days, even when the temperatures soar up to 90F.
Along with all the standard UVGuard, rust-resistant hinges, and extra insulation, it also doubles as an extra seat. Purchase the cargo kit and strap down extra gear on top.
Inside, there is a spring that prevents the lid from flying open and helps it to close when your hands are full.
Cup holders in the lid offer an easy spot for your beverages while kicking back and waiting for a bite. Of course, you are going to pay through the nose for this giant cooler.
It takes two to manhandle onto the boat and the handles have a tendency to break when you have it filled up with supplies.
More than one user decided they would prefer to have two smaller coolers that are easier to handle.
Pros:
Extra-large 200-quart size with extra tray inside
All the top marine cooler features
Id springs help to keep it closed and cold
Cons:
Requires 2 people to move it
Handles are cheaply made
Overpay for the extra space
---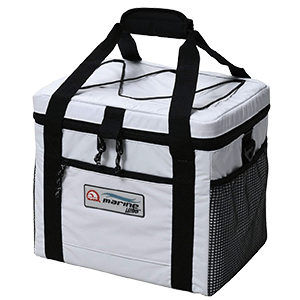 Perhaps you might want a cooler that is more portable, Igloo offers up their Marine Ultra Square which is available in a carry case or backpack, which could make it one of the best marine coolers for you day-trip on the lake.
Unlike its big brothers, it is only rated to last 2 days before melting the ice and the largest unit holds only 36 cans.
The Marine title seems to be for the purpose of generating buys, not because it has all the features that you need when out at sea.
The nylon carry case wears out quickly, with users reporting it did not last the season.
When loaded with cold drinks, the cooler sweats which soak the nylon case–not the most comfortable thing when hiking.
There is no mention of UV-protection and it is recommended to be placed in the shade for the best performance.
At its low price, it can be tempting, but it is not a true marine cooler.
Pros:
Portable carry case or backpack included
Low price
Cons:
Only keeps stuff cold for a day or two
Lacks UV protection
No real marine performance
---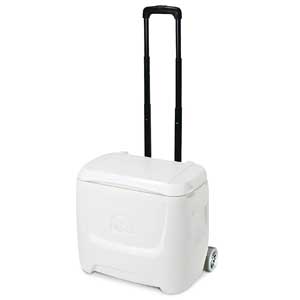 Once again, Igloo put out a cooler marketed to the boating audience but lacks any serious upgrades over their regular Island Breeze cooler that is priced much lower.
So, you will pay less for this unit compared to other marine coolers, but without the benefits of the best marine coolers.
It is white, comes with wheels for improved portability and it received an extra application of UV-protection during the manufacturing process – that's it.
It does not have better insulation and will keep your beverages cold only for a day or two. It's a day-tripper cooler, not a true marine product.
Inside it is formed to hold a hard-pack of blue ice and offers an extra tray to keep small items separate and easy to reach.
The smaller coolers lack a drain plug, so you will be tipping it to empty out the water. Overall, you pay a lot but don't get the performance you need.
Pros:
Wheels and extending handle for good mobility
Holds hardpacks of blue ice in place
Cons:
Overpriced
Lacks true marine-grade insulation
No drain plug on smaller units
---
How to Choose The Best Marine Cooler?
Before you decide on the which of the best marine coolers is right for you, make sure that it will meet all your demands with this quick checklist.
Fishing Trip Duration: If you head out to sea for the whole week, make sure your cooler is rated to maintain temperature for that length of time.
Stable Design: The boat is going to be rocking and rolling, your cooler should be short and squat to avoid tipping during rough seas.
White: This color helps to reflect the sun's heat while dark colors will absorb heat, making the cooler work harder.
More Insulation: Make sure that the lid is insulated, too, so it can keep that ice frozen longer.
Measurements Marked on Lid: You want to know how big that fish is, right? A handy ruler imprinted on the lid will never get lost.
---
What Features Are Found On The Best Marine Coolers?
When shopping for a new cooler to load up with drinks and then bring home your catch, you will want to make sure the best marine cooler for you includes:
UV Protection: Your cooler is going to be sitting out on the desk. Plastic can degrade in the sun unless it is treated with a UV-blocker which is found on most premium coolers.
Anti-Rust Components: The liner and hinges on marine coolers are often made out of metal to withstand the extreme conditions of fishing.Look for materials that resist corrosion due to water and salt for the longest performance.
Non-slip Construction: If you will slide across the deck, so will your cooler. Make sure your marine cooler comes with non-skid feet and textured handles.
---
What Is The Difference Between A Normal And Marine Cooler?
Basically, a marine cooler does everything your standard camper cooler does but does it better.
They are rated to keep ice frozen for up to 5 days even in warm weather, resist the build-up of odors and feature heavy-duty construction.
They are heavier and not meant to be super portable. Marine coolers are designed to sit in one place and keep drinks and fish cold for long periods of time.
---
So, Which Is The Best Marine Coolers?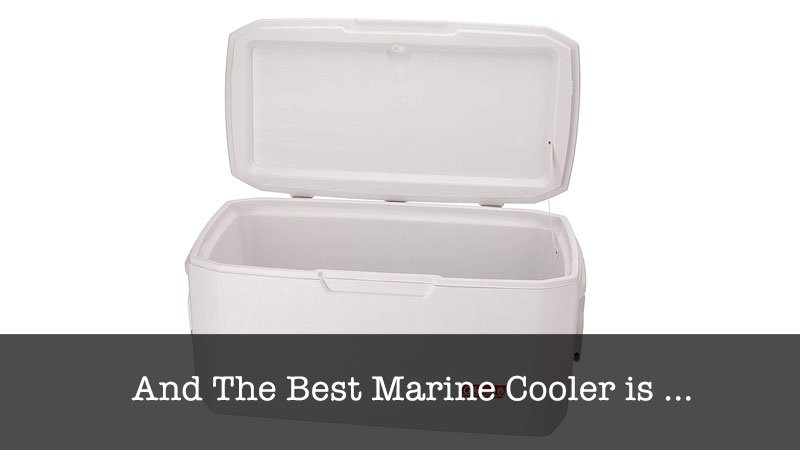 If you need a large cooler ready to keep your drinks and catch cold for up to 6 days, the Coleman 120 Quart Coastal Xtreme will be the best marine cooler for your needs.
For a very reasonable price it will resist sun damage, the build-up of odors, and even offers an extra place to sit on the deck.
If you need to go bigger, check out the Coleman 200-Quart XP H2O Marine and never run out of room for the big one that didn't get away.
We hope our product reviews and buying guide for marine coolers were able to help you find the unit you need for your next great fishing trip.
If you have experience with any of these products, please share your thoughts on social media or in the section below.
---