What Is The Best Manual Staple Gun?
When choosing a manual staple gun, it is important to consider its durability, safety features, uses, and more. With these things in mind, we chose the Stanley TR110 Heavy Duty Steel Stapler as the best manual staple gun thanks to its safety features, steel construction, and its quick jam clear mechanism. It is also easy on the budget.
---
Whether you work in construction, are simply searching for DIY tools, or anything in between, a staple gun is most likely a useful tool for you. You have multiple types to choose from.
First, you should decide if you want an electric staple gun or a manual one. With either type, you should be on the lookout for safety features to prevent accidents.
If you choose a manual staple gun, you want to factor in what you will be using it for to choose the best one.
For instance, an upholstery stapler would most likely not need to be as strong as one that is used to build a house. Regardless of your use, there is a staple gun out there for you.
---
Quick Navigation
5 Top Manual Staple Guns: Our Picks & Recommendation
---
5 Best Manual Staple Gun Reviews
We want to help you choose the top manual staple gun for your needs, so we waded through a sea of ratings and reviews of dozens of models. After careful consideration, we compiled a list of the following five staple guns.
---
Best Overall Manual Staple Gun: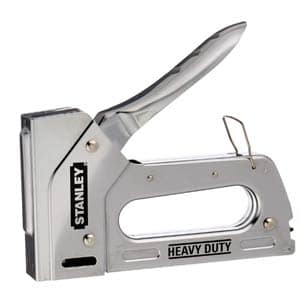 What You Will Love: It is equipped with a handle lock and a quick jam clear mechanism.
The Stanley TR110 Heavy Duty Steel Stapler is made with a durable, all steel construction. It has a bottom load channel and a handle lock for safety and easy storage.
This Stanley staple gun will only work upright, so if you try to turn it any other way, it will likely jam or shoot blanks. Fortunately, it also comes equipped with a quick jam clear lever in case that happens.
It can be used for everyday projects, however, buyers have stated that it is a little heavy for people who do not need to use it all of the time. It is also budget-friendly, usually priced below $20.
Pros:
Handle lock provides safety measures,
All steel construction,
Durable,
Good price,
Heavy duty use,
Well-known and trusted brand
Cons:
---
Best Budget Manual Staple Gun: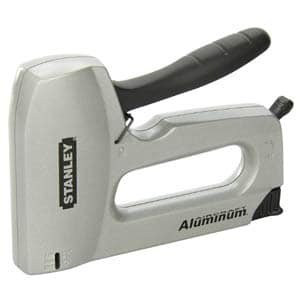 What You Will Love: It is equipped with a Hi/Lo lever for you to switch between hard and soft materials.
With its aircraft aluminum housing, the Stanley TR150HL is a tough and durable tool to have at home or on the job. The easy-squeeze handle, anti-jam mechanism, and the ability to easily slide in a full stick of staples saves the user a lot of time, effort, and frustration, and it comes with a limited lifetime warranty.
We believe that this is the best quality staple gun in this price range. The plastic handle, which has a lock for safety, has broken on a few users soon after purchase.
Most users state that it works well for light duty jobs but not so much on heavy duty ones.
Pros:
Hi/lo lever for varying depth and materials
Easy squeeze handle
Durable aircraft aluminum housing
Anti-jam mechanism
Cons:
Plastic handle may break quickly
Does not work well for most heavy duty jobs
---
Best Lightweight Manual Stapler: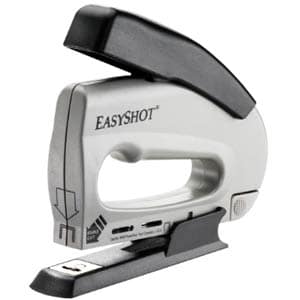 What You Will Love: This is a 2-in-1 tool that you can change from staple gun to desktop stapler with ease.
The Arrow EasyShot is my personal top rated staple gun. It is lightweight and has an ergonomic handle to make work less tiring. It is used by DIYers, construction employees, teachers, and others with ease and great reviews.
It has an easy squeeze trigger, bottom loading magazine, and a two-year warranty.
This Arrow handy tool would be perfect in my home. With the various activities that go on such as homeschooling, art, and renovations, the versatility of this 2-in-1 would be an outstanding resource.
A few buyers mentioned having some difficulty loading the staples and attaching the desktop base, but other than that, it seems about as close to perfect as it can get.
Pros:
2-in-1 capabilities mean one tool for multiple jobs
Lightweight
Ergonomic handle
Easy squeeze trigger
Two-year warranty
Cons:
Staple magazine and desktop base may prove difficult for some
---
Best Heavy Duty Manual Stapler with Good Grip: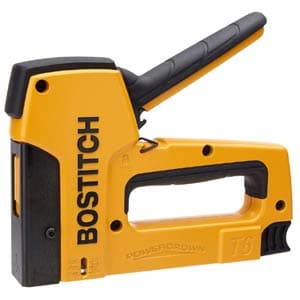 What You Will Love: The steel handle is covered with rubber for a much better grip than some others provide.
This Bostitch T6-8 is a lightweight tool made from die cast aluminum. The easy squeeze steel handle provides a good grip. It has a bottom loading staple magazine for convenience, and an anti-jam mechanism.
You can usually find it for a little over $20. A few buyers have stated that the handle was difficult to pull, especially in the beginning, but that the force caused great staple penetration.
Most also stated that the trigger became easier to pull over time, but that if you had any medical concerns such as arthritis, this probably is not a good tool for you.
Pros:
Good price
Lightweight
Rubber grip
Die cast aluminum construction
Steel handle
Anti jam mechanism
Cons:
May find the handle difficult to pull in the beginning
Not good for people with weak hands or arthritis
---
Best Heavy Duty Manual Stapler for Small Hands: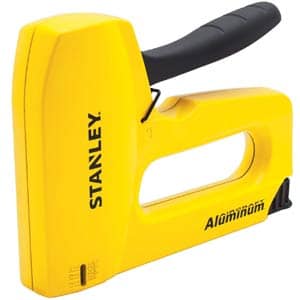 What You Will Love: It is a good staple gun for small or weak hands.
Unlike some staple guns that may be difficult for women or arthritis/tendonitis sufferers to use, this Stanley TR150 Sharp Shooter can be used by anyone, even children.
That being said, there is also a safety lock for the handle to prevent accidental misfires. The highly visible yellow housing would be very useful to me because I have a history of losing things even when I set them right beside me.
The bright color would make this tool difficult to lose. Users state that the staples from this gun penetrate the surface well. Ranging anywhere from $20 to $30, it is a bit more expensive that some of the others on our list, but we think the benefits are worth the extra money.
Pros:
Easy to use for anyone
High visibility yellow color
Anti-jam mechanism
Safety lock on handle
Cons:
A little higher priced than other options
---
Most people that do crafts, household projects, or construction jobs find themselves in need of a good staple gun. Check out the options on our best manual staple guns list for yourself to see the value and benefits one can provide you.
---
More Tools Related Articles:
---