What are the Best LED Ceiling Lights?
When choosing LED ceiling lights, there are quite a few things to consider such as the cost, ease of installation, the brightness, dimmable capabilities, and more. With our list of criterion, we ultimately had to choose the Hyperikon 6 Inch LED Downlight as our top pick.
The Hyperikon LED Downlight comes in a pack of 16 modern looking units, are bright enough for any room while providing dimming capabilities. They can also save you a lot of money on your utility bills.
---
Quick Navigation

5 Top LED Ceiling Lights: Our Picks & Recommendation
---
Choosing the best LED ceiling lights for your home or work space can be a task. You want to be sure you choose some that will be bright enough for your needs, simple to install, not break the bank, save you money on energy costs, and more.
In general, LED ceiling lights use much less energy than incandescent bulbs. Only a few watts from an LED light can replace high wattage incandescent bulbs.
Some come with dimming qualities, making them great for living rooms and dining rooms. Consider the rooms you wish to place them in and how bright those rooms need to be before making a decision.
---
5 Best LED Ceiling Light Reviews
We went in search of the top LED ceiling lights by looking through ratings and reviews from both buyers and experts.
After careful consideration, we bring you this list of what we consider the 5 top LED ceiling lights base on their brightness, cost, and ease of installation.
---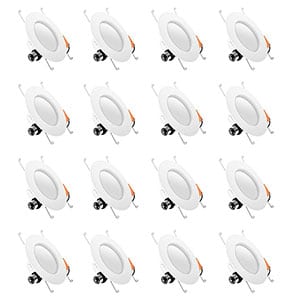 What You Will Love: These Hyperikon LED ceiling lights come in a pack of 16 that fit right into your ceiling.
These modern LED ceiling lights have 69 lumens per watt and can be dimmed from 100% down to 20% to give you personalized lighting options.
With 16 in a pack, you can cover a reasonable amount of space with them. Hyperikon LED ceiling lights last for up to 35,000 hours and are Energy Star Certified, so replacing your old LED kitchen lighting fixture with these can save you money.
They are bright enough to use for kitchen lights while the dimming capability also makes them perfect for living room ceiling lights. Users also state that they are easy to install.
The biggest downside I could find is the price. Running between $130 and $160, the initial investment is a bit steep.
However, if you consider that cost includes 16 units that will save you money, and the fact that there is a 5 year warranty, it may not be so bad.
The lights will likely pay for themselves in energy savings in a reasonable time frame.
Pros
Dimming abilities
16 in the pack
Energy Star Certified
Easy to install
5 year warranty
Cons
---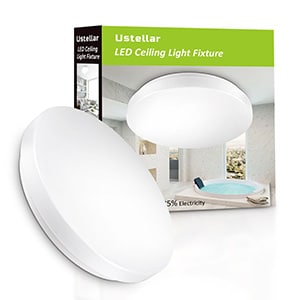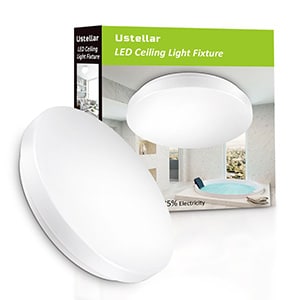 What You Will Love: This unit can save you more than 85% on your electricity bill.
The Ustellar Waterproof LED lighting units have been tested against water splashing, making them a safe choice for a bathroom though it would also work well in kitchens and garages.
They are designed with your eyes in mind, keeping glaring lights out of the picture. One 15W LED unit can replace a 100W incandescent light, saving you a good deal of money.
You can light up to 130 square feet with just one unit as it has 1200 lumens.
Unfortunately, users have complained that these do not fit into a standard mounting, meaning that they had to buy an adapter plate to hook it up.
Most reviews, however, stated that this was actually a minor problem when considering the reasonable cost and the amount of money that can be saved in utility costs.
Pros
Waterproof
No harsh glares
Only 15W can replace 100W
Can save up to 85% on utilities
1200 lumens per unit to light up to 130 square feet
Good price
Cons
Non-standard mounting may require extra parts
---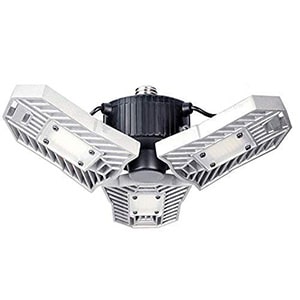 What You Will Love: These trilights are adjustable and bright enough to light up your garage or work space.
The three LED lights on this ceiling light put out 6000 lumens, giving them the ability to light up even the darkest of basements or attics.
I can remember a few times these would have been handy to ease my scared mind as a child when I had to go into darkened areas.
Each of the three wings is adjustable up to 90 degrees, allowing you to personalize your lighting.
Buyers love that the lights come on instantly at full force. You can also purchase it with motion activated capabilities.
However, some buyers discovered that the motion activated units actually pick up activity from directly above as well, so it is actually on more than it should be.
With one unit typically priced under $50, buyers state that it is well worth the cost.
Pros
Adjustable to 90 degrees
Good price
Lights up darkened areas very well
Lights come on instantly-no warming up
Motion activated version available
Gives off 6000 lumens
Easy to install
Cons
Motion activated version may pick up above activity and stay on
---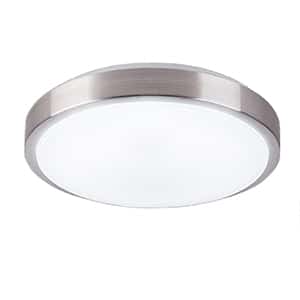 What You Will Love: This LED ceiling light fixture has a beautiful, modern stainless steel design.
The AFSEMOS LED ceiling light is strong enough to replace a 250W incandescent light while saving you more than 85% on energy costs.
It can be used in damp locations and can last up to 50,000 hours. The eye-protective design prevents glaring lights and it is easy to install yourself.
This unit is excellent for a kitchen since steam and moisture will not harm it, and it is bright enough to let you clearly see your kitchen tools while cooking or cleaning.
If your home is anything like mine, homework is done at the kitchen table, so having something bright enough to see well is important.
It usually runs under $40, which it will likely save you in energy costs rather quickly.
A few buyers stated that it looks cheap, but many said once it is installed it looks great. There is also a chance that you will have to drill an extra hole for it to fit your current fixture holes.
Pros
Bright
Protective eye design
Lasts up to 50,000 hours
Can be used in damp locations
Good price
Easy to install
Cons
May look cheap when you first take it out of the box
May have to drill an extra hole to fit it
---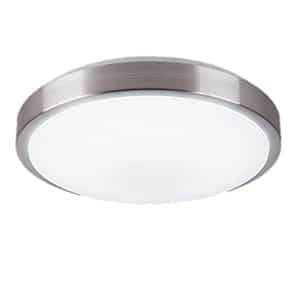 What You Will Love: These ceiling lights come in a beautiful sleek design that will look great in a bathroom.
It only takes a 10W unit to replace a 60W incandescent bulb, saving you over 85% on your energy bill. The anti-glare lampshade protects your eyes from damage.
It is very easy to install and typically runs less than $20, making it a very affordable buy. It comes with a high quality steel plate that mounts flush against your ceiling.
A few buyers have stated that one unit is likely not bright enough to light a whole room, so depending on the size of your bathroom, you may need more than one.
Also, when installing, some buyers found that the wires were too short, so they had to strip more of the wire to connect it.
If you are not familiar with this type of thing, you should either find another unit or ask someone experienced to hook it up. Electricity is nothing to take chances with.
Pros
Great price
Saves money on energy costs
Anti-glare lampshade
Easy installation for most
Mounts flush against the ceiling
Cons
May be too dim for some rooms
Some buyers may need someone else to hook it up
---
The five LED ceiling lights listed here are great options for most homes and spaces, but ultimately you have to consider your personal needs to choose the best one.
You may find that a few different options would work for different rooms in your home. Finding LED lights for your home can be a big step towards saving you money.
---
Related Articles: