What Is The Best Knee Brace For Basketball?
When you're sidelined by a knee injury (or trying to prevent one in the first place), the best knee brace for basketball can keep you on the court.  To find the best, we looked at a large selection of knee braces and pored over hundreds of customer reviews.
We considered the features of each brace, and what customers especially liked (or didn't like).  We also wanted to ensure that they were getting the best value for their money.
Finally, we narrowed it down from there. Here are the 9 top knee braces for playing basketball.
Top 9 Best Knee Braces For Basketball: Our Picks & Recommendations
How To Choose The Right Knee Brace For Basketball?
Although they may look similar, there are considerable variations from one knee brace to another.
Not all knee braces come with padding, but the extra cushion protects your knees from further injury while you're playing sports. Sleeves or braces without padding are more for compression from muscle injuries like ACL tears.
There are a few different types of knee braces. Functional braces support knees that are already injured. Similar to a cast, rehabilitative braces restrict knee movement to prevent subsequent tearing or sprains. Patellofemoral braces keep the kneecap properly aligned.
Since you're going to be wearing the brace a lot, make sure it's comfortable. It shouldn't be so comfortable that it doesn't provide support, but it shouldn't be so restrictive that you can't move around normally.
Read the manufacturer's statement and look at customer reviews to get an idea of whether the brace provides adequate support.
Since they're not always one-size-fits-all, size really does matter when looking for knee braces for playing basketball. A brace that's too tight can restrict circulation, causing your leg to "fall asleep." A brace that is too loose doesn't support the normal knee movement that is a key part of rehabilitation.
Most knee braces are made of several materials that keep the knee in alignment: elastic, foam, plastic, metal, and silicone. Make sure you're not allergic to the material. Whatever materials you choose, make sure the knee brace has enough elasticity that you can move around comfortably.
Consider whether you're playing basketball indoors or out and select a knee brace that provides support. If playing outdoors, you may want a knee sleeve that covers a large area of your leg and provides sun protection.
9 Best Knee Brace For Basketball Reviews
Here's a list of the best knee braces for basketball available: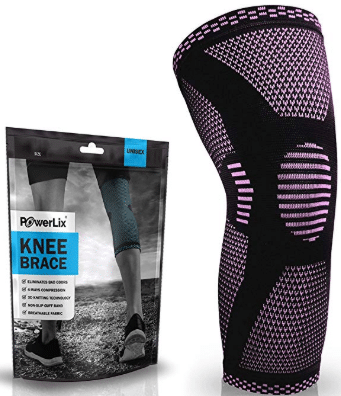 What You Will Love:
Offers plenty of support without compromising comfort
"Breathable" design prevents itching
Knitted design prevents slipping
If you're looking for the best knee brace for basketball overall, we may have just what you need: the POWERLIX Compression Knee Sleeve. For male and female athletes alike, this superior knee support provides stable pressure for your whole knee joint.
It supports your muscles between workouts, too. Whether you're into sports, CrossFit, hiking, or running, you can enjoy peak performance and range of motion with this top-notch sleeve knee brace for basketball.
It's form-fitting enough to stabilize the joint, yet "breathable" enough to be comfortable.
If you've been injured before and had to wear a brace, you may have experienced itching and chafing over time. The POWERLIX absorbs sweat to keep your leg dry, so you don't have to deal with itching and odors.
With its special knitted design, you can be sure that the brace stays in place, even when you're really active.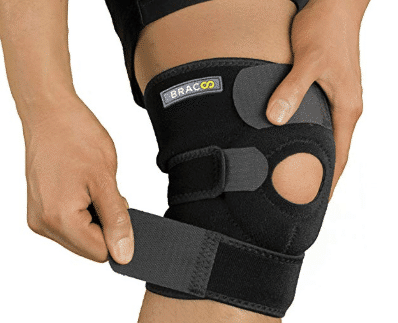 What You Will Love
Evenly supports knee ligaments
Absorbs sweat
Can be worn discreetly under clothing
If you're looking for the best knee brace for playing basketball, but don't have a lot of cash to shell out, the Bracoo Knee Support Brace may be your go-to for joint support.
With its open-patella design, it alleviates pressure and stress on your knees during intense exercise. This brace is effective for relieving chronic knee pain caused by overuse, arthritis, and strains.
To keep the kneecap correctly aligned, this support device features a reinforced stabilizer ring.
That way, stress is distributed evenly across the ligaments in your knee– ACL, LCL, PCL, and MCL. By guiding the kneecap into position, the structure of this brace reduces your risk of subsequent knee injuries.
You can attach the fully-customizable straps at just about any point to prevent the knee support from slipping.
With its extra-thick neoprene sleeve, the brace protects your knee while improving circulation and absorbing perspiration.
It fits discreetly under your clothing so you don't have to advertise that you're wearing it. You can wear this knee brace for basketball after ACL surgery or to prevent other sports injuries.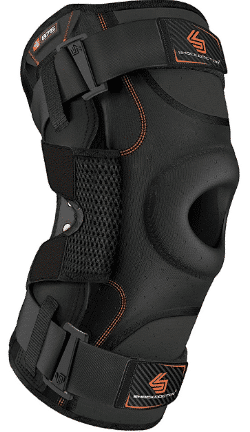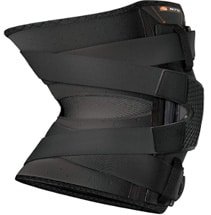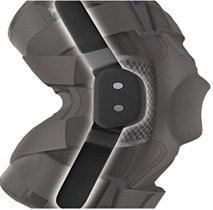 What You Will Love:
Fits either knee
Antimicrobial and absorbs sweat to prevent odors and itching
Useful for a variety of painful conditions
Can be used for compression with hypertension
Another knee brace for sore knees in basketball that we highly recommend is the Shock Doctor Hinged Knee Brace. It's designed to help people recover from medial and lateral instability, meniscus injuries, minor patella instability and ligament sprains, arthritis, and more.
It also serves as a compression device for hypertension. With heavy-duty bilateral hinges, you can expect adequate support while moving comfortably. Four-way stretch elastic and the curved design can fit either the left or right knee.
This brace lifts the soft tissues and encourages circulation to speed the healing process. It's close-fitting and comes in multiple sizes.
To prevent itching, the knee brace for both knees or one knee uses antimicrobial air-vented technology to absorb sweat and allow your knees to "breathe" for maximum comfort.
If you're allergic to latex, you will be relieved to know that this support is latex-free.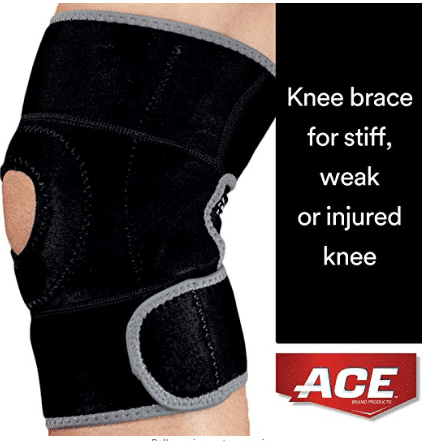 What You Will Love:
Easy to put on and adjust
Breathable
Designed for maximum comfort
Wear it on either knee, and one size fits most
If you're looking for a product stamped with America's most trusted name in muscle and joint support, look no further than the Ace Brand Knee Brace. With its comfort sleeve, it's easier to put on and adjust.
This brace can give you the support you need for stiff, sore, or weak muscles and injured joints. Since it has a flexible, contoured design, it won't restrict your range of motion, and you can customize the fit according to your comfort level.
To keep odors and moisture at bay, the brace features a soft, neoprene-blend "breathable" material to prevent itching and chafing. One size fits most, and you can wear the knee brace for both knees or one knee.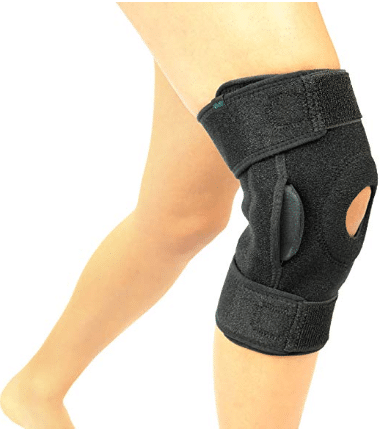 What You Will Love:
Customizable fit
Breathable material
You can add or remove aluminum hinges as needed for support
One reason we ranked the Vive Hinged Knee Brace as one of the best knee braces for basketball is because it's so well-designed.
It comes with aluminum hinges on both sides of the knee for optimal support, but you can remove the hinges if you don't need that much support.
For strains, sprains, and other soft-tissue instabilities, the compression material on this device assists with recovery while minimizing the likelihood of subsequent injuries.
With its neoprene lining, the brace is breathable enough that you can wear it all day without itching and other issues. The neoprene also helps direct heat toward the injury to accelerate healing.
And it's latex-free. Extra-strength fasteners hold the brace in place, so you're not always having to readjust or reposition it. Plus, with top and bottom straps, you can easily customize the fit.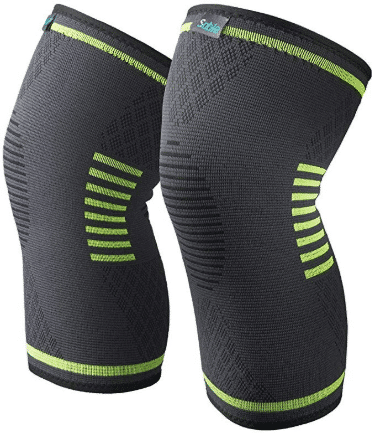 What You Will Love:
Come in pairs
Fit tightly so they don't slide 
Encourage recovery from sports injuries
Allow you to remain active
Hands down, the Sable Stable Knee Brace Compression is one of the best knee braces for basketball because it actually comes with two knee supports.
They fit tightly to prevent them from slipping, and they provide protection when you're playing sports.
This is also one of the best knee brace basketball for running. What really sets it apart from some other knee braces is that this long knee brace for basketball covers a wide area of the legs to more evenly distribute pressure.
This knee brace for both knees or one knee reduces stress and swelling. These compression braces come in more than one size, too.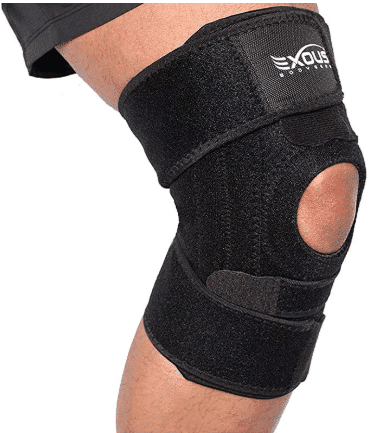 What You Will Love:
4-strap system keeps it in place
Comfortable design
Provides plenty of support
What's unique about the Exous EX-701 Knee Brace Support Protector is its 4-way compression system that "hugs" the knee from all angles to provide maximum stability.
Two patella straps secure the device to give injured athletes relief from patella tendon issues and jumper's knee pain.
Plus, the brace stabilizes the kneecap. With its specialized design, the support stays in place so you can move around confidently without worrying about whether it's going to slip or how many times you will have to adjust it.
The 4-point strap system, which prevents slipping, fits maximum calf sizes of 16–18″ and maximum upper thigh circumference of 20″. A gap in the back of the knee allows for less sweating and more comfort.
Whether you're running a 5K, playing tennis, or climbing stairs, this brace provides long-lasting support. It's designed for men and women of all ages.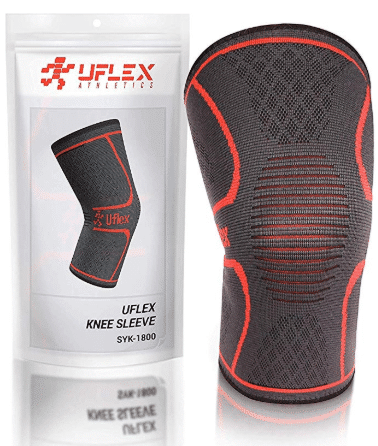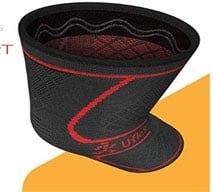 What You Will Love:
Provides plenty of support while allowing you to enjoy full physical activity
Draws warmth to injured sites to stimulate recovery
Comes in different sizes to ensure the best possible fit
The Uflex Athletics Knee Compression Sleeve Support isn't just a knee brace for sore knees in basketball, it supports your knee during a host of other athletic activities, such as running, cycling, skiing– anything that puts a lot of stress on your joints.
To help your muscles recover faster, the brace has a heating effect that reduces swelling and inflammation, stiffness, and soreness.
It also helps with runner's and jumper's knee, arthritis, and tendonitis. This compression device improves circulation, an essential component of the healing process, and muscle endurance.
With anti-slip silicone, you can expect this brace to stay in place and provide stable support during your time at the gym.
Suitable for men, women, and kids, the brace comes in different sizes, so you can select the one that will be the best fit.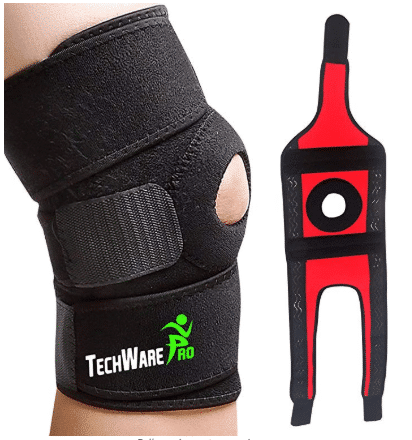 What You Will Love:
Provides adequate support while you engage in intense physical activity.
Alleviates inflammation, stiffness, and other issues
Provides kneecap protection
While some knee braces provide uneven support, the TechWare Pro Knee Brace Support comes with one-of-a-kind adjustable bi-directional support. Alternating strong closures hold up both sides of the knee to alleviate pain.
Designed for men, women, and youth, this brace comes in 4 different sizes: Medium, Large, Extra-Large, and XXLarge. (A size chart helps you pick the one that best fits your body).
When you need a knee brace for playing basketball, kneecap protection is a must; 4 flexible spring stabilizers and a gel pad on this brace provide compression around the kneecap and tendons to encourage healing.
Lightweight neoprene and non-slip silicone hold the brace in place while absorbing sweat. 
Frequently Asked Questions (FAQs)
Which Is Better For Basketball, A Knee Sleeve Or A Knee Brace?
You can wear a knee brace if you already have an injury, whereas a knee sleeve provides compression and support to reduce the likelihood of muscle strains and sprains in the first place.
Why Do You Need A Knee Brace?
A 
knee brace can help
 you avoid missing games and practices, either by providing support for an existing injury, or helping to prevent further injury if you're already sidelined by one.
How Much Does It Cost To Get A Knee Brace?
The cost of a knee brace depends on what kind you want. The more expensive devices have additional features, such as extra padding or sophisticated systems to support muscles and joints.
Which Brand Makes The Best Knee Brace?
In our quest for the best knee brace for basketball, we discovered several trusted brands that make a quality product– Ace, Shock Doctor, and Powerlix, to name a few.
There are so many knee braces for playing basketball to choose from, it's difficult to know which ones offer the best value for your money. In our search, we discovered that the best knee braces for basketball offered plenty of support and comfort, while still allowing you to move freely.