[lmt-post-modified-info]
Quick Navigation
How to Choose the Best Kamado Grill?

Accessories Included
Versatility and Efficiency
Hardware Material
Construction and Durability
Fuel
Cooking Area and Grill Size
Price
No Flare-ups
Even Heating
Flexible Fuel Requirements
The Most Recommended Kamado Grills: 10 Best Reviewed
What is A Kamado Grill?
A Kamado Grill is a circular stove made from clay or ceramic that uses wood charcoal as fuel for grilling, smoking, and baking.
Some models use pellets, gas, electricity and a combination of wood charcoal and other fuels.
How to Choose the Best Kamado Grill?
Construction and Design
Most kamado grills use ceramic material due to its good heat absorption and moisture retaining capabilities enabling the food to remain warm, moist and tender.
However, steel is now becoming common in grill construction as it's less fragile and light compared to the ceramic material.
Accessories Included
Different models of Kamado grills means different features. As such, what's present in one grill may not be available for the other brand.
Aside from other accessories such as wheels, gripper, built-in thermometer, rotisserie, extra racks, weatherproof grill covers, and slide shelves, you want to make sure that your grill is inclusive of a diffuser plate.
If not, you'll have to incur an additional cost buying it and other essential accessories separately.
Versatility and Efficiency
Different from other grills that have fixed uses, Kamado grills are multipurpose.
Not only are they perfect for grilling and smoking but also allow users to roast and bake bread or even pizza the same way a wood-fire does.
Besides, there are those premium Kamado grills designed to use rotisserie cradle for brown and crisp meat.
Hardware Material
Aside from the Kamado grill itself, there are those accessories that accompany it. The cooking grate, coal (fuel) grate, handles, lid and other should have sturdy construction.
Robust stainless steel and cast iron are the primary materials used in crafting the Kamado grills hardware. The hardware needs to be durable, easy to clean and corrosion resistant.
Construction and Durability
When buying a Kamado grill, you cannot overlook the construction material as you want a unit that will last a lifetime.
Choose the unit from thick ceramic or non-corrosive heavy-gauge materials like stainless steel for durability while at the same time aiding in retaining heat and ensuring even heat distribution.
Fuel
Wood charcoal is no longer the only source of fuel for a Kamado grill. Units fueled by gas, electricity are now available.
Other grill models are dual and use coal combined with one of the other fuels.
Cooking Area and Grill Size
Diameter is the determinant of the cooking size for most Kamado grills although oval models are now available.
You want a grill that can cook large pieces of meat regardless of the occasion. Although there are small sizes, an average grill has an 18 inches diameter
Price
The objective is to get the best ceramic grill for the money. If affordable, an expensive large-sized kamado grill offers the best BBQ experience.
However, if on a budget, a small-sized grill with basic features will work just fine.
No Flare-ups
Complaints about flare-ups result from using mediocre Kamado grills. A quality grill has the cooking grate higher above the coal grate.
That way, at all times, your meat or whatever food you're cooking does not get into contact or too close to the fuel, which is to blame for flare-ups in the conventional Kamado charcoal grills.
And there's a benefit to that: You won't eat food charred with charcoal.
Even Heating
The goal is to have your food cook at the same rate.
However, that is not possible if your kamado grill has some hot spots. Heat distribution throughout the grilling surface should be uniform.
When shopping, be sure to go for a thick-walled and insulated grill as it retains the heat inside.
Besides, it allows for efficient air circulation to ensure that there's complete combustion.
Combined, these easy to overlook features make it easy to do away with hot spots to ensure that the cooking is consistent.
Flexible Fuel Requirements
When it comes to Kamado grill choice, fuel is a major consideration, and the vast array of fuel options makes grills stand out. Initially, Kamado grills used wood charcoal as fuel.
Now the market has models that use gas, electricity or pellets. Gas and electric fueled grills demand utmost care due to safety issues.
For gas grills, plumbing should be on point to prevent any gas leakages. Similarly, electrical powered grills need a proper and functional connection for the safety of the users.
Charcoal Kamado grills are the best regarding the ease of use, functionality, and safety. Nothing beats the flavor of food cooked on a coal grill.
Related: Outdoor Grill Buying Guide
The Most Recommended Kamado Grills: 10 Best Kamado Grill Reviews By Sujana Marie
1) Char-Griller 16620 Akorn Kamado Grill and Smoker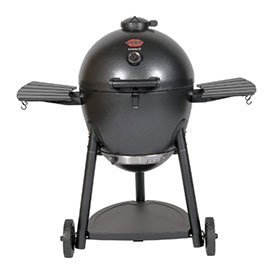 Grill and smoke your barbeque in style with the best Kamado grill, Char-griller Akorn Kamado Grill.
It has a primary cooking space of 314sq inches and a warming rack measuring 133sq inches.
The grill features triple wall made of 22-gauge steel that renders it exceptionally sturdy and durable.
Besides, the robust steel wall provides insulation that retains the cooking temperatures between 200°F-700°F.
What's more, Char-Griller charcoal grill comes with adjustable top and bottom dampers.
That allows proper flow of air in and out of the grill to keep the temperature in control for uniform cooking. Besides, the grill has a unique design that lowers the consumption of charcoal
Also, Char-Griller Akorn Kamado Kooker has its steel interior coated with porcelain finish while the exterior finish is powder-coated.
That makes it highly robust and long-lasting. Also, the grill comes with 2 large 8-inch front wheels and back locking caster wheels for easy movement.
Even more, this Kamado grill comes accompanied with the necessary accessories including locking cover, 2 foldable black metal shelves, ash pan, and heat gauge.
As such, you'll simply go right into preparing your food.
2) Pit Boss Kamado Grill Review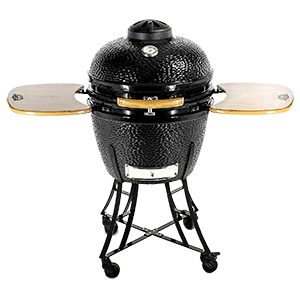 If you want to make an amazing barbeque, Pit Boss Kamado charcoal grill is the thing.
This grill is built to last thanks to thick and sturdy ceramic walls used in the construction. What more, thick walls enable the unit to retain heat.
Besides, it comes with a cast iron damper positioned at the top that allows for efficient airflow into the grill.
As such, you're to control the cooking temperature to the desired level.
Additionally, the unit comes with a simple-to-read thermometer that enables you to keep track of the temperature.
What's more, Pit Boss Ceramic grill features robust side shelves made of bamboo wood offering a platform for the easy preparation as well as serving of food.
Adding to the fact they're foldable, and it gets simple to store.
Also, this kamado grill has dual tier 567sq inches stainless steel cooking grates that are highly robust.
The upper grate is flappable to adapt to provide enough cooking space and to make the best use of the surrounding heat.
3) Char-Griller Akorn Jr. Kamado Charcoal Grill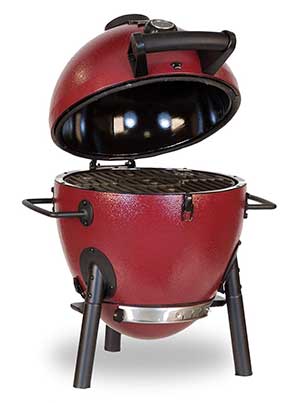 Courtesy of Char-Griller Kamado Grill, you can now enjoy the sweet smell of charcoal and barbeque in the outdoors during the hot summer.
The unit offers a cooking area of 153sq inches or 14-inch diameter enough space for your grilling and smoking.
Char-Griller Akorn Jr. Kamado Kooker Grill features a triple 22 gauge steel wall thick enough for the unit to retain the cooking temperatures between 200 and 700 degrees Fahrenheit.
Also, it comes with dampers, one at the bottom and an adjustable top damper to ensure proper airflow and for easy temperature control as you grill or smoke your food.
The innovative design makes the grill energy efficient to consume less charcoal.
Char-Griller Akorn Kamado Grill has an exterior finish powder coated while the steel interior finish is porcelain coated to make it highly robust so it can offer you a lifetime service.
What's more, the grill comes with short legs to keep the unit sturdy as you cook. Plus, it has two robust easy-grip handles that so you can have the unit in the outdoors.
4) Vision Grills Kamado Pro Ceramic Grill Review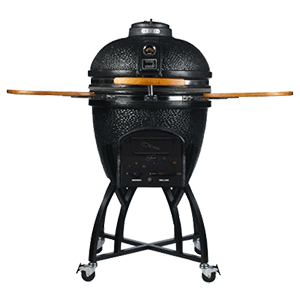 Vision Grills Kamado is your perfect companion when it comes to searing, grilling or smoking.
It comes with double indexed draft knobs positioned at the bottom plus a calibrated vent at the top such that it can move from 200°F-700° within minutes.
What's more, the grill features super thick ceramic walls.
That property not only favors even convention cooking but also offers proper temperature control and exceptional heat retention.
As a result, it ensures efficient coal consumption as well as reduce production of ashes.
Besides, despite the super high temperatures in the interior, the unit has an exterior design that sees you don't sustain any burns.
Also, to make it easy to enjoy your barbeque anywhere you choose, the Vision Kamado Grill Pro features a cart with two lockable caster wheels.
That makes it possible to move it around and keep it stable as you cook.
Besides, Vision Grill Kamado Pro has 2 robust surface adjustable drop-down side shelves. Combined with a large cooking area of 596sq inches, it's possible to cook large pieces of food.
Also, the unit comes flip stainless steel cooking grate for effortless loading of fuel.
5) Char-Griller 6520 Akorn Kamado Grill Review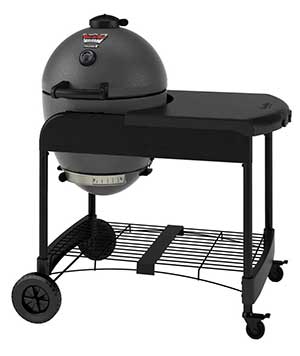 For tasty food, a quality kamado grill is all you need. Char-Griller 6520 Kamado Grill features triple-walled 22 gauge steel that offers proper heat insulation to maintain the temperature 200-700 degrees Fahrenheit.
Also, the grill comes with a powder coated exterior finish while the interior steel finish has a porcelain coating.
As such, you can be sure the unit is built to last.
Besides, the unit comes with a cart complete with two locking wheels allowing you to move it in the outdoors with ease.
Char-Griller Akorn Kamado Kooker has a primary cooking space of 314sq inches and 133sq inches of warming rack.
Besides, it comes with a side cart for easy preparation of food, serving as well as the storage of utensils.
Also, Char-Griller Charcoal Grill features a top damper that is adjustable for the efficient control of airflow and heat.
Alongside the damper is a temperature gauge for temperature checking. Located at the bottom is another damper and ash pan that allows for airflow control and easy cleaning.
6) Joe Classic Kamado Grill Review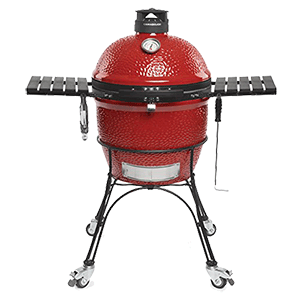 Rated 4.9 at the time of writing this review, Kamado Joe grills depicts innovativeness and sophistication.
It comes with creative airlift hinge that cuts the dome weight by as much as 96%. Kamado Joe grills a unique technique, flexible divide and conquers cooking system.
What's more, this kamado grill adopts a half-rack design that maximizes the cooking area while allowing you to cook different foods on different tires simultaneously.
Besides, this grill comes with a unique tower top vent made of aluminum, rainproof and that does not rust to help control and maintain consistent airflow.
Kamado Joes grill comes complete with a robust cast-iron cart with wheels that rolls for easy moving.
And it gets better with a ventilation dial and a slide-out ash drawer for effortless cleaning.
This Kamado Joe Grill features a fiberglass made from double thick wire mesh. That makes it possible to seal tightly.
At the same time, the construction gives the gasket a lifespan 10 times more than the conventional ones.
7) Primo Kamado Grill Review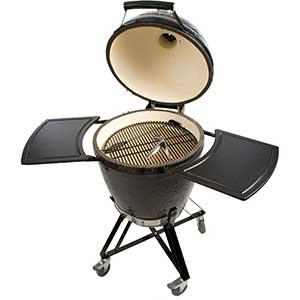 Looking for a kamado grill that will allow you to prepared perfectly grilled burgers, steaks and more?
A product made in the USA, Primo Kamado Round Grill is your ideal companion.
Also, Primo Kamado grill is built to last. It has thick ceramic walls that take heat first and retain it for an extended duration.
The grill features a stand with 3 caster lockable rubber wheels for easy moving.
As such, it's simple to move it around in the outdoor as you prepare and feel the taste of real barbeque.
Surprisingly, this grill comes almost 95% assembled and with the stand and the tables attached all in one.
You only need two or three people to lift the grill onto the legs, and you'll have it completely set up in minutes.
What's more, this grill comes with two shelves positioned on either side that offer an excellent platform for food preparation as well as serving.
Besides, this kamado grill features an ash tool positioned at the bottom. That offers you effortless cleaning as the ash collects at the bottom where it's easily accessible.
8) Primo Ceramic Kamado Grill Review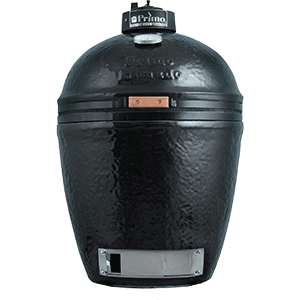 For outdoor charcoal grilling and cooking, Primo kamado style grills never disappoint.
Primo grill features specially crafted and robust ceramic shell that renders the unit highly durable.
Also, the ceramic has been reinforced with glaze heated to over 2400° F to create a strong bond.
The design of the ceramic provides excellent temperature control while also ensuring maximum moisture retention for tender food.
Thanks to the ceramic formula of the Primo grill, the temperature of the unit can range from 75°F excesses of 750°F.
Primo Charcoal smoker grill comes with a 2-tire design making possible to try multiple cooking styles.
You can cook your food by direct, true indirect, backing, conventional and a combination of the four styles.
Also, the grills features flush racks that allow for optimum use of the available grilling cooking area.
Besides, the racks are reversible making it possible to heat the meat at different temperatures.
9) Beacon Ceramic Grill Review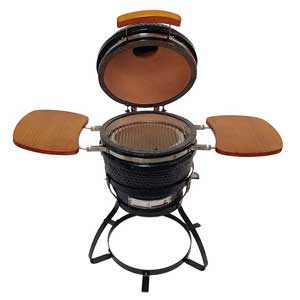 Enjoy the distinct smoky flavor of your barbeque with Beacon Ceramic Grill in your outdoors.
Beacon Kamado Grill is made of a thick and sturdy ceramic shell that renders the unit highly durable.
Besides, the material is capable of withstanding high temperature and also retain the heat for extended durations.
Besides, the grill features foldable 13 inches side trays that provide a raised platform for the preparation of your food.
Also, for easy storage, the side trays can be folded.
Also, it features a robust metal stand that raises it so you can sear and grill without the need to bend.
Besides, it comes with a daisy wheel top vent that turns easily and which allows for proper airflow into the grill to ensure maximum combustion of the charcoal and fewer ashes left.
Although you regard Beacon Kamado grill as the best, it qualifies as a cheap kamado grill.
10) Vision Classic Kamado Grill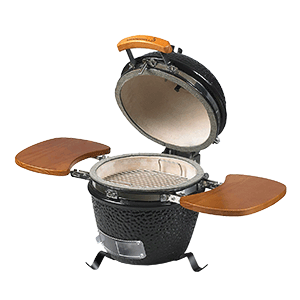 Vision Kamado Charcoal grills never let down. This unit features a robust, thick ceramic construction with a shiny charcoal finish that readily absorbs heat, allows for active heat circulation and retains the heat for long.
It comes with a stainless steel cooking grate measuring 87sq inches offering enough cooking area.
The small size of this Kamado grill makes it a perfect solution for grilling, searing and other needs when on the go.
Additionally, the grill has two extended side shelves where you can place your food during the preparation.
Besides, Vision Kamado Grill comes accompanied by a thermometer that allows you to keep track of the cooking temperatures.
What's more, the kamado grill comes with a chimney on top and a draft door located below so you can adjust the temperatures as preferred.
Also, it comes with metal feet enabling you to place on the table for easy cooking.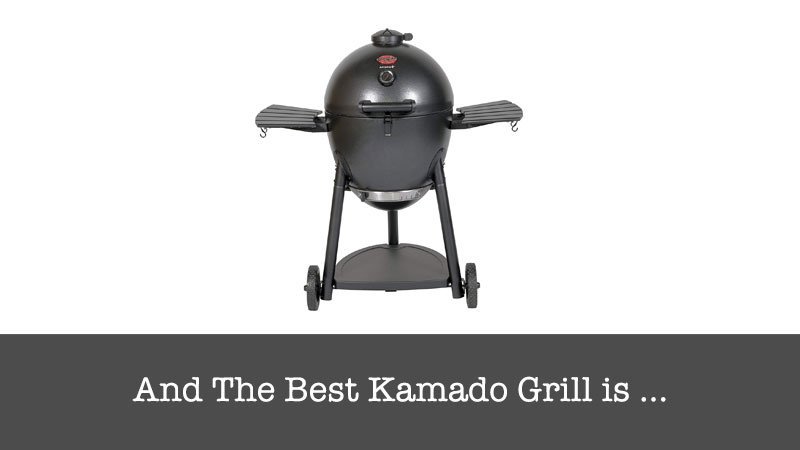 So, Which One Is Best Kamado Grill
If you're among those who enjoy the smoky flavor of burning charcoal and the sweet aroma of barbeque, a Kamado grill is a must-have. With the many brands of Kamado grills on the market, it can be confusing to choose.
Fortunately, we relieved you the task and done the research part for you.
Grab one of the best value kamado grills we've recommended and taken your BBQ prep a step ahead.
Related: