Whether you are just a fan of all those crazy jerky snacks you find at your favorite corner store or have been making your own for years, you are looking for a new jerky gun.
As usual,
we are here to help you find the best jerky gun that is ready to stand up to your abuse while keeping an eye on your wallet.
We've brought together five of the most popular jerky guns and put them through their paces to find the one that will extrude pounds and pounds of perfectly seasoned jerky ready for drying over and over again.
Read on to learn what you should look for in the package with your gun, what kind of nozzles to use, and what a quality gun will be made out of.
At the end,
we will share our thoughts on which one is the best jerky gun for you.
Quick Navigation
The Most Recommended Jerky Gun: 5 Best Reviewed
What is Included on the Best Jerky Guns?
Your jerky gun works a lot like a caulking gun. It has a large cylinder able to hold the seasoned ground meat. A plunger and ratcheted trigger provide pressure to push the meat down towards the nozzle.
It usually comes with at least one nozzle that feeds the meat out in a flat jerky shape onto your drying/cooking rack. You may have several different shaped nozzles and seasoning packets included with the gun.
It uses no electricity.
What Should I Look for when Choosing the Best Jerky Gun?
There are a bunch of jerky guns on the market, and many look nearly the same. In order to buy the best jerky gun that will satisfy your demands over a long time, make sure to pick one with the following features:
Large Capacity Barrel: You will want to make a decent amount of jerky each time, so look for a gun that holds at least a pound of ground meat
Easy-to assemble and clean: It should be made without extra gears or small clips that can get lost. It should be dishwasher safe and simple to put back together.
Multiple nozzles for jerky and snack sticks: Different recipes will call for differently shaped jerky. Your gun should come with several nozzles that can make the snacks you really want.
Durable construction: If the plastic feels like it will break, it probably will. Look for heavy-duty construction or anodized aluminum for the barrel with stainless steel push rods.
The Most Recommended Jerky Guns: 5 Best Jerky Gun Reviews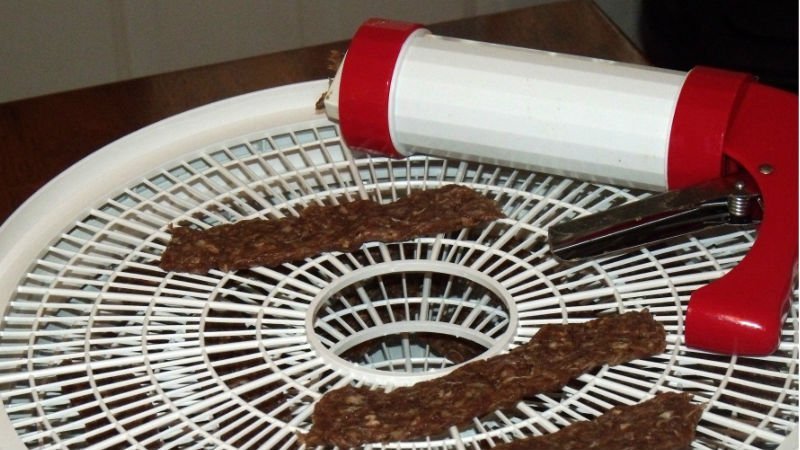 Take some time to read our reviews to find out which product is the best jerky gun that won't break the bank and will deliver pounds of jerky snacking heaven.
1) LEM Products Jerky Gun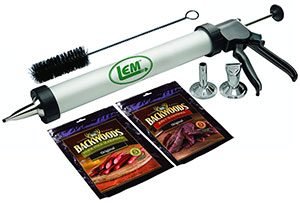 If you are looking for a product that is ready to tackle the chore of drying pounds and pounds of jerky, LEM brings their jerky Cannon to the table. Constructed with regular use in mind, they skipped the standard all-plastic construction and opted for an anodized aluminum barrel with stainless steel plunger.
You will spend a little more than the bargain basement options out there, but you really do get it back in longevity and reliability. The three nozzles are made out of stainless steel, ready to be tossed into the dishwasher after a quick rinse to get the large bits out.
Users who hunt and regularly break down their own kill swear by the LEM brand, so you know it is meant to last beyond your test session.
They include a couple of packets of seasoning to help you get started, but the serious chef will want to find their own blend in time. Some users found the nozzles to be made out of thin metal, subject to dents, but they can be replaced at a fairly reasonable price.
Overall,
a quality product that is truly the best jerky gun for the chef who is looking for a gadget they will use often.
Pros
Quality aluminum construction
Stainless steel moving parts
Durable with the highest reputation
Cons
More expensive
Sample sized seasoning packets
Nozzles tend to get bent
2) JG-9 9 Inch Jerky Gun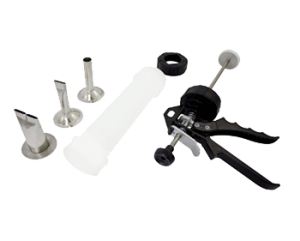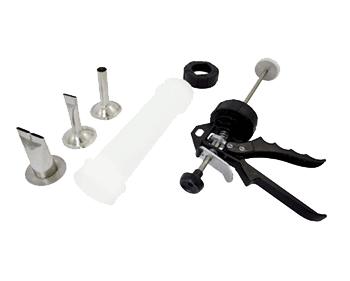 Chard took a little more time putting together their budget-friendly jerky gun. While the barrel is built out of opaque plastic, it features a die-cast metal frame which won't bend or warp after repeated uses.
The nozzles and plunger are stainless steel, ready to stand up to the high pressure used to extrude your jerky into thin strips. For its low price, it performs exceptionally well, making it the best jerky gun when you don't want to invest too much into a new kitchen gadget.
It does come with 3 nozzles ready to press out strips and sticks, but users report that the dual-strip nozzle creates jerky that is too thin, while the single is too thick.
The stick nozzle makes very thin snacks, which may not be what you are looking for.
However,
when you compare the drawbacks against the fact it has earned a fairly good performance rating, this one earns its money-saving star.
Pros
Low price
Good performance
Sturdy construction
Cons
Nozzles are oddly sized
Some meat tends to ooze out around the end caps
3) Weston Brands Jerky Gun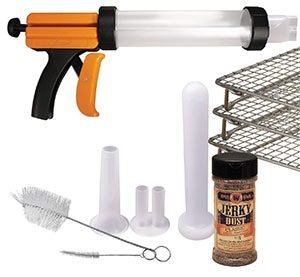 We are going to start off with the priciest jerky gun package. The Weston includes a few extras that others skip over, so it is the best jerky gun if you want to do a one-stop shop.
The kit comes with the gun ready to hold up to 1.5 pounds of seasoned ground meat, three different nozzles for jerky and stick snacks, a cleaning brush, a reamer to pack in the meat, and 3 non-stick racks to dry your jerky on in the oven.
Then they go the extra mile and 4 ounces of jerky seasoning. So, it has everything you need to get going but what is missing? The entire unit is made out of plastic. Some of the rings are fragile and don't seal back on the tube when it is loaded.
Users complain that even the bottle-style brush doesn't ensure the barrel gets clean after a run through the dishwasher.
In the end,
you have a complete jerky gun kit but may be disappointed in its performance.
Pros
Lots of extras included in the kit
Holds up to 1.5 pounds of meat
3 nozzles for different snack types
Cons
Most expensive gun out there
Cheap plastic rings
Hard to get clean
4) Oster Beef Jerky Kit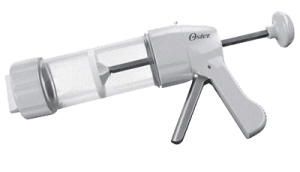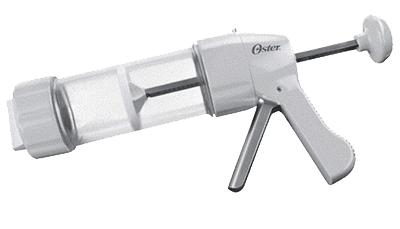 Oster is well known for producing inexpensive gadgets to fill up your kitchen drawers, so they followed their calling with their beef jerky kit. If you want to save a few dollars because you know you are only going to make jerky once, this might be the best jerky gun for you.
It holds up to a pound of ground meat in the barrel but has a much more squat design requiring more pressure to extrude the jerky out the single flat nozzle.
There are a few seasoning packets, so you don't have to spend extra cash on your experiment.
Many users report that it works great the first time they use it, but the trigger and plunger simply break after repeated uses. There is no cleaning brush included.
All in all,
this is one kitchen gadget where if you skimp on the quality of the materials, you end up with something that just won't stand up to regular use.
Pros
Low price
Works well for a one-time use
Cons
Made out of cheap materials
Tends to break
No extras included with kit
5) Nesco BJX-8 Jumbo Jerky Works Kit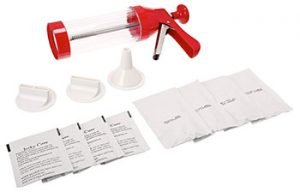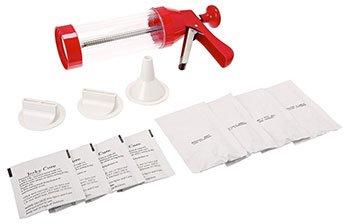 Nesco is well known for their food dehydrators and created a jerky gun to be sold alongside those units. Sold separately, it is priced below the best performing gun and lacks the sturdy construction you would associate with a quality kitchen appliance.
However,
it performs well enough to make it the best jerky gun to buy if you want to work specific recipes for your Nesco dehydrator.
The gun comes with a bunch of seasoning packets, so you will be off an running without stocking up on spices at the store.
The nozzles, drum, and trigger are all plastic with only the plunger made out of metal. If you overload the barrel with ground meat, you may crack the barrel while extruding your jerky, so always leave a little room when loading it up.
This is a gun to recommend to somebody who is testing out the idea of making jerky, not the hunter breaking down an entire animal and looking to save as much meat as possible.
Pros
Reasonable price
Designed to work with Nesco dehydrator
Lots of seasoning packets
Cons
Plastic nozzles and barrel can crack
Not for the dedicated jerky chef
---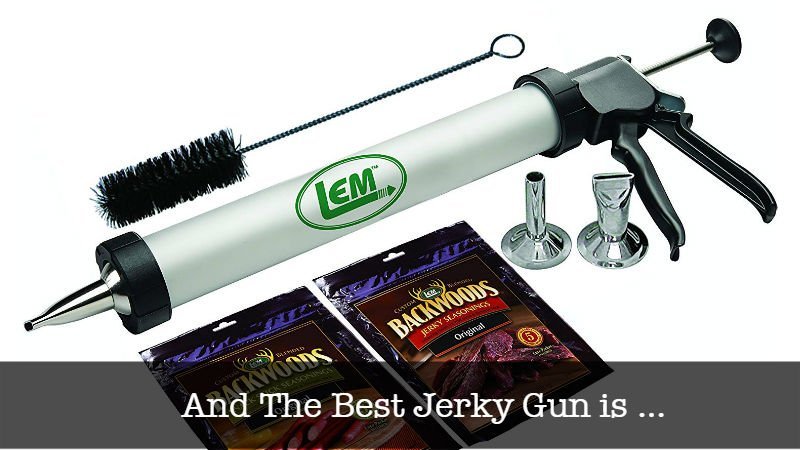 Which is the Best Jerky Gun for You?
There is no doubt that if you are looking for a jerky gun to help you break down the fruits of the hunting season, the LEM Products Jerky Cannon is the best jerky gun for your purposes.
If you just want to test out the concept before jumping in the deep end, check out the CHARD Jerky Gun that is ready to turn out some tasty treats without emptying your wallet.
We hope that you have found our jerky gun product reviews and buying guide helpful in finding the right addition to your kitchen accessories.