What is the Best Ice Crusher?
When looking for an ice crusher, there are certain things you need to think about: the cost, the durability, the performance, and more. With these things in mind, we chose the Best Choice Products New Ice Crusher Machine as our top pick. It is strong, durable, and offers great treats at a fair price.
---
Quick Navigation
5 Top Ice Crushers: Our Picks & Recommendation
---
Looking for an ice crusher can be really exciting, and really overwhelming. With all of the options out there, how do you know which one to pick?
You have both manual and electric, private and commercial use, stainless steel parts and aluminum parts, and on the options go. They also range in price and size.
To choose the best option, you have to decide how much ice you will need to crush, if you want it crushed or shaved, how much you can spend, and whether you want to hit a button or turn a manual hand crank.
There is not really a wrong answer, just personal choice.
---
5 Best Ice Crusher Reviews
We searched through ratings and reviews from buyers and experts of many ice crusher models to bring you what we consider the top ice crushers.
Though there were lots of good options out there, we were able to get our list down to the following five ice crushers based on their durability and performance.
---
Best Overall: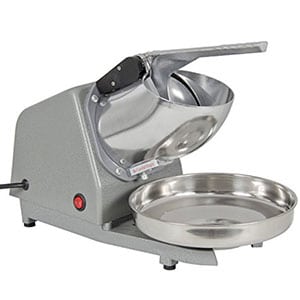 What You Will Love: This kitchen gadget does more than crush ice- it also shaves it for snow cones on hot days.
This handy dandy ice crusher can shave or crush 143 lbs of ice per hour. It has a waterproof on/off switch and automatically turns off when the handle is up.
That can give you some peace of mind about using it around little ones. It has a heavy base and is simple to operate.
The sleek look, awesome performance, and safety features make it one of the best shaved ice machines, in my opinion.
The only downfall I can find is that it is a pretty pricey investment, but the strength and durability may make it worth the cost.
Pros
Crushes and shaves ice
Useful kitchen tool for snow cones
Automatically turns off when handle is up to prevent accidents
Simple to operate
Heavy base keeps it sturdy
Cons
Pricey investment
---
Best Budget: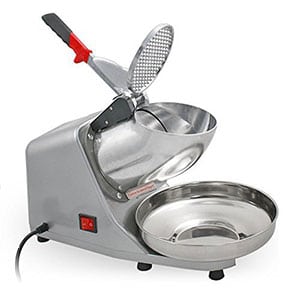 What You Will Love: This ice crushing machine is useful for making Icees and snow cones at a great price.
The F2C shaving blade is made of sharp alloy steel which means it shaves the ice with ease. It is made with a solid plastic base and an aluminum casing and hopper, so this kitchen tool should last for a while.
You can use it for Icees, slushies, snow cones, and other frozen drinks. Some buyers report it being the best shaved ice machine they have ever used.
I am considering investing in one for those unbearably hot summer days when my kids are miserable.
I can see how it would cool the kids off and brighten their day. I have only been able to locate one downside.
There is a knob that you can use to change between coarse and fine shaving. Some users have reported that the knob do not really work very well.
Pros
Shaves ice in minutes
Great for making snow cones and frozen drinks
Durable material
Well made
Great price
Cons
The knob designed for changing between coarse and fine shaving does not always work
---
Best Electric Ice Crusher: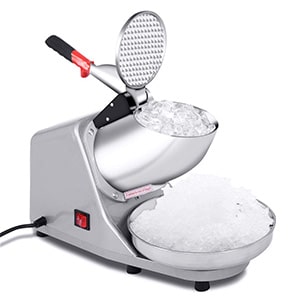 What You Will Love: This reasonably priced shaved ice machine can shaved 143 lbs of cubed or crushed ice per hour.
The Goplus Electric Ice Shaver is made with an aluminum casing and hopper as well as a heavy cast base to provide stability when the machine is working.
The on/off switch is water resistant and there is a safety cover switch. For extra safety, the unit turns off when the cover is open.
It includes a stainless steel bowl to store the shaved ice in until use. It is very simple to clean and operate, and it is powerful enough to use in bars and restaurants.
There is a variety of reported ice consistency. Some users state that it provides fluffy ice while others state that it is not as fine as they would like.
A few users also complained that it was a bit loud when it is shaving the ice, but if you can tolerate that, this machine is a winner at a low price.
Pros
Good price
Waterproof on/off switch
Heavy cast base
Durable materials
Safety features
Easy to clean
Powerful
Cons
May not provide ice shavings as fine as you would like
Machine can be loud
Related: Best Shaved Ice Machine
---
Best Manual Ice Crusher: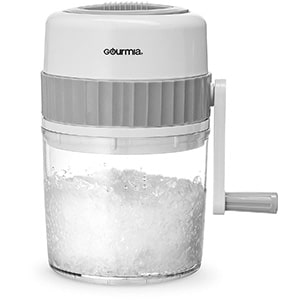 What You Will Love: This hand cranked ice shaver has stainless steel blades to shave through the ice quickly.
Some people may prefer a manual ice shaver as opposed to an electric one because they are more easily portable and quieter.
If manual is what you are looking for, you should consider this kitchen ice crusher. Gourmia GIC9635 Manual Ice Shaver is both durable and BPA free. It can also be used as an ice bucket by leave the shaved ice in the shaver after its ready.
It is easy to use, easy to carry anywhere you go, and a great ice cube crusher for snow cones and frozen drinks. The price is extraordinarily affordable, too.
The only downside I can find is the fact that it is manual. While this will not be a problem for everyone, some may get tired from hand cranking, especially if they have to do it for a long period.
If you are planning on having a lot of guests over for frozen drinks, either start shaving the ice and store it way ahead of time, or go for an electric one instead.
Pros
Great price
Easy to use
Portable
Doubles as ice bucket
Durable
BPA free
Quieter than electric ones
Cons
Might get tiring if using for long periods of time
---
Best Commercial Ice Crusher: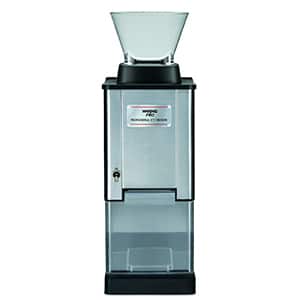 What You Will Love: This commercial ice crusher crushes 30 lbs of ice per hour and holds up to 12 cups of crushed ice.
The brushed stainless steel design of this ice crusher gives it an attractive look. It contains stainless steel blades for easy ice crushing.
The Waring Pro IC70 does not shave the ice down to snow cone size, but it does crush it into rather small pieces. If you have ever gotten a drink from a Sonic restaurant, the size is reported to be similar to their ice.
There are downsides. The price is a bit expensive, especially if you are looking for ice shavings. Also, there have been many reports of it breaking down within a year to 15 months.
Pros
Crushes 30 lbs of ice an hour
Can hold up to 12 cups of crushed ice
Attractive design and tough blades
Cons
Expensive
Breaks down fairly quick
---
All five options for the best ice crusher listed here are great for making treats and drinks. Look through the options again and research them to determine which is the top ice crusher for you and your family.
---
Related Articles
---