Quick Summary: Based on our research of the best hot water dispensers available, our top pick is the Rosewill 4-Liter Dual Dispense Electric Hot Water Dispenser. It has a large capacity, a chemical-free interior, a lock feature, and a splash prevention function for safety at home and in the office. It is also easy to clean, as both the inside and outside are stainless steel. We have looked into the best instant hot water dispensers available to provide you with the information you need to make an informed choice. Check out our complete list of comprehensive hot water dispensers below.
Long gone are the days when corners of any room were for decorating, now in order to facilitate people, all such corners are reserved for water dispensers. We all know the convenience and ease that comes in our lives because of water dispensers. Most water dispensers have both cold and hot water settings.
However, from the 1970's onward hot water dispensers became more popular and a "must have " for the majority of the workplaces. The best hot water dispenser produces water for you of 94C temperature which can be instantly used to prepare hot beverages like tea, coffee etc. Hot water dispensers are available in different forms like bottom load water dispenser, direct piping water dispenser, table top water dispenser etc.
While every single type of these dispensers is almost the same in function, their different structures allow you to use them for various needs. With hot water dispensers, you don't have to waste your precious time by waiting for the water to boil as a single tap will instantly generate boiled water for you. Unlike other dispensers, a hot water dispenser is unique also because it uses less energy and cuts down a huge amount from energy cost.
The low cost and high performance of hot water dispensers have made them a complete package and an essential item of every household. Buy a hot water dispenser today and save yourself from the tiresome hassle of boiling and re-boiling water. Here is the list of the best hot water dispensers you can find on the market.
Quick Navigation
---
10 Best Hot Water Dispensers Comparison
| | | |
| --- | --- | --- |
| | This stainless steel hot water dispenser has 3 temperature settings, dual dispense speed, a night light, and a 1-gallon capacity, with an automatic clean cycle to reduce limescale buildup. | Read Our Review |
| | This 4-quart electric hot pot has a stainless steel tank, a low water supply auto shut-off, a water level gauge, a blue night light function for easy use in dim lighting, and an automatic clean cycle. | Read Our Review |
| | This silver and brown water dispenser reboils water to 212 degrees fahrenheit with a micro-computerized temperature control system, a 6-10 hour timer, and an LCD display. | Read Our Review |
| | Featured as an Amazon Choice product, this stylish black model heats up water faster than a microwave - 1 cup heats up in 60 seconds. Has a 16oz capacity and an auto off feature with signal light. | Read Our Review |
| | This hybrid water boiler and warmer is another Amazon Choice product, providing near boiling water with 4 keep warm temperature settings. Has both a melody and beep signal (optional). | Read Our Review |
| | A hot water dispenser system that delivers near boiling water from 160 to 210 degrees fahrenheit thanks to its easy to adjust temperature control, and has a 3-year full service limited warranty. | Read Our Review |
| | One of the hot water dispensers with the highest capacity per hour, the water tank produces up to 100 cups and the satin nickel faucet (included) up to 60 cups. The best hot water fast! | Read Our Review |
| | This under sink hot water dispenser delivers hot and cold water directly from your POU faucet. The best hot water dispenser for compact kitchens (5/8 gallon tank), with an adjustable temperature dial. | Read Our Review |
| | Prepares 3.2 quarts of heated water, and has a slow-drip coffee feature for a cup of coffee at the push of a button. Easy-to-read LCD screen and water gauge, and 6-hour timer. | Read Our Review |
| | This water boiler and warmer can keep water warm without ever boiling with its optional Quick Temp mode. With a panorama window water level gauge and one-touch dispensing system. | Read Our Review |
---
Reviews of Top 10 Hot Water Dispensers
Below we have compiled reviews of 10 top hot water dispensers to make it easy for you to reach a decision when shopping.
Best Overall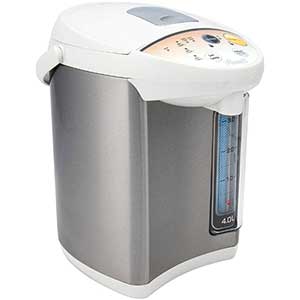 This electric hot water dispenser has its outer shell and inner pot both made of stainless steel.
The 700-watt appliance has a small volume, fast speed water feed in blue light and a big volume, fast speed water feed in red light.
At the same time, the water dispenser features hot water splash prevention and Dry-boiled protection functions for improved cleanliness and safety in your home and office.
There is also a bottom heater as well as three temperature settings that are suitable for instant food. For tea, the temperature is 208 degrees, 175 degrees for coffee, and 140 degrees Fahrenheit for milk powder.
Pros:
Large capacity appliance
Easy to clean
Lock feature prevents dispense until unlocked
Chemical-free stainless steel interior
Cons:
Takes up a lot of space on counters
Hard to close lid
Needs to be cleaned regularly
Does not retain settings once it is unplugged
---
Best Budget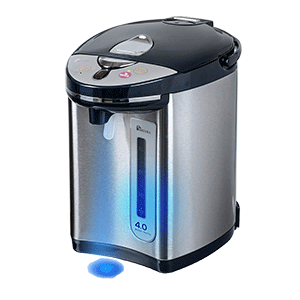 With an in-built micro-computerized temperature-control system and a convenient reboil button, this 4-quart water dispenser can keep water warm at 208 degrees Fahrenheit or 175 degrees Fahrenheit.
The boiler also has an inbuilt clean cycle that automatically removes water scale up.
This hot water dispenser features non-coated stainless steel interior and a one-touch switch for the electric dispenser.
Also, there is a water level gauge that works to automatically shut down the system when water levels do not meet the minimum required levels.
Pros:
Clean cycle to remove scale buildup
Stainless steel interior
Easy to use
Heats up water fast
Cons:
Chemical taste and smell in water
Does not have on/off switch
Lacks quality insulation
Dispenser button needs to be pressed hard
---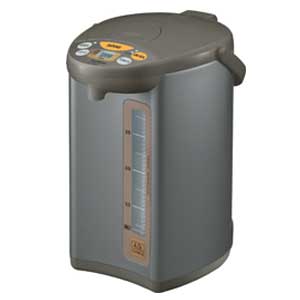 With a hot water capacity of four liters, the 700-watt electric dispenser has a Micro-computerized temperature adjustment system. It can also reboil eater to 212 degrees Fahrenheit.
The dispenser consists of 4 keep-warm temperature settings at 14-, 175, 195 and 208 degrees Fahrenheit and an LCD that shows actual water temperatures always.
Moreover, the hot water dispenser has a timer that automatically turns the boiler on at a later time, allowing you to save energy.
Lastly, a function that saves steam works to lower power just before boiling to minimize the amount of steam that is emitted.
Pros:
Easy to use device
Keeps water hot
Timer offers great convenience
Large enough for three people for a whole day
Cons:
Boiler starts to rust after some time
Newer models are less insulated
Takes a while to boil water
Appliance makes noise
---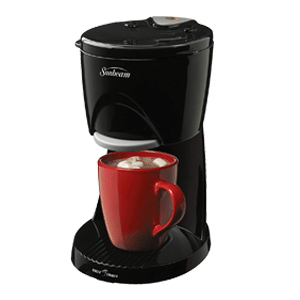 Measuring 10 by 6 by 8 inches, this is a convenient countertop hot water dispenser. The appliance features a modern design that helps in saving space and a cord storage that fits easily under the base.
With heat and dispense buttons that work well and are easy to use, this water dispenser can heat 16 ounces of water within a shorter period than a microwave.
Once the cycle of heating water is completed, the auto shut function turns off the unit.
Pros:
Lasts a long time
Heats water to near boiling temperature
Faster than a microwave
Perfect for a single person
Cons:
Does not hold a lot of water
Fill door keeps separating from the main unit
Product does not fit most mug sizes
Leaks water
---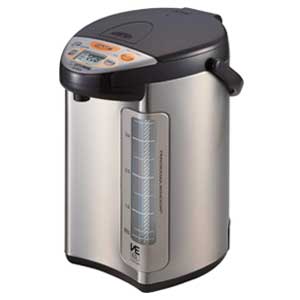 This hybrid water boiler and warmer has four keep-warm temperature settings; 160 degrees, 175 degrees, 195 degrees, and 208 degrees Fahrenheit.
The appliance features a clear-coated stainless steel body as well as a vacuum insulation that makes it possible to keep water warm.
It also has micro computerized temperature adjustment and quick temp mode which brings water to the required temperature without boiling. Lastly, the dispenser has a nonstick interior that makes it easier for you to clean.
Pros:
Great slow versus fast drip options
Temperature settings can be adjusted midway
Keeps water at over 205 degrees constantly
Easy to use
Cons:
Bottom begins to rust after a while
Too big for small kitchen spaces
Quite expensive
Appliance easily overheats
---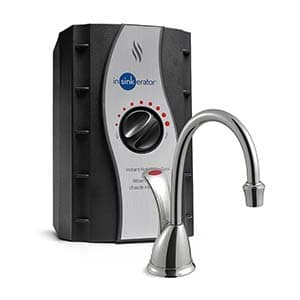 You'll love how easy it is to have hot water at your fingertips to prepare hot drinks, cereals, instant foods and more.
No need to use harsh chemicals to remove sticky labels or candle wax with this Involve Wave hot water dispensing unit.
The 750-watt, 2/3-gallon stainless steel tank delivers near-boiling water whenever you need it. Requires a 1.25 inch to 1.5 inch hole to install (standard).
Safe to use
The integrated hot lever has an instant self-closing valve that automatically shuts off to ensure safe use.
Easy temperature control
Simply turn the central knob to set the temperature from 160 to 210 degrees fahrenheit for near boiling water quickly.
Easy to install
This water dispenser can be set up quickly InSinkErator mounts on the edge of your kitchen sink, with no need for special plumbing. You can do it all yourself with the tool-free tank connections and the dry-start protection. With the right setup, you can turn into a faucet water filter and get purified water directly.
Pros:
Chrome finish for hot water faucet
Stainless-steel tank
3-Year We Come to You In-Home Full Service Limited Warranty, including free house calls (including parts and labor)
Cons:
This model doesn't deliver cold water – only hot
---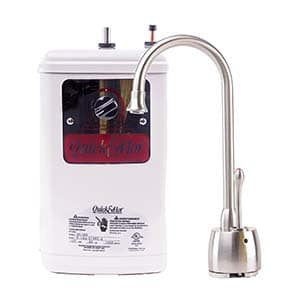 You'll love that this unit is not only convenient, but elegant in design. Its open vent satin nickel faucet goes with any kitchen.
This instant hot water dispenser provides ready hot water for soups, tea, warming baby bottles and more. No stovetop mess, no waste of water, and lots of time saved! Insulated stainless-steel tank that is built to last.
Delivers a large amount of water
This 1300-watt instant hot water tank delivers up to 100 cups of hot water per hour. The faucet dispenses 60 cups per hour.
Large tank capacity
The 5 to 8-gallon reservoir means plenty of water whenever you need it.
Safety feature
The open-vented safety system and faucet provide a means to allow increases and decreases in temperature without risking bladder over-expansion.
Pros:
Looks attractive with its discreet design
Energy efficient, using less electricity than a 40-watt light bulb and typically costing less than $2 per month to use
1 year replacement warranty
Cons:
Faucet drips from time to time because of the open vented system
Water temperature is 140 to 190 degrees F – other models provide up to 210 degrees F
---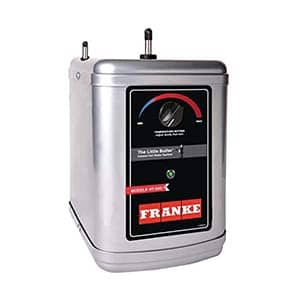 You'll love this 300-watt, silver and black compact-sized unit that can provide instant hot water from your POU faucet the moment you need it.
For smaller kitchens and cabinet spaces, this unit fits perfectly under the sink to give you close to boiling water for your home.
Good output for compact size
This compact unit can provide 60 cups of hot water in an hour at a close to boiling temperature.
Easy to use
Adjust the temperature with a dial located on the front of the water tank to a maximum temperature of 194 degrees F.
Solid construction
The durable stainless steel tank has a 5/8 gallon capacity and reduces waiting time to heat water.
Pros:
Good value for money according to some users
Optional smartphone app to tell you when to change the filter
Fairly easy to install if you already are using a under sink water filter
Cons:
Only works with Franke hot only and 3-in-1 hot and cold water filtration faucets, which are not included Water filters not included.
You may need extra water supply hoses to connect to the existing water supply lines
---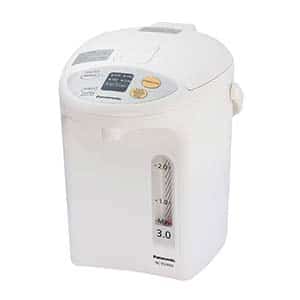 You'll love the versatility of this hot water dispenser which can make it easy for you to have instant hot water on tap for instant drinks and soups, baby food, and more. Entertaining is easy too!
This instant hot water dispenser has a 3.2 quart capacity and comes with an LCD screen, an easy-to-read water gauge, and a dispenser safety lock.
Four automatic temperature settings
You can set the temperature to 208, 190, 180 or 160°F to automatically heat and keep water hot for hours.
Slow-drip coffee feature
With the slow drip mode, you can have freshly drip-brewed coffee at the push of a button by putting the cup beneath the hot water dispenser. Put the coffee in the filter and you're ready to go. So, this handy appliance can be used as a coffee maker machine.
Purifies and alkalizes pH level of hot water
The Bincho-tan charcoal coating on the inner stainless steel pot can purify and alkalize the pH level of hot water, thereby allowing you to extract more flavor from your brewed teas
Pros:
6-hour energy savings timer
Detachable power cord
360-degree rotating base for easy access
Cons:
Because of the charcoal coating inside, you can't use scrubbers to clean limescale
---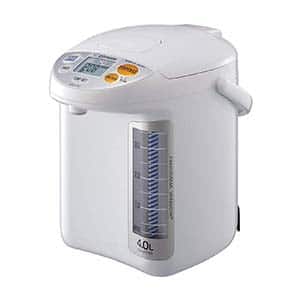 You'll love that this hot water dispenser acts as both a hot water dispenser system for boiling water as well as a water warmer, with some settings avoiding the water having to boil to reach a warm temperature.
No need for steam if you don't want it with this hot water dispenser. Zojirushi Japanese-designed unit is attractive and practical. The LCD display shows you the actual temperature of the water at all times, so you never have to double-check if the water is hot or not.
Several 'keep warm' temperature presets
Choose from 160, 175, 195 or 208 degrees F.
Quick Temp mode
This setting allows the water to reach 160, 175, or 195 degrees F without ever reaching a boil.
Simple to use
The one-touch electric dispensing system makes this unit easy to use.
Pros:
Easy to read Panorama window to gauge the water level quickly
Buttons at the top are large and easy to see
The energy-saving timer function of 6 to 10 hours
The micro computerized temperature control system keeps water at the selected temperature for as long as it's plugged in
Cons:
Users recommend you only use reverse osmosis water in this unit to avoid limescale buildup, as there is no integrated limescale cleaning feature
Some users report rusting on the inside after a short time
---
How to Choose A Hot Water Dispenser?
When planning to replace your old water dispenser or buying a new one, there are some factors you should take into account. In this way, you will be in a better position to acquire an instant hot water dispenser for your home.
Variable Dispenser
A variable dispenser allows you to change or adjust the amount of water that it dispenses. This proves to be a great feature especially if you want to use several mugs of different sizes.
Some of the hot water dispensers in the market can only dispense fixed amounts of water. If you choose this kind of water dispenser, it is advisable that you ensure that the amount of water dispensed will be enough to fill the mug you frequently use.
Stop/Cancel button
If you change your mind midway through the dispensing, for example, if you realize that the mug you are using will overflow, this feature will come in handy.
For the button and the function to be effective, it should work immediately. It takes a hot water dispenser a few seconds to fill up a cup. As such, a stop/ cancel button that takes time to respond will not serve the intended purpose.
Limescale Filter
A limescale filter acts to reduce the amount of residue and limescale that makes its way into your hot beverage. A good hot water dispenser should have a filter, making the water dispensed safely for consumption.
While some hot water dispensers come with a filter, this may sometimes translate to additional charges to buy the filters. At the same time, changing the filters can be a difficult undertaking.
Ease of Use
The ease with which you can use the appliance will be a major factor to consider when buying a hot water dispenser. This is particularly important to the process of replacing your refilled water tank.
Performance
The performance of your preferred water dispenser should also influence your decision when buying the appliance. Here's what to look out for in performance:
Instant Hot Water Dispenser
An instant hot water dispenser delivers hot water without delay. Rather than taking time to heat water to near boiling point, the dispenser heats the water in no time.
This is a great option for having hot water on the go. Indeed, the fact that it offers hot water without delay is likely to offer you unmatched convenience both at the office and in your home.
Water Temperature
Different hot water dispenses supply water at different temperatures. When buying a hot water dispenser for tea, it is important that you ensure that the device dispenses water at the right temperature.
While considering this, you should remember that water dispensed at room temperature will be at a lower temperature than the one told by the manufacturer as some heat is lost in the pipes.
Hot and Cold Water
There are hot only and hot and cool water dispenser models. Hot-only dispensers will only dispense hot water while hot and cool models will supply both hot and cold water. In our opinion, the water dispenser combines both the hot and cold-water functions, making it more convenient for you to use the appliance.
Boil Dry Protection
When the tank fixed on the appliance contains water below the minimum level, there is a high chance of the dispenser malfunctioning. The boil dry protection is a safety feature that turns the dispenser off under such circumstances, stopping the hot water dispenser from working. A good water dispenser should contain this feature.
Drip Tray
Depending on the design of the water dispenser, some of them come with a drip tray, more like the one found in a coffee machine. The drip tray is useful in the sense that it forms the surface on which you place your mug when it is being filled. At the same time, the tray will hold any spills, keeping the area around the dispenser clean.
All in all, the best water dispenser is the one that will meet your individual needs and unique circumstances. Depending on your situation, you can choose a bottom loading water dispenser or a top loading water dispenser.
In a similar fashion, when working under tight budgetary conditions, you can opt for a cheap hot water dispenser.
---
Our Recommendation for the Best Hot Water Dispenser
Based on the reviews we have compiled, and the pros and cons associated with each of the 5 top hot water dispenser, the hot water dispenser that is likely to meet most of your needs at home and in the office is the Rosewill 4-liter Dual Dispense Electric Hot Water Dispenser.
The appliance is made of stainless steel, making it strong and durable while at the same time easy to clean.
Moreover, the dispenser has a large capacity, two types of water feed, and a lock feature to prevent it from dispensing water unless the unlock button is pressed.
We hope that our buying guide to choose the best one and our compiled 10 best hot water dispenser reviews will be useful to you as you choose the most appropriate one.
More Related Articles: