Are you looking for a water dispenser for your home or office use? Would you like a dispenser that will give you chemical-free, near boiling point water instantly?
We have conducted research and compiled a buying guide that will make it easy for you to choose the best hot water dispenser.
Also, we have included 5 top hot water dispenser reviews to assist you in arriving at your decision faster. Once you finish reading this guide, you will be sure which hot water dispenser will serve you best.
Quick Navigation
The Most Recommended Best Hot Water Dispenser: 5 Best Reviewed
How to choose the Best Hot Water Dispenser?
When planning to replace your old water dispenser or buying a new one, there are some factors you should take into account. In this way, you will be in a better position to acquire the best hot water dispenser for your home.
Variable Dispenser
A variable dispenser allows you to change or adjust the amount of water that it dispenses. This proves to be a great feature especially if you want to use several mugs of different sizes.
Some of the hot water dispensers in the market can only dispense fixed amounts of water. If you choose this kind of water dispenser, it is advisable that you ensure that the amount of water dispensed will be enough to fill the mug you frequently use.
Stop/Cancel button
If you change your mind midway through the dispensing, for example, if you realize that the mug you are using will overflow, this feature will come in handy.
For the button and the function to be effective, it should work immediately. It takes a hot water dispenser a few seconds to fill up a cup. As such, a stop/ cancel button that takes time to respond will not serve the intended purpose.
Limescale Filter
A limescale filter acts to reduce the amount of residue and limescale that makes its way into your hot beverage.
A good hot water dispenser should have a filter, making the water dispensed safely for consumption.
While some hot water dispensers come with a filter, this may sometimes translate to additional charges to buy the filters. At the same time, changing the filters can be a difficult undertaking.
Ease of Use
The ease with which you can use the appliance will be a major factor to consider when buying a hot water dispenser. This is particularly important to the process of replacing your refilled water tank.
Performance
The performance of your preferred water dispenser should also influence your decision when buying the appliance.
Here's what to look out for in performance
Instant Hot Water Dispenser
An instant hot water dispenser delivers hot water without delay. Rather than taking time to heat water to near boiling point, the dispenser heats the water in no time. This is a great option for having hot water on the go. Indeed, the fact that it offers hot water without delay is likely to offer you unmatched convenience both at the office and in your home.
Water Temperature
Different hot water dispenses supply water at different temperatures. When buying a hot water dispenser for tea, it is important that you ensure that the device dispenses water at the right temperature. While considering this, you should remember that water dispensed at room temperature will be at a lower temperature than the one told by the manufacturer as some heat is lost in the pipes.
Hot and Cold Water
There are hot only and hot and cool water dispenser models. Hot-only dispensers will only dispense hot water while hot and cool models will supply both hot and cold water. In our opinion, the best hot water dispenser combines both the hot and cold-water functions, making it more convenient for you to use the appliance.
Boil Dry Protection
When the tank fixed on the appliance contains water below the minimum level, there is a high chance of the dispenser malfunctioning. The boil dry protection is a safety feature that turns the dispenser off under such circumstances, stopping the hot water dispenser from working. A good water dispenser should contain this feature.
Drip Tray
Depending on the design of the water dispenser, some of them come with a drip tray, more like the one found in a coffee machine. The drip tray is useful in the sense that it forms the surface on which you place your mug when it is being filled. At the same time, the tray will hold any spills, keeping the area around the dispenser clean.
All in all, the best hot water dispenser is the one that will meet your individual needs and unique circumstances. Depending on your situation, you can choose an under the sink hot water dispenser or an in-sink hot water dispense.
In a similar fashion, when working under tight budgetary conditions, you can opt for a cheap hot water dispenser.
The Most Recommended Hot Water Dispenser: 5 Best Hot Water Dispenser Reviews By Sujana Marie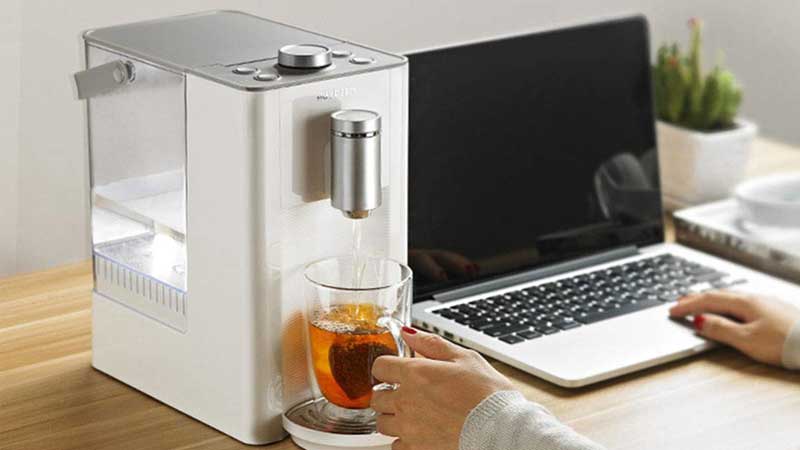 Below we have compiled 5 reviews of some hot water dispensers to make it easy for you to reach a decision when shopping for the water dispenser that will meet your needs.
1) Rosewill 4-liter Dual Dispense Electric Hot Water Dispenser Review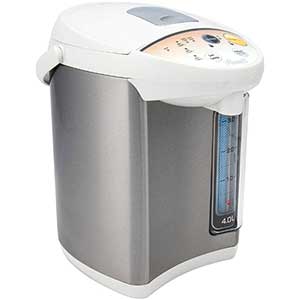 This electric hot water dispenser has its outer shell and inner pot both made of stainless steel.
The 700-watt appliance has a small volume, fast speed water feed in blue light and a big volume, fast speed water feed in red light.
At the same time, the water dispenser features hot water splash prevention and Dry-boiled protection functions for improved cleanliness and safety in your home and office.
There is also a bottom heater as well as three temperature settings that are suitable for instant food.
For tea, the temperature is 208 degrees, 175 degrees for coffee and 140 degrees Fahrenheit for milk powder.
Pros:
Large capacity appliance
Easy to clean
Lock feature prevents dispense until unlocked
Chemical-free stainless steel interior
Cons:
Takes up a lot of space on counters
Hard to close lid
Needs to be cleaned regularly
Does not retain settings once it is unplugged
2) Secura Electric Hot Water Dispenser Review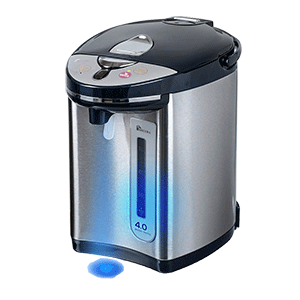 With an in-built micro-computerized temperature-control system and a convenient reboil button, this 4-quart water dispenser can keep water warm at 208 degrees Fahrenheit or 175 degrees Fahrenheit.
The boiler also has an inbuilt clean cycle that automatically removes water scale up.
This hot water dispenser features non-coated stainless steel interior and a one-touch switch for the electric dispenser.
Also, there is a water level gauge that works to automatically shut down the system when water levels do not meet the minimum required levels.
Pros:
Clean cycle to remove scale buildup
Stainless steel interior
Easy to use
Heats up water fast
Cons:
Chemical taste and smell in water
Does not have on/off switch
Lacks quality insulation
Dispenser button needs to be pressed hard
3) Zojirushi Micom 4L Hot Water Dispenser Review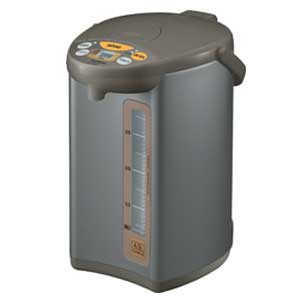 With a hot water capacity of four liters, the 700-watt electric dispenser has a Micro-computerized temperature control system. It can also reboil eater to 212 degrees Fahrenheit.
The dispenser consists of 4 keep-warm temperature settings at 14-, 175, 195 and 208 degrees Fahrenheit and an LCD that shows actual water temperatures always.
Moreover, the hot water dispenser has a timer that automatically turns the boiler on at a later time, allowing you to save energy.
Lastly, a function that saves steam works to lower power just before boiling point to minimize the amount of steam that is emitted.
Pros:
Easy to use device
Keeps water hot
Timer offers great convenience
Large enough for three people for a whole day
Cons:
Boiler starts to rust after some time
Newer models are less insulated
Takes a while to boil water
Appliance makes noise
4) Sunbeam Hot Shot Hot Water Dispenser Review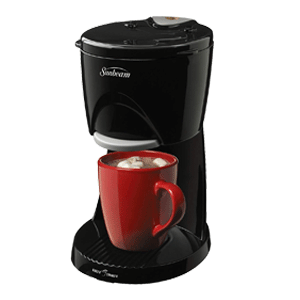 Measuring 10 by 6 by 8 inches, this is a convenient countertop hot water dispenser. The appliance features a modern design that helps in saving space and a cord storage that fits easily under the base.
With heat and dispense buttons that work well and are easy to use, this water dispenser can heat 16 ounces of water within a shorter period than a microwave.
Once the cycle of heating water is completed, the auto shut function turns off the unit.
Pros:
Lasts a long time
Heats water to near boiling point
Faster than a microwave
Perfect for a single person
Cons:
Does not hold a lot of water
Fill door keeps separating from the main unit
Product does not fit most mug sizes
Leaks water
5) Zojirushi America Corporation Hot Water Dispenser Review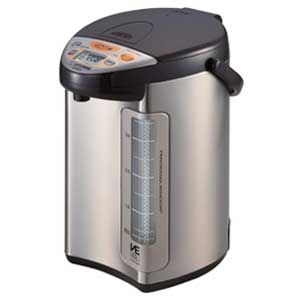 This hybrid water boiler and warmer has four keep-warm temperature settings; 160 degrees, 175 degrees, 195 degrees and 208 degrees Fahrenheit.
The appliance features a clear-coated stainless steel body as well as a vacuum insulation that makes it possible to keep water warm.
It also has a micro computerized temperature control and quick temp mode which brings water to the required temperature without boiling.
Lastly, the dispenser has a nonstick interior that makes it easy for you to clean.
Pros:
Great slow versus fast drip options
Temperature settings can be adjusted midway
Keeps water at over 205 degrees constantly
Easy to use
Cons:
Bottom begins to rust after a while
Too big for small kitchen spaces
Quite expensive
Appliance easily overheats
---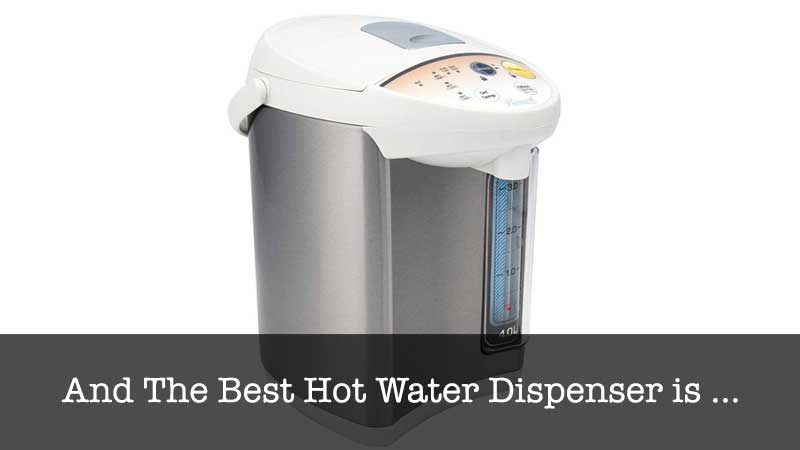 So, Which One Is The Best Hot Water Dispenser?
Based on the reviews we have compiled, and the pros and cons associated with each of the 5 top hot water dispenser, the hot water dispenser that is likely to meet most of your needs at home and in the office is the Rosewill 4-liter Dual Dispense Electric Hot Water Dispenser.
The appliance is made of stainless steel, making it strong and durable while at the same time easy to clean.
Moreover, the dispenser has a large capacity, two types of water feed and a lock feature to prevent it from dispensing water unless the unlock button is pressed.
We hope that our buying guide to choose the best hot water dispenser and our compiled 5 best hot water dispenser reviews will be useful to you as you choose the most appropriate hot water dispenser.
Related Articles: