Coffee connoisseurs who are passionate about their cup of Joe every morning probably won't be satisfied by brewing a cup through a drip filter or mixing up a cup of instant.
If your addiction has you scouring the internet for the best home espresso machine that has all the bells and whistles to help create your perfect cup, you've come to the right place.
We've done the research to uncover everything you need to know about making a good investment in a espresso machine for home use.
Here we've rounded up espresso machine reviews to give you the run down on all the details of each model, and given you our top picks in categories at every price point.
Before we launch into the nitty gritty details, let's look at how we chose our favorites.
---
Top 3 Best Home Espresso Machines
Here are our picks for the best espresso machine for home use. We scoured the web and searched hundreds of espresso machine reviews to find high quality products that brew the thickest, creamiest, dreamiest cup of espresso without breaking the bank.
We also made sure that each of these coffee machines, whether they are fully automatic or semi-automatic espresso makers, have several nice upgrades to make the brewing process simple.
Finally, each of these espresso models come from top quality brand name manufacturers, who offer both warranties and upgradeable components if you want to improve your system over time.
These are the top 3 best home espresso machines that money can buy.
Editor Pick as The Best Home Express Espresso Machine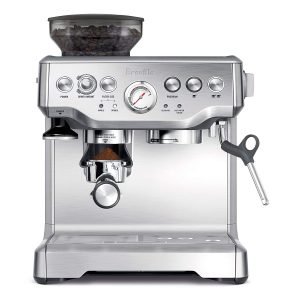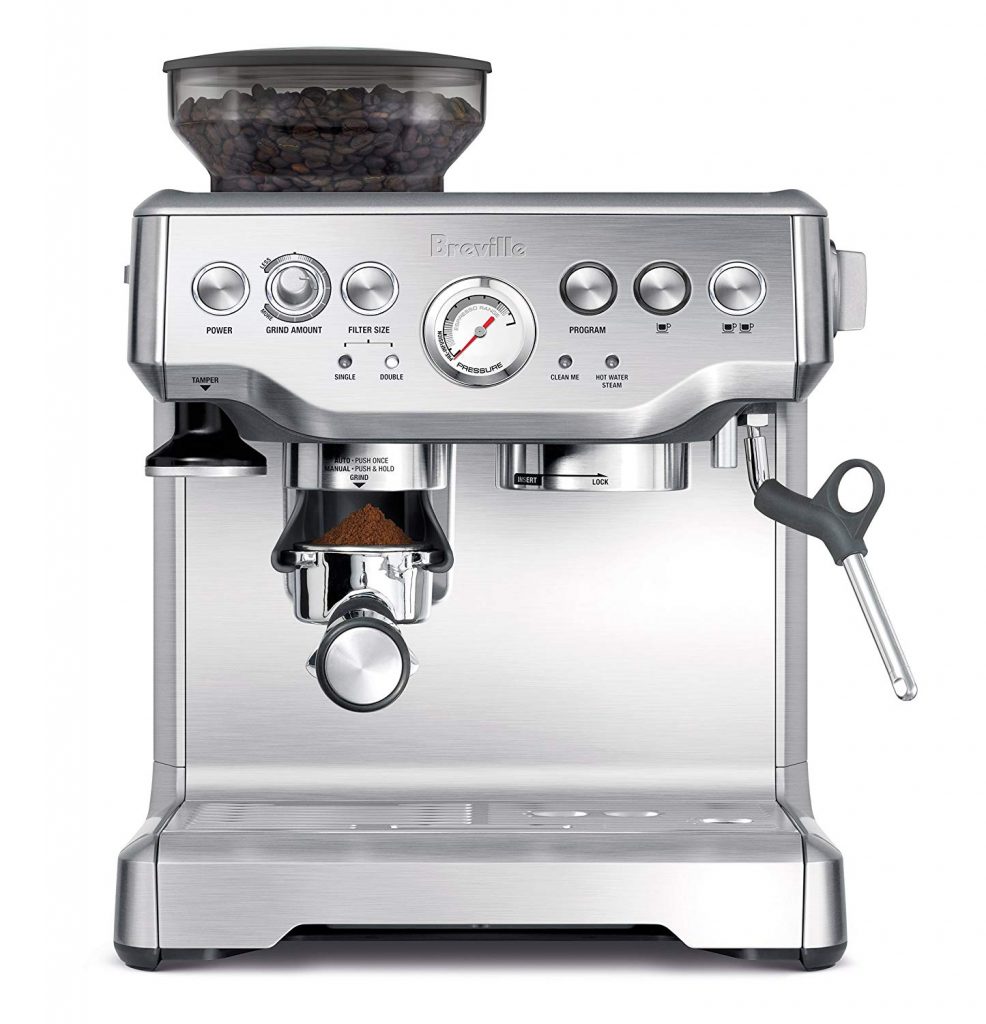 You can't ignore what people have to say, and according to the thousands of Breville Barista Express Reviews online, the Breville BES870XL Barista Express is one of the best home espresso machines money can buy.

This high-end model has dozens of impressive features and functions that put it right in line with that you might expect to find at your favorite local coffee shop, and it makes drinks that rival what you'll find anywhere else.

Delivering a fresh and robust cup of espresso is the primary goal of the makers of the Breville Barista Home Espresso Machine, and they integrated features from the top down to make that possible.

The integrated burr grinder allows you to easily grind beans every time you brew a cup, guaranteeing optimal freshness without creating a lengthy and messy process.

The manufacturer says that beans can start to lose their freshness within five minutes of grinding, so they've streamlined the process to take you from grinding to espresso in under one minute.

The Breville BES870XL Barista Express Espresso Machine is the best home espresso machine for novices and experienced coffee brewers alike.

It's dual-wall pressurized filters regulate pressure and produce a perfect cup, but the system also includes a non-pressured option that allows more experienced baristas to manipulate the grind sizes, amount, and tamping pressure to create a custom brew.

Like our other top picks for the best automatic espresso machine, this model has a 15-bar pump and thermocoil heating system ensuring that you have perfectly regulated pressure and water temperature every time you brew. There is also an integrated 360-degree swivel action steam wand to froth milk for lattes and cappuccinos.

Extra features that you won't see in other models are the pre-brew function and flat shower head design that ensures water is optimally distributed through every ground in the coffee puck.

Also, the Breville Barista Express has a feature that removes the excess water from the filter basket once the coffee has been brewed, making it easy to pull the dried grounds from the machine and clean it up.

Finally, there's a cup warmer on top of the espresso machine which allows you to keep one cup at the perfect temperature while preparing a second.

The high-quality construction and design of this model from Breville are unparalleled in any other on the market. Encased in stainless steel, it's as attractive as it is functional.

It fits on any kitchen countertop and comes with a hideaway storage compartment for the included cleaning tools allowing you to keep it clean and tidy.

As our pick for the best home espresso machine you can buy, be prepared to put a bit of a dent in your wallet if you decide to go with this model.
---
The Runner Up – Best Home Espresso Machine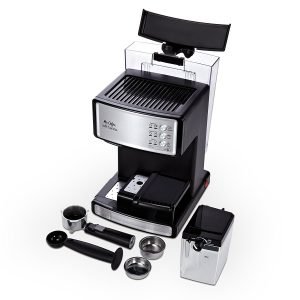 This top of the line machine from Mr. Coffee is the best home espresso machine the brand offers. The Mr. Coffee Cafe Barista Espresso Maker is a 3-in-1 espresso, cappuccino and latte maker that features a 15-bar pump system making it simple to brew a rich-tasting brew with nothing more than a push of a button.

The Mr. Coffee ECMP1000 Home Espresso Machine comes with an attached automatic milk frother with a removable reservoir making it simple to whip up a frothy cream and then remove and clean the attachment. The removable water tank and drip catcher are two additional features that make it easy to keep the system clean and functioning well.

One of the best features of the Mr. Coffee Cafe Espresso is the one-touch control panel that allows you to brew both single and double shot drinks with a push of a button.

In Mr. Coffee Barista reviews, users appreciated that the system comes with a single shot filter, a double shot filter, a measuring scoop, a tamper, and a book of coffee recipes to give ideas on how to creatively brew your next cup.
---
Editor Pick As the Best Cheap Espresso Machines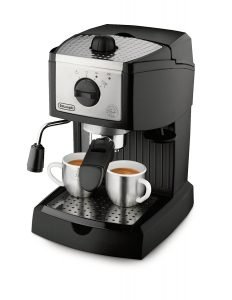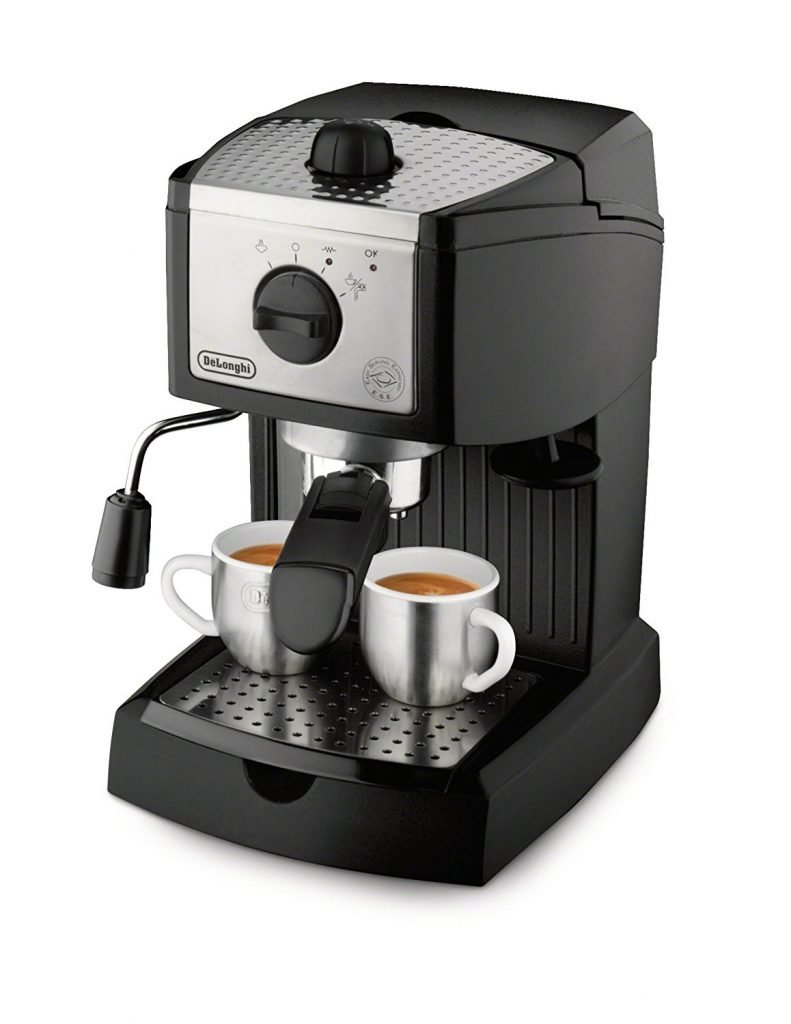 The DeLonghi EC155 15 Bar Pump Espresso machine is one of the best budget espresso machines for home on the market. In this DeLonghi EC 155 review we'll discuss all the convenient features it offers that allow you to brew authentic tasting Italian espresso fast and save quite a bit of money in the process.

Both an espresso and cappuccino maker, this DeLonghi Espresso Maker has a swivel jet frother which allows you to whip up milk for a variety of barista style drinks.

The patented dual function filter holder is a unique feature that allows you to use either ground beans or coffee pods in the machine, which gives you options on days you might be in a rush and not have enough time for grinding and preparation.

Another way this pump espresso machine makes your morning routine seamless is with its self-priming operation feature. The element and boiler reach the optimal temperature quickly and maintain their heat, allowing you to brew up after cup without having to wait for the machine to regulate in between uses.

The removable 35-ounce water tank and drip tray make this home cappuccino machine easy to clean and maintain so that you don't ever have to worry about the quality of your coffee.

Overall this DeLonghi home espresso machine is one of the best cheap espresso machines for the home that you can count on to give you the quality you're searching for, without breaking the bank.
---
---
Home Espresso Machines from the Best Brands
In addition to our top three picks of the best home espresso machines, many others could be a perfect fit for your home, needs, and budget.
While Breville, DeLonghi, and Mr. Coffee are well known for making high quality models, other manufacturers like Gaggia, Cuisinart, Nespresso, and Hamilton Beach offer options that produce cafe-like cups at home.
Here we'll branch out from our top picks to give you details on other models to check out. Remember, the best home espresso machine for you might not need all the bells and whistles, or you might be looking for specific criteria that will make it the right fit for your home.
We'll discuss the price, quality, accessories, and how easy it is to clean and maintain in each of these espresso machine reviews to help you make your final decision.
---
Best Breville Home Espresso Machines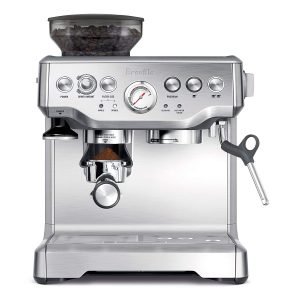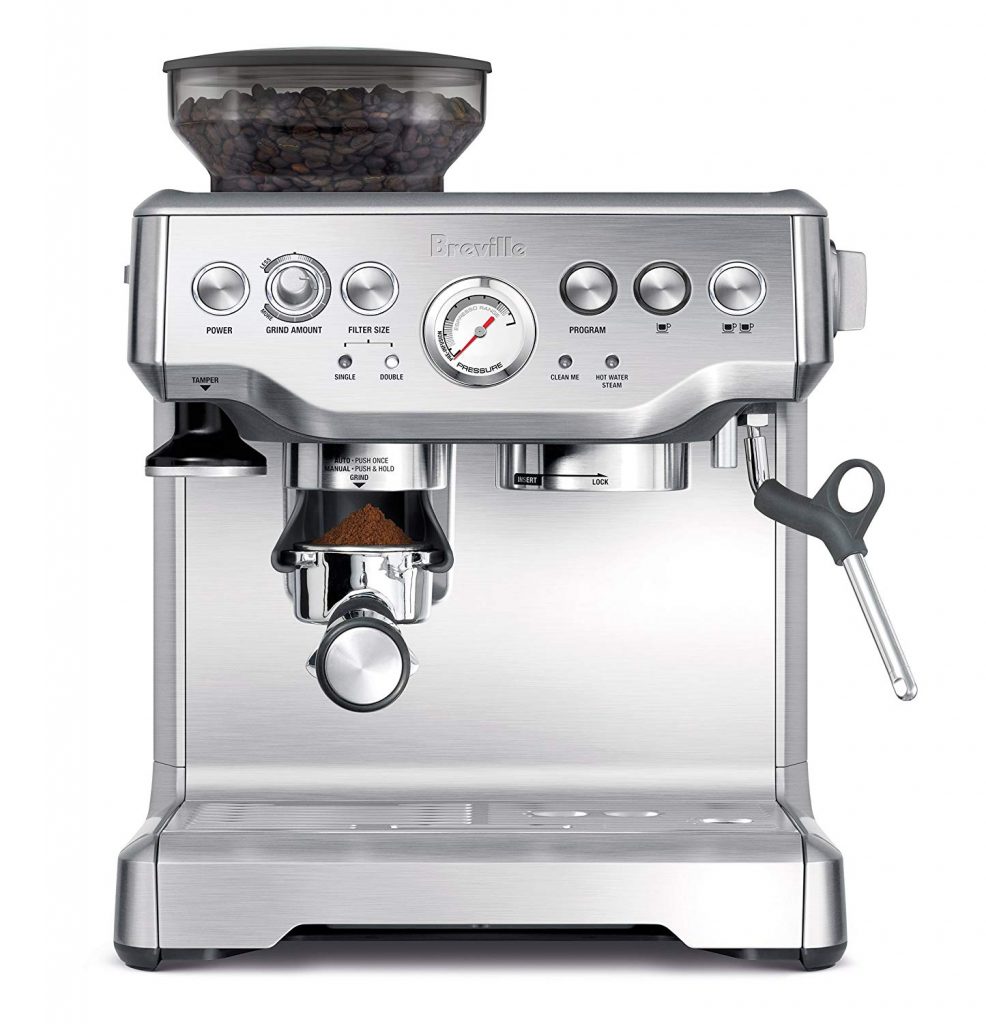 The Breville Barista Express Espresso Machine already made our list as one of our top three picks for best home espresso machines, and for a good reason.
The Breville brand is well known for using high-quality materials and putting a lot of thought into how to craft the perfect cup of coffee with each of their models.
When you purchase a Breville espresso maker, you're purchasing quality. Whether you go with the Breville Barista, The Breville Infuser Espresso Machine, the Breville Cafe Roma, or the Breville ESP8XL or one of the other models you'll get the thick, Italian style quality you're looking for in a cup of espresso.
In this section, we want to give you several Breville espresso maker reviews on their most popular products so that you have an insider look at what's available from the company.
We've already gone into detail about all of the features of the Breville Barista Express espresso maker above in our Breville Barista Express review. Below we'll examine the other Breville cappuccino machines, and how they stack up.
---
ESP8XL- The best home espresso machine from Breville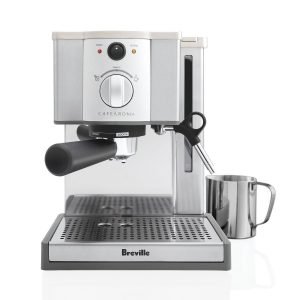 This stainless-steel espresso machine, the Breville ESP8XL Cafe Roma, is a strong contender for a highly functional home espresso machine.
Like the Breville Barista Express, it has a dual-wall filter system and a 15-bar thermoblock pump that offers the perfect temperature and pressure to create a dense cup of coffee.
Connoisseurs mention in Breville ESP8XL reviews that they like the included stainless steel frothing pitcher, tamping tool, measuring spoon, and cleaning tool as they complete the setup and give you everything you need to make a variety of cafe style beverages.
This Breville Cafe Roma review liked the size of the 1.2L (40.6 oz.) removable water tank, and the ease of filling it up and keeping it clean. There's also a removable drip tray and grid which is another convenient feature.
This model can brew single, double, or pods giving you lots of versatility. Like many of the other high-end Breville espresso machines reviewed, it also has a cup warmer on top of the model.
---
Breville BES840XL the Infuser Espresso Machine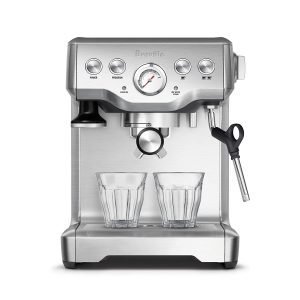 The Breville Infuser Espresso Machine is another top of the line model. In Breville BES840XL reviews, users loved the pre-infusion function that begins by using lower water pressure at the beginning of the extraction which gently expands the grinds before blasting them with the full pressure of the 15-bar Italian pump. This results in a more complete and even brew.
In other Breville espresso machine reviews for this model, the 1600w thermocoil heating system was a big hit. It offers accurate temperature control every time and combined with the auto-purge function that automatically adjusts the temperature after steam; you'll never experience bitter beans. The integrated milk frother is a handy accessory for making cappuccinos and lattes.
This home espresso model comes with single and dual-wall filter baskets, a coffee scoop, and stainless steel jug, cleaning accessories, and a water filter.
---
Breville Duo Temp Pro- Best Espresso Machine for Beginners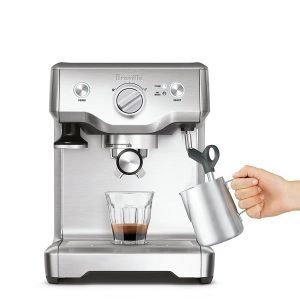 The Breville Duo Temp Espresso Machine is a good choice for beginners who want the option to grow into the intricacies of espresso making.
In Breville Duo Temp Pro reviews, experts loved that you have the possibility of using both a pressurized or non-pressurized portafilters, which gives you the opportunity to experiment with brewing once you've mastered the basic steps.
Like you'll see in other Breville espresso maker reviews, this model has a 15-bar Italian pump, and produces 1600w of thermocoil controlled heat and pressure, allowing you to brew a perfect cup and use the integrated frother to steam your milk too.
This dual coffee espresso machine is a good value relative to its approximate cost.
---
Breville BES980XL – Best Automatic Home Espresso Machine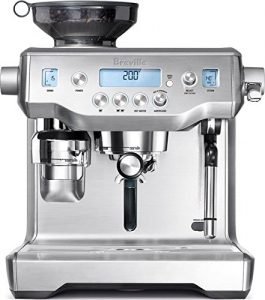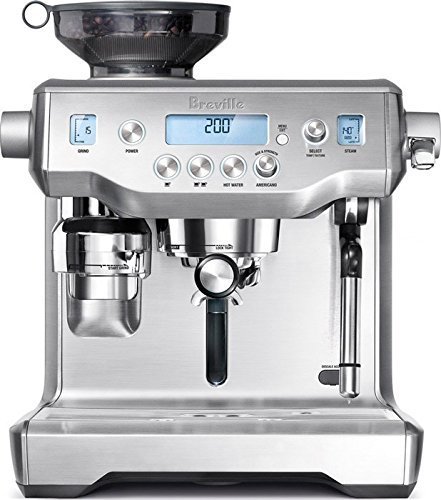 The holy grail of home espresso machines, the Breville Oracle BES980XL is touted by many as the best automatic espresso machine money can buy.
As a top of the line model, you probably expect to see an impressive list of features in this Breville BES980XL review. You certainly won't be disappointed!
Most automatic espresso machine reviews focus on models that do one cup at a time, but that's not the case with this Breville Oracle review.
This model has dual stainless steel boilers and dual Italian pumps, which allow you to prepare two cups of customized coffee simultaneously.
The machine automatically grinds, doses, and tamps the required amounts through one of three preset or six customizable program settings to get you your perfect cup.
The shot temperature can be programmed anywhere from 190 to 205 degrees, and milk temperatures can vary from 130 to 150 degrees.
Impressive features like the integrated conical burr grinder, dual boilers, triple heating system, and electronic PID control make this a thought-free model for beginners and give advanced baristas endless options to experiment with.
If you're a fan of customized espresso drinks, there are lots of perks in this model. The Breville BES980XL has a one-touch Americano feature that delivers hot water directly into the cup after extraction, and the frother has a hands-free milk texturing function that allows you to choose from styles like "Latte" and "Capp" and bases its intensity on the brand and type of milk you use.
While some might consider this a significant investment, others who reviewed the Breville Oracle Espresso machine thought it was more than worthwhile once they added up how much they spent annually on coffee house espresso.
---
Breville BES920XL – Best Home Espresso Machine for 2 Cups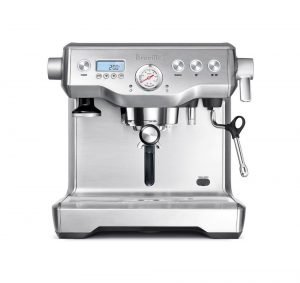 At around half the price of the beefy BES980XL, the Breville Double Boiler Espresso Machine, also known as the BES920XL is a less costly choice if you're shopping for an option that can brew two cups at once.
This Breville semi-automatic espresso machine has a lot of the same basic functionality that you see in its higher end counterpart.
With a stainless-steel boiler heating system that's PID temperature controlled at its heart, you are guaranteed to have the perfect brewing temperature every time.
The separate steam boiler allows you to brew and steam simultaneously, and the integrated over pressure valve prevents you from over-brewing and getting bitter flavors in your coffee.
While there is no built-in grinder, so you'll need to do your beans by hand for the best freshness, this model does have several user-friendly programmable features including brew temperature, pre-infusion pressure, and auto start.
The dual boiler has a descaling function, a shot clock, and a pressure gauge, making it one of the best Breville espresso machines for home baristas who want to expand their skills over time.
---
Best DeLonghi Home Espresso Machine
Another powerhouse in the coffee brewing world, DeLonghi, is well known for making amazing quality machines. We highlighted our pick for the best DeLonghi espresso machine above as one of our top three picks, but there are many other Delonghi espresso and coffee maker model's worth mentioning.
Below, we'll give you a rundown of the most popular products and provide detailed Delonghi espresso machine reviews that compare the features and specs of options at every price range.
Whether you're shopping for a DeLonghi automatic espresso machine, a DeLonghi super automatic espresso machine, a DeLonghi combination coffee and espresso machine, or a model like the DelonghiMagnica, the Dedica, or the Icona, we've got you covered.
---
DeLonghi ECAM22110SB – The best compact automatic Home espresso machine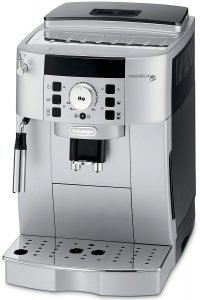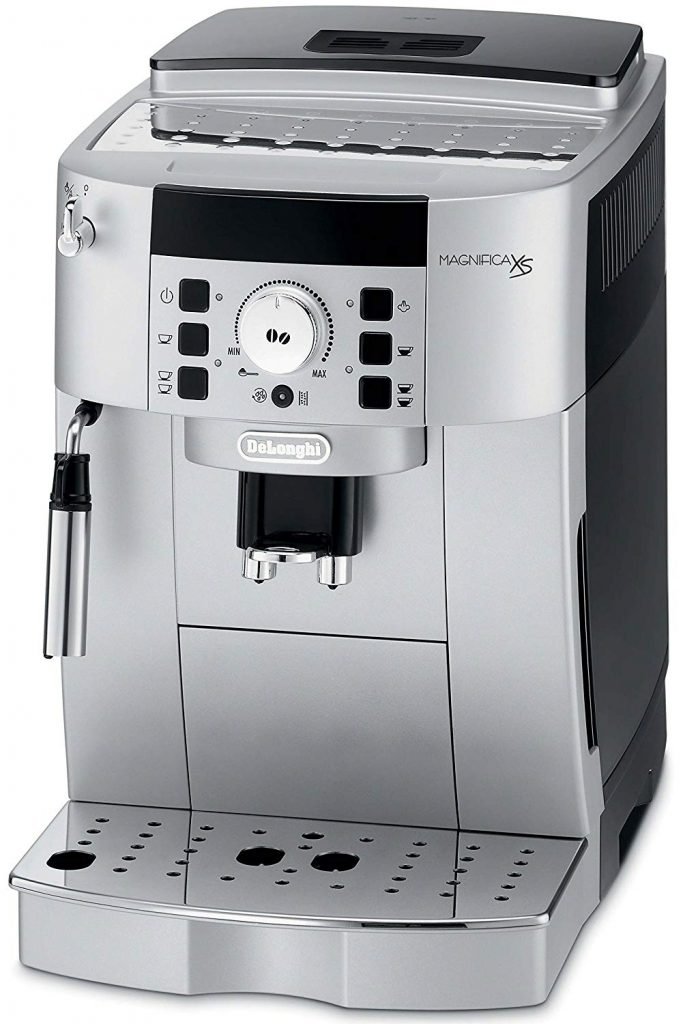 The compact size of this model makes the DeLonghi ECAM22110SB a favorite in DeLonghi espresso machine reviews. Just because it doesn't take up a lot of space doesn't mean you lose any of the impressive features you expect from one of the best automatic home espresso machines on the market.
The DeLonghi automatic espresso machine comes with a built-in water filtration system which allows you to use tap water and still get a tasty cup of coffee. The signature aroma button time-releases water to gently saturate coffee grounds allowing you to extract a fuller flavor from your brew.
The integrated system frother mixes steam and milk flawlessly to help give you the creamy texture you need for lattes and cappuccinos.
While there isn't an integrated grinder, you do get lots of easy to use features like one-touch brewing, customized programmable options, and an energy-saving switch that can reduce consumption by up to 77 percent. Overall this is one of the best DeLonghi espresso machines for home use.
---
The Best Semi-Automatic Home Espresso Machine from DeLonghi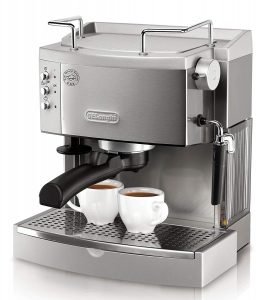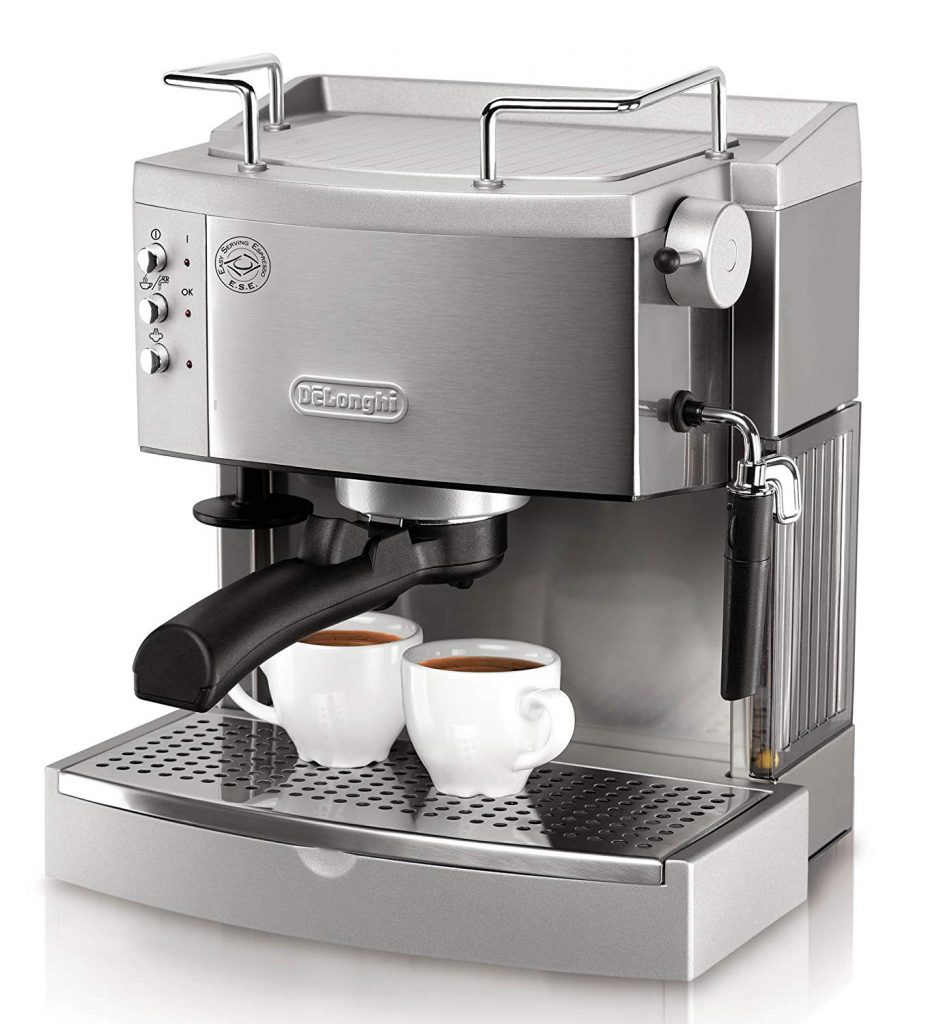 The elegant stainless-steel design is just one of the features that make users of the DeLonghi EC702 review it as one of the best DeLonghi home espresso machines in its class.
The DeLonghi EC702 Espresso Maker gives you lots of home brewing options, allowing you to use either to ground espresso or E.S.E. pods in the unique patented dual filter holder.
The system comes with two separate thermostats that control the water and steam pressure, so you can make an adjustment and make both espresso or cappuccino at the appropriate temperatures. The attached frother uses a special chamber to mix milk and steam in your coffee concoctions.
The DeLonghi Pump Espresso maker has a self-priming operation feature which eliminates long start-up times, a no-drip design, and a durable stainless steel boiler that will stand up to years of home use with ease.
---
Delonghi EC680M DEDICA -Best Home Espresso Machine for Limited Space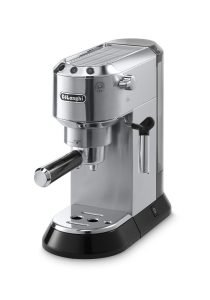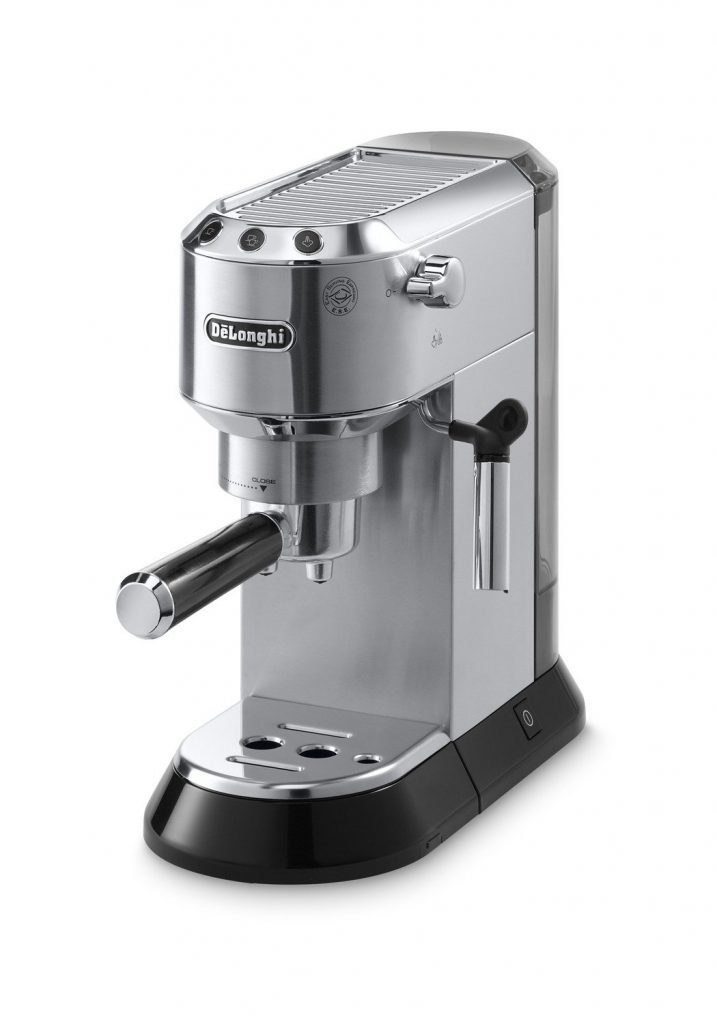 The ultra-compact stainless steel DeLonghiDedica Espresso Maker is one of the best espresso machines for home use if you have a small kitchen or limited counter top space. At under 6 inches wide, the DeLonghiDedica also tops our list as one of the best affordable espresso machines novice baristas can buy.
This model utilizes thermoblock technology which heats up your water in less than a minute. Combined with the self-priming system, you'll never have to wait long to get your perfect cup of espresso with this DeLonghi pump espresso maker.
The integrated three-in-one filter is a common DeLonghi feature and a favorite in DeLonghi espresso machine reviews. It can accommodate single or double shots, as well as the easy-serving espresso pods that cut down on prep time on a busy morning.
The attached frother on the DeLonghiDedica espresso machine gives you the ability to make fancy coffeehouse-style drinks even in small apartment-sized kitchens.
---
De'Longhi ECP3420 – One of the best Affordable Home Espresso Machine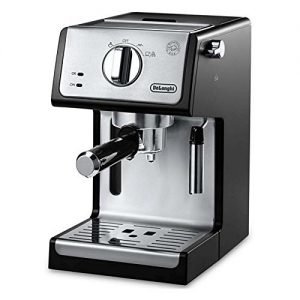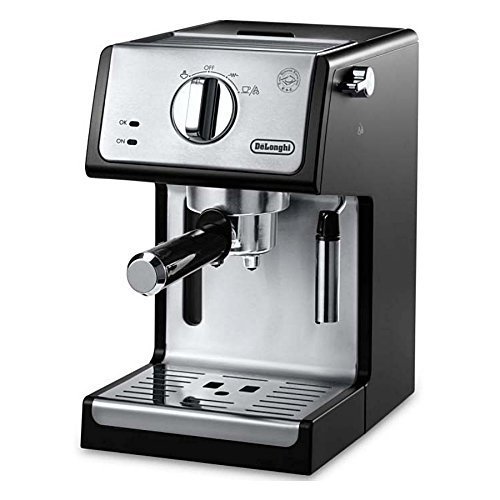 The DeLonghi ECP3420 Espresso and Cappuccino maker is one of the more affordable espresso machines from the DeLonghi line. This 15-bar DeLonghi pump espresso maker is a good choice if you're a ground coffee purest. While it can't accommodate pods like some of the more expensive models, it can brew single or double espressos.
The attached advanced cappuccino system has hot milk and cappuccino options that mix and whip milk for an even froth for cafe style drinks.
The double drip tray can accommodate larger cups and is often mentioned as a nice feature in DeLonghi ECP3420 reviews. The self-priming operation eliminates long start-up times, and the stainless-steel boiler system delivers consistent results with every cup you brew with this DeLonghi espresso and cappuccino maker.
---
DeLonghi ESAM3300 -One of the best Super-Automatic Espresso Machine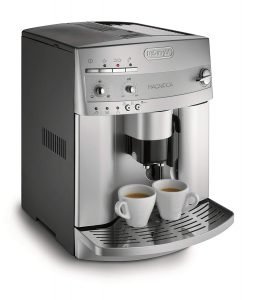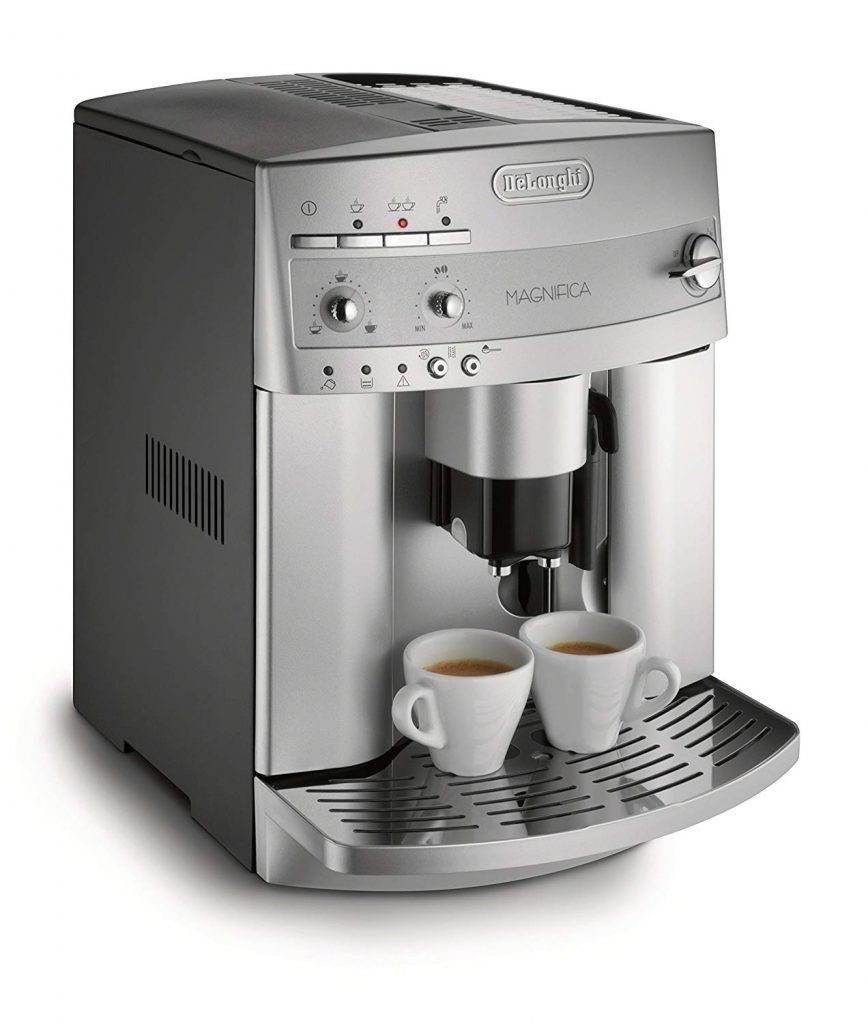 Coffee connoisseurs who can't function before they get their first cup frequently favorite the DeLonghi EASM3300 in reviews. As one of the best super automatic home espresso machines available in its class, this model does everything short of drinking the coffee for you.
The DeLonghi Magnifica coffee machine features their unique beans-to-brew system that stores whole beans and grinds them to your desired texture immediately before brewing to deliver fresh and aromatic espressos.
With two stainless-steel boilers, you get excellent heat distribution and instant reheating, making it possible to brew perfect quality cups one right after another without any wait time.
The front panel offers user-friendly controls that let you choose from single or double shots brewed at five different strengths and four different lengths to suit your individual taste. The patented cappuccino system rates 180 degrees so you can accommodate any size milk container.
As a DeLonghi super automatic coffee machine, this system even comes with rinse and decalcification auto programs, meaning it does most of the cleanup for you.
If you're someone who is always short on time in the mornings, DeLonghi Magnifica reviews show that this might be the perfect way to ensure you get a high-quality cup of coffee no matter what.
---
Best Mr. Coffee Home Espresso Maker
Mr. Coffee has been a household name delivering cups of morning Joe to homes across the world for decades. Not just a traditional percolator, the brand has expanded their line to include a variety of Mr. Coffee Espresso and Cappuccino makers to fit every lifestyle and budget.
Below we'll include two Mr. Coffee espresso maker reviews of our favorite models by the brand. Whether you're searching for a Mr. Coffee pump espresso maker, a latter maker, cappuccino maker, or just want to better understand the features and benefits of Mr. Coffee espresso machines, you've come to the right place.
---
Best Automatic Dual Shot Espresso/Cappuccino System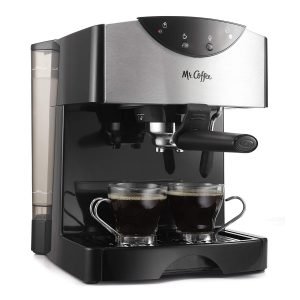 This Mr. Coffee pump espresso maker is one of the best espresso makers for home that you can purchase without breaking the bank. It features a 15-bar pump system and has a dual-shot brewing design that allows you to brew two single shots simultaneously. This is especially helpful if you're not the only coffee lover waiting in line at the machine in the mornings.
The attached milk frother uses manual steam to whip up creamy espressos and cappuccinos. Like most espresso and cappuccino makers that made our list, this Mr. Coffee cappuccino maker uses a thermal block heating system for fast brewing at even temperatures.
A smaller machine than some of the others we reviewed, it includes a 40-ounce refillable water reservoir.
---
Best 4-Cup Steam Espresso System with Milk Frother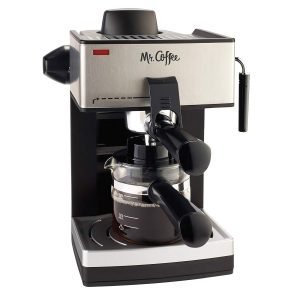 This Mr. Coffee 4-cup espresso maker is marketed as a great entry-level machine for aspiring baristas. Retailing for less than $50, this incredibly user-friendly model can produce four servings of an espresso-esque brew, though it won't be as thick or pressurized as you'll find at a coffee house.
Using steam created pressure that measures in at around 3 bars, significantly less than the 15 bars on the other models on our list, this Mr. Coffee cappuccino maker is a great choice for someone who likes lattes, Americanos, cappuccinos, and other variations on espresso based drinks.
The attached milk frother uses manual steam to help you craft your perfect cup, and the easy pour glass carafe is a user-friendly serving tool.
---
Best Gaggia Home Espresso Machine
In Milian in the 1930's the Gaggia family set out to brew the perfect cup of coffee. Their legacy became a line of Gaggia coffee makers that give us the power to recreate the authentic Italian experience in the comfort of our homes.
Gaggia espresso machines are coffee house favorites, and their manual and automatic coffee machines have a few unique features that are worth pointing out.
Below we'll include some Gaggia espresso machine reviews on two of our favorite models, the Gaggia 14101 Classic Espresso Machine and the GaggiaBreo Super Automatic.
---
Best Semi-Automatic Espresso Maker from Gaggia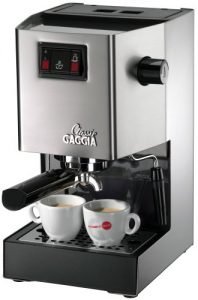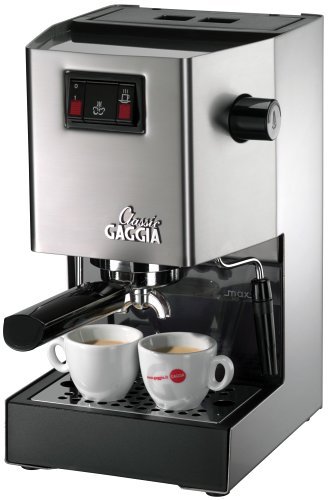 The Gaggia 14101 Classic Espresso machine is often labeled the best semi-automatic espresso machine in Gaggia espresso machine reviews. Made with commercial grade materials and parts but retailing for less than $400, this stainless-steel espresso machine brews endless single or double shots drinks at a bargain price.
Features like the 3-way solenoid valve, which allows for drip-free operation and leaves you with a dry puck for easy disposal and cleaning, and commercial quality portafilter made from chrome-plated brass with three styles of baskets, are things you would typically only find in commercial models.
The Gaggia Classic is a favorite among novice and experienced baristas alike, and the Pannarello Steam Wand completes the package. It uses a hot air intake hole to whip and froth milk to finish your coffee concoctions.
---
Best Gaggia Automatic Home Espresso Machine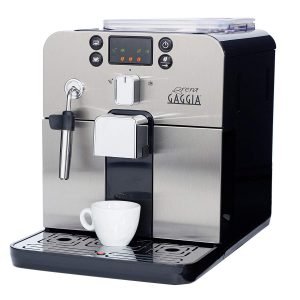 The Gaggia Brea espresso machine is the best super-automatic home espresso machine we reviewed that you can get for less than $500. Equipped with both a hopper and bypass doser, the machine can either grind beans with the integrated burr grinder as you need them or brew from pre-ground coffee.
The front-loaded water reservoir and removable brew group make the Gaggia Brera Super Automatic Espresso Machine a very user-friendly design. The easily detachable parts make rinsing and clean up a one-step process.
In Gaggia espresso machine reviews, users love the Pannarello Steam Wand for manual frothing purposes.
---
Best Cuisinart Home Espresso Maker
Cuisinart is a leader in small kitchen appliances, and Cuisinart cappuccino makers are not only high quality but some of the most affordable espresso makers you can buy.
Cuisinart programmable espresso makers give you lots of options, and models like the Cuisinart EM 100 and Cuisinart EM 200 are fan favorites. Here, we'll give you the details on these two popular styles.
---
Conair Cuisinart EM-100- Best Home Espresso Machine Under $150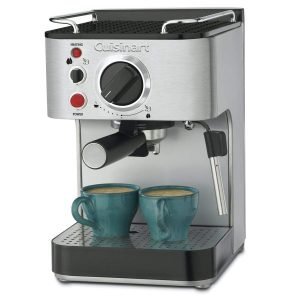 The Cuisinart Espresso Maker EM 100 is a model that makes most every home espresso machine review list. Affordably priced at less than $150, this 15-bar espresso maker brews one to two cups from either grounds or pods.
It accommodates a 53-ounce water reservoir and comes with a steam nozzle and frothing cup so that you can craft any cafe style beverage you desire.
---
Cuisinart EM-200 – Best Espresso Maker Under $200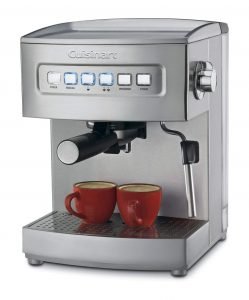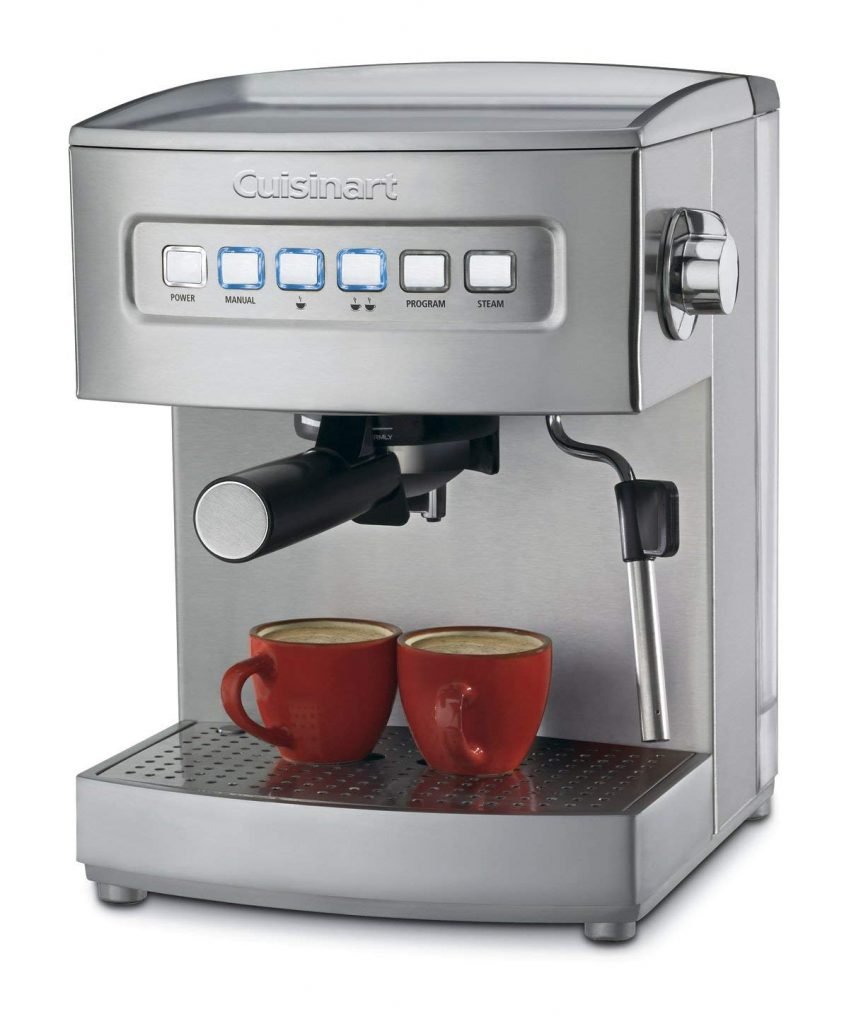 One step up from the EM-100 is another fan favorite in Cuisinart espresso maker reviews, the EM-200. Here you get everything the EM-100 offers, including the 15-bar pressure and attached steam nozzle, plus a few extra bells and whistles.
This Cuisinart pump espresso maker has several pre-programmed options, such as one cup and two cup buttons, and allows for customized preferences.
The portafilter can accommodate ground coffee or pods, and the whole unit retails for less than $200.
---
Best Nespresso Espresso Machines
Coffee purists may balk at the idea of Nespresso espresso machines, but the truth is, they make a truly delicious cup of coffee. If you're someone who craves convenience but doesn't want to give up the indulgent flavor of an espresso, it might make sense to invest in one of the best Nespresso machines so you can have the best of both worlds.
There are several models on the market, and below we've included a Nespresso Citz review, as it's one of our favorite Nespresso coffee machines out there.
---
Nespresso Citiz C111- Best Home Espresso Maker Around $400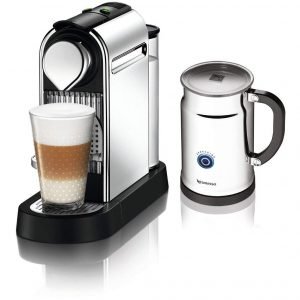 The Nespresso Citiz bundle includes the Aeroccino Plus Milk Frother and is our choice for the best automatic espresso machine if you want to skip the grounds and use pods.
To use the system, you simply insert a capsule and hit the button for the beverage you want to concoct. As one of the best Nespresso machines, it has a 19-bar high-pressure pump and a preheating time of only 25 seconds.
The milk frother also operates with one-touch preparation, and it can whip hot or cold milk for both hot or iced drinks.
Retailing at around $400, the Nespresso Citiz is comparably priced to many home espresso machines, but you don't need to worry about grinding beans or cleaning up every time you brew.
---
Conclusion
After scouring the web for home espresso machine reviews, we've rounded up only the best of the best home espresso machines to feature in this guide. We hope you've found a model that meets both your needs and your budget, and will give you a big daily caffeine boost for years to come.
Related Articles: