What is the Best Hacksaw?
We have picked the Ares Right Angle Hacksaw as the best hacksaw due to its precise angle cutting abilities, the ergonomically designed handle, and the hi-carbon flexible steel blade. It comes with a lock nut to keep the blade firmly in place for safety and precise cuts. It is also very durable and versatile.
---
Hacksaws are used for a variety of projects and on a variety of materials. Most are made in such a way that they can last for decades to come while only replacing the blades as they wear down over time.
Different hacksaws provide different levels of tension and come in different sizes. Depending on the projects you need the tool for, you might need a regular sized one or a mini hacksaw.
Mini hacksaws can fit into tight spaces, but they are also used for jewelry and craft projects. In this article, we will discuss different hacksaw types and their features so that you can choose the perfect hacksaw for your purposes.
---
Quick Navigation
Top 8 Best Hacksaws: Our Picks & Recommendations
---
Hacksaw vs Hand Saw vs Coping Saw
Technically, hacksaws and coping saws are two types of hand saws. However, most people consider a handsaw its own type. For the sake of explanation, we will treat a handsaw as a separate entity.
Hacksaws are those that are a c- shape on which you add the blade and it becomes a d- shape. A hacksaw has very fine teeth and thin blades, which are held tense and sturdy in between the ends of the saw.
Its construction makes a hacksaw better suited for cutting metal, and sometimes PVC pipe, though some people use them as a more versatile cutting tool.
A coping small is similar to a hacksaw in its shape and the tension which holds the blades tense. The difference is that a coping saw is has thinner and smaller blades that are meant to cut angles into materials such as wood or plastic joint. The blade of a coping saw can be changed to different directions depending on the angle you need.
Last is what everyone calls a hand saw. These are the saws that have a solid construction, and they are often used to cut wood.
The blade look similar to a sheet of metal that is flat on one side and has teeth on the other. These are great for cutting branches or two by fours and so on.
All three saws are handy, and they can almost be used completely interchangeably. However, it is always best to have the correct saw for the job to make things easier and safer.
---
How to Choose the Right Hacksaw?
When you are searching for a hacksaw for your tool collection, consider the following characteristics:
Sturdy Frame
You can choose either a fixed frame or an adjustable frame on a hacksaw. Fixed frames require one specific blade length while an adjustable frame can use different blades lengths.
Regardless of whether you choose a fixed or an adjustable frame, it is best to find one made from metal. This is very sturdy which is excellent for safety and making work easier.
Quality Grip
A quality grip is one that fits well in your hand and is comfortable enough for long uses. A rubber handle is a great choice because it can be soft in the hand and used in both cold and wet climates.
The handle also needs to be wide enough that your hand is not scrunched up.
Ease of Handling
The better the construction and the grip, the easier a hacksaw is to handle. The easier it is to handle, the quicker the work gets done and the safer the whole process.
Type of Blade
When purchasing or replacing a hacksaw blade, you want to make sure that the blade is made from sturdy- not flimsy- materials.
Additionally, you want to find blades with a high rate of teeth per inch (TPI). The higher the TPI, the easier the blade can cut through the material.
Screw or Clamp Mechanism
You want to be sure that the mechanism intended for holding the blade to the frame should be easy to tighten. Tools come loose over time, so you need to be sure that you have the ability to keep it tightened without too much extra work.
Also, the more well constructed the mechanism is, the longer it takes to come loose.
Expenses
You can keep a hacksaw for a significant amount of years if you find one that is constructed well. In fact, my great grandfather's is still being passed around the family.
As you will probably need to only buy once in your lifetime, consider investing in a very well made one.
Well made does not always mean the most expensive, but try not to buy the cheapest option available- unless, of course, it is the most well made option.
---
8 Best Hacksaw Reviews
Here's a list of the top hacksaw on the market today:
---
Best Overall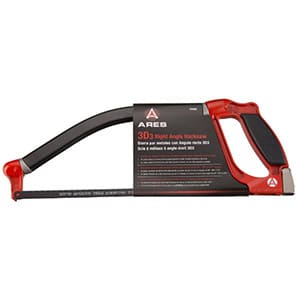 What You Will Love: You can easily turn the blade to the angle you need, lock it in place for a straight cut.
This Ares 70093-3-D hacksaw allows you to cut precise 90 degrees, 180 degrees, and 270 degree angles.
You can use the lock nut to secure your angle position.
Thanks to this, you need not worry about having crooked lines. The frame is designed in such a way that it can easily be turned upside down and sideways.
On the downside, some users state that it is not as precise as advertised. At around $20, it is a very budget friendly option.
What We Liked:
very affordable
provides multiple angle options
lock nut to keep blades safely in place
ergonomic handle
hi-carbon flexible steel blade
What We Didn't:
does not provide precise tension as advertised
---
Best Budget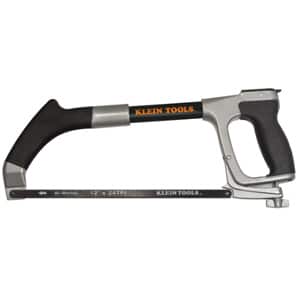 What You Will Love: It provides tension up to 30,000 PSI, and it has convenient storage in the handle.
Klein Tools Hacksaw provides professional performance at an affordable price. The blades are very high tension with 24 TPI.
This causes the bi-metal blades to make fast and precise cuts. The handle provides easy storage for extra blades.
However, the blades are not really secure in the handle, so make a lot of noise while you are sawing.
If you choose this option, you might want to take the blades out of the handle while you use the saw.
What We Liked:
tension up to 30,000 PSI
fast and precise cuts
blades with 24 TPI
bi-metal blade
blade storage in the handle
affordable
What We Didn't:
blade storage in handle does not keep blades from moving back and forth
---
Best Compact Hacksaw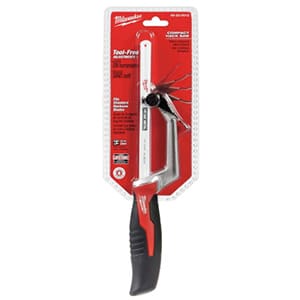 What You Will Love: The ergonomic handle is covered with rubber that provides an excellent grip and is very comfortable.
The Milwaukee 48-22-0012 Compact Hand Operated Hacksaw is a user friendly tool that allows for versatile cutting.
The 10 inch blade cuts both wood and metal, and it lets you change the blade without tools.
At around $16, it is a very affordable option. The only stated issue is that some users have received their tool with loose parts, and some others have stated that the parts came loose very quickly.
If you choose this option, be sure that you tighten the parts on a regular basis.
What We Liked:
What We Didn't:
might have loose parts or parts might loosen often
---
Best Mini Hacksaw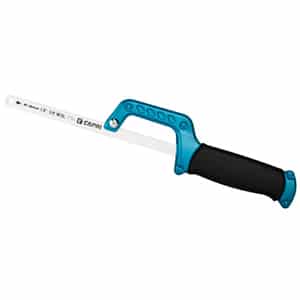 What You Will Love: You can use both 10 inch and 12 inch blades
The Capri Tool Mini Hacksaw is a great choice for those with little storage space. It is compact, lightweight, and tough.
It is reported to be easy for women and those with weak hands to use it.
The mini hacksaw is constructed from durable aluminum, and the ergonomic handle provides comfort and an easy grip.
It can fit both 10 inch and 12 inch blades, which provides the user some versatility. It is very affordable at less than $20.
What We Liked:
affordable
fits 10 or 12 inch blades
light yet durable aluminum body
great for tight spaces
ergonomic handle
bi-metal heavy duty blade
compact
24 TPI
What We Didn't:
Some have stated that the blades worked better when only pulled in one direction
---
Best Electric Hacksaw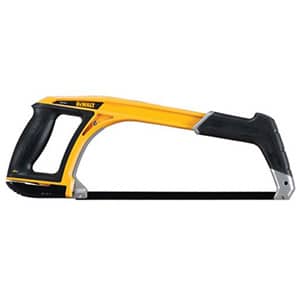 What You Will Love: This awesome tool gives you five tools in one, giving you versatility and extra storage space.
The Dewalt 5-in-1 Hacksaw really does give you five tools in one, which can be great for those who are running out of storage space in their toolbox or tool shed.
It has a sturdy construction, and tension high enough for 330 LBS. At around $30, it is very affordable and attainable for most budgets.
The only real complaint I could find about this hacksaw is that it can be a bit difficult to change blades, and it does not come with instructions on how to do so.
What We Liked:
5 saws in 1
sturdy
durable
affordable
45 or 90 degree blade angle
High tension for up to 330 lbs
low profile lets it fit in tight spaces
What We Didn't:
May be difficult to change blades
---
Best Wood Cutting Hacksaw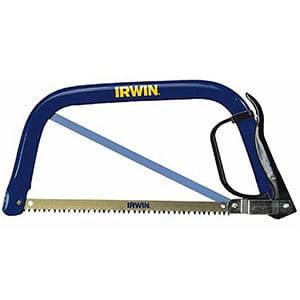 What You Will Love: This is a combination saw which provides the ability to cut both wood and metal.
The Irwin 12 Inch Combi- Saw is a useful saw to have around.
Instead of needing two separate saws, this one comes with both a wood cutting and a hacksaw blade that provides for versatile uses.
Even better is the fact that it is compact enough to easily store. The handle provides a non- slip grip and a knuckle guard.
The only potential downside is that though the frame is welded, some users state that it is too wobbly. This combination saw usually costs less than $20, so it is an excellent deal.
What We Liked:
comes with both a wood cutting and a hacksaw blade
stable welded frame
knuckle guard
can cut large metal and pipes with a large diameter
compact- easily stored
Great price
No slip grip
What We Didn't:
it might be a bit too wobbly for some users' comfort
---
Best Metal Cutting Hacksaw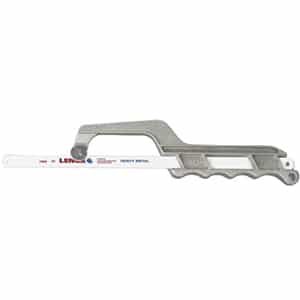 What You Will Love: This mini hacksaw is durable and tougher than many other mini hacksaws.
The Lenox 20975-975 mini hacksaw is a compact yet tough tool to keep in your tool box.
The 10 inch blade is made with 24 TPI, meaning that it provides cuts as sharp as many larger saws.
It is designed for lightweight cutting and sawing in tight spaces. It has a durable and corrosion resistant aluminum handle, and usually runs under $10.
The only downside I could see is that it is only designed for a 10 inch blade. Anything larger will be too floppy.
What We Liked:
24 TPI
comes with one 10 inch blade
good for lightweight cutting of unhardened tool steel and stainless steel metal
very affordable
aluminum handle
compact size
corrosion resistant
What We Didn't:
must stick with the original blade size
---
Best Professional Hacksaw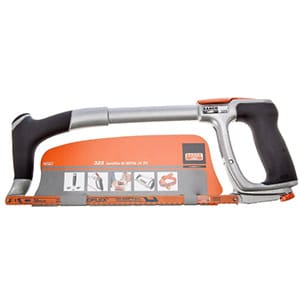 What You Will Love: It has a spring loaded blade release that actually won this hacksaw the Silver Award from the Industrial Designers Society of America.
The Bahco 325 Professional Hacksaw is a well-loved and highly recommended tool.
It has a very comfortable, ergonomically designed handle. It is designed for quick blade changes, and provides very high blade tension.
Unfortunately, if you are not careful during tensioning, the blade can break. Take your time and pay attention as you tighten your blade.
The award winning spring loaded blade release makes quick work of blade changes.
At over $45, it is definitely a higher priced option than some others, but it is built well enough that users state it is worth it.
What We Liked:
ergonomic handle
high blade tension
spring loaded blade release
fast blade change
comes with shatterproof blade with 24 TPI
What We Didn't:
higher price
blade can break during tensioning if you are not careful
---
Hacksaws are incredibly helpful tools for any projects that involve cutting hard plastic, metal, or wood.
If you are currently considering or shopping for a hacksaw, you want to choose one that gives you enough tension and TPI. The information here can be used to help you purchase the best hacksaw for your projects and your needs.
---
Related Articles:
---