What is the Best Gyuto Knife?
We have picked the Yoshihiro Cutlery Gyuto Japanese Chef's Knife as the top Gyuto knife as it is handcrafted with 16 layers of stain resistant steel that are hammered into the traditional Damascus design. It has a beautiful, mahogany wood ergonomic handle to provide maximum control while in use. It is versatile enough that there will be no need for multiple knives if you have this one around.
---
Whether you are a five-star chef or the home cook, the best Japanese Gyuto knife can make a big difference in your meal prep. Everyone needs some good Japanese chef knives in their kitchen for superior slicing, dicing, and carving. The top Gyuto knives are high performing works of art.
---
Quick Navigation
Top 7 Best Gyuto Knives: Our Picks & Recommendations
---
Why We Need the Best Gyuto Knives in Our Kitchen?
If you prepare any food at all at home, you know the importance of a quality knife. I am always reminded of this every single time I cut the chicken for chicken fingers.
As I try to slice the chicken, I am generally cursing myself for not buying a better knife. On top of that, trying to find different knives for each task is a very frustrating task.
The good news is that the best Gyuto knives can fix both of these problems. They are Japanese handcrafted pieces that could be hanged on the wall as art. As beautiful as they are, though, they are also very functional.
Gyuto knives are all-purpose kitchen tools that can replace all of your other cooking knives. They can slice, dice, mince, carve, and complete pretty much any task you need.
As a result of the thin and sharp blade, you get a more precise cut than you do with other knives. Additionally, they tend to hold their edge for much longer than other knives, which is great because you spend much less time honing it.
---
How to Choose the Best Gyuto Knife?
When you are shopping for the perfect Gyuto knife, there are a few things you need to take into consideration.
Gyuto VS Chef's Knife
A Japanese Gyuto knife is the equivalent of the western style chef's knife. There are a couple of differences, though. Basically, the Gyuto is thinner, sharper, and more precise. They hold an edge longer, too. However, they are more likely to chip or bend if you use them to cut bone and such.
Sharpness
Gyuto knives are very sharp, so be careful taking them out of the box. They offer different angles from 12 degrees to 16 degrees. Some are single beveled some are double beveled, so the angles will vary on those, as well.
Though you probably cannot go wrong with the sharpness of a genuine Gyuto knife, be sure to check the sharpness rating just in case.
Material
You will find Gyuto knives made from different types of steel, often with multiple layers of a combination of different steel types. The blades are tough and generally stain resistant.
However, as the edges are so sharp, they can break and chip if used on hard materials, such as bone.
The handles may be made from different wood types or laminated. The wooden handles of often break or split, but the laminated hold up pretty well. Also, there is usually less of a chance for food bits to get inside the laminated handles.
Steel Options- Carbon, Stainless, or Powdered Steel?
Carbon steel is most popular in Japanese knives. It is made by adding carbon to steel that is made from iron ore. Stainless steel is chrome mixed with steel, similar to carbon steel.
In very simple terms, powdered steel is made by atomizing molten steel, then pressing it. All three types of steel are used in knife manufacturing.
Length
Gyuto knives also come in a variety of sizes, though you will find most of those on our list to be between 8" and 9.5" inches.
Price
Gyuto knives can range greatly in price. On our list alone, you will find knives ranging from around $60 all the way to over $200.
---
7 Best Gyuto Knife Reviews
To find the leading Gyuto knives, we searched through the ratings and reviews of multiple models. After careful analysis and consideration, we chose the following seven Gyuto knives based on their versatility, sharpness, quality, and materials.
---
Best Overall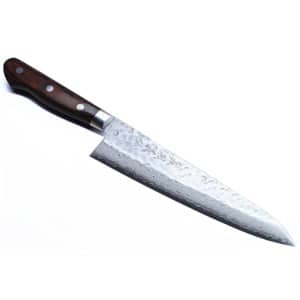 What You Will Love: This Japanese steel knife is versatile enough to handle pretty much any kitchen job, eliminating your need for multiple knives.
The Yoshihiro Cutlery Gyuto Japanese Chef's Knife is a hand-crafted tool of both beauty and strength. The 8.25" blade's construction consists of 16 layers of steel hammered into the Damascus tradition. The ergonomic handle is beautiful mahogany wood.
This Japanese chef knife normally costs over $150, so it will not fit into all budgets. It is hand wash only and you must dry it completely after use to prevent any damage to the wood. In some cases, the handle may split apart regardless of care.
Pros:
Mahogany wood handle,
16 layer hammered outer steel,
Full tang,
Ergonomic handle,
Versatile- good for slicing, dicing, chopping vegetables, and carving meat,
Hand-crafted by japanese craftsman,
Stain resistant
Cons:
Hand wash only,
Expensive,
The handle may split apart
---
Best Budget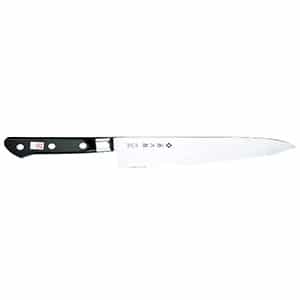 What You Will Love: This quality, Japanese knife is a very sharp kitchen tool.
The 8.2" Tojiro DP Gyutou is a sharp work of art created with an inner layer of cobalt alloy steel, and covered with 13 layers of chrome stainless steel.
It is double beveled and has a laminated full tang, eliminating the possibility of a split wooden handle.
Though it is more affordable than many Japanese knives, it still may be a bit high for some budgets. However, this is the best Japanese Gyuto in its price range. Also, some users may find the knuckle clearance to be too low for comfort.
Pros:
Inner layer is cobalt alloy steel,
Outer is 13 layers of chrome stainless steel,
Reinforced laminated handle,
Full tang, stain resistant,
Great for both left and right hand users,
More affordable than some japanese knives,
Double beveled
Cons:
Still a little high priced,
Low knuckle clearance
---
Best Stainless Steel Gyuto Knife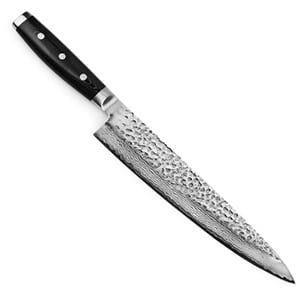 What You Will Love: This handcrafted chef's knife slices very well and comes with a lifetime warranty.
The Enso Large Chef's Knife is a beautiful and high performing kitchen knife. The 10" blade is 37 layers of stainless steel and has a hammered finish.
It has double beveled edge (50/50) for both left and right handed use. The black canvas micarta handle looks like wood but will not crack as wood does.
Unfortunately, the handle is not as ergonomic as it could be, so it may feel slightly awkward to some. This is also one of the more expensive Gyuto knives.
Pros:
37 layer stainless Damascus blades,
Hammered finish,
Double beveled for left and right hand use,
Black canvas micarta handle for durability,
Lifetime warranty,
Handcrafted
Cons:
Expensive,
Handle could be more ergonomic
---
Best Stain Resistant Gyuto Knife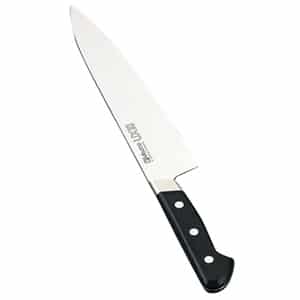 What You Will Love: This Gyuto knife has an asymmetrical edge that increases the blade's sharpness.
The Misono UX10 Gyutou Knife has a Swedish steel, stain resistant 8.2" blade. The edge is asymmetrical, providing an even sharper cut than you get with an even edge.
It is beveled for right handed use. It has a composite wood handle, and the knife is both lightweight and well balanced. This is a very durable kitchen tool that you can use for years to come.
On the downside, at over $170, it is also a very expensive kitchen tool. Users must be careful as it is sharp enough to slice a finger. Finally, it is difficult to remove smudges from the blade.
Pros:
Stain resistant,
Swedish steel,
Sharp edge,
Well balanced,
Very durable,
Lightweight
Cons:
Expensive,
Sharp enough to slice a finger,
Smudges
---
Best 8 Inch Gyuto Knife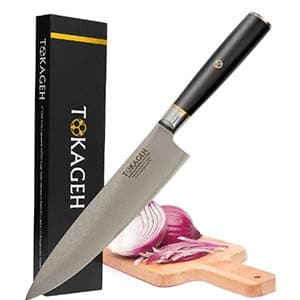 What You Will Love: The 8" blade's granular texture is both beautiful and functional as it helps prevent food from sticking to it.
The TOKAGEH Chef Knife is a well-designed and highly rated knife. The 8" blade is a mixture of carbon steel and stainless steel core.
It is then clad on each side with 66 layers of Damascus steel. The blade has a granular texture that both looks great and prevents food from sticking onto the knife.
The handle has a weaved texture that assists in the grip. It is not full clad though users say this does not detract from the quality or performance. Also, the knife comes in a magnetic box to store it in.
Pros:
Black G10 ergonomic handle,
Carbon/ stainless steel blade,
Blade clad on each side with repeatedly processed Damascus steel,
Granular texture, rigid and durable handle,
Magnetic box for storage,
Lifetime warranty
Cons:
Mid to high-end pricing,
Not full tang
---
Best 9.5 Inch Gyuto Knife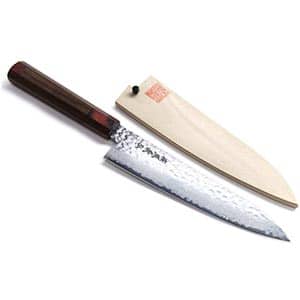 What You Will Love: It has an octagonal handle and comes with a natural magnolia saya.
The Yoshiro VG-10 Gyuto Japanese Chef's Knife is a handcrafted 9.5" blade of 46 layers of Damascus steel.
It is a thin, double edged blade that is sharp enough to easily slice, dice, and carve. The blade's texture is both beautiful and stain resistant.
The octagonal shaped rosewood handle fits easily in your hand. It also comes with a natural magnolia saya to keep the blade in.
Though it is an excellent quality knife, at over $200, it is the most expensive of those reviewed on this list. There is also a chance of the wooden handle splitting over time.
Pros:
Octagonal shitan rosewood mahogany bolster handle,
46 layers of damascus stainless steel,
Natural magnolia saya included,
Thin yet sharp double edged blade,
Handcrafted in japan,
Textured blade,
Stain resistant
Cons:
Very expensive,
Wooden handle may split.
---
Best Professional Gyuto Knife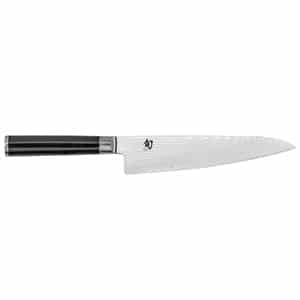 What You Will Love: The ebony Pakkawood handle and the textured blade make this knife very aesthetically pleasing.
The Shun Cutlery Classic 7" Asian Cook's Knife is a durable beauty of the combination of VG-MAX steel and stainless steel Damascus outer layers.
The sharp blade retains its edge very well and it is corrosion resistant. It is a lightweight, versatile knife made with an ebony Pakkawood handle.
The well balanced Japanese handcrafted knife provides good knuckle clearance. It comes highly recommended and it is difficult to complain about. The price puts it in the middle of our list.
Pros:
Blade is combination of VG-MAX stainless steel and stainless Damascus cladding,
Edge retention,
Versatile, lightweight,
Good knuckle clearance,
Ebony Pakkawood handle,
Smooth grip, corrosion resistant,
Handcrafted in Japan,
Well balanced
Cons:
---
While it can be difficult to choose the best Gyuto knife for you with so many great options, it is wise to begin with the handle size and material. Knuckle clearance is an important factor.
Also, left handed people will need a double beveled edge. We have outlined seven of the performing Gyuto knives in this article to help you narrow down your choices.
---
Kitchen Knife Related More Articles:
---