Ranking
Product
Rating
Price
1
GE Profile 36-inch Gas
Cooktop with 5 Sealed Burners
View On Amazon
2
Bosch Stainless Steel Gas
Sealed Burner Cooktop
View On Amazon
3
Bosch 36-inch Stainless Steel
Gas Sealed Burner Cooktop
View On Amazon
4
GE 30-Inch 4
Burner Built-In Gas Cooktop
View On Amazon
5
Frigidaire Gallery 30-inch Gas
Cooktop in Stainless Steel
View On Amazon
Are you looking to replace your aging gas cooktop?
This is certainly one of those times where you want to make the best decision possible and select the best gas cooktop with the size, power, and versatility needed for your home. There is no need to go hunting across the internet for the right unit.
We've done all the work for you and brought together this buying guide and product reviews for the best gas cooktops available on the market today.
Keep on reading to find the one ready to fit into your beautiful, huge kitchen renovation or sized perfectly for your small apartment kitchen.
Quick Navigation
The Most Recommended Gas Cooktops: 5 Best Reviewed
What To Look For When Buying The Best Gas Cooktop?
Size Matters
The most popular sizes for gas cooktops are standard 30-inch and 36-inch which refers to its width. The 30-inch cooktops generally have four burners and are designed for smaller apartment-sized kitchens.
Your larger kitchen with an island will want the 36-inch cooktop with the typical five burners for your best gas cooktop choice.
If you select the smaller unit in a big kitchen, it will look out of scale. That fifth burner always comes in handy during the holidays, too.
Sealed Burners Last Longer
The best gas cooktop will come with sealed burners. This will prevent food and grease from getting into the igniter and burner hardware, so it will require less maintenance and have a lower rate of failure down the road.
However, if you want to save a few dollars, unsealed burners deliver the same amount of heat and will perform well when properly maintained over time.
Enamel or Stainless Steel Finish
There is no doubt that the best gas cooktops come in stainless steel, which has been wildly popular for the last two decades.
It should be noted that the traditional black or white enameled cooktops are making a return in the kitchen fashion world.
Both types require a quick clean up after each use to prevent scorching and staining. If you are designing a kitchen using a unique color theme, it is possible to have your cooktop ordered in a custom colored enamel.
A Variety of Burners is Nice
If you have ever cooked on a cheap cooktop, you will have noticed that it can take forever to get a big pot of water to boil.
The best gas cooktops will have a simmer burner and a power burner. The power burner will pump out up to 20,000 BTUs and boil five quarts of water in short order.
Meanwhile, you can put the pan of soup on the back burner to simmer, without burning or scorching your dinner. If pancakes are a favorite, look for an integrated griddle top or even a wok burner ring for those that love to whip up some stir-fry on short order.
Before buying your gas cooktop make sure that it can help you make the most out of your kitchen remodel.
Conversion Kits Included
Did you know that the best gas cooktops work for natural gas and propane? Most of the cooktops will arrive fitted out to connect to natural gas.
However!
A conversion kit for propane should be included in the box and a certified plumber can switch out the connection to have you cooking using your preferred heating source in a snap.
Your cooktop will perform the same using natural gas or propane.
The Most Recommended Gas Cooktops: 5 Best Gas Cooktop Reviews By Sujana Marie
1) GE Profile 36-inch Gas Cooktop with 5 Sealed Burners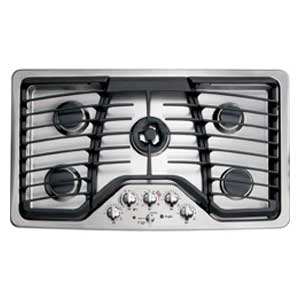 When you want to pull out all the stops and buy the best gas cooktop available, the GE Profile 36-inch is a fabulous choice.
It certainly stands apart from the others with its unique cast iron grate design that can be switched out to house the griddle that comes included with your purchase.
You will be able to cook your flapjacks, eggs, and bacon all at once!
There are actually six knobs on the front, one for each burner and a child safety lock knob that prevents the gas from turning one when young ones bump a knob.
The simmer burner has a precision simmer knob, allowing you to maintain a steaming pot without boiling or burning. The power boil burner includes three rings of fire for rapid boiling.
Overall, the cooktop can pump out 20,000 BTUs, leaving it far ahead of the competition.
Some users have reported difficulty getting their pans hot enough, fast enough. But a thorough review of the user manual and adjustments by your plumber will take care of those problems in short order.
Some cooktops have arrived with loose knobs, which can lead to early breakage.
Pros:
Sleek modern appearance
Integrated griddle included
3-ring center burner with 20,000 BTUs
Kids safety lock
Cons:
Loose knobs
Grates are too far away from flame
2) Bosch Stainless Steel Gas Sealed Burner Cooktop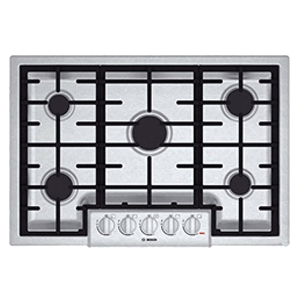 For the kitchen renovator hunting for a quality high-end cooktop for a compact kitchen, the Bosch 30-inch in the best gas cooktop available.
Even though it has a smaller sized top, it will sports five sealed burners for extra functionality when hosting a large dinner party.
The knobs are solid metal, which gives it an elegant appearance that will stand up to the test of time.
A continuous cast-iron grate provides an attractive barrier between your pots and the burners, which helps to keep the top looking as good as new.
There is no pilot light and the burner will ignite when you turn the knob to "Start."
Some users have reported that the stainless steel can become discolored, but the use of stainless steel cleaners will maintain that like-new appearance for years to come.
The center burner is a power burner and there are two smaller simmer burners so you can cook a variety of dishes at the same time.
While the Bosch 30-inch cooktop is the best smaller cooktop, you will pay a premium for this unit, almost twice compared to more budget-friendly options.
Pros:
Compact design
5 burners including a power curner
Solid metal construction
Cons:
High purchase price
Tends to show burns on stainless steel
3) Bosch 36-inch Stainless Steel Gas Sealed Burner Cooktop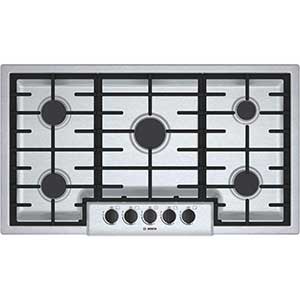 If you are upgrading your kitchen to include a large island with a cooktop, then the best gas cooktop for you will be the Bosch 36-inch.
Its large top provides plenty of room for you to use all five burners without crowding out any pot. Its central burner will heat up your oversized pot in short order.
All while it's updated styling really adds a nice look to your kitchen.
The knobs have easy-to-understand graphics to even the first time you turn on your gas cooktop, you will find the right heat setting in short order.
The continuous cast iron grate features a very linear design that will complement your modern decor while providing a nice even surface to move your pans around on the cooktop–unlike those older models with single burner covers.
It does come with the conversion kit, ready to be used with natural gas or propane. You will need to hire a certified technician to convert and install this unit.
Even though it does have the larger gas cooktop, it does not come with a grate that can be switched out for a griddle.
Also, the total BTUs for the stove is considerably lower compared to other premium gas cooktops. In the end, you will be very satisfied with the product as long as you are not intending to make pancakes or a gourmet meal on it.
Pros:
Sized right for large kitchen island
Central power burner with 16,000 BTUs
Clean contemporary styling
Cons:
Lower BTUs compared to other models
No griddle option
4) GE 30-Inch 4 Burner Built-In Gas Cooktop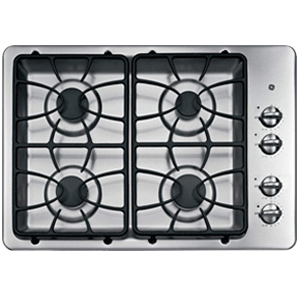 The best gas cooktop for a landlord or family looking to upgrade their kitchen on a budget is the GE 30-inch built-in cooktop.
It's a simple and timeless design will work well with any decor. It features four burners, but they are not sealed.
They have a loose cap that protects the burner from collecting dust and grease and will need to be cleaned on a regular basis.
This unit can be ordered in black or stainless steel to best complement your kitchen design. There is a power burner, but its BTUs are considerably lower than the competition.
However, with the GE name and a reputation for their appliances to last for decades, it is a solid investment for your dollar.
Its small size makes it perfect to fit into corners, galley kitchens, or where counter space is at a premium. That said, it will be more than up to the task of cooking up a nice meal for the family.
One design drawback is that the knobs can arrive loose and are made of plastic. Users should check them and request a replacement immediately to prevent the warranty period from running out.
Pros:
Budget-friendly price
Available in Black or Stainless
Compact design good for apartments
Cons:
Plastic knobs
Burners are not sealed
5) Frigidaire Gallery 30-inch Gas Cooktop in Stainless Steel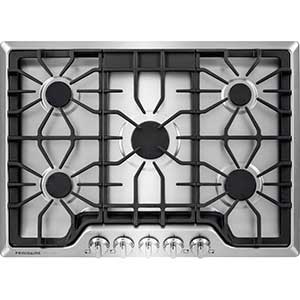 When you want a really sharp-looking stainless steel cooktop at a great price, the Frigidaire Gallery 30-inch is your best gas cooktop option.
This cooktop has five burners including the center burner with 3 settings from simmer to power boil.
Even the knobs are kitted out in stainless for a seamless appearance in your contemporary kitchen.
Its cast iron grate has a beefier appearance compared to the competitors, which works well with the current industrial trend in home design.
This unit features 18,000 BTUs, which is great power at its budget-friendly price. There will be no waiting for your pans to heat up and dinner will be served in short order.
Even though it is a smaller size, the top is designed such that you can use all five burners without crowding out one of your pans.
It should be noted that this unit comes with only a one-year manufacturer's warranty, so any issues or concerns should be voiced as soon as possible.
Some units have arrived with a faulty burner fitting.
However, when you compare price, performance, and style this is truly the best gas cooktop for your budget.
Pros:
Good price for a quality product
Impressive 18,000 BTU center burner
Rugged cast iron grate
Cons:
Only one-year warranty
Faulty burner hardware reported by users
---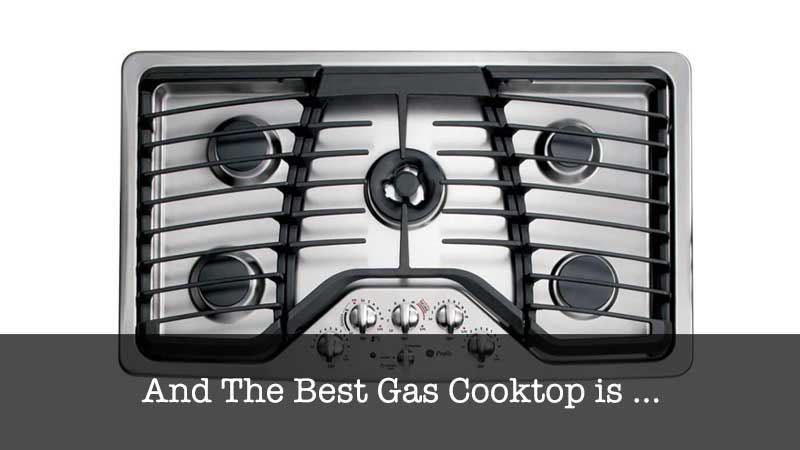 So, Which Is The Best Gas Cooktop?
In the end, when you are hunting for the best gas cooktop the GE Profile 36-inch gas cooktop offers all the top features in a stunning stainless steel finish.
It offers you five burners, a spacious top to move all the pots around, an integrated griddle option, and even a child safety lock.
You have 20,000 BTUs of heat, so you are never waiting long for that watched pot to boil. For those looking for a compact unit perfect for an apartment kitchen flip, check out the economical GE 30-inch four burner unit.
We hope you have enjoyed reading our best gas cooktop roundup.
If you have any experience with these products, please share on your social media page.
---
Related: