What Is The Best Garlic Press?
Garlic presses make peeling and mincing garlic a breeze while minimizing the amount of garlic that is wasted. Of all the ones we researched, the Alpha Grillers Garlic Press is the best garlic press because this press fits easily in your hands and handles multiple cloves of garlic with ease.
---
Quick Navigation
---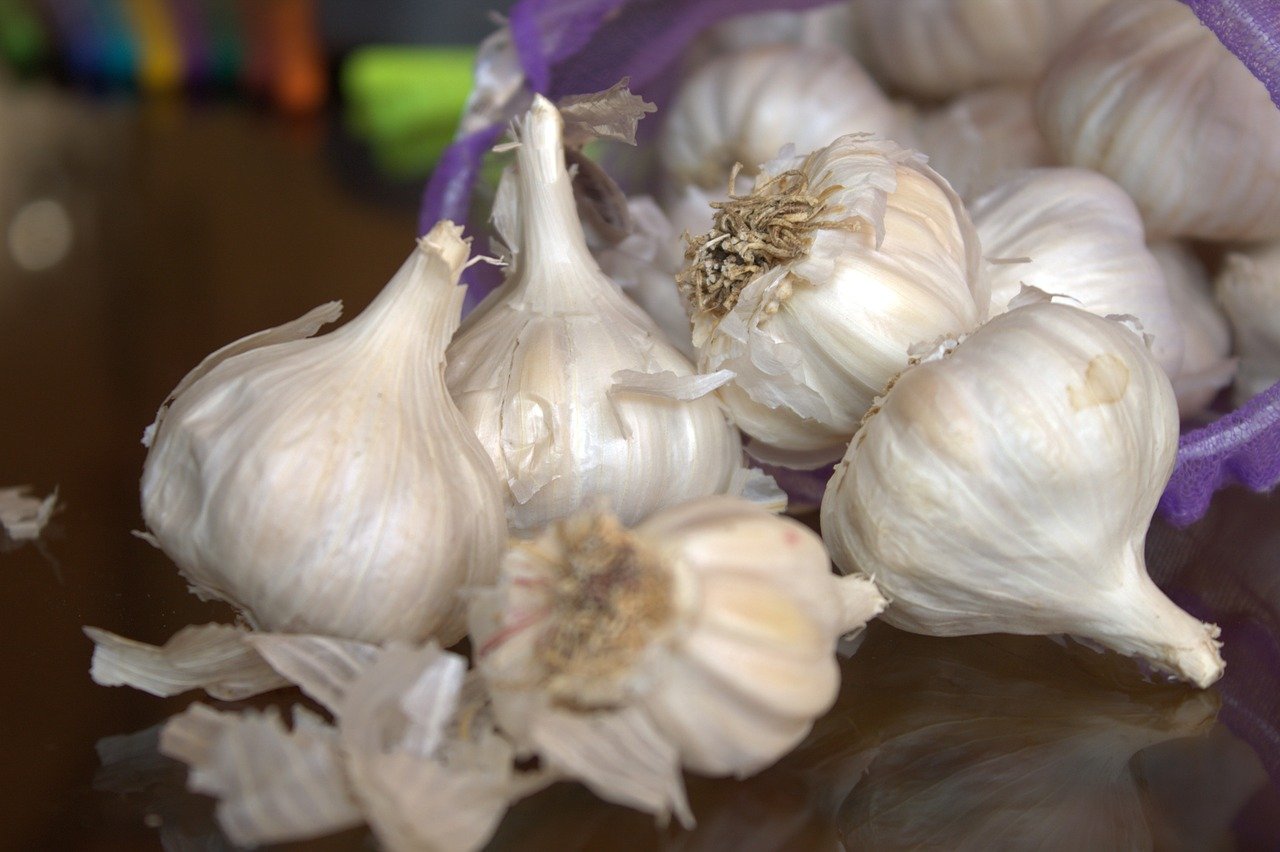 What Are the Top Features of the Best Garlic Press?
While you will most likely be looking for a garlic press that is not incredibly expensive, there are a few other features that you should consider before deciding which one is the right one for you.
Large Chamber:
Look for a garlic press that has a large chamber that can hold one large clove of or multiple small cloves of garlic. If you use a lot of garlic when cooking, the bigger the chamber, the better for your needs.
Removes Garlic Peel:
The garlic press should be able to press unpeeled garlic. You want a garlic press that holds the garlic peel in the chamber while pressing out peeled and minced garlic.
The peel should remain in the chamber and not come out with the minced garlic.
Peeler Tool:
Sometimes you just need peeled, but not minced garlic. This tool allows you to peel the garlic without having to touch it. They are often a tube made of silicone.
You put the unpeeled garlic in the tube, roll it and you quickly and effortlessly have peeled garlic.
Lifetime Guarantee:
You want a garlic press that the company stands by. Be sure they guarantee their products. You want a product that will provide a full refund of the cost of the product without any hassle.
If you are already upset that the product isn't working, you do not want to haggle with the company, too.
Cleaning:
The garlic press should be easy to clean. Garlic is sticky, so you want to get the entire press clean. It is even better if the press can go in the dishwasher.
Ease of Use:
The garlic press should be easy and effortless for you to press the garlic through. If it is too hard for you to press, you won't want to use it.
---
How to Choose the Best Garlic Press
No matter how you decide to purchase your garlic press: in a brick and mortar store, or over the internet, be sure to pay attention to the specifications of each garlic press.
You can save yourself a lot of disappointment in the end, if you look at these items up front.
Garlic press vs chopping:
Garlic presses save time. Chopping takes much longer than pushing it through a garlic press. Many presses will take the peel off, whereas when you chop the garlic, you have to take the peel off yourself.
Garlic presses save you from getting that garlic smell all over your hands. You know it seems to take days to get rid of that smell. If you use garlic often, you may never quite get rid of it.
Crushed garlic vs minced:
Garlic presses most often will give you minced garlic, instead of crushed. When garlic is smashed, it can bruise and alter the taste of the garlic.
When garlic is cut properly in a garlic press, the natural and best flavor of the garlic comes out.
Price:
Garlic presses can get expensive fast. Do not get to hung in the price. Some of the lower end garlic presses work just as well as the more expensive ones. You have certain expectations with a higher price tag and they might not always be met.
You can expect prices from $9 to $50. When you get into the really expensive products, they easily go over $100. Price shouldn't be the only factor. You want to also make sure the garlic press fits your needs.
Stainless steel vs aluminum:
Aluminum by itself is not typically safe for ingestion, so you should make sure that any aluminum products are coated. Aluminum is lighter than stainless steel.
Stainless steel produces a higher quality, more durable product. A stainless steel kitchen tool will not rust or fall apart.
Easy to clean:
Garlic can be messy and sticky. It seems to get everyone. And honestly, it does not smell that great on your hands after you have been cooking with it. That smell lingers. The same is true for your garlic press.
The garlic can stick to it and be difficult to clean if your kitchen tool is not easy to clean.
You want to make sure it is either dishwasher safe, or that it opens in such a way that it allows easy access to the entire garlic press.
Many garlic presses come with a cleaning brush. Often these brushed can get into the holes of the press and make sure that it is truly clean.
---
8 Best Garlic Press Reviews
Best Overall :
1. Alpha Grillers Mincer & Crusher With Silicone Roller Peeler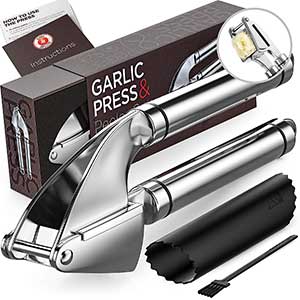 Why you'll love: This Alpha Grillers Garlic Press lets you press unpeeled garlic. A simple press of the handle squeezes out a nice garlic paste without you ever getting it on your hands.
Garlic is a great addition to any meal, but it can be difficult and messy to peel and mince. It also tends to be sticky and gets all over your hands. You won't have these problems anymore with the best all around kitchen tool, the Alpha Griller.
This heavy duty garlic press is made from stainless steel that won't rust and will last a lifetime. Included with the press is a garlic peeler / roller, which is silicone tool that is FDA approved and is safe for use.
Use this durable tool when you want to peel your garlic with ease. With this amazingly designed press, your mincing, chopping days are over. You can create a yummy garlic paste quickly and easily. This press isn't just for garlic, it works like a charm for ginger / ginger root. The peeler tube can be used to crush nuts.
This Alpha Griller fits easily in your hand and is use to use. You don't have to press with much force for the garlic mincer to work. This garlic crusher is so easy to clean. No more mess on your hands. Simply open the large chamber and place it under running water. It comes with a cleaning brush. It is also dishwasher safe.
There is no risk when you purchase this product because Alpha Grillers offers a 100 percent lifetime guarantee. They want you to love their product and if you don't, at any time you can send them an email and they will issues you a full refund. It is that simple.
Alpha Grillers paid attention to every detail, even the packaging. Their garlic press comes in a fabric lined case that is perfect for gift giving, or just displayed in your home.
Pros: Large chamber for large amounts of cloves, 100 percent refund at any time, additional peeler tool.
Cons: This kitchen tool is best used with a lot of cloves. If your cloves aren't peeled, the peels fill up the chamber faster than the cloves are pushed out through the press. This garlic mincer is best used for peeled garlic cloves.
---
Best Stainless Steel :
2. Oye Stainless Steel Garlic Press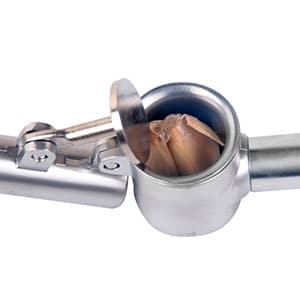 Why you will love: This Oye Stainless Steel Garlic Press is so easy to clean by flipping up the basket and using the cleaning brush.
This premium product is heavy duty but not heavy in your hand. This press is ergonomic so it fits in any hand and it is so easy to use, normal hand strength can use it with little effort.
This press is six inches and crushes unpeeled garlic like a boss. There is no need to peel the garlic before putting it in the press.
You will never be stuck mincing, chopping garlic again. What is even better is that since you don't have to touch the garlic, your hands will never smell like garlic again.
This garlic chopper will get garlic finer than you ever could with a knife. This press is brush finish nickel plated. It weights a little under 10 ounces. It will be the best kitchen tool you own.
This garlic press is simple to clean. You can flip up the basket that holds the garlic and rinse it under running water. Use the included cleaning brush and you are all set.
There are no surprise spots where the garlic can hide, so cleaning is effortless. You can also put this press in the dishwasher to clean it.
This commercial grade press won't rust and lasts a lifetime. If you have any problems, Oye provides a 100 percent guarantee for the life of the product.
If you are unhappy at any time, simply email them and they will send you a replacement or give you a full refund. This is the perfect garlic press to give for a gift.
It is small enough for any hand to use but strong enough to be a top garlic smasher.
With the no risk 100 percent refund guarantee, what's not to love about this stainless garlic press?
Pros: Easy to clean, simple to use, doesn't require a lot of hand strength.
Cons: More expensive than most presses, garlic chamber is small.
---
1st Runner Up (Stainless Steel) :
3. Orblue Stainless Steel Mincer and Crusher with Garlic Rocker and Peeler Set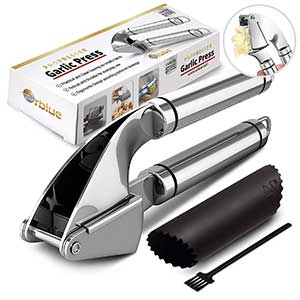 Why you will love: This
heavy duty stainless Orblue Garlic Press is a food grade crusher with a smooth lever.
The Orblue is the best garlic press you will use because of its silky smooth lever system. It has a large chamber to hold many cloves of garlic, but it's press mechanism requires little strength to make it work.
Let the Orblue stainless steel garlic mincer and crusher do the mincing, chopping for you. You will spend less time preparing meals and more time enjoying them.
You don't have to stop with garlic because this powerful garlic chopper handles nuts and ginger/ginger root with ease.
It doesn't matter if you want to chop, crush, or mince, the Orblue is the kitchen tool for you.
Do not let its large sized chamber concern you. Even though it can do heavy duty work, it weighs only about 9.3 ounces. Anyone is able to use this garlic press and make the best meals ever.
The Orblue stainless steel garlic mincer and presser has very little waste as it separates the peel completely from the clove and the entire clove is pushed through press.
Due to the garlic being pushed completely through, there is little clean up needed.
You can run it under water and clean it with the brush that is included. You can also put it in the dishwasher to clean the press. This stainless steel press has been rigorously tested in a lab for strength.
It is rust and corrosion proof and lasts up to 400,000 presses. This press is guaranteed to last a long time.
Included with the garlic press is a garlic rocker which peels your garlic for you, instead of putting it through the press. The press has a loop on the bottom end of it so that you can neatly hang up after cleaning it. It is backed by a 100 percent guarantee.
For the first year, Orblue will issue a full refund, with no questions asked, no matter what the problem is with the press. After that, Orblue still wants to make sure you are completely satisfied, so whatever the problem is, they will do everything they can to make to make it right.
Pros: Stress tested for 400,000 uses, large chamber.
Cons: Not the most inexpensive one on the market. 100 percent refund is only in the first year after purchase.
---
2nd Runner Up (Stainless Steel) :
4. Kuhn Rikon 2315 Epicurean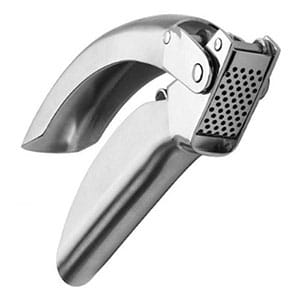 Why you will love: This heavy duty Kuhn Rikon 2315 Epicurean is ergonomically designed and is as beautiful as it is functional.
The Kuhn Rikon name has been a leader in the cooking world since 1926 with its innovative kitchen tools. It is a family business securely located in Rikon, but has ancillary locations in Spain, Great Britain, and the US. The design of this product is unmistakably Kuhn Rikon.
This press is made completely of stainless steel and it is ergonomically designed to fit in the palm of your hand.
This press boasts a powerful lever. The result of the two combined means far less effort is required from you to press the garlic. As much as 60 percent less effort is needed to use this press.
This Kuhn Rikon 2315 handles unpeeled garlic with ease and is efficient at pressing large amounts of garlic, or ginger/ginger root. The beveled holes on the Kuhn Rikon are uniquely designed to finely cut the clove, instead of bruising it and crushing it.
The fine cutting of garlic brings out the best flavor of the garlic.
The Kuhn Rikon press is dishwasher safe, but it is recommended that you hand wash and air dry to press for optimum protection. The press has a special design that hinges, or pulls, out for easy cleaning and it flushes clean under running water.
This may be the most basic tool in your kitchen, but it is the most needed. It is well designed and makes a wonderful gift. This amazing stainless steel garlic press come with a two year warranty.
The dimensions of this press are 6.5 inches long by 1 inch wide by 1.5 inches high. This garlic press weighs less than a pound.
This popular garlic press with its well known name is often sold out and hard to find, so be sure to get your garlic press today.
There are many imitations, but there is only one Kuhn Rikon. Be sure that the garlic press you are purchasing is a real Kuhn Rikon, with its unmistakable cross on the press.
Pros: Hinged design guarantees cleanliness. Backed by the Kuhn Rikon promise of excellence.
Cons: Hand wash and air drying is best. More expensive.
---
Best Cast Aluminum:
5. Zyliss Susi 3 Garlic Press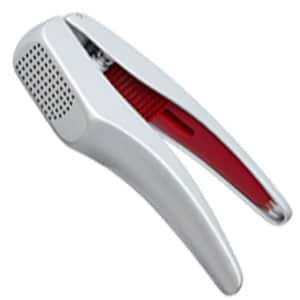 Why you will love: This heavy duty cast aluminum press has a cleaning tool that fits snuggly in the ergonomically designed handle.
The Zyliss Susi 3 is a sturdy cast aluminum kitchen tool that does all the mincing, chopping for you. This Zyliss Susi 3 has an extra large chamber that can hold the largest garlic cloves.
You can put one large clove or multiple smaller cloves in the chamber. You do not need to peel the clove to use the press. It separates the skin from the clove.
This Zyliss Susi 3 is lightweight and ergonomic so that it fits easily in your hands. This design makes it easy to press garlic. You don't have to stop with garlic as you can also press ginger / ginger root through the press. Clean up is a breeze.
It can be cleaned in the dishwasher, but hand washing is recommended to prevent the press from discoloring. The press comes with a cleaning tool that is attached underneath the handle.
It fits snuggly inside the handle so you never have to worry about losing it. This tool removes the skins of the clove and fits perfectly in the holes to clean them.
A silicone peeler is a common add on with the press. It is simple to use and keeps your hands clean and free of the potent smell of garlic. Place the garlic cloves in the peeler and roll it on a flat table.
This peeler does all the work and can peel all sizes of garlic cloves.
The Zyliss Susi 3 presser has a five year manufacturer's warranty. This is a Swiss company that has been in business for over 50 years and well known for its high quality kitchen tools.
These kitchen tools are engineered with precision and undergo the strictest of inspections. As a result, these products are produced with modern and innovative methods and the company stands by the result with a five year warranty.
Pros: Extra large chamber, five year manufacturer warranty.
Cons: Washing in the dish washer can cause discoloration.
---
1st Runner Up (Cast Aluminum) :
6. Ekco Garlic Press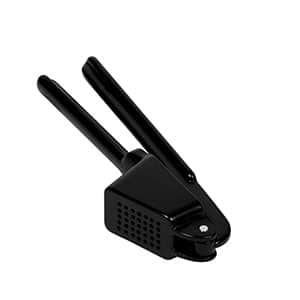 Why you will love: This Ekco Garlic Press contemporary design is durable and has a nonstick coating to make your garlic pressing easy.
The Ekco brand has been a top pick with consumers for generations. The company has been in business since 1888. They are known for their reliability and value. Their customers keep coming back for more products. They know when they see the Ekco name on an item, they can trust it.
The Ekco garlic press stand up to the name Ekco. This product has new and improved functionality. The handle design of this garlic press belongs solely to Ecko, so you won't find this design on any other garlic press. These handles are fresh and new looking, as well as provide the ability for customers to mince their garlic with ease. This press has a large chamber so it can hold more than one clove at a time.
The Ecko garlic presser is aluminum but has a black nonstick coating that makes it effortless to clean. The coating makes the product food safe as it protects the customer from ingesting aluminum. It is easy to clean, and can be put in the dishwasher. It is recommended that you hand wash the garlic press to prolong the life of the product.
The Ecko garlic press is one of the less expensive garlic presses that you can buy. Less expensive does not mean less quality. You can be sure that you are buying an efficient garlic press. It is durable enough for everyday use. Ecko has been producing kitchen tools for a long time. You can rely on the quality of their products.
Pros: Inexpensive, but realiable.
Cons: Does not have a removable section for ease of cleaning. Can't hold more than two cloves of garlic.
---
Best Rocker Style :
7. Rosle 12896 Garlic Rocker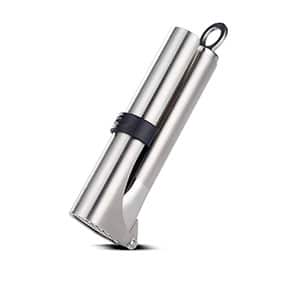 Why you will love: This Rosle 12896 garlic press is slim but sophisticated. This German designed press mines and peels garlic easily.
Rosle has been in the business of making innovative kitchen tools for decades. They understand what a cook needs in the kitchen and they are proud to provide it to their customers with every product they make.
The Rosle 12896 product is no different. It has the expected Rosle German design, which means it is modern and useful. It is made of stainless steel and has a slim, linear design.
Its innovative design allows it to stand on its head, so it is always within reach. You can also fill this garlic mincer while it is lying on a flat surface.
You can save so much time with this handy slim tool. The Rosle garlic rocker can press unpeeled cloves of garlic. It separates the garlic from the clove with little work from you.
This is not just a garlic chopper; it can be used for ginger / ginger root also. Rosle does not miss one opportunity to apply its high quality innovative styling to this press. The holes of the press are offset and cone shaped to provide quality pressed and minced garlic.
This product has a black ring that locks the press closed to prevent it from opening. This also allows for compact storage.
The Rosle 12896 is incredibly easy to clean because the component swings up so that you can put it under running water.
It is also dishwasher safe. This Rosle 12896 is a little over seven inches long and about two and a half inches wide. It is incredibly light weight, weighing only .2 pounds.
Rosle guarantees your complete satisfaction for as long as you own this garlic mincer and presser. They provide a lifetime warranty.
Pros: Innovative, slim design
Cons: One of the more expensive garlic presses.
---
Best Professional:
8. MiTBA Garlic Press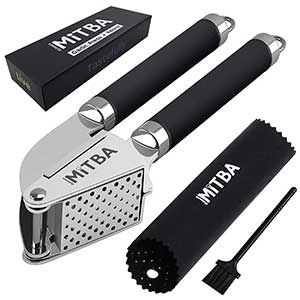 Why you will love: This MiTBA garlic press is the king of all presses with large non slip handles and a swing out chamber for easy cleaning.
As soon as the MiTBA product is in your hands, you will know that this is the garlic press and you will not look at another garlic press ever again.
You will not have to, because you will have this press forever. It is stainless steel and will not ever rust or break. The professional grade kitchen tool and accompanying silicone peeler have been FDA approved, so you can trust they are food safe.
The MiTBA garlic press has large non slip, easy to hold handles. These handles help you squeeze the press closed with ease.
It will be so effortless for you that you will want to keep using it. You will be adding fresh mined garlic to all your food. This garlic press produces perfectly sized, completely uniform crushed garlic for you every time you squeeze it. There is minimal waste.
It separates the skin from the clove and minces all of the clove. This garlic smasher is the last one you will ever need. It isn't for just garlic, either. Bring on your ginger / ginger root and it will handle it.
Do you love garlic, but hate the smell of it on your hands? Despair no more about stinky garlic smell lingering on your hands because you no longer have to touch it.
This MiTBA product comes with a silicone tube shaped garlic peeler. This product is the ultimate time saver.
Peeling garlic is time-consuming and often time annoying because it doesn't always peel well. This peeler is about to end all of that for you.
Simply put the unpeeled garlic in the peeler and roll it, and soon you will have peeled garlic that you never had to touch.
The MiTBA product is also easy to clean. You have easy access to all of the parts of the garlic press making it so simple to clean.
The chamber flips up so you can put it under running water with no problems. It also comes complete with a cleaning brush to make the job even easier. Since it is dishwasher safe, you can also put it there to clean.
MiTBA is a family run company that stands by their products. They love their products and they want you to love them, too. They stand by every product they make so, if you are not satisfied for any reason within the first 60 days, MiTBA will refund 100 percent of your money with absolutely no questions asked.
They also stand by their amazing customer service, so they will do all they can to fix any problem you are having.
Pros: Chamber flips up for easy cleaning. Large non slip, easy to hold handles.
Cons: Return policy is only 60 days.
---
More Utensil Related Articles:
---