Ranking
Product
Rating
Price
1
Enfamil Infant Formula Powder
for Newborn baby
View On Amazon
2
Enfamil Newborn Baby Formula
In Plastic Bottles
View On Amazon
3
Similac Pro-Advance Infant Formula
for Newborn baby
View On Amazon
4
Enfamil Newborn Non-GMO Baby
Formula for Newborns
View On Amazon
5
Happy Baby Organic Infant Formula
Milk for Newborn Baby
View On Amazon
Are you a new mommy and wondering what to do in terms of feeding your child?
Are you having questions such as what is the best formula for newborn baby,
how to choose the feed among more?
Do not Panic!
It is easy to get overwhelmed and confused especially if this is your first time.
Here is a guide on what is the best formula for newborn baby. It will shed some light as you begin nursing your newborn baby.
Quick Navigation
The Most Recommended Formulas for Newborn Baby: 5 Best Reviewed
What is Newborn Formula Feeding?
According to medical practitioners,
newborn formula feeding is serving a toddler with prepared formula as an addition or as a substitute for breastfeeding.
The prepared formula is synthetic food designed to feed children under the age of twelve months. The best feeds should have some or most components contained in a mother's breast milk.
According to the World health organization(WHO),
infant formula that is prepared according to the set standards can be said to be a safe and perfect substitute for breast milk.
Every time you buy formula for the newborn baby, make sure it meets the standards set by the Codex Alimentarius Commission. Otherwise, the formula may not be fit for kid's health.
What are Some of the Reasons for Using Infant Formula Feeding?
You may have heard that breast milk is the best for infants, but then you wonder, why do some women use infant formula instead of breast milk?
There are various reasons why some women are advised to use the prepared formula.
Some of the reasons may be because the infant or the mother has a certain condition or the mother is under medication among more.
Here is a glimpse of some of the reasons.
Infant Conditions
The infant has trouble digesting food
This is a condition commonly known as Galactosaemia. It is a condition in which an infant cannot metabolize galactose.
Galactose is produced when lactose which is found in breast milk is broken down. If a kid cannot process galactose, a formula is prepared that is free of galactose, and thus, the mother is expected to stop breastfeeding.
Phenylketonuria
Phenylketonuria is another metabolic disorder found in infants. It is a disease that prevents the digestion of amino acids.
Given that amino acids are found in breast milk, the mother is advised to avoid breastfeeding and instead, use a prepared formula.
However!
with this condition, you can sometimes breastfeed as long as you are under the instructions of a doctor.
Motherly Based Conditions
HIV
In almost all countries,
mothers who are infected with HIV are advised to avoid breastfeeding their young ones.
That is to prevent transmitting the disease to the child. Nevertheless, you can always seek individual advice from your doctor.
Tuberculosis
If a mother has been diagnosed with active tuberculosis, close contact with the baby may lead to a respiratory transmission which is very harmful to a newborn baby.
The mother is only allowed to get in touch with the child after a period of two weeks and if she has TB Mastitis, she can only breastfeed after it has completely healed. In the meantime, one is advised to use infant formula.
Brucellosis
If a mother has untreated brucellosis, she cannot breastfeed the baby no matter the circumstance.
But,
after treatment, she can be allowed to breastfeed.
Breast Cancer
When a mother has breast cancer, it is very dangerous to breastfeed, and thus, it should be avoided unless after treatment. During that time, the baby can be fed with an infant formula.
Syphilis or Herpes virus lesions on breast
If a mother has any of the conditions, the baby should not be in contact with the breast until it is treated.
Period of Medication
When a mother is undergoing Chemotherapy
When a mother is under cytotoxic chemotherapy, she is not supposed to breastfeed. That is because the drugs interfere with the breast milk which can be harmful to the baby.
If the mother is taking anti – epileptic drugs or any sedatives
These drugs are known to cause drowsiness among other side effects and thus not suitable for your child.
Excessive use of radioactive iodine and topical iodine
Use of radioactive iodine is commonly associated with nuclear energy which is not good for your kid. Therefore, you should use other alternatives such as the formula for newborn to nourish your child.
Whereas,
excessive topical iodine can cause some abnormalities in infants and thus should be avoided as well.
Supplements
There are times when a mother may be required to use infant formula as a supplement of breast milk.
Some of the cases that may force a mother to use supplements include: if a child is not getting sufficient milk if the child is not able to poo or is delaying to poo, if the child is losing weight in an alarming manner and if the baby has low blood sugar among more.
If you or your child has the above conditions, it is recommended that you use infant formula for the first twelve months.
Having established some of the reasons why you may need to use a prepared formula for your newborn baby, let us look at the types of formula's available in the market.
Types of Formula
Ready to use formula
With this form of the formula, you are not required to measure or mix the contents. You only open and feed your baby.
It is convenient and reliable especially if you have no access to clean water. Most hospitals recommend this form to new mothers. After you open it, you can only use it within forty-eight hours lest it spoils.
Also, it is a bit costlier compared to other forms given that it is ready to use and nothing much is required of you. And since it is packed in containers, you may need to have more space in your cupboard to store it.
Powdered formula
As the name suggests, this type of infant formula is usually in powder form. Unlike the ready to use form, you have to prepare the formula by using the set standards or directions given by the manufacturer.
It is up to you to know the amount you need to make and therefore, it can work best if you are a mum who is using it as a supplement to breast milk.
Into the bargain,
the powdered formula is much cheaper and environmental friendly compared to other types.
Also,
no much space is needed for storage.
Liquid concentrate formula
Just like the powdered form, you need to prepare the liquid concentrate using the given directions. However, it takes less time and effort to prepare compared to the powdered form.
It is less expensive compared to the ready to use formula but compared to the powdered formula; it is slightly more costly.
All the three forms are made using either milk or soy. If a kid is allergic to either of them, you can try to find one that will be best for your child.
How to Choose the Best Formula for Newborn Baby
There are various choices in the market, and thus, it can be a bit confusing. So, the first step you should take is to speak to your pediatrician so that he or she may advise you on the best option.
After that, it is good that you sample all the recommended options in the market so that you can know what you are dealing with.
It is recommended that you start with cow milk before trying soy or any other milk. Cow milk is good for digestion. If your child does not respond well with cow milk, then you can choose soy.
According to The American Academy of Pediatrics, you should only use the soy formula only if the child is allergic to milk.
Also, you should put into consideration the brand names, the age of the child and if you can get add-ins such as iron, you can add to your formula.
Make sure you do extensive research before buying any formula.
The Most Recommended Baby Formula: 5+ Best Formula for Newborn Baby Reviews
Here is a list of the 10 best formula for newborn baby reviews for your guidance.
1. Enfamil Infant Baby Formula Powder for Newborns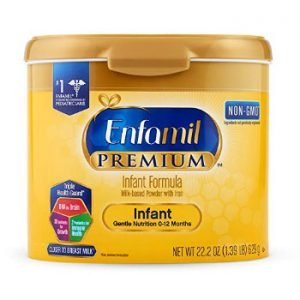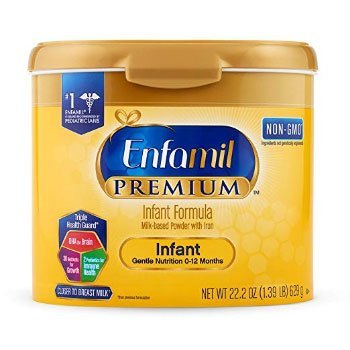 Enfamil Infant formula is personalized for infants below the age of one year. It contains two prebiotics which is designed to support a child's natural defenses.
And like any other certified formula, it contains brain-nourishing nutrients such as DHA and Choline which are very critical in the growth and development of a child.
Additionally, it contains lactose in the form of carbohydrates which are similar to that of breast milk. It is highly rated among other formulas.
2. Enfamil Newborn Baby Formula in Plastic Nursette Bottles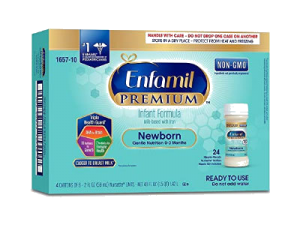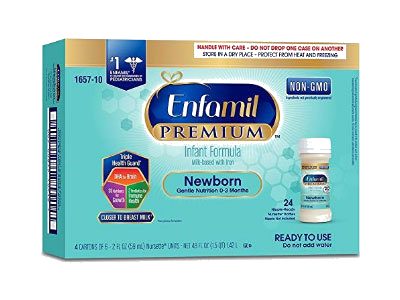 It is a type of formula that is designed for children under the age of three months. It is made using vitamin D to help your kid get the recommended vitamins for growth.
And, since infants are prone to digestive difficulties, this formula is made with an easy to digest protein to ease in the metabolism process.
Into the bargain, research shows that it aids in communication, cognitive and brain development in infants. It is one of the best-recommended formulas by pediatricians.
3. Similac Pro-Advance Infant Formula with HMO for Immune Support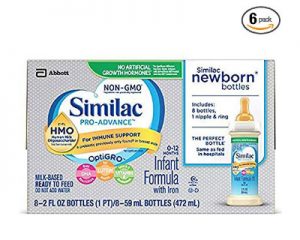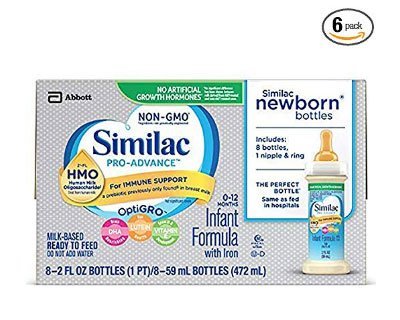 Similac Pro-Advance Infant Formula with HMO is the only formula with Human Milk Oligosaccharide (HMO) which is only found in breast milk.
It is best in boosting your child's immunity, develops the brain and eyes as well as build healthy bones.
It is prepared with ingredients of very high standards and therefore, you can be assured of your child's growth and health.
4. Enfamil Newborn Non-GMO Baby Formula Review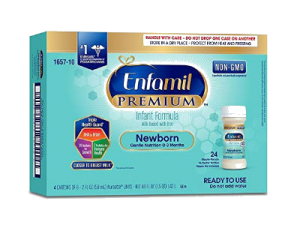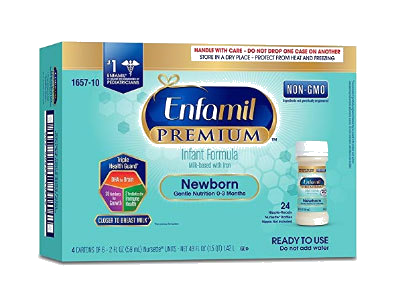 Enfamil Newborn is now available in non – GMO. It contains a protein that is easily digested by the body and also, it has prebiotics which is perfect in supporting your child's natural defenses.
Additionally, it is designed with vitamin D and other nutrients such as DHA and choline. With this formula, you can be sure that your child is getting all the required nutrients and vitamins needed.
5. Happy Baby Organic Infant Formula Milk-Based Powder with Iron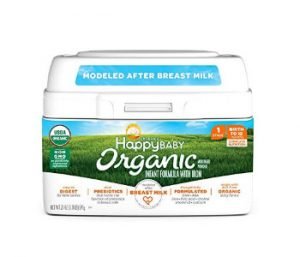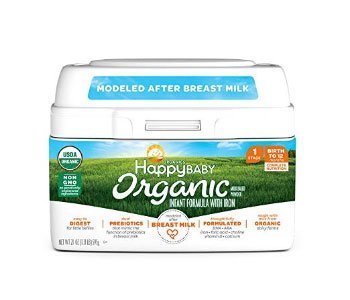 It is designed to provide the necessary nutrition for the first few months of a newborn baby. It is made of organic lactose, carbohydrates found in breast milk, iron, choline, zinc, Vitamin D and calcium.
Additionally, it is specially formulated with DHA, ARA and fatty acids that are crucial in the brain and eye development of an infant.
Happy Baby Organic Infant Formula Milk-Based Powder with Iron is unique in that it contains more prebiotics than any other formula on the market. Prebiotic helps in generating a gut bacterium that is healthy.
6. Enfamil Newborn Baby Formula Review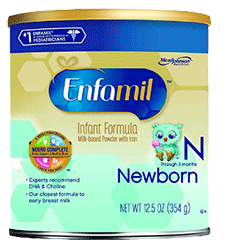 Enfamil Newborn Baby formula is prepared specially for infants who are between the age of 0ne month and three months.
It is right in brain nourishment since it contains nutrients such as DHA and Choline. Into the bargain, it contains Vitamin D which is critical for the growth of a child.
7. Similac Expert Care Neosure Baby Formula Review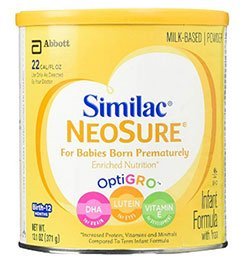 Similac Expert Care Neosure Baby Formula contains Vitamin E which supports the development of cells, DHA for eye and brain development and Lutein which is critical in eye development.
Also, it contains phosphorus and calcium which are crucial in bone growth.
With this formula, your child can get good visual acuity by the age of six months and language development in a span of fourteen months.
If you gave birth to a premature baby, you could use this feed to help your infant grow like any normal kid.
8. Vermont Organics Baby Formula Review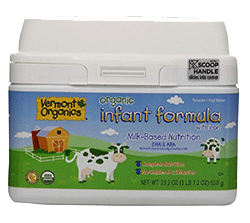 Vermont Organics Baby formula is prepared according to the USDA regulations, and it is certified by the quality assurance body.
Therefore, there is hardly any chance of using harmful pesticides or antibiotics since they are not so much recommended.
It contains minerals, nutrients, and vitamins necessary to support the development and growth of a newborn baby. And just as the name suggests, it is organic.
9. Enfamil ProSobee Soy Infant Formula Review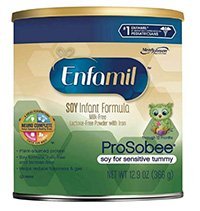 Enfamil ProSobeeLipil Soy Infant Formula aids in eye and brain development. Also, it boosts immunity in the body of young ones.
And, since lactose is not so easy to digest for most infants, this formula is made free of it and instead, it contains iron.
10. Similac for Supplementation Baby Formula Review
Similac for Supplementation is formulated for mums who choose to use infant formula as a supplement to breast milk.
Just like any other formula, it contains minerals, vitamins, and nutrients necessary to boost the immunity of a child as well as growth.
It has the same benefits as those of other types of Similac. Over the years, so many mums have put their trust in this formula.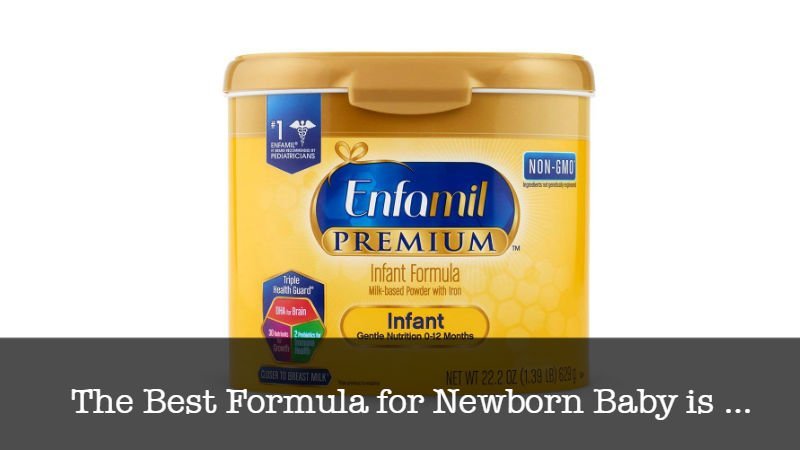 So, Which one is the Best Formula for Newborn Baby?
Are you looking to get the best formula for a newborn baby? Each of the above formulas is good depending on your need and preference. According to most reviews, however, Enfamil Infant Baby Formula Powder is rated to be the best formula among all.
Most people prefer Enfamil Infant Baby Formula powder due to the extra ingredients such as Lactoferrin and MFGN which makes it a very close substitute to breast milk. However, the decision on which formula to buy is up to you.