[lmt-post-modified-info]
What is the Best Fish Grilling Basket?
When shopping for a fish grilling basket, one must consider the following factors: price, if the size will fit your current grill, cooking surface, ease of cleaning, and more. With those factors in mind, we chose the Weber Deluxe Grilling Basket as our top pick because of its durable construction, versatility, and uses.
---
Quick Navigation
5 Top Fish Grilling Baskets: Our Picks & Recommendations
---
There are a lot of good fish grilling baskets available out there, but they are not all created equal. They have different dimensions so you have to search for one that will fit into the dimensions of your grill.
The cooking surfaces also vary so you should take into account what you wish to cook with it. Some are a mesh design while others are more solid with very small holes.
Finding the right one may sound like a daunting task, but we have gathered some information on the top fish grilling baskets to make it easier for you.
---
5 Best Fish Grilling Basket Reviews
To find the best fish grilling baskets, we assess multiple products as well as their ratings and reviews from buyers and experts.
After some deliberation, we finalized our list with the following five fish grilling baskets based on their price, durability, and ease of use.
---
Best Overall Fish Grilling Basket: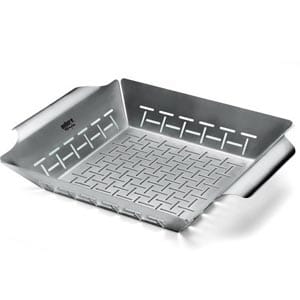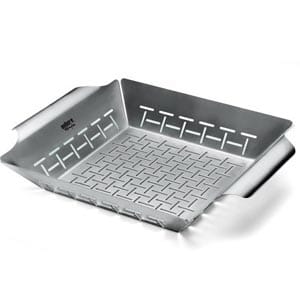 What You Will Love: This grilling basket is the perfect size to grill some fish or veggies without things falling through.
The Weber Deluxe Grilling Basket is made from durable stainless steel and can fit all Weber grills and almost all larger size charcoal grills and gas grills.
It can even be used as a wok pan or to cook something in your oven. I find that to be very intriguing because I have a small kitchen. When I find dishes that are multi purpose, I try to buy them to save space.
The square shape of the basket with the tall sides and thin grates allows you to grill a variety of foods with ease. It is backed with a two year limited warranty and generally ranges between $20 and $25. This seems like the best basket for grilling.
The only problem I found was that some people had a hard time cleaning it after use, but I believe some prep work prior to cooking and some soaking after will likely help.
Pros:
Great size and shape for grilling a variety of foods
Durable stainless steel
Can fit nearly all grills
Can be used as wok pan or baking sheet
Great price
Cons:
May be tough to clean or become discolored over time
---
Best Budget Fish Grilling Basket: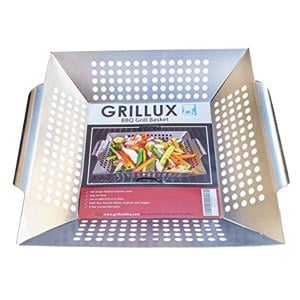 What You Will Love: The grill holes are barely bigger than a pencil eraser so you can grill even the smallest meats and veggies.
The Grillux Grill Basket is made from 100% stainless steel so it retains heat to cook your food faster. It fits most gas and charcoal grills so you should be able to use it with the grill you already have.
Its raised edges make it easier to stir and flip without knocking any food into the flames. Curved handles make it easy to carry, and its design makes it versatile enough to use in your kitchen as well as in your outdoor grill.
It is dishwasher safe and the company says it is safe to use a steel wool or other abrasive pad to attack stuck on food. It is very budget friendly.
Since the basket is made from stainless steel, any discoloration from use is normal but there are products that can get your product shiny again if this bothers you.
Also, a buyer suggested washing it with an abrasive pad before using to make sure there are no burrs left around the holes.
Pros:
Great price
Good quality and size
Can hold in even small foods
Easy to carry
Versatile uses
Dishwasher safe
Cons:
Stainless steel will become discolored
There may be burrs around the hole edges
---
Best Large Fish Grill Basket with Side Handles: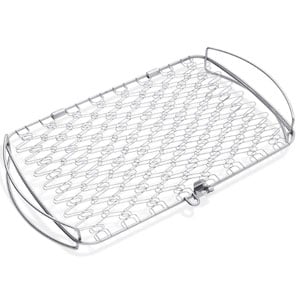 What You Will Love: This basket can hold larger fish and be flipped using the side handles.
The Weber 6471 Fish Basket fits Weber Q 300/3000, large gas grills, and charcoal grills over 18 ½ inches. It is made from durable stainless steel and was designed for larger items.
Instead of putting your food directly on the grill for it to stick, the basket keeps the food elevated. The handles on the sides allow you to simply flip the basket as a whole instead of scraping your food off the grill to flip. Be sure to use a thick, heavy duty set of gloves to grab the handles.
There have been two issues that I could find. One is that the clasp on the basket does not close tightly on everyone's, though it does on others. The second is that it is said to be difficult to clean.
Other users stated that if you simply oil the basket before using it, it comes clean easily. This Weber Fish Basket is dishwasher safe but a scouring pad can get rid of sticky leftover foods. This handy basket usually runs around $30, so it is definitely a good deal.
Pros:
Made for larger fish
Can be flipped with gloves and the side handles
Great price
Keeps food off the grill
Dishwasher safe
Cons:
Clasp may not be tight enough on some baskets
May take some effort to clean
---
Best Large Fish Grill Basket with Front Handle: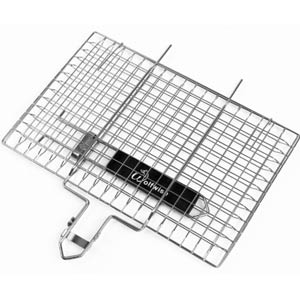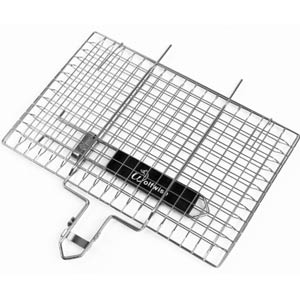 What You Will Love: This basket holds larger food and comes with a removable handle.
The Wolfwise Portable Grilling Basket is made with FDA Approved stainless steel. It is durable and dishwasher safe. The basket has a lockable grill grate and an adjustable, removable handle. The removable handle can be folded for easier storage, and the basket itself comes in a box that can be used to store it.
This Wolfwise basket offers a generous cooking space and great capabilities for around $20. A few buyers stated that the basket was not as deep as they expected it to be, but one of them admitted that they had overlooked the stated dimensions.
A couple of other buyers had some issues with part of the clasp not being welded together well so it came off.
Pros:
Holds larger food
Comes with a removable
Foldable handle
Has a lockable grill grate
Generous cooking space
Dishwasher safe
Great price for all it provides
Cons:
Some of the clasps are not welded on very well
---
Best Small Fish Grill Basket: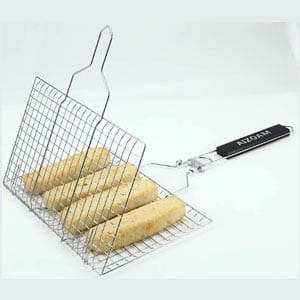 What You Will Love: This fish grilling basket holds a lot of food and comes with a bonus sauce brush.
The AIZOAM Portable Fish Grilling Basket is constructed from stainless steel for durability but is lightweight. The grill grate has a locking mechanism and an elongated heat-resistant wooden handle so that you can easily flip the basket while you are grilling.
It states that it has a professional grade non-stick coating, but a little extra never hurts. It is able to hold up to five 10″ trout or 4 – 5 chicken breasts, but this is just a guide. Depending on the size of the items, it may hold more or less, but it is definitely a good buy.
A few reviews bring up the difficulty to clean it. Adding some extra non-stick coating prior to cooking should prevent this issue.
If it does not, soak it in hot soapy water for a while, scrub it with a scouring pad, or use a baking soda and vinegar solution.
Another customer stated that although it does close and you can flip it with ease, it may not hold everything firmly in place. If the food item is too small, it may move around during flipping.
Pros:
Durable and lightweight
Great price
Heat-resistant handle
Locking grate
Easy to flip
Fits a lot of food
Cons:
May be hard to clean
Small items may bounce around when you flip
---
If you enjoy barbecuing and grilling fish and veggies but hate cleaning the mess, a grilling basket is a great idea. All of the options listed here are what we consider the best fish grilling baskets, and all are good grilling tools.
---
More Grill Related Articles:
---