Quick Summary: We have picked the Kraus KHF203- 33 Inch Farmhouse Kitchen Sink as the best farmhouse sink as it has a contemporary look with a satin finish and two extra-deep basins. It is both corrosion resistant and sound insulated, minimizing the level of noise created. It also comes with a chrome faucet and soap dispenser to complete the look.
Looking to revamp your kitchen? Then installing the best farmhouse sink would do you wonders. It will indeed become the real focal point of the kitchen. Farmhouse sinks are deeper than an ordinary sink. They are explicitly fashioned to hold a large number of pots and pans. These robust sinks are ideal for bigger families where there are loads of hungry people to feed. Farmhouse sinks are durable, incredibly stylish, and quite useful; thus, they make a great addition to any kitchen.
Certain factors should be considered when purchasing one. Firstly, consider whether you'd be wanting a single basin sink or a double one. A single basin sink provides a larger washing. For some individuals single-basin sink is viable cause of its size, making double-basin farmhouse sink the perfect option. Double-basin farmhouse sinks' one side is used to wash the dishes, whereas the other is used for rinsing.
Secondly, ensure if the front of your farmhouse sink is exposed rather than hidden in the cabinetry, as installing it would require a bit of construction to make it fit. Thirdly, go for a farmhouse sink made of fireclay as they it is incredibly durable.
With that being said, let us look into the best farmhouse sinks available on the market with detailed product reviews including their pros and cons so that you can make a more informed decision.
Quick Navigation:
---
Comparison Of 10 Best Farmhouse Sinks
---
Reviews of 10 Top Farmhouse Sinks
To find the perfect farmhouse sink, we took a close look at the ratings and reviews of multiple options. Ultimately, we chose the following 10 farmhouse sinks as the best based on their construction, ease of installation, look, and durability.
---
Best Overall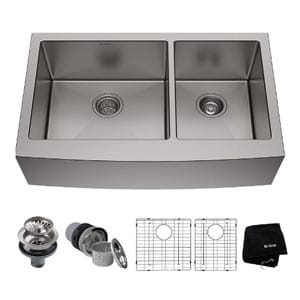 What You Will Love: This double bowl farmhouse sink comes with a chrome faucet and soap dispenser that provides your kitchen with a contemporary look.
The Kraus KHF203 Farmhouse Kitchen Sink is a great look for many kitchens. The extra deep, double basin farmhouse sink provides ample space to separate dishes.
It has rounded corners and a satin finish that makes it an attractive kitchen tool. This model is one of the lowest priced double basin farmhouse sinks.
It is also corrosion resistant. When you are finished using the sink, you can simply wipe it down to clean it. The downside is that the flat bottom might negatively impact its drainage speed.
Also, though stainless steel is durable, it scratches easily, so that may diminish the look of your sink.
Pros:
Stainless steel,
Sound insulated,
60/40 double basin, extra deep,
Commercial grade satin finish,
Corrosion resistant,
Comes with chrome faucet and soap dispenser,
Contemporary look,
Good price
Cons:
Flat bottom may impact drainage
---
Best Budget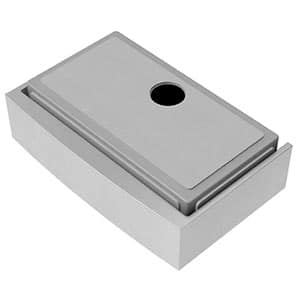 What You Will Love: It is easy to install and is a good option for the entire family.
The ZUHNE Prato 30 Inch Single Basin Farmhouse Sink turns stainless on its head by providing a scratch proof option.
The strong materials also make it dent proof and corrosion proof. It comes with a scratch protector grid for the bottom of the sink, a strainer with a stopper, a caddy, and a sponge holder.
While it does provide some noise control technology, it is certainly not the best in this area. However, as this is such a budget friendly offer, some features will suffer.
It is easy to install and is a good option for the entire family. This sink can also hold up against heavy commercial use. The sloped channels provide easy drainage.
It is an attractive design and it comes with a lifetime warranty. The most common complaint is that the corners are not round enough, making it difficult to clean.
Pros:
Budget-friendly,
Comes with scratch protector grid as well as a caddy and strainer,
Good for commercial and residential use,
Noise control technology,
Lifetime warranty,
Prevents condensation on kitchen cabinets,
Sloped channels for drainage
Cons:
Might be difficult to clean in some areas
---
Best Stainless Steel Farmhouse Sink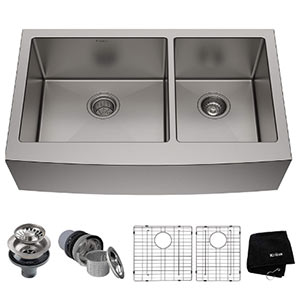 What You Will Love: It has a rear set drainage system which opens up more sink and under sink space.
The Kraus KHF203- 36 Inch Double Bowl Farmhouse Apron Sink comes with lots of extra goodies.
The included bottom grid helps protect the sink from scratches. It also comes with a basket and a Kraus kitchen towel.
The durable stainless steel design is durable and dent resistant, and the satin finish makes it a wonderful look for any kitchen decor. It is sound insulated, easy to clean, and can stand up to heavy-duty use.
The extra deep basin provides ample space for washing all size dishes. The biggest problem is that as it is stainless steel, it will likely scratch easily.
Pros:
Includes bottom grid, basket, and Kraus kitchen towel,
Durable,
Dent resistant,
Fair price,
36 inches, lead free brass construction,
Extra deep basin,
Satin finish,
Corrosion resistant,
Sound insulated, includes chrome faucet and soap dispenser,
Apron front,
Protective undercoating, modern look,
Easy to clean,
Heavy duty
Cons:
It will likely scratch easily
---
Best Cast Iron Farmhouse Sink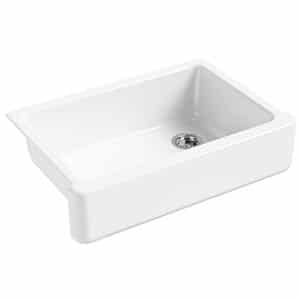 What You Will Love: The 9 inch single basin provides plenty of space for large dishes.
The Kohler K-5827-0 Whitehaven Single Basin Farmhouse Apron Sink is white enameled cast iron construction, making it extremely durable.
In fact, it is guaranteed not to chip, crack or burn. The basin slopes toward the offset drain, minimizing the amount of water that pools in the sink.
The offset drain means that the pipes can be stored in the back corner, opening up your under sink cabinet space. It fits a minimum of 33 inch apron sinks, and the self-trimming makes installation simple.
Unfortunately, Kohler is a high priced investment, though it should last long past paying for itself. Additionally, there are no faucet holes, meaning that the faucet will have to be mounted to the counter.
Pros:
Self-trimming for easy installation,
9 inches deep, basin slopes toward drain,
Durable,
White enameled cast iron,
White color matches most decor,
Off set drain,
Guaranteed not to chip,
Crack or burn
Cons:
Expensive,
No faucet holes
---
Best Fireclay Farmhouse Sink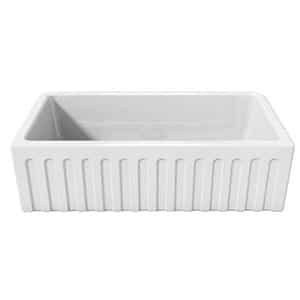 What You Will Love: This farmhouse sink comes with a front apron design on one side, and a fluted design on the other. It is truly reversible thanks to all of the finished sides.
The Latoscana 33 Inch Reversible Fireclay Farmhouse Sink- LFS3318W is a beautiful, Italian made sink.
The reversible design is not the only thing that gives you variety. It comes equipped for flush mount, under mount, and raised sink, so you have multiple installation options. The standard drain opening prevents extra work and expenses.
As it is both scratch resistant and stain resistant, this farmhouse apron sink will continue to look good for years to come. At 115 lbs., it is heavy and will need more than one person for safe installation.
While there are more expensive options, there are definitely cheaper options.
Pros:
Italian made,
Reversible design,
Standard drain opening,
Lots of installation options,
Finished on all sides, scratch and stain resistant,
Heavy duty,
Front apron design on one side, fluted design on the other side
Cons:
---
Best Copper Farmhouse Sink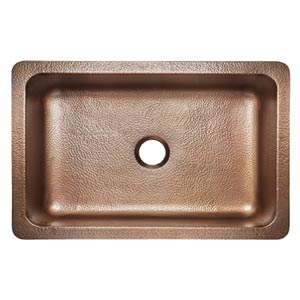 What You Will Love: This sink should not turn green under normal, everyday use.
The Sinkology Adams Farmhouse Apron Front Copper Kitchen Sink- 33 Inches is a large capacity, single bowl farmhouse sink.
The antique handmade copper sink has a hammered finish that makes it a gorgeous option. It is easy to keep clean and durable.
Unfortunately, copper sinks need a lot of maintenance, including washing them with hot, soapy water, and polishing them. Though it does not turn green under normal use, copper does often become discolored.
This is not always a bad thing as the original look is often just as gorgeous. It is one of the highest price options on this list, but the durability and timeless beauty makes it worth the consideration.
Pros:
Beautiful antique copper,
Rustic look,
Large capacity,
Easy to clean, durable,
Hammered finish,
Discoloration may lead to an even more beautiful look,
Handmade
Cons:
Copper often becomes discolored,
high maintenance,
Expensive
---
Best under Mount Farmhouse Sink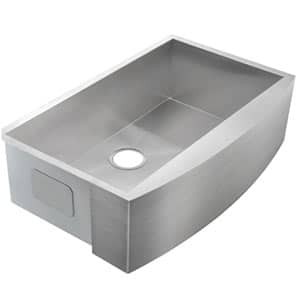 What You Will Love: This model truly is stain and scratch resistant.
The Comllen 33 Inch Stainless Steel Single Basin Farmhouse Sink is a classy, modern looking sink that goes well with any kitchen decor.
At only 30 lbs., it is lightweight enough that one person might be able to install it alone. The rounded corners and satin finish make it a gorgeous choice.
The standard drain opening prevents extra work, and it is very budget friendly. The heavy grade stainless steel makes it very durable, and the design makes it easy to clean. With a 10 inch deep basin, most any dishes can fit with ease.
Unfortunately, the screws may not fit all platforms. If you have this problem, the company is well-known for its great customer support.
Pros:
Deep basin- 10 inches,
Under mount,
Budget-friendly, durable,
Premium satin finish,
Standard drain opening,
Sound insulation,
Easy to clean,
Scratch resistant,
Thick stainless steel,
Rounded corners improve the look,
Lightweight enough for possible one person installation
Cons:
Screws may not fit well or at all
---
Best Top Mount Farmhouse Sink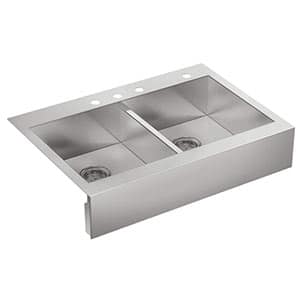 What You Will Love: It comes equipped with Silent Shield sound absorption technology for quiet performance.
The KOHLER Vault Double Bowl Stainless Steel Farmhouse Apron Front Sink is a durable 18 gauge stainless steel.
Though it can stand up against everyday use, it may dent if you are careless with it. This model comes with options from one faucet hole to four faucet holes.
Since the four faucet hole model comes with plates to cover unused faucet holes, there is no reason to not go with the four-holed option. The self-trimming apron front and drop in qualities make installation a snap. The contemporary design can breathe new life into any kitchen.
It comes equipped with Silent Shield noise absorption technology to minimize any noise. The rear drain opens up cabinet space underneath. While it is a good price, there are cheaper options available.
Pros:
Self-trimming apron front,
Comes with up to four faucet holes and plates to cover unused faucet holes,
Made from 18 gauge stainless steel,
Includes silent shield,
Contemporary design,
Drop-in installation,
Rear drain
Cons:
36 inch minimum cabinet width,
There are cheaper options
---
Best White Farmhouse Sink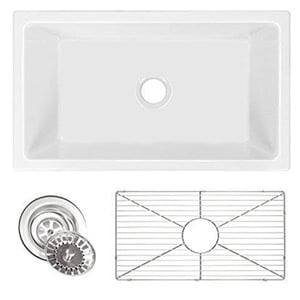 What You Will Love: It is another Italian made reversible farmhouse sink that can withstand heavy use and thermal shocks.
The ZUHNE Ostia 30 Inch White Farmhouse Apron Sink is a fireclay sink that has a beautiful glossy, smooth finish.
The single extra deep basin provides plenty of dish space, and it is compatible with a waste disposal. It is both heavy and highly durable. The included grid protector helps to minimize scratched and chips.
The price of this sink falls in the middle of the range. In my opinion, this is high when you consider that it requires professional installation and a deep stainless steel sink flange.
With the extra cost of these expenses, the sink itself should be priced a little lower.
Pros:
Comes with grid protector and strainer,
Made in italy, reversible design,
Can withstand high temperatures and heavy use,
Chip and abrasion resistant,
Made from fireclay,
Compatible with waste disposal,
Extra deep basin,
Glossy smooth finish
Cons:
Mid-level pricing,
Single basin,
Heavy,
Requires expert installation,
Requires deep stainless steel sink flange
---
Best Black Farmhouse Sink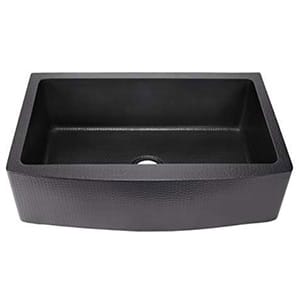 What You Will Love: This hammered copper sink comes in an antique black color, making it different than the other options discussed.
The ZUHNE Antica 33 Inch Copper Farmhouse Apron Sink has a tall apron, and it is a hammered copper construction.
It has an extra deep basin that has a sloped base, which assists in optimal water drainage. The antique black color gives it a unique yet timeless look.
Additionally, it comes with noise reduction technology. This is a more expensive option on the list, though definitely not the most expensive one mentioned. Some buyers feel that it is too thin and will easily crack.
However, it comes with a lifetime warranty, so any cracks or defects are covered.
Pros:
Made from hammered copper,
Tall apron, black in color- also comes in regular copper color,
Timeless look,
Noise reduction technology,
Extra deep basin,
Sloped base for optimal water drainage,
Comes with a lifetime warranty,
Good for everyday use
Cons:
One of the more expensive options,
Some feel it is too thin and will easily crack
---
Why Choose a Farmhouse Kitchen Sink?
With the ease of regular, or standard, sinks in addition to the lower prices, you may be wondering why you should choose a farmhouse sink. While it is a personal choice, there are many benefits of farmhouse sinks that standard sinks simply cannot provide.
For starters, farmhouse sinks are much deeper than regular sinks. They are also usually much wider. This means that the large dishes that cannot fit into regular sinks can fit into farmhouse sinks with no problem.
Unlike a regular sink that is surrounded by counters, farmhouse sinks are not. In fact, they are generally mounted under the counters making them shorter.
All of this leads to less bending, easier reach for children, and the ability to wipe counter mess straight into the sink. Instead of leaning against a counter, you are leaning directly on the sink.
Farmhouse sinks are often much more durable than regular sinks, thanks to the different materials they are made from.
These different materials and the added color coating also makes farmhouse sinks much more aesthetically pleasing.
Not only do they add a different look to your counter, but they also provide the illusion of a more open kitchen.
These sinks are traditional but can be purchased with a modern twist. The copper sinks can add a fancy look, while the white porcelain covered sinks can flow with loads of different patterns.
They look great in kitchens with something like a beach theme. These sinks can really make your decor pop.
---
How to Choose the Right Farmhouse Sink?
When shopping for the right farmhouse sink, there are certain factors that you should consider:
The Capacity
Farmhouse sinks are usually deeper and bigger than regular sinks. This means that you have the ability to wash more in one load, and you have space to wash the larger dishes.
Choose from the Materials
Farmhouse sinks come in different materials that impact the durability, its color, it's maintenance and cleaning. The following are the most common materials for farmhouse sinks.
Fireclay

Fireclay is very durable and virtually scratch resistant. Additionally, it provides a beautiful look for your kitchen.
Porcelain

Porcelain is similar to fireclay. It is a ceramic material that is heated to extreme temperatures. It is very strong and durable but will scratch easily. You might also find that it chips easily, but it is easier to clean.
Stainless Steel

Stainless steel is one of the most common farmhouse sink materials used. It provides a modern look in nearly every kitchen, is very durable, and assists in reducing noise. However, it gets easily scratched and does not hide fingerprints or water stains.
Copper

Copper is becoming a more popular choice, though some people steer clear of it. The look when it is brand new can be off-putting. However, over time, it begins to look beautiful.
Cast Iron

A cast iron sink is going to be as durable as a cast iron skillet. It can withstand up to 1000 degrees F. You may think of a cast iron sink being completely black.
Decide on the Number of Basins:
Single Basin Farmhouse Sinks
This very simply means that there is only one compartment to the sink. If you have ever used a sink with only one basin, you likely understand how irritating it can be.
When I was dishes, I like to wash on one side, and then put the dishes in the second side to rinse them. With one basin, everything has to be done in the same section.
Double Basin Farmhouse Sinks
With double basin sinks, you do have the two separate sections for use. These are generally going to be larger than single basin sinks. Unfortunately, they are also more expensive.
Consider the Installation Type
Sinks come with two basic installation types: top mount installation and under mount installation. While regular sinks are usually mounted on top of the counter, best farmhouse sinks are mostly mounted under the sink. This provides quite a few benefits.
First is that most of the sink is not showing. Second, the countertop is above the sink, so you can simply wipe the mess on your counter into your sink without worrying about built up gunk.
Also, under mount sinks are usually reduced in height so they are easier for children and vertically challenged people to use.
Check the Drain Size and Location
Though most farmhouse sinks have standard drain sizes and are placed in standard locations, that is not always the case.
Some might have off-center locations. Just pay attention when purchasing your farmhouse sink where everything is located and how big or small they are.
Expenses
Farmhouse sinks are definitely more expensive than regular sinks. However, they are generally well worth the investment.
If you decide to purchase one, be sure you have money set aside to purchase a good one. This is not just a sink but an investment in the look and functionality of your kitchen.
Warranty
With such a high price investment, you should definitely look for a product with a warranty. You might find them with lifetime warranties or limited lifetime warranties. Some may be full warranties while others are partial ones.
---
Final Verdict: Best Farmhouse Sinks
Although there are several farmhouse sink models to choose from, it is possible to find one that is perfect for you. In this article, we have taken a look at the best farmhouse sink and nine other great options. This information can help you determine the perfect farmhouse sink for your needs.
---
More Sink Related Articles:
---