What are the Best Family Tents for Bad Weather?
We have picked Coleman's 8 Person Instant Tents as the top family tents for bad weather as it is constructed from double thick Polyguard material with protected seams, is very quick to set up, and has additional storage pockets to keep your stuff off of the tent floor. It also comes with a one year warranty.
---
Camping is not only a great hobby or a way to get out into nature. It is also a great way to reconnect with your family and, hopefully, get everyone off of their tech for a while.
And you do not want something like wind and rain to stand in the way. If you plan on taking a family camping trip, you need to have a good tent that can stand up to bad weather. When you are ready to shop for a good tent, you will find yourself faced with a lot of choices.
We have put together this buying guide with the information you need to choose the right family tents for bad weather.
---
Quick Navigation
Top 7 Best Family Tents for Bad Weather: Our Picks & Recommendations
---
How to choose the Right family tents for bad weather?
When you start shopping for the best family tent for bad weather, these are the things you should pay the most attention to:
Size
If you want to fit four people in the tent, you probably do not want a tent that says it is for four people- not unless you are all really small and you do not need space for anything else in the tent with you.
When a tent says room for four people, it is usually being generous and not taking into account that most people do not like sleeping cocooned between one another.
Weight
Most families will not want to stray too far from the vehicles, especially those with small children. However, if you do like to go farther out, you will need to take the weight of the tent into account.
It will be one of the heaviest things that you are taking in your backpack, so either choose a lightweight one of split the weight amongst campers.
Setup Time
No one wants to spend a ton of time setting up the tent once they get to the campsite. If you are not accustomed to setting up a tent, get a freestanding one first.
These are a little heavier, but they are much faster to set up. Once you are better at setting up tents, move to ones with stakes instead.
Hydrostatic head measurement
This refers to just how water resistant your tent is. For the best, look for a hydrostatic head measurement of 2500 +mm.
Poles
The amount of poles that come with a tent determines the sturdiness of that tent, but also remember that the more poles, the heavier it will be to carry.
You will usually find a choice of fiberglass and aluminum poles. Fiberglass poles are the cheaper option and they are rust free. However, aluminum ones are both stronger and lightweight.
Fabric
Since you are looking for a tent for bad weather, you want to go with polyester thanks to its water resistant properties.
Sleeping Quarters
Tents can be very versatile. If it is just you and your spouse, a regular tent with only one section might be okay. If you have little ones or a combination of sons and daughters, you might want a tent with separate sleeping quarters (a zippered wall in between sections) to allow privacy for everyone.
Living Space
You can also choose a tent with an extra "living space", which is something like an entry way or just an extra section where you can keep things such as shoes so they are not on your beds.
Capacity Rating
Again, a four person tent is not really big enough for a four person family to have any moving space. A tent with a larger capacity rating will give space for you each to move and maybe even add a air mattress for extra comfort.
Design
The more high quality design you choose, the longer it will last you and your family, the more it will provide you while you are using it, and the greater it should withstand weather and anything else that is thrown at it. The more you invest, the better off you will be.
Ventilation
Sitting in a polyester anything with no air flowing through is quite uncomfortable. That gets worse with more people there with you. Be sure to choose something with good ventilation to make your camping a more enjoyable experience.
Flooring of the tent
Having a wet sleeping surface is not comfortable, and it can lead to sickness. Either have a double coated polyester flooring, or add your own tarp footprint.
Build Quality
The way a tent is made will affect just how well it stands up to any weather. The best tents will not only hold up against wet weather and wind but will also be suitable for regular weather as well.
---
7 Best Family Tents for Bad Weather Reviews
In order to bring you the right family tents for bad weather, we searched for the most comprehensive ratings and reviews of dozens of models.
Here's a list of the best family tents for bad weather we found on the market:
---
Best Overall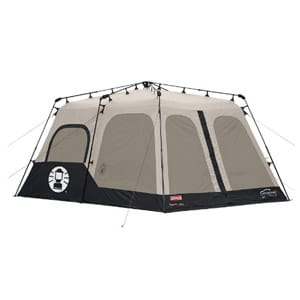 What You Will Love: This tent is made from a good, well known brand and it provides enough space for a family of four or five with a little to spare.
The Coleman 8 Person Instant Family Tent is a great option for families of up to 6. While it can fit four queen airbeds, that would take up all of the space, so you should probably stick to three queen airbeds instead.
There are inside storage pockets, though, that will help keep some of your items off of the floor.
The seams are protected, so there should be no leakage through those. It is designed with Polyguard double thick fabric, as well, so that provides extra protection.
However, users state that the flooring is not very waterproof, so you will want to have an additional footprint to keep you dry. Some also find it useful to place an extra tarp over the top of the tent for protection from the rain.
At over $300, it is a bit high price, especially considering you need better tent stakes and additional tarps. However, it is large and very fast to set up, so it is about what you prioritize here.
What We Liked:
Three color options
Polyguard double thick fabric
Quick set up
Protected seams
Storage pockets
One year limited warranty
Fits 4 queen airbeds
Over 6 ft center height
Good brand
What We Did Not:
High price
Needs additional footprint
---
Best Budget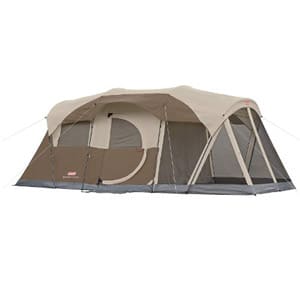 What You Will Love: It has an auto closing door, great standing room, an a lounge room.
This Coleman WeatherMaster 6 Person Tent with a screen room is a family favorite. The doors are hinged, and the screen closes itself, so you really do not have to worry that you have left it open.
The angled windows minimize the chance that rain will blow in on you. The welded floors and inverted seams are also very helpful.
However, no tent is waterproof all the way around, so you will need to do some waterproofing before you leave home.
This model fits up to 6 people but they have larger 10 person options as well for extra movement space. The large center height minimizes the chance of having to bend over when you are in the tent.
The included rainfly is also great for keeping out rain, and the redesigned poles and guy lines make the tent sturdier than ever. There is also an included expandable carry case to make it easy to pack the tent back up.
What We Liked:
Lounge space with bug free netting
Good price for great quality
Fits up to 6 people
Large center height
Weathertec system with welded floors and inverted seams
Rainfly and expandable carry case
Also a larger 10 person option
Hinged door
Angled windows
Storage pockets
What We Did Not:
Not waterproof so need to waterproof at home
---
Best Family Tents for Bad Weather with Super Ventilation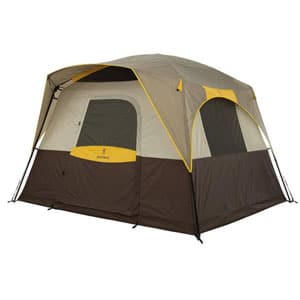 What You Will Love: The side walls are straight, which make them great for setting up cots.
The Browning Camping Big Horn Tent is getting some really great reviews. The oxford floor is doing a very good job of keeping the tenants dry, even amidst a flash flood.
The mesh roof means that it has great air circulation and ventilation. There is a divider to provide privacy when someone needs to change. The extra tall center means no hunching over.
It is a bit heavy, but that's to be expected with such a sturdy options as it has fiberglass poles and steel uprights. It says it can fit up to five, but the floor plan shows that those five might be a bit cramped.
You may want to stick with three or four people instead, or have a secondary option for storage. There are mesh storage pockets to help with this, but you may still need more space. Overall, it is a great tent, and it comes at a great price.
What We Liked:
Good price
4 large windows
Mesh storage pockets
Extra tall center
Mesh roof for good ventilation
Straight side walls great for cots
Sturdy with fiberglass poles, steel uprights, guy ropes and steel stakes
Polyester fly and oxford floor
Up to 5 people
Divider for privacy
What We Did Not:
Tight space for 5- better for three or four
A bit heavy
---
Best Family Tents for Bad Weather and Instant Setup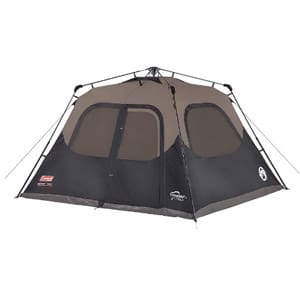 What You Will Love: The WeatherTec system gives some extra qualities to keep you dry, and it can be set up almost immediately.
The Coleman Cabin Tent Instant Setup is an affordable option for a weather proof tent. It has Coleman's effective WeatherTec floor system, the inverted seams, and the double thick polyguard fabric that does a great job at keeping you dry.
It says it is a six person tent, but that seems to be a little generously defined. According to its description, it can fit two queen size airbeds, so it might fit six if at least four people are really small and you have another solution for your items.
They do, however, have larger options, so do not write it off just yet. It also comes with two storage pockets to assist with storage space. It actually is very fast to set up, and the price is pretty great.
You can also choose the dark room option, which helps keep heat out in the summer. In short, this is a good option for a small family that wants to stay dry but is not looking for any bells and whistles.
What We Liked:
Great price
Quick set up
Taped seams
Weathertec floors and inverted seams
Polyguard 2 x double thick fabric
Storage pockets
High center height
What We Did Not:
---
Best Waterproof Family Tents for Bad Weather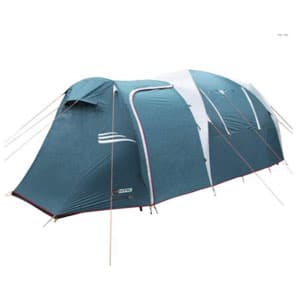 What You Will Love: It really was designed with multiple campers in mind.
The NKT Arizona GT Sport Camping Tent is a very good choice for multiple campers. It is constructed with two separate rooms and two separate doors, so everyone is not trying to escape from the same one.
It can fit 9 to 10 people, but it will be cramped. However, in addition to storage pockets, this tent comes with a storage loft for additional storage space.
The set up is really easy with the ring/pin system and the color coded poles. It is constructed from aluminum and fiberglass, as well as nano flex for durability and flexibility.
The tent is fully breathable yet it is mosquito proof. It also has a "bathtub style" floor barrier that keeps you dry amidst a rain storm. Additionally, the rain fly goes all the way to the bottom of the tent for extra protection from the rain. The only real downside is the price.
What We Liked:
Can fit 9 to 10 people
2 rooms
2 doors
3 windows
Color coded poles for easy assembly
Pockets and loft for extra storage space
Mosquito mesh protects from mosquitos and prying eyes
Heavy duty carry bag
Durable construction
Rainfly goes all the way to the bottom
What We Did Not:
---
Best Lightweight Family Tents for Bad Weather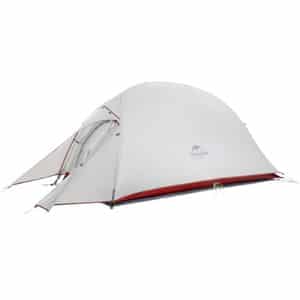 What You Will Love: It is designed for any weather so you can use it year round.
If you have a 2 or 3 person family, this is a great affordable option. There are multiple color options, and you can choose a tent from one person up to three.
The three person tent only weighs about 6 pounds, so it is very lightweight. It is also very compact so it is easy to carry around. It has double layers to make the tent both wind proof and waterproof.
It has aluminum poles for durability, high tenacity nylon for strength against strong weather, and 3000 mm water resistant features. It comes with an additional outer room for storage, and it is well ventilated.
The only real negative thing about it is that it does not come in sizes for larger families. Anything over three people will need a larger option, or just two of these tents.
It is a great choice, though, for smaller families that like backpacking or hiking a good distance from their vehicle since it is so lightweight.
What We Liked:
Great price
Multiple color options
Up to 3 person options
3000 mm water resistant
Breathable
Silicone coated
Aluminum tent stakes
Nylon carry bag
Compact
Set up for versatile, year round weather
Lifetime guarantee
What We Did Not:
Not for large or even medium families
---
Best for Family Tents for Bad Weather for Camping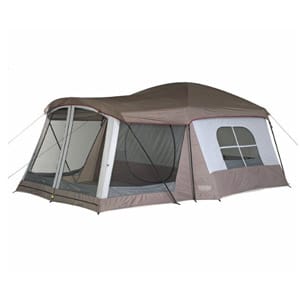 What You Will Love: The extra room can be a sun room or be used as an extra room for sleeping.
The Wenzel Klondike tent is a good family tent option. It is made with weather repellent polyester and polyurethane coating.
The full mesh roof and high and low ventilation keep air circulating inside the tent.
It is a dome style tent with an attached screen room that has versatile purposes. It can be used simply as a sun room, or as a storage room or an extra sleeping area.
It also provides a great place to eat without having to worry about flies or other undesirables in your food.
It says that there is room for eight, but users say only six can fit comfortably. The set up is easy and quick with two people.
Users state that though it is great for a waterproof tent, it is not so good for cold weather due to all of the ventilation it provides. It has a fiberglass frame and steel/plastic stakes, so it stands up pretty well.
What We Liked:
Great price
Dome tent with attached screen room
Weather repellent polyester with pu coating
Full mesh roof option
Double staked for stability
3 color options
High and low ventilation
Easy and fast set up
What We Did Not:
---
Frequently Asked Questions (FAQs)
What is the best tent for high winds?
The Coleman WeatherMaster is going to be one of your best option for camping in high winds. It is designed with many features, including angled windows, which helps keep wind and rain out.
What's the best tent for cold weather?
There are many options for cold weather, but if you are referring to freezing weather, you should check out the Arctic Oven 12 with Vestibule. It is heavy duty, and heavy in general, but it is a great choice.
What is the best tent for family camping?
This will depend on your family size, but the Browning Camping Big Horn Tent and the Coleman Instant Family Tent are great family choices.
What is the best tent for winter camping?
The Kodiak Flex Bow Basic 6 Person Tent is a year round tent, but it is specifically designed to stand up to harsh winter mountain weather.
Which tent brand is best?
The best will change from opinion to opinion, but most agree that Coleman is a great outdoor equipment brand. You usually cannot go wrong with Coleman products.
How waterproof Should a tent be?
It should have a water resistance of at least 2500 mm, but the higher, the better. Some go up to 3000 mm or more.
---
Conclusion
Family camping can be an enjoyable and rewarding experience, if you are not caught in bad weather without protection. We have taken a look at the different characteristics that make up the best family tents for bad weather, and looked at seven great options for your consideration to help you choose the best for your family.
---
Mote Tent Related Articles:
---