What Is the Best Eucalyptus Oil?
The best eucalyptus essential oil is one that has been meticulously preserved in its purest form to maintain its many medicinal properties. We chose Eve Hansen USDA-Certified Organic Eucalyptus Essential Oil as our top pick because of its superior quality. Despite its modest price, it doesn't disappoint.
---
Since ancient times, eucalyptus essential oil has long been known for its many health benefits and has become a key ingredient in throat sprays, massage oil blends, and vapor chest rubs.
Because of its anti-fungal and anti-microbial properties, eucalyptus may be used as a cleaning agent to reduce the spread of infections. You can also apply it topically to relieve muscle pain and inflammation.
We looked at hundreds of products, considered the pros and cons of each, and took into account what customers thought about them.
Some were new to using essential oils, while others had been stocking their medicine cabinets with these natural remedies for years. In our search for the top five eucalyptus essential oils, here's what we came up with.
---
Quick Navigation
5 Top Eucalyptus Oil: Our Picks & Recommendation
---
5 Best Eucalyptus Oil Reviews
---
Best Overall :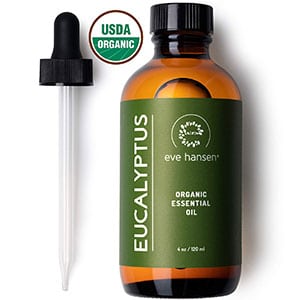 What You Will Love: This top eucalyptus oil is reasonably-priced and can be used for aromatherapy or in topical remedies.
In our quest for the best all-around essential oil, Eve Hansen USDA-Certified Organic Eucalyptus Essential Oil stood out from the rest.
It's safe to use topically, so it's likely to come in handy when you're dealing with a sports injury or similar issue. It's especially popular because of its deep woodsy, herbaceous scent.
Whether you suffer from asthma or some other type of respiratory condition or you simply enjoy the refreshing ambiance it creates, this may be your go-to essential oil when it's time to fill your diffuser, humidifier, or vaporizer.
This oil can be used in steam rooms and saunas, too.
Eve Hansen Organic is relaxing and invigorating, all at the same time, and since it's available in 4-ounce quantities, you'll have plenty on hand.
If you're a healthy living enthusiast with a collection of natural products, you can blend eucalyptus with other oils for your aromatic enjoyment.
Pros
It's available at a good price
It's pure and organic and has a wide variety of uses.
Cons
Only a handful of customers were not satisfied with this essential oil
There were a few complaints about caps that didn't screw on tightly, causing the bottles to leak.
---
Best Eucalyptus Oil for Hair: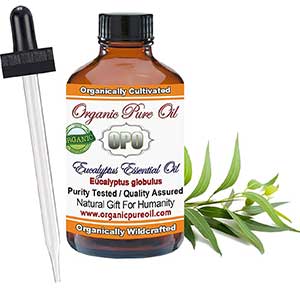 What You Will Love: This organic, undiluted eucalyptus essential oil for hair can also be used as an ingredient in beauty products and massage oil blends, or added to a diffuser to optimize your aromatherapy experience.
If you like to make your own shampoo with a blend of your favorite essential oils, Organic Pure Oil's Essential Oil can be a refreshing addition to homemade beauty and healthy lifestyle products.
It's been steam-distilled to carefully extract and preserve its potentially health-enhancing properties. As a therapeutic-grade oil, it can be added to diffusers and vaporizers to alleviate stopped-up sinuses.
The oil's refreshing, woodsy aroma can help boost your mood. You can even simulate a spa-like experience by blending eucalyptus oil with a carrier o such as sweet almond or jojoba to create a massage oil.
Topical application of this invigorating oil can ease sore muscles, too. As the best eucalyptus oil for hair, this product can thicken hair and restore a healthy shine, relieve a dry, itchy scalp and stimulate roots to improve hair health.
Pros
It's a reasonably-priced high-grade oil associated with a variety of health benefits
Cons
We really couldn't find any
---
Best Eucalyptus Oil for Skin: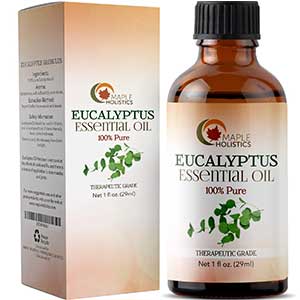 What You Will Love: While this therapeutic-grade eucalyptus oil has many uses, it is highly-recommended for topical application to ease sore muscles, clear up acne breakouts, and keep insects at bay.
When it comes to the best essential oil for topical application, we selected Maple Holistic's 100% Pure Eucalyptus Essential Oil.
As an aromatherapy ingredient, this oil extract has a nourishing, revitalizing effect, stimulating healthy breathing.
You can combine eucalyptus oil with other natural products to make anti-bacterial and anti-fungal cleaners for kitchens and baths.
It rejuvenates hair follicles for thicker hair. You can dilute it with a carrier oil to be used on the skin, where this medicinal oil can clear up acne breakouts, leaving you with glowing, blemish-free skin.
As summer approaches, you'll be happy to know that the oil can also be used as an insect repellent a plus if you're trying to stay away from synthetic sprays.
Pros
It has many uses
Is available at an affordable price
And is a high-grade oil for aromatherapy
Cons
A few customers reported that the oil was not as strong as they expected for a concentrate.
---
Best Eucalyptus Oil for Congestion: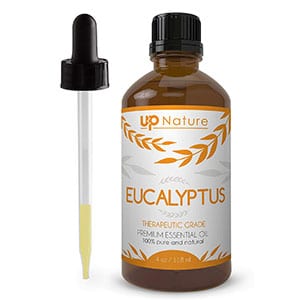 What You Will Love: As one of the best eucalyptus essential oils, this product is free of additives and is designed to be especially effective in relieving sinus congestion. Sinus and allergy issues are an all-too-common complaint for many of us.
Whether you have a head or chest cold or a case of hay fever, Eucalyptus Essential Oil by UpNature can go a long way toward helping you breathe easier.
This 100% pure, therapeutic-grade oil may serve as a gentle, effective natural remedy for sore throats and congestion, and as a cough suppressant.
You can enjoy other therapeutic benefits with this oil too. Using it in a diffuser, vaporizer, or humidifier can create a cool, refreshing ambiance, improving your mood and lifting you out of mental sluggishness, and of course, clearing your sinuses.
Pros
It's undiluted and additive-free
It can provide maximum health benefits
Cons
A few customers didn't like the way the oil smelled or reported that the bottle arrived with a broken dropper.
If you experience the latter issue, notify the company and they'll send you another for free, so you don't have to return the bottle.
---
Best Eucalyptus Oil for Colds: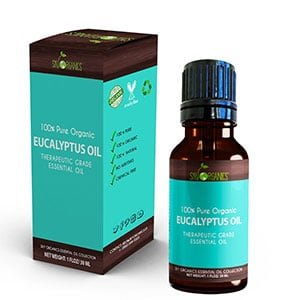 What You Will Love: This versatile oil can be used in a variety of beauty and healthy lifestyle products. Because of its many therapeutic properties, it's helpful in reducing symptoms of the common cold.
Best Essential Oil by Sky Organics deserves the award for the top essential oil for colds because of its supreme quality.
Sourced from Australia, the oil is pure, organic, and therapeutic-grade. When you're dealing with a stuffy nose and other annoying cold symptoms, this essential oil can reduce your congestion.
Because of its mood-enhancing and immune-boosting properties, it can help you feel better overall, too. According to the manufacturer, the best way to use it is for aromatherapy by diffusing it, rubbing a few drops between your palms and inhaling the herbaceous scent.
Or applying some to your favorite massage oil blend to produce a cool, refreshing effect.
Pros
Sky Organics Essential Oil is free of additive, fragrances, or artificial colors and can serve as a therapeutic remedy to alleviate the common cold and other respiratory concerns.
Cons:
We couldn't find many.
A handful of customers were disappointed by the smell and strength of the oil.
---
The many benefits of eucalyptus oil make this natural remedy extremely versatile and practical for everything from fighting the common cold to improving hair health to creating a spa-like experience.
Take precautions and consult a physician if using this essential oil for pregnancy or on young children.
Whether you make it part of your massage therapy routine or add it to DIY household cleaners, the best eucalyptus essential oil can serve as a healthy, natural way to improve your health and well-being.
---
Related Articles
---