What Is the Best Cordless Framing Nailer?
When you're looking for the top cordless framing nailer, not just any tool will get the job done. We rated the Paslode 902600 CF325Li as the best cordless framing gun because of its powerful performance and ease-of-use. It's no wonder so many customers consistently gave it top marks.
---
If you're a carpenter, you know how important it is to have the right tools for projects big and small. One prime advantage of cordless nail guns is that you can carry them around without the need to have them constantly hooked up to a power source.
When choosing the right cordless framing nailer, it's a good idea to take several factors into account, such as magazine capacity, weight and comfort, and the type of nails you need.
To find the top cordless framing nail gun, we checked out hundreds of customer reviews, the various features of each tool, and their pros and cons.
---
Quick Navigation
Top 7 Best Cordless Framing Nailers: Our Picks & Recommendations
---
How to Choose the Right Cordless Framing Nailer
A variety of factors come into play when you need to select the top cordless framing nailer. Some of the most important ones include:
Power Source
While some nail guns are powered by electricity and require access to an outlet, the cordless variety operate differently. The air-powered kind require a compressor, which can be inconvenient to lug around.
Battery-operated framing nailers need to be charged from time to time, but give you considerable freedom since there's no cord or hose in your way. Still other models are driven by fuel. Sometimes, replacing fuel canisters can be costly.
Magazine
There is quite a bit of variety in magazine size from one framing nail gun to another. The largest magazines don't have to be reloaded as often, minimizing workflow interruptions.
Some magazines are specifically-designed to accommodate different nail lengths. Additionally, it's ideal to have a magazine that can be easily accessed in case of jams.
Weight and Comfort
Quite a number of nail guns are ergonomically designed with lightweight frames and sturdy handles for optimal control and balancing.
Some models even come with a dual-handle system that allows you to fasten while standing or kneeling, so you don't have to remain in an uncomfortable position for too long.
Nail Collation
When it comes to nail collation, it's either paper or plastic. Using paper may result in fewer jams and eliminates the possibility that pieces of plastic will go flying when you operate the nailer. Plastic collated nails are somewhat water-resistant, fairly durable, and relatively inexpensive.
Wire Weld
Wire weld nails are especially durable, which makes them a good fit for outdoor projects. They hold up well even under tough job site conditions.
Nail Head Type
Different tools work with different nail head types. The nail head type you choose depends on the nature of the project and the material you're using.
Nail Length
Some nailers accept a variety of nail lengths, often between 3/4″ and 1-1/4″, with some variations, of course. Some models are intended for coil nails. The type of nails you need depends on the project at hand.
---
7 Best Cordless Framing Nailers Review
Here's a list of the best cordless framing nailers we found on the market:
Best Overall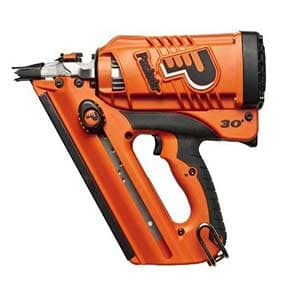 What You Will Love: It's easily portable yet durable, can charge 50% more nails than other devices of its kind, allows for toe-nailing from any angle, and you can charge it fairly quickly.
We choose the Paslode 902600 CF325Li as the top cordless framing nailer. You don't need a compressor to run it, as it operates through a fuel cell (that you have to buy separately) and battery.
It's lightweight, portable, and easy to grip, but heavy-duty enough for everyday use. It's compatible with 2 to 3-1/4″ 30-degree paper tape strip nails). Even better, this nail gun is highly efficient, driving 50% more nails (up to 6,000) per charge.
When you do need to give this cordless framing nail gun some juice, you can get it fully powered up in just one hour. But a 2-minute charge allows you to install up to 200 nails at a time.
Another plus: the heavy-duty nosepiece makes toe-nailing possible from any angle.
When you purchase this device, you're adding more to your toolkit than just a cordless nailer, since it comes with a rechargeable 7.4 volt Lithium ion battery and charger, safety glasses, and a 5/32-inch hex wrench. Use the included carrying case to protect your investment when it's not in use.
Pros:
Heavy-duty
Portable
Charges fast
And efficient
Cons:
Not recommended for nailing down pressure-treated lumber, you have to have both the fuel cell and battery on hand to power it.
---
Best Budget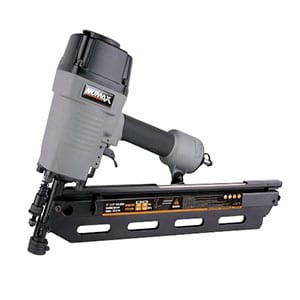 What You Will Love: Lightweight, durable, easy to use, and good for different projects and work surfaces.
If you're looking for a tool that really "nails it" when it comes to framing or decking, the NuMax SFR2190 21-degree Pneumatic Round Head Framing Nailer may be just what you're looking for.
With its magnetic body and ergonomic handle, it's sturdy, yet lightweight and easy-to-use. The interchangeable trigger allows for quick-fire or single-shot function.
When you purchase this tool, you'll find that the single-fire trigger is already installed. This "default setting" is recommended if you haven't had much experience with a framing nail gun, or you're looking for especially high accuracy.
While it's advertised as a 21-degree nailer, you can use nails ranging from 20-22-degrees. If you don't want to worry about dealing with glue or running the risk of having pieces of metal flying around, you can use plastic-coated 2 to 3-1/2 metal collated nails with this unit.
With its no-mar tip and depth-adjustment features, this cordless nailer is versatile enough that you can use it on a variety of surfaces for a variety of purposes: framing, wood fencing, sheathing, roof decking, and subfloor installation, to name a few.
Whether you're a construction professional or home DIY projects are your thing, this all-purpose nailer can be an invaluable addition to your toolkit.
Pros:
Durable
Versatile
Ergonomic design
Cons:
You need a compressor and hose to run it.
Read Our Full Review Here
---
Best Dewalt Cordless Framing Nailer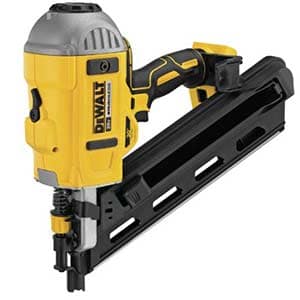 What You Will Love: Durable, great for home DIY projects, different speed settings, trigger lock feature for safety.
If you want the best Dewalt cordless framing nailer, look no further than the Dewalt 20V Max XR framing nailer. Its brushless motor and engine design give it the power to drive 3-1/2″ nails quickly on soft and hard joints alike.
The sequential operating mode allows you to place nails precisely, while the bump operating mode gives you maximum speed. With the 2-speed selector switch, you can optimize speed and motor performance for different nail lengths.
When you're working on a framing project, you'll inevitably have to deal with jammed nails from time to time. If this happens with the best Dewalt cordless nailer, removing the metal and getting back to work is a snap because you have ready access to the nosepiece.
The magazine holds 55 paper-collated nails. If you're especially concerned about safety, you'll be happy to know that you can disable the trigger when you're not using the nailer.
Troubleshooting with the framing nailer is simple too, because the top cap is impact-resistant yet easy to remove.
Pros:
Easy to remove jammed nails
Comes with safety trigger-locking feature
Speed adjustment for different nail lengths.
Cons:
Some people complained about nails jamming or not being driven completely. Some of these problems can be minimized by paying attention to speed settings; shorter nails can be used with setting 1, while longer nails require the higher setting to power through surfaces.
Related article: Dewalt DCN692M1 Framing Nailer
---
Best Paslode Cordless Framing Nailer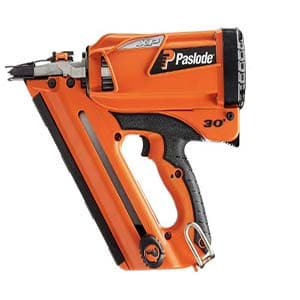 What You Will Love: Durable, high-powered, works without a compressor, and you can use it in below-freezing temps.
If you're looking for the best Paslode Cordless Framing Nailer– and don't want to deal with a compressor and hoses– look no further than the Paslode 905600 Cordless XP Framing Nailer.
You need a battery and fuel cell to operate it. Ideal for use in all seasons indoors and out, it can be used in temperatures as low as 14F (-10C). In that kind of weather, air compressors and hoses typically freeze up, rendering them useless, so you need a tool that works without them.
Weighing in at just a little over 7 pounds, it won't give your arms a workout– a big plus if you're working overhead or in tight spaces. When working in those hard-to-reach places, it's helpful to have a tool that's compact.
This best Paslode cordless framing nailer easily fits that description; it fits between 16″ o.c. studs, joints, and roof trusses.
It gives you up to 15% more power than other units of its kind, so you can get more work done– to the tune of up to 9,000 nails per charge, even on harder woods.
Pros:
Powerful
Durable
Works in cold weather
No compressor and hoses needed.
Cons:
The nail magazine is small, so you have to reload it frequently.
The unit is noisy enough to require hearing protection, especially if you're working in hollow spaces that tend to echo.
The cost of fuel can add up, too.
Read Our Full Review Here
---
Best Hitachi Cordless Framing Nailer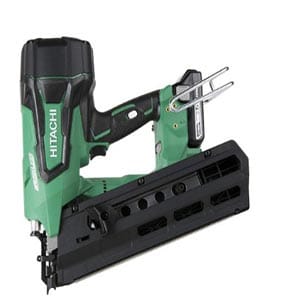 What You Will Love: It's compact and durable, runs efficiently, and allows you to adjust settings for precision and speed.
If you're looking for a relatively lightweight, ultra-efficient cordless nailer, consider the NR1890DR 18V model by Hitachi. Equipped with a unique Air Spring Drive system, this powerful tool uses compressed air to drive each nail, so there's no ramp-up time, and you can drive nails at a higher speed.
With its brushless motor, you get more run time per charge. This feature also means your device is likely to last longer and require less maintenance than it would otherwise.
Its compact 3.0Ah battery is shorter and smaller than conventional lithium batteries, making this unit less bulky and easier to carry. When you need to get a nailing job done quickly, this device lets you easily switch between sequential and bump mode.
You can drive up to 400 nails per charge, and the magazine holds roughly 37 nails ranging from 2 to 3-1/2 inches in length.
For carpenters who are especially safety-conscious, you'll be pleased to know that this unit comes with a dry fire lock system that prevents it from driving nails when fasteners are low.
A newer version of this model is available: the Metabo HPT NR1890DR 18v Cordless Framing Nailer.
Pros:
Brushless motor for optimal performance
Compact battery
Gives a professional finish.
Cons:
The safety-tip design can make toe-nailing difficult or delay firing when you pull the trigger.
---
Best Bostitch Cordless Framing Nailer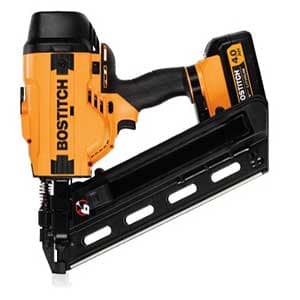 What You Will Love: Two-speed motor allows for seamless switching between sequential and bump-fire modes, stall-release lever allows you to easily clear jams, and you can save money on fuel costs.
For those looking for optimal convenience, the Boslitch 20V Max Cordless Framing Nailer (BCF28WWM1) eliminates the need for a compressor and comes equipped with a brushless motor for longer tun time.
Its high-powered, two-speed motor is capable of easily driving 3-1/2″ fasteners. The unit is compatible with full round offset nails in 28-degree wire weld collation.
With its stall release lever, you can conveniently reset the nail driver in case it jams. Even better, the device is fully battery-powered so there's no need to spend time and money stocking up on fuel canisters.
Since it has a tool-free depth adjuster and selector, you can achieve a professional finish even on home DIY projects. Another plus with this feature is that switching between sequential and bump operation is virtually seamless.
If you add this type of pneumatic nail gun to your tool collection, you may be able to cut daily set-up and clean-up time by 20 minutes, which saves you more than an hour and a half per week if you use it on the job.
Pros:
Easy nail-depth adjustment
No need for air compressors or fuel
Brushless motor makes it longer-lasting and low-maintenance.
Cons:
Some customers complained of frequent jamming and short battery life.
Another Framing Nailers Review From BOSTITCH: BOSTITCH 33-Degree, Bostitch F28WW, Bostitch F21PL
---
Best Metabo Cordless Framing Nailer Kit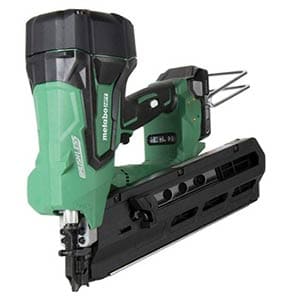 What You Will Love: Fast, efficient, allows you to check battery life
When it came to finding the best Metabo cordless framing nailer, we selected the NR1890DR (18V). Its one-of-a-kind air drive system uses compressed air to drive the nails.
That gives you zero ramp-up time, better nailing speed, and recoil that resembles what you'd find in a pneumatic nailer. Designed with durability in mind, it features a brushless motor, making it low-maintenance and potentially longer-lasting than other devices of its kind.
With its superior engineering, it gives you the ability to quickly and easily drive 400 nails per charge. Its magazine holds 2 to 3-1/2-inch nails at 21-degrees.
With rapid, tool-free nail-adjustment, you can achieve a professional finish using a variety of materials. For optimal efficiency and performance, you can conveniently switch between sequential and bump operation.
Another advantage of this device is that it allows you to monitor how much battery life you have left. Just keep an eye on the control panel, and you shouldn't have any surprises in the middle of a project.
If you need a convenient way to store the unit when it's not in use, the pivoting rafter hook lets you hang it where it's out of the way but within easy reach when needed.
Pros:
Designed for durability and efficiency
2 speeds allow for precision and speed
You can easily track battery life.
Cons:
One complaint about dry fires.
---
Frequently Asked Questions (FAQs)
Why do we need the best cordless framing nailer?
When you're working on framing, roof decking, subflooring projects, and the like, you need the right cordless framing nailer to get the job done with optimal accuracy and efficiency as possible. The best cordless nailers allow for maximum precision, can drive nails quickly, and accommodate different nail lengths.
Related reading: Freeman PFR2190 
How much will it cost to get a cordless framing nailer?
You can purchase a cordless framing nailer for anywhere from under $100 to several hundred dollars. Prices vary based on quality and the features each unit offers. Some brands offer more expensive models than other companies, too.
What makes the best cordless framing nailer?
The best cordless framing nailer has a high-capacity magazine so you don't have to reload frequently. A high-quality tool lets you set nails accurate, adjusting drive-depth without tools. The nose should be easily-accessible should jams occur, although the better units should be less prone to jamming. Some cordless nail guns even serve multiple purposes, such as nailing and stapling, for ultimate versatility.
Does Milwaukee have the best cordless framing nailer?
Yes, Milwaukee does offer cordless framing nailers (Milwaukee M18 cordless nailers). They come with a variety of features and span a considerable price range.
Related article: Porter Cable FR350B
---
Conclusion
When it comes to choosing the top cordless framing nailer, it's wise to consider what kind of projects you need it for, and whether it's for professional work or the occasional DIY project. The best cordless nail gun comes with easy-to-use features and an ergonomic design. Some models are also especially versatile.
Related Articles:
---