What Is The Best Coping Saw?
When searching for a coping saw, there are some important considerations to factor in: safety, versatility, durability, weight, price, and more. With these considerations in mind, we chose the Robert Larson Coping Saw as the best coping saw. The Robert Larson Saw comes from a reputable company, is very sturdy, and is a great price.
---
Whether you are a professional needing a coping saw for work, a DIYer who wants to cut materials for your home more efficiently, or a hobbyist wanting to use or increase your skills, you probably need a coping saw.
Coping saws come in a variety of sizes, depths, and made from different materials. Some are better at some projects than others, such as fine cutting.
The one you choose will ultimately depend on what you use it for. They also come with a variety of handles. Regardless of your purpose, there is a coping saw out there that is perfect for you.
---
Quick Navigation
Top 5 Best Coping Saws: Our Picks & Recommendation
---
5 Best Coping Saw Reviews
To find the top coping saws, we analyzed multiple models, as well as reviews and ratings for each.
After some deliberation, we ended with the following 5 coping saws based on their performance, versatility, durability, and safety.
---
Best Overall: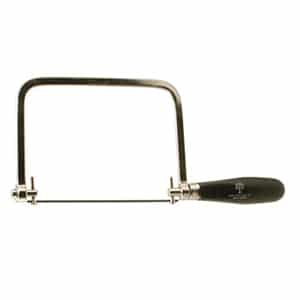 What You Will Love: This coping saw is lightweight and has easily replaceable blades.
The Robert Larson Saw is a German made sturdy tool. The wooden handle does not rotate as some do, so the user retains a great deal of control.
The blade is 6″ long and is easily replaceable with standard size blades, meaning you do not have to spend extra money on a special size blade.
Because coping saw blades break pretty easily, buyers suggest purchasing the replacement blades at the same time that you purchase the saw.
You can easily adjust the tension of the blade for better performance. It is lightweight and has a cutting depth of about 5″.
The price is nice as it generally runs under $20. Unfortunately, while it can handle smooth curves, it does not work well cutting hard angles.
Pros
Good price
Sturdy
Users have great control
Easily replaceable blades
Uses standard size blades
Lightweight
Adjustable blade tension
Good price
Cons
not good at handling hard or sharp angles
---
Best Budget: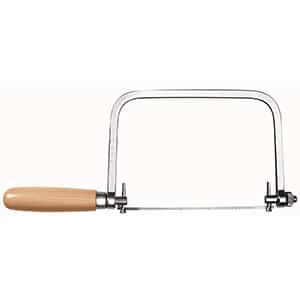 What You Will Love: The blade can be rotated 360 degrees so that you can saw in all directions.
The Olson Saw allows you to adjust the tension of the blade from both ends of the saw. It is a sturdy tool with a hardwood handle that uses standard pin end saw blades.
It usually costs less than $15, so it is a very budget friendly tool. Buyers rave about the sturdiness of the blade and that they did not expect a coping saw that is so inexpensive to work so well.
It is quite possibly the best value coping saw. Both hobbyists and professional woodworkers found this Olson saw to be a useful tool.
Even with all the great opinions of this hand saw, there were a couple of suggestions for improvement.
One stated that when the blade was pulled to full tension, the handle would bend making it a bit difficult to use.
The other suggestion was to make the handle larger and easier to grip, which can lead to accidents.
Pros
Good price
Good for professional and personal use
The blade can rotate 360 degrees for versatile cutting directions
Sturdy blade
Can adjust the tension from both sides of the saw
Cons
The handle may bend when the blade is fully tense
The handle is small and difficult to get a good grip on
---
Best Coping Saw for Fine Cutting: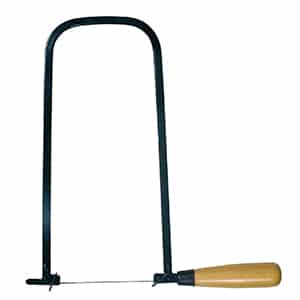 What You Will Love: This coping saw comes with a bimetal blade that is virtually unbreakable and great for fine cutting.
The Eclipse Wood Handle and Steel Frame Saw is over 10″ long and nearly 12″ high, but other sizes are also available.
The blade is a tough, bimetal blade that is nearly unbreakable, safe, and wear resistant. It can also be rotated for use in multiple directions, and the blade stays in the position you set.
This saw is great for model makers and fine cutting projects on thin materials like plastic, wood, and bone.
The price usually hovers around $20, but you may find yourself spending closer to $25.
Most buyers say that they would pay more for this Eclipse Wood Handle saw because it does such a great job. It is both sturdy and lightweight.
Besides some users having difficulty rotating the blade, this seems like an excellent choice in coping saws. It definitely seems to be the best rated coping saw within this price range.
Pros
Good price
Great on thin materials
The tough blade that can be rotated
Sturdy
Lightweight
Cons
Some users have trouble rotating the blade
---
Best Professional Coping Saw: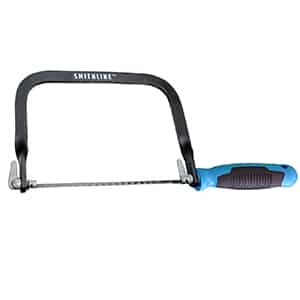 What You Will Love: It comes with a rubber handle for a better grip than other hand tools.
The Smithline coping saw is made with a steel frame and die-cast zinc alloy blade holders.
It has a cutting depth of 4.5″ and a 360-degree blade rotation. The hardened, tempered blade is 6″ long and the tool comes with an additional four blades.
The rubber handle makes it much easier to get and maintain a good grip, which can prevent a lot of accidents.
You can often find it for less than $20 making it an excellent deal. The only complaint I have found is that thanks to the steel frame, the tool is a bit heavier. Others seem to think it is one of the best quality coping saws.
Pros
Great price
Steel frame
Die-cast zinc alloy blade holders
4.5″ cutting depth
360-degree blade rotation
Rubber handle for a better and safer grip
Cons
Heavier than other coping saws due to the steel construction
---
Best High-Speed Coping Saw: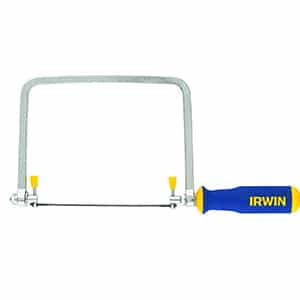 What You Will Love: The high-speed steel coping blades can cut through many materials quickly and with ease.
It is equipped with a coarse 6.5″, 17 point tooth blade that is held in by DuraSteel pins. The frame is 5.5″ deep, and it has an ergonomic handle in the shape of a triangle for extra comfort.
Irwin Tools ProTouch Saw is an excellent deal as it usually runs less than $15, and it comes with a lifetime warranty. The steel frame makes it very durable yet a bit heavy.
A couple of buyers have stated that when they first received the tool, the handle and blade were not in line as though something heavy was sitting on top of it.
After a little force and maneuvering, they got it straightened out and claim that it works very well.
Pros
Great price
Respected company
Ergonomic handle
Coarse blade with 17 teeth that are held in place well
Deep steel frame
Lifetime warranty
Tough and durable
Cons
A bit heavy due to the steel, some blades and handles are not properly aligned
---
If you find yourself in need of a coping saw, this saws in this article made our best coping saws list over many other options. We believe you will find them impressive when you check them out for yourself.
---
Related Articles
---